Galletas de coco y banana con sólo 4 ingredientes. || Coconut and banana cookies with only 4 ingredients.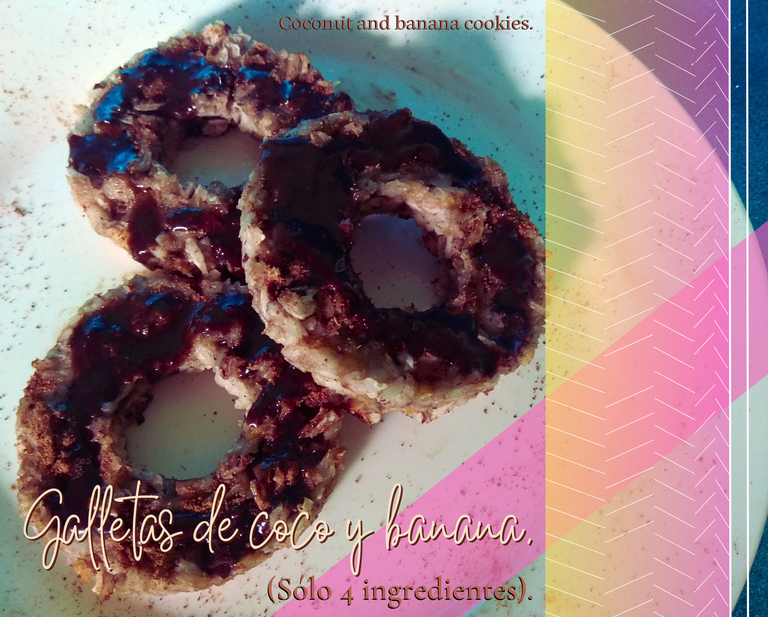 Edited in Canva.
Día de postre saludable, ayer compartí un curry de lentejas que me quedó delicioso pueden visitar mi blog para ver la receta, el hecho es que hice leche de coco casera y me sobró mucho coco rallado, no podía desperdiciar tan rica fruta decidí hacer un postre practico, saludable y rico como me gustan, estas galletas no necesitan de mucho, aunque si reconozco que cometí un pequeño error que comprometió un poco la textura de las galletas, debían quedar crocantes y no estuve cerca de lograr ese punto perfecto, pero pude identificar mi error y se los haré saber en el procedimiento para que no lo comentan.
Healthy dessert day, yesterday I shared a lentil curry that was delicious, you can visit my blog to see the recipe, the fact is that I made homemade coconut milk and I had a lot of shredded coconut left over, I could not waste such a rich fruit I decided to make a practical, healthy and rich dessert as I like, these cookies don't need much, although I recognize that I made a small mistake that compromised a little the texture of the cookies, they should be crunchy and I was not close to achieve that perfect point, but I could identify my mistake and I will let you know in the procedure so you don't comment on it.
---
Lo bueno es que el sabor no se ve afectado por la textura, es que no puede resultar una mala combinación coco, banana y chocolate, para matar un antojo dulce sin sentir culpa están perfectas estas galletas, se hacen en pocos minutos además un postre libre de gluten y azúcar, el dulce de la banana es suficiente para dar sabor a las galletas, disfruten de la receta.
The good thing is that the flavor is not affected by the texture, it can not be a bad combination coconut, banana and chocolate, to kill a sweet craving without guilt are perfect these cookies, they are made in minutes plus a dessert free of gluten and sugar, the sweetness of the banana is enough to flavor the cookies, enjoy the recipe.



Materiales: || Materials:
▪️ 1 taza de coco rallado, 2 bananas, chocolate amargo 80 gr, un poco de leche.
▪️ 1 cup grated coconut, 2 bananas, 80 gr bitter chocolate, a little milk.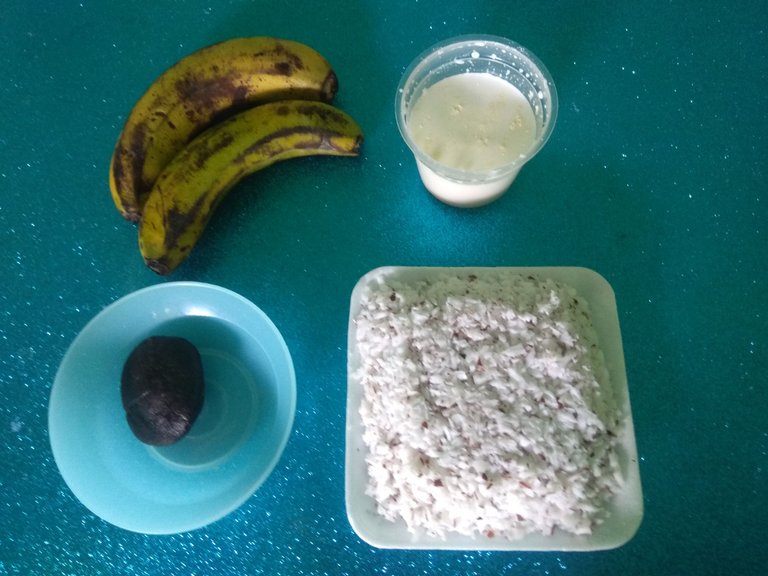 Paso a paso: || Step by step:
El gran error que cometí fue usar el coco triturado que me sobro de la receta de ayer, lo usé tal cual estaba, debí procesar más la fruta llevarla a un estado casi de molido, también debí meterla unos minutos al horno para secarla un poco, estos pasos sirven para que la masa compacte mejor, al tener el coco procesado debemos hacer un puré con las bananas.
The big mistake I made was to use the shredded coconut that I had left over from yesterday's recipe, I used it as it was, I should have processed the fruit more, I should have put it in the oven for a few minutes to dry it a little, these steps are useful for the dough to compact better, having the coconut processed we should make a puree with the bananas.
---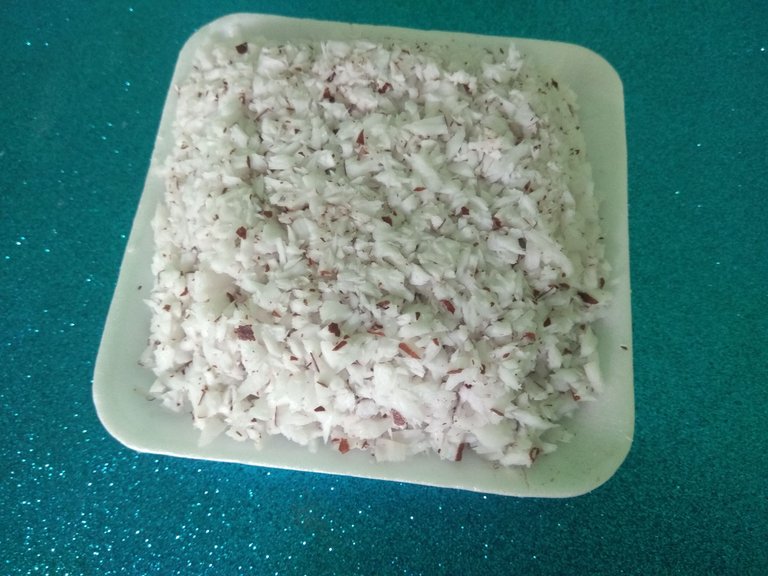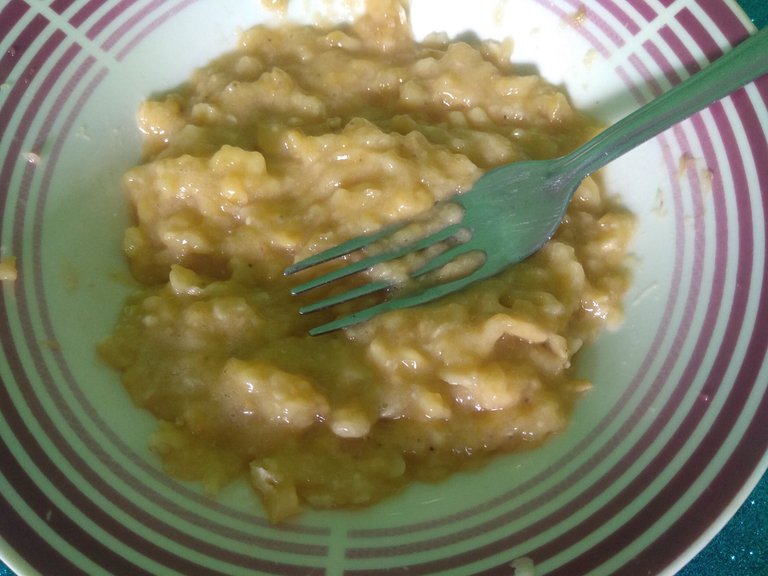 ---
Agregué poco a poco el coco, con las manos me encargué de integrar hasta compactar lo más que pude, por ello les menciono que es vital procesar mejor el coco, fue un arduo trabajo lograr esta textura que muestro y a pesar de ello no quedó como esperaba.
I added the coconut little by little, with my hands I was in charge of integrating until compacting as much as I could, that is why I mention that it is vital to process the coconut better, it was a hard work to achieve this texture that I show and in spite of that it was not as I expected.
---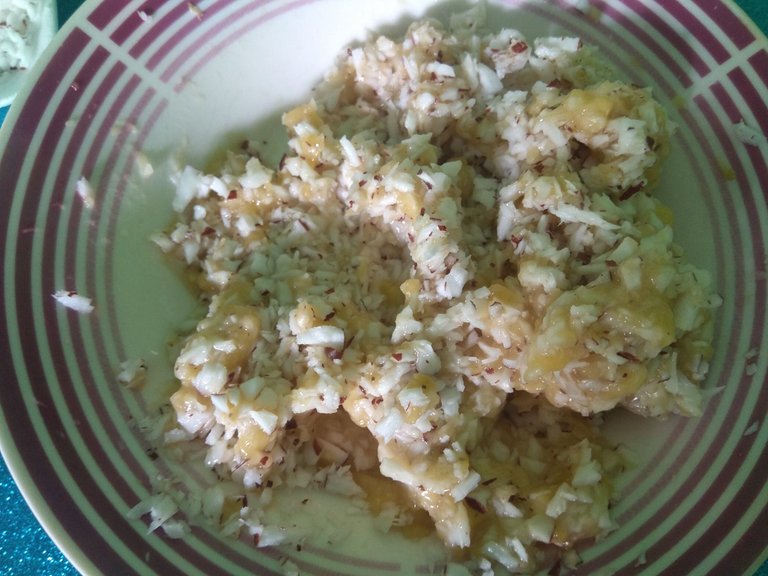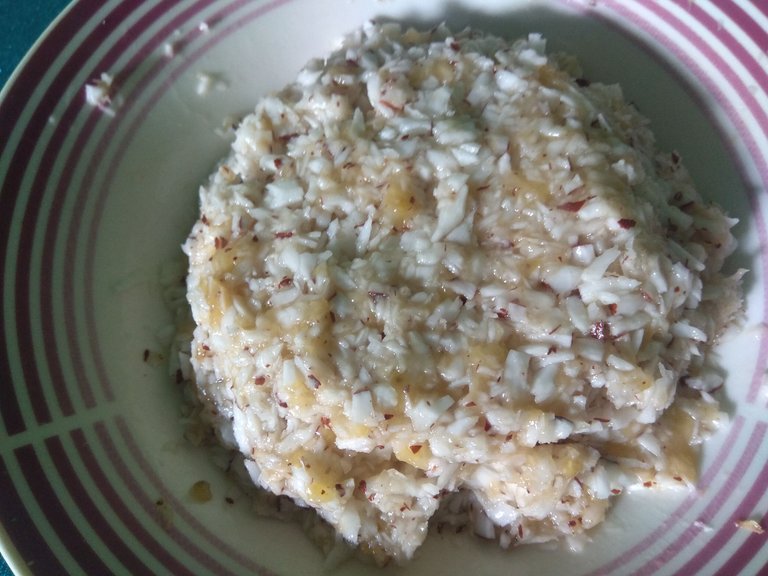 ---
Usen una bandeja antiadherente o pueden untar aceite a una bandeja para evitar que las galletas se pegue, sean creativos den la forma que quieran, usé un cortador de donas para lograr la forma que ven, precalenté el horno a 200°C durante 20 minutos, luego bajé la temperatura a 180°C y horneé durante unos 20 minutos, este tiempo dependerá de la intensidad de su horno, lo importante es que logren que las galletas queden crocantes, dejen enfriar en la bandeja y luego las pueden sacar.
Use a non-stick tray or you can spread oil on a tray to prevent the cookies from sticking, be creative, give the shape you want, I used a donut cutter to achieve the shape you see, preheat the oven at 200°C for 20 minutes, then lower the temperature to 180°C and bake for about 20 minutes, this time will depend on the intensity of your oven, the important thing is that the cookies are crispy, let them cool on the tray and then you can take them out.
---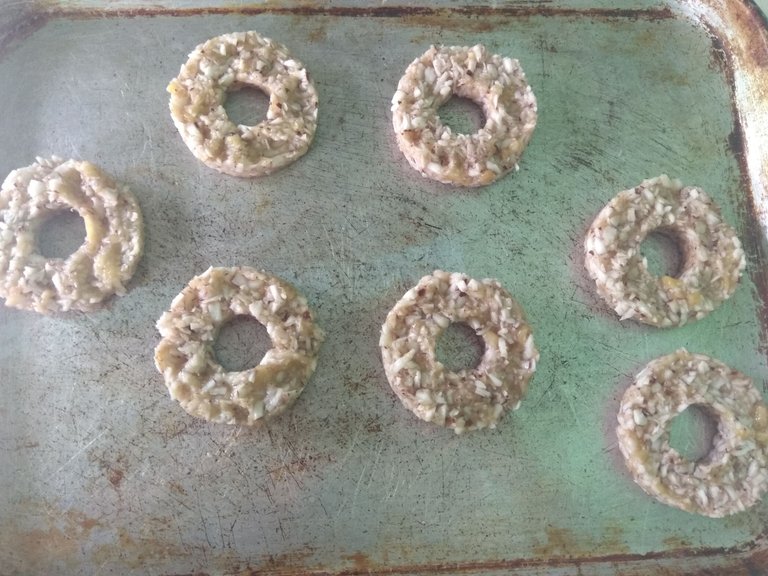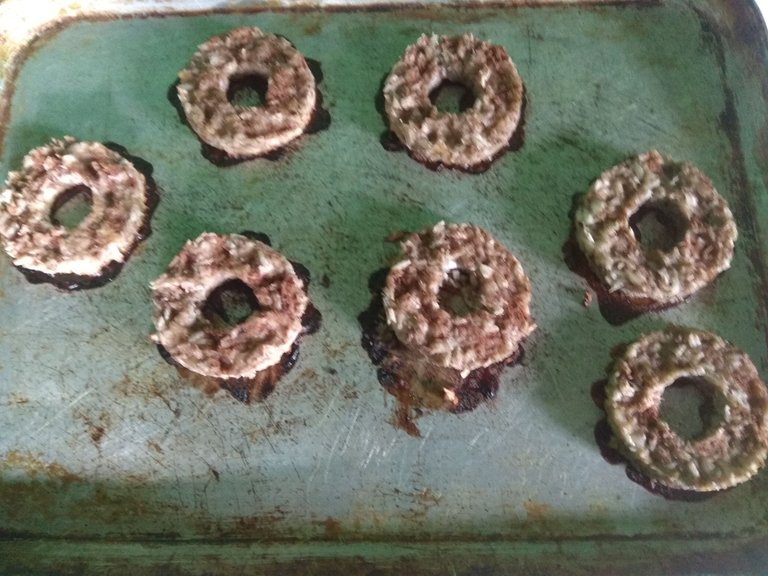 ---
Mientras las galletas se enfriaban derretí el chocolate con un poco de leche, dejen también que el chocolate enfríe un poco antes de untar las galletas, un paso extra que hice fue llevar a la nevera las galletas durante 30 minutos al agregar el chocolate, después se pueden consumir.
While the cookies cooled I melted the chocolate with a little milk, also let the chocolate cool a little before spreading the cookies, an extra step I did was to put the cookies in the fridge for 30 minutes when adding the chocolate, then you can eat them.
---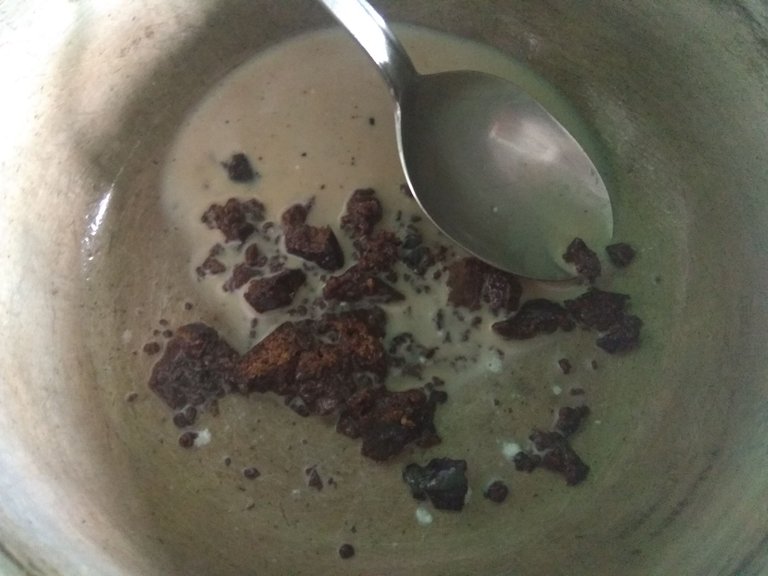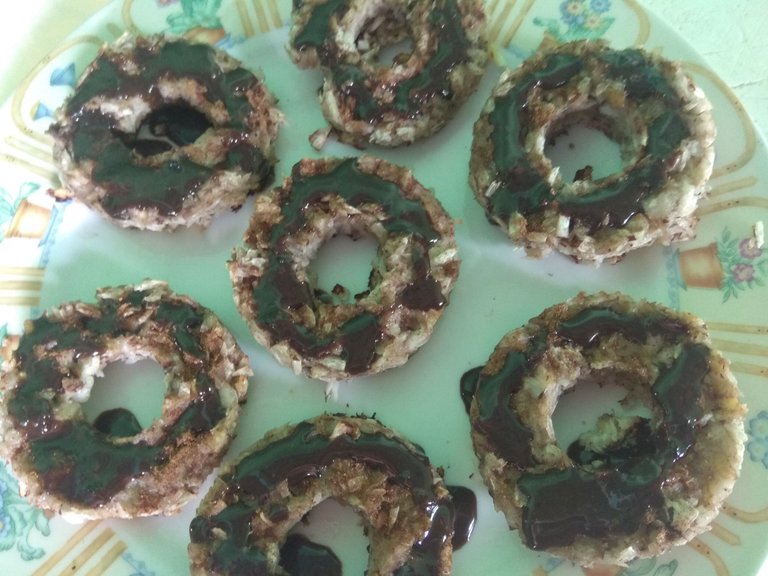 Galletas de coco y banana. || Coconut and banana cookies.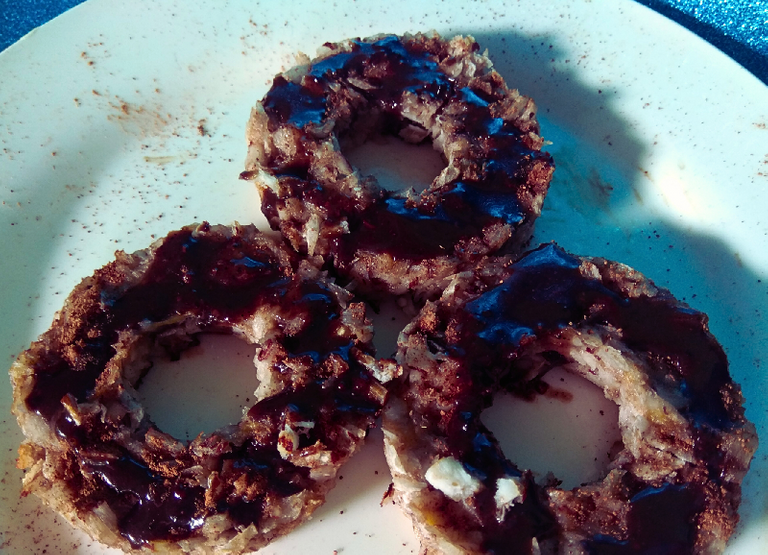 ---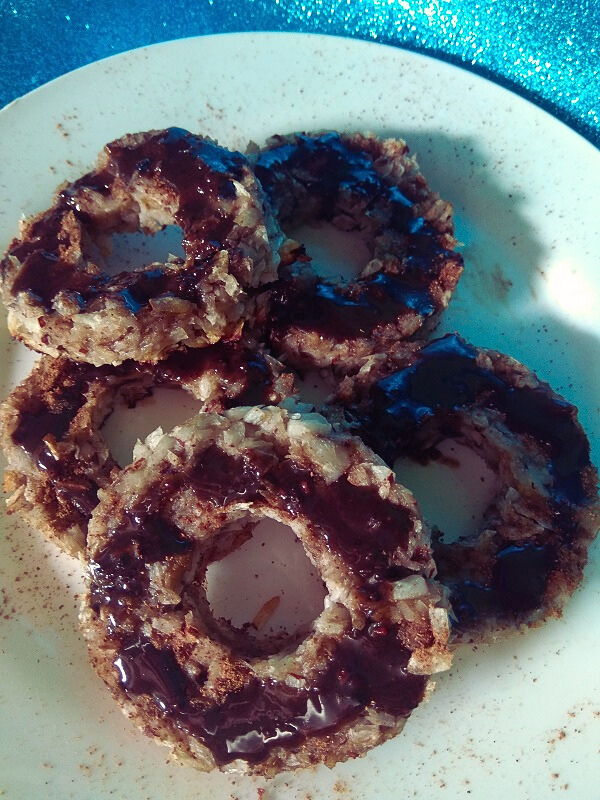 ---

Ligero y fresco, este postre me gustó a pesar de las pequeñas fallas que cometí, ya saben es necesario procesar muy bien el coco si queremos obtener una textura crocante, también armen las galletas finitas esto ayuda que se cocinen más rápido, dime en los comentarios que opinas, gracias por llegar hasta aquí.
Light and fresh, I liked this dessert despite the small mistakes I made, you know it is necessary to process the coconut very well if we want to get a crunchy texture, also assemble the cookies finely this helps them cook faster, tell me in the comments what you think, thanks for getting here.



Imágenes tomadas desde mi Xiaomi Redmi Note 4. || Images taken from my Xiaomi Redmi Note 4.
Separadores hechos en Canva. || Dividers made in Canva.
Ediciones hechas en Canva. || Editions made in Canva.
Vídeos convertidos en gif || Videos converted to gif IMG2GO
Translator Deepl.
---
---