Primer año de Hive Food. || First year of Hive Food.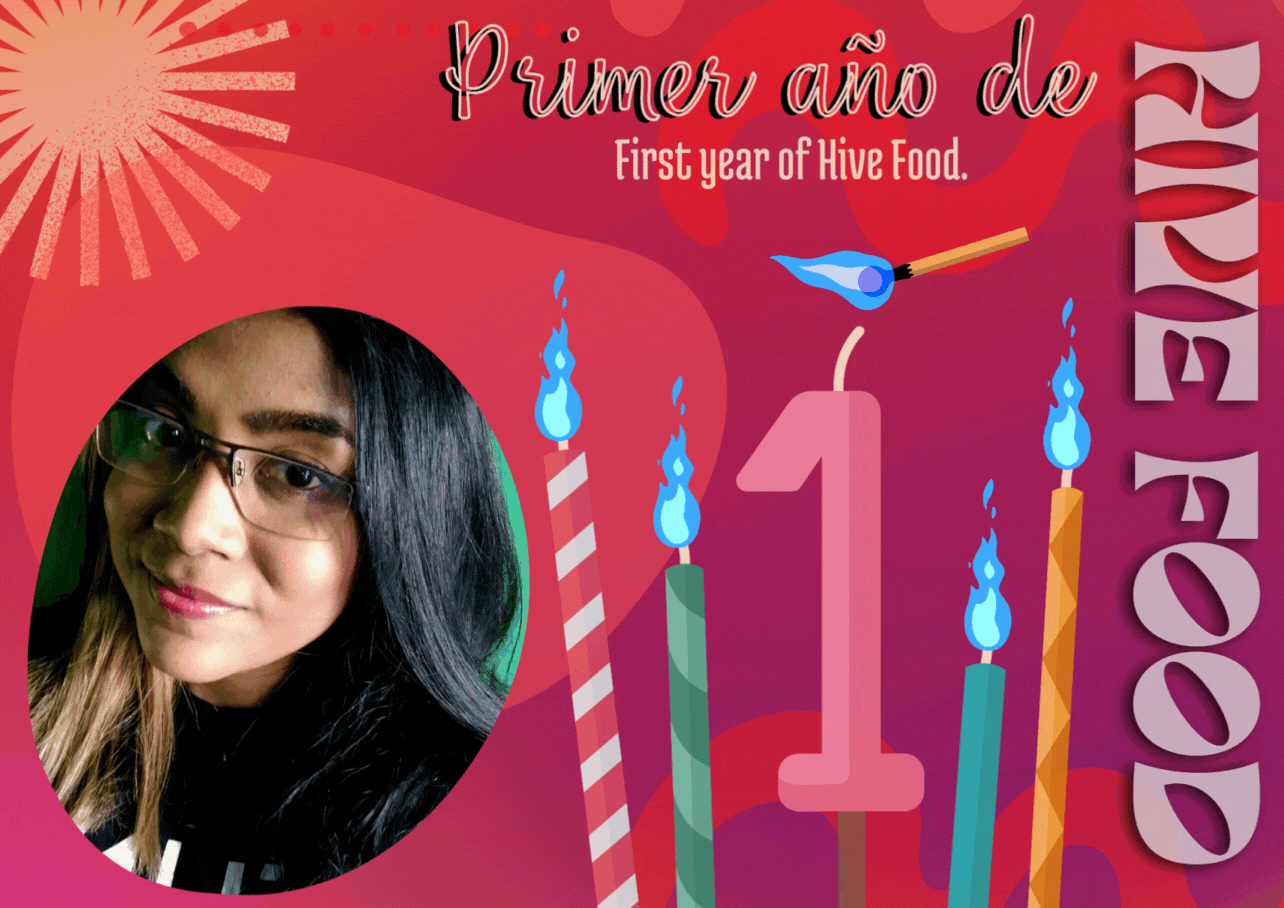 Made in Canva

Hive food esta de celebración, es su primer aniversario y quiere celebrar por todo lo alto con una iniciativa, estoy segura de que muchos hemos participado en el sin fin de concursos de colores que ha compartido la comunidad, también muchos hivers se mantienen activos compartiendo su contenido culinario, en mi caso he participado en varios de los concursos, la temática de colores en la comunidad nos invita a ser creativos, a experimentar en la cocina, es una prueba para nuestras habilidades en la cocina.
Hive food is celebrating its first anniversary and wants to celebrate in style with an initiative, I'm sure many of us have participated in the endless color contests that the community has shared, also many hivers are active sharing their culinary content, in my case I have participated in several of the contests, the color theme in the community invites us to be creative, to experiment in the kitchen, it is a test for our skills in the kitchen.
---
Mi experiencia ha sido muy grata, tengo un tiempo sin compartir dentro de esta comunidad lamentablemente, pero quiero celebrar con ellos este gran logro, vendrán más años de hive food dentro de la plataforma sin duda alguna.
My experience has been very pleasant, I have some time without sharing within this community unfortunately, but I want to celebrate with them this great achievement, more years of hive food will come within the platform without any doubt.

¿Cómo conociste la comunidad Hive Food? ¿Te invito un amigo, la encontraste por casualidad, viste el post de otro hiver, la viste en la lista de comunidades de Hive?
How did you find out about the Hive Food community, were you invited by a friend, did you find it by chance, did you see another hiver's post, did you see it on the Hive community list?

Conocí esta comunidad por recomendación de mi hermana
@genice
, ella había participado en varios de los concursos con temática de color, hasta que un día me decidí en participar no recuerdo específicamente con que color empecé, pero si tengo conciencia de que fueron varios los post que dediqué a esta comunidad, cada color representaba un nuevo reto que afrontar y los retos me encantan, es uno de los concursos en los disfrutaba participar.
I met this community on the recommendation of my sister
@genice
, she had participated in several of the contests with color theme, until one day I decided to participate I do not remember specifically with what color I started, but I am aware that there were several posts that I dedicated to this community, each color represented a new challenge to face and I love challenges, it is one of the contests in which I enjoyed participating.

¿Cuál ha sido tu mejor post publicado en esta comunidad?
What has been your best post published in this community?

Mi participación en el concurso arcoalimentos de hivefood semana #4 NARANJA, hice unas galletas de naranja y avena, gracias a experimentar para este concurso di con unas galletas que son ahora de mis preferidas.
My participation in the hivefood's arcoalimentos contest week #4 ORANGE, I made some orange and oatmeal cookies, thanks to experimenting for this contest I came up with some cookies that are now one of my favorites.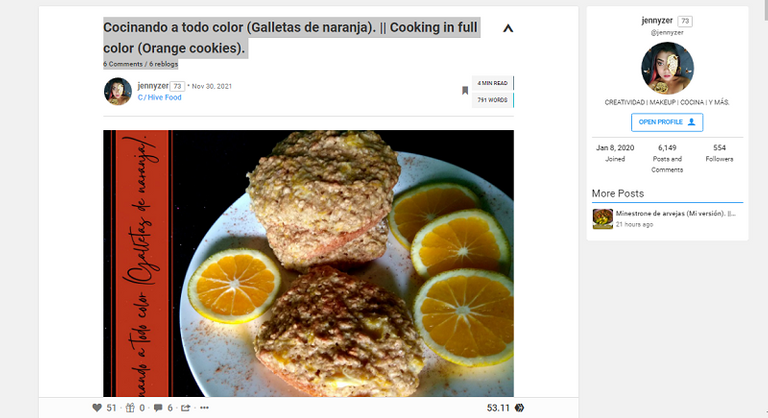 LINK
En el siguiente enlace encontrarán todas las participaciones inspiradas en este color, hay recetas muy interesante.
In the following link you will find all the participations inspired by this color, there are very interesting recipes.
---
Colección: Arcoalimentos de HiveFood Semana #4 NARANJA.

¿Cómo ha sido tu experiencia en Hive Food?
How has your experience at Hive Food been?

Es una comunidad que aprecio que se mantenga activa con retos, que incentive a sus suscriptores, como participante de muchos de sus retos puedo decir que he disfrutado en cada uno de ellos, espero que surjan más temáticas culinarias divertidas.
It is a community that I appreciate that stays active with challenges, that encourages its subscribers, as a participant in many of its challenges I can say that I have enjoyed each one of them, I hope that more fun culinary themes arise.

¿Le recomendarías esta comunidad a un amigo?
Would you recommend this community to a friend?

100% recomendada a todos los hivers culinarios que hacen vida en hive, y claro también aquellos que les gusta ver recetas de comida para entretenerse, no esta demás entrar y apoyar el talento que tienen muchos cocineros en este espacio.
100% recommended to all culinary hivers that make life in hive, and of course also those who like to see food recipes for entertainment, it is not superfluous to enter and support the talent that many cooks have in this space.

En tu opinión: en que debería mejorar la comunidad?
In your opinion: what should the community improve?

Es difícil traer siempre ideas frescas para motivar a los suscriptores, hasta los momentos la fundadora de hive food ha hecho una labor estupenda, aunque siempre se puede mejorar, algo en lo que podría comenzar a trabajar es en incentivar la interacción, y la promoción de hive food en las redes sociales.
It is difficult to always bring fresh ideas to motivate subscribers, so far the founder of hive food has done a great job, although there is always room for improvement, something she could start working on is to encourage interaction and promotion of hive food in social networks.

Déjanos aquí tus sugerencias sobre iniciativas, actividades, temas y que más podríamos implementar en la comunidad.
Leave us here your suggestions on initiatives, activities, topics and what else we could implement in the community.

Algo que he visto muy en tendencia en las redes sociales es llevar a las reuniones comidas con la inicial de nuestro nombre, sería divertida traer esta dinámica a hive food, espero que la consideren.
Something I've seen trending on social media is to bring to meetings meals with the initial of our name, it would be fun to bring this dynamic to hive food, I hope you consider it.

Si quieren ser parte de esta celebración accedan al siguiente enlace para conocer los parámetros a seguir.
If you want to be part of this celebration, access the following link to know the parameters to follow.
---
Celebrando Nuestro Primer Año en Hive - Iniciativa

Imágenes tomadas desde mi Xiaomi Redmi Note 4. || Images taken from my Xiaomi Redmi Note 4.
Separadores hechos en Canva. || Dividers made in Canva.
Ediciones hechas en Canva. || Editions made in Canva.
Translator Deepl.
---
---