Super set full body.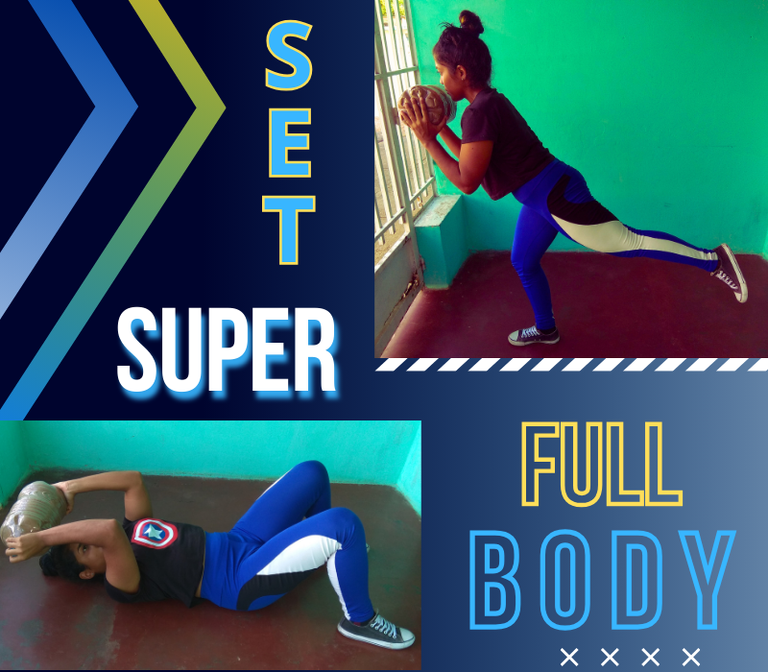 Made in Canva

Lunes de full body, inicia una nueva semana para entrenar, para estar un paso más cerca de ese cuerpo ideal, la rutina que comparto hoy está dividida en sets, 3 sets compuestos por 2 movimientos uno dirigido al tren superior y otro al inferior, usen peso para exigirse más, por supuesto que sea un peso que puedan controlar, al entrenar en casa tienes que usar la creatividad podrías usar una mochila llena de libros, botellas con agua o arena, u otro artefacto pesado, opto por usar botellas con arena me resulta más cómodo.
Monday of full body, starts a new week to train, to be one step closer to that ideal body, the routine I share today is divided into sets, 3 sets composed of 2 movements one directed to the upper and one to the lower train, use weight to demand more, of course that is a weight you can control, when training at home you have to use creativity you could use a backpack full of books, bottles with water or sand, or other heavy artifact, I choose to use bottles with sand I find it more comfortable.
---
Mi forma preferida de acondicionar el cuerpo antes de entrenar es hacer un estiramiento dinámico, al ser un full body empecé por la parte superior del cuerpo realizando rotaciones de cuello y luego de hombros por unos 45 segundos y repetí unas 3 veces, hice elevaciones frontales de brazo el mismo tiempo que los anteriores movimientos, para el tren inferior hice sentadillas profundas con extensión, también por 45 segundos x 3 rounds.
My favorite way to condition the body before training is to do dynamic stretching, being a full body I started with the upper body performing neck rotations and then shoulders for about 45 seconds and repeated about 3 times, I did front arm raises the same time as the previous movements, for the lower body I did deep squats with extension, also for 45 seconds x 3 rounds.



1. SET:
1. SET:
---
▪️ En este primer set iniciaremos por el movimiento enfocado en el tren inferior, realicé un lunge para cuádriceps en este ejercicio tiene protagonismo la flexión de rodilla más que la cadera, lo complementé con una patada para trabajar glúteos, recuerden contraer al subir y controlar el movimiento.
▪️ In this first set we will start with the movement focused on the lower body, I performed a lunge for quadriceps, in this exercise the knee flexion is more important than the hip flexion, I complemented it with a kick to work gluteus, remember to contract when going up and control the movement.
---
▪️ Rainbow press o press arcoíris para trabajar el tren superior, pasaremos el peso de un hombro al otro pasando sobre la cabeza, sumado a este movimiento hice una extensión de tríceps.
▪️ Rainbow press or rainbow press to work the upper body, we will pass the weight from one shoulder to the other passing over the head, in addition to this movement I did a triceps extension.
---
---
20 repeticiones x 3 series, realicen todas las series de un set para pasar al siguiente.
20 repetitions x 3 sets, perform all sets of a set to move on to the next.
---
2. SET:
2. SET:
---
▪️ Press unilateral más un crunch para trabajar oblicuos, como ven primero hago el press y paso al crunch, trabajé primero todas las repeticiones de un lado para pasar al otro.
▪️ Unilateral press plus a crunch to work the obliques, as you can see I first do the press and move on to the crunch, I first worked all the reps on one side to move on to the other.
---
▪️ Goblet squat con talones elevados, es un movimiento que debe hacerse de forma pausada porque compromete tu equilibrio, hagan los movimientos buscando profundidad más que rápidez.
▪️ Goblet squat with elevated heels, is a movement that should be done slowly because it compromises your balance, make the movements looking for depth rather than speed.
---
---
20 repeticiones x 3 series, realicen todas las series de un set para pasar al siguiente.
20 repetitions x 3 sets, perform all sets of a set to move on to the next.
3. SET:
3. SET:
---
▪️ Rompe cráneos para llevar a tope los tríceps más un press, son los últimos movimientos superiores de esta rutina, me recosté en el piso para una mayor comodidad, nótese que en el press francés o rompe cráneos el movimiento radica en el antebrazo, en casa usar una botella para hacer este ejercicio será más cómodo.
▪️ Skullcrusher to bring the triceps to the top plus a press, are the last upper movements of this routine, I lay on the floor for comfort, note that in the French press or skullcrusher the movement lies in the forearm, at home using a bottle to do this exercise will be more comfortable.
---
▪️ Un poco más de trabajo para glúteos con un puente, coloquen el peso sobre su pelvis, bajen a profundidad y presionen al subir, inhalen al subir reteniendo el aire y exhalando al bajar.
▪️ A little more glute work with a bridge, place the weight on your pelvis, lower to depth and press on the way up, inhale on the way up holding the air and exhale on the way down.
---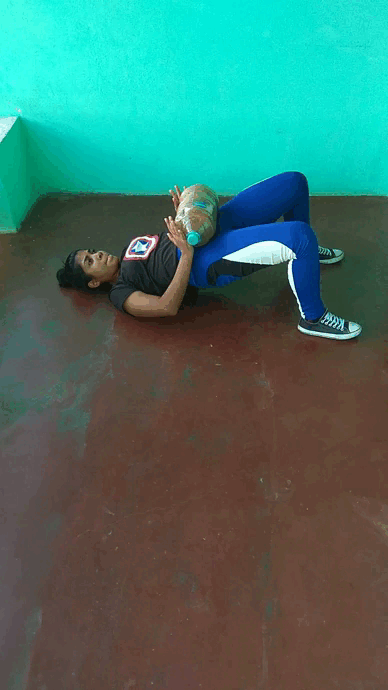 ---
20 repeticiones x 3 series, realicen todas las series de un set para pasar al siguiente.
20 repetitions x 3 sets, perform all sets of a set to move on to the next.



Espero que estén listo para empezar esta nueva semana de entrenamientos, nuestro cuerpo tuvo todo un fin de semana para recuperarse ahora a darlo todo, entrenar debe ir de la mano de una buena alimentación, incluye vegetales, carbohidratos y proteínas en tu plato, que sea una comida balanceada, hidrata tu cuerpo antes, durante y después de entrenar, descansa para reponerte de las jornadas de entrenamiento y lo más importante, no desistas.
I hope you are ready to start this new week of training, our body had a whole weekend to recover now to give it all, training must go hand in hand with a good diet, include vegetables, carbohydrates and proteins in your plate, make it a balanced meal, hydrate your body before, during and after training, rest to recover from the training days and most importantly, do not give up.
---
¡Sigamos activos!
Let's stay active!



Imágenes tomadas desde mi Xiaomi Redmi Note 4 por @genice. || Images taken from my Xiaomi Redmi Note 4 by @genice.
Separadores hechos en Canva. || Dividers made in Canva.
Ediciones hechas en Canva. || Editions made in Canva.
Vídeos convertidos en gif || Videos converted to gif IMG2GO
Translator Deepl.
---
---