Ending life, is it a solution?
Life and death are one thread, the same line viewed from different sides. - Lau Tzu
Early this morning a friend and a neighbor came to our house with a gloomy face. He is asking for a mobile load that will enable him to call his family. He said with a sad tone, "my father is badly sick."
He continues, "He can no longer talk, he can no longer stand up on his own, he keeps on lying in bed for months now, he can no longer eat. My mother is trying to let him eat by putting the rice porridge in the blender before giving the food to him."
I can really see the sadness on his face and he seems to cry. He even show me the picture of his father, so old because he is 80 years old and he is now so thin. I can feel how heavy his heart is.
He even said, that his sister doesn't want to see their father in that situation because she felt so pity on him.
He wanted to go home and see his father thinking that it might not live longer but he didn't have enough money to go home to their province. I told him that if possible he would find ways to go home and see his father while he is still alive.
He is so sad and even told me that even it is so sad to think but he hopes that God would not let his father suffer for a long time and take his life.
I told him that I can feel what he feels because I was once in his situation when our father suffered from a disease and became bid ridden for a long time.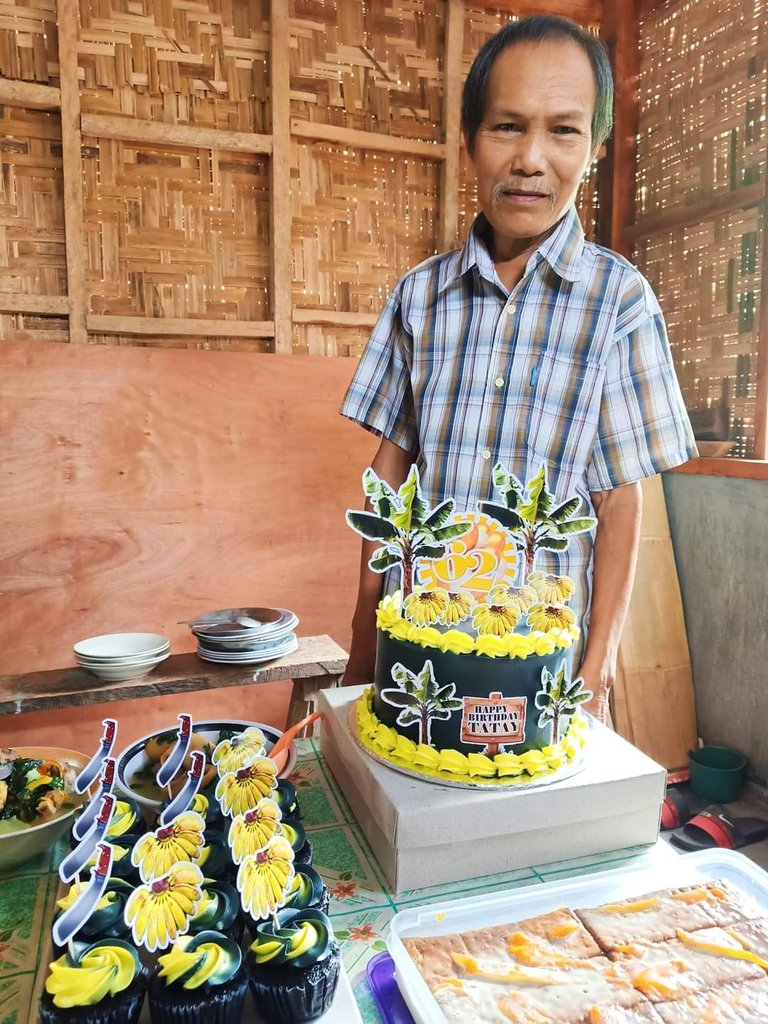 My father's picture during his last birthday. He is so thin this time as he is already a hemo-dialysis patient and suffering from illnesses.
During those times, I keep on crying in silence, I keep crying when no one is there to see me because it is so hard seeing my father in bed, suffering with so much pain. It is also so hard to see my mother suffering in taking care of him. Though she didn't complain, I can feel how tired she is.
My father also wishes that death will come to end his suffering. Our mother will always tell him that we should never go first to the plan of God.
Seeing someone you love, suffering in too much pain makes you think and wish that it is better to let them rest forever.
---
I read sir @galenkp weekend engagement concept and this morning conversation is fit in the first topic Time to die that talks about EUTHANASIA.
Euthanasia is the practice of ending the life of a patient to limit the patient's suffering. The patient in question would typically be terminally ill or experiencing great pain and suffering. Source.
Am I pro or anti euthanasia?
Honestly, seeing your loved ones in too much pain will make your heart breaks. Seeing my father in too much pain and suffering back then really makes me pray that it is better he will die and his suffering will end in there. (It's not easy to pray for it.)
As a Christian, we believe that life is not ours and we don't have the authority to end it. So, even seeing our father in pain, I would still say NO TO EUTHANASIA. Only the giver of life could take away life from us but it didn't stop me or stop us, to ask God through prayer to please heal him or if not take his life so he would never suffer anymore.
God answered our prayer that time and our father was healed from that suffering. After more long years, COVID 19 came and in the midst of pandemic our father died due to pneumonia. He survived the greatest and long suffering but died in having cough. Only God knows when will be our last.
Thank you for reading.
---
---