Meatless spaghetti
Cooking is an art. It is a skill acquired by study, experience, observation and to me by experimenting.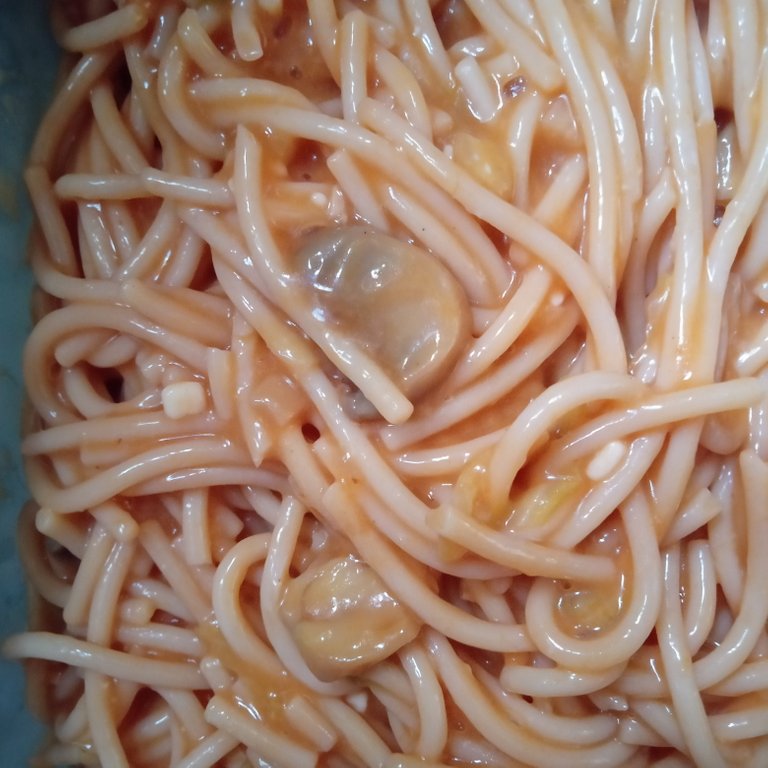 Have you tried meatless spaghetti? For sure many will say no but I'm also sure that there are some who cooked and ate meatless spaghetti. We have our vegan friends that is for sure cooking a meatless spaghetti.
I always said I am not good in cooking. I can't even cook bihon (rice vermicelli) perfectly all the time. My Filipino friends knew how easy to cook it but swear I can't do it perfectly all the time. There were times that my husband will say "Oh you did it right," but most of the time he will jokingly said, "You're old enough and yet don't know how to cook it?" (You can now laugh at me but that's true, lol)
This is the reason that I never cook when there is occasion or if there were visitors. I only cook for our own consumption.
I never learned cooking when I was young. Our father is the main cook in our house. He did the cooking all the time and we were just his helpers. We were in the kitchen to wash the dishes, wash the utensils, help him prepare the ingredients by peeling it, washing it and slicing it but never in cooking.
When our father died, we had a hard time in cooking. I remember one day, I called my husband what is the process in making afritada. Good thing our relatives came and help us to continue in cooking.
Anyway, enough for that story. All I can say is I am not good in cooking, but I do cook for my family.
Cooking Spaghetti for the first time
Again, I don't know how to cook spaghetti. We never tried to cook it at home when I was young. We only have tasted it when our neighbor will give some to us during their birthday, Christmas or new year. We are one of the most indigent family in our Barangay back then and we cannot afford to have those food.
As eldest, I always have wished to have it at home. When I had my first ever job, I really tried to buy spaghetti and tried to cook it.
Guess what happened? I followed the instructions in cooking the pasta. I boiled water with some salt and oil in it. I'm pretty sure that I did it right. I am so excited to taste it only to find out that my spaghetti is salty, lol. (Oh, you can laugh with me too, lol)
That was the beginning of learning how to cook spaghetti.
Cooking meatless spaghetti
I am not fond of eating hotdog or should I say we are not used to it because our parents never offered it when we were young. I can't remember that our parents bought some hotdog back then. Upon knowing that it is not really good for our health, I never wanted to eat it though.
I also never bought any for my son but he tasted some when some of relatives or friends will gave one to him.
I wanted to eat spaghetti but with no meat and no hotdog. How could I? I can't buy because spaghetti have usually had it.
So, I started to experiment or should I say I started to cook meatless spaghetti just for our own consumption. I started with half kilo and I as well as my son enjoyed it.
Last Sunday, it was my son's fifth birthday. As I have said I am not good in cooking. So, my husband will be the one to cook for our viand and I decided to cook meatless spaghetti. While doing it, I had a question in my mind, "Will our visitors will eat this? This is unusual for them. We'll see."
How to cook meatless spaghetti?
Ingredients: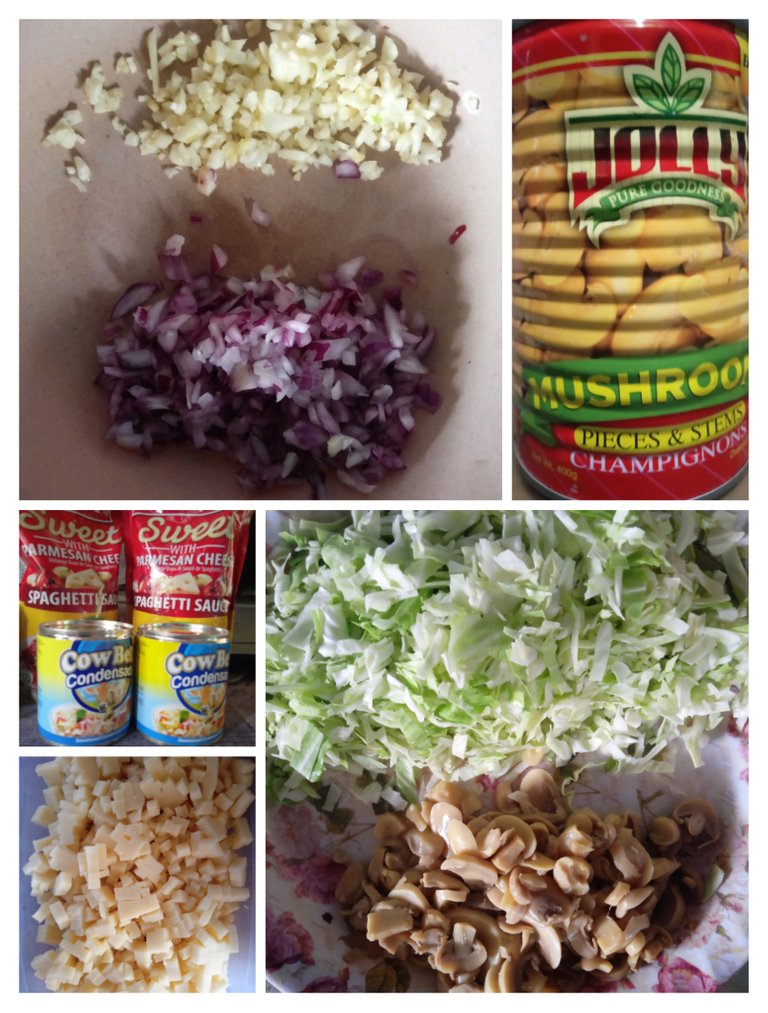 2 packs of 800g spaghetti (Sorry, I forgot to have its picture)
2 packs of 900g spaghetti sauce (I add another 500g)
2 cans 300ml cowbell condensed milk
2 large onions
6 cloves garlic
1 can 400g jolly pieces and stems mushrooms
1 big cabbage
4 tablespoon salt
4 tablespoon oil
10 Liters water
Cheese
Procedure:
Spaghetti
Boil atleast 10 Liters of water, 4 tablespoon of oil and 3 tablespoon of salt in a large pot.
Cook 1600g of Fiesta Spaghetti in boiling water for 8 to 10 minutes or until full to the bite or until tender. Stir occasionally and do not overcook.
Drain pasta and run cold water to make the firmness remain.

You can serve it with the Fiesta Spaghetti Sauce but in my case I just set it aside.
Sauce
Saute onion and garlic in a pan with a boiling oil. Add mushroom and cabbage. Put salt according to your taste.
Add spaghetti sauce, condensed milk and cheese then let it boil.

You can now served it with the spaghetti pasta but in my case I mixed them all together.
Serve and enjoy.
This recipe is delicious for us and knowing that it contains vegetables for sure it really brings good benefits for our body. I do love it! (love your own, lol) and off course my son loves it too.
There is a bayanihan (work for free with unity) in our church and I let some of the kids bring some spaghetti to them and it will serve as their merienda.
My sister-in-law who was there told me later that they wonder what was in my spaghetti? Oh! a cabbage and a mushroom they said. It was a unique spaghetti, they said.
I told her it was my own spaghetti recipe - a meatless spaghetti. I used mushroom as alternative for meat and I added cabbage as per my friend Blendz suggestion (my friend in noise who loves to eat plantbased food).
I don't know if they really like it. Our visitors, kids and adult tasted it and I'm happy to see nothing was wasted. Did they like it? Or they just really don't have a choice but to eat it? lol.
I'm not good in cooking according to your own taste or recipe but atleast I'm good in cooking for our own consumption😀.
All photos are mine.
Cooking is a talent and a skill that will give you and your family a food that will give life or lost life.
Thank you for reading.
---
---