Afri-Tune #53 || O ti se - Lara George (cover) by @Jessicaossom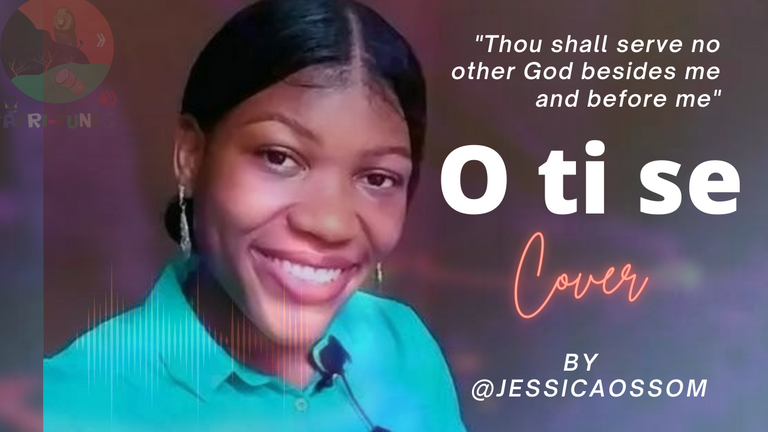 It's another beautiful week in the Afri-tunes community for us to sing African music as usual, and today, I chose a song by Lara George called O ti se. That song means he has done it.
Our lives can be impacted by that word in several ways. My understanding has grown over the years that we live in our minds rather than in the external world. Faith is no different. You may have prayed for something and it seems like God is not answering it because you can't see the outcome of your prayers.
I am using this song to encourage you to believe that it is already done, God has already done it. In particular, I appreciate the part of the song that says thou shall serve no other God before me and beside me. We shouldn't compromise our faith simply because we feel God isn't responding to our prayers.
As I was watching an Indian movie recently, they tried to explain how God works. If you haven't received what you've asked for, you should think of it this way. It may not be God's appointed time or something may go wrong if I have it now.
Even if you try to think about it, there are many things in this life that will remain a misery, and no matter how you think about them, you may never understand them because the Lord works in a mysterious way. He is the creator of the universe, and he is in control of it.
The point is for you to trust God and believe that he is handling all you have placed in his hands He has done it, that's what the song talks about. Praise God for what he has done, even if you haven't seen it. Praise God when you finally see it. Praise God if it never happens because he always has a better and greater plan for us.



Earphones recommended
Please, I would appreciate if you subscribe to my channel, thank you
I hope you enjoy listening to this presentation.
The instrumental was gotten through Moises.ai after downloading the original song and I edited the header image with my photo using canva.
O ti se, o ti se, o ti se

Baba ti se, o ti se, o ti se
O ti se o, o ti se o
O ti se, o ti se, o ti se
Baba ti se, o ti se, o ti se
O ti se o, o ti se o
---
---