🎵 Hive Open Mic 137 - Healer (cover) by @jessicaossom
---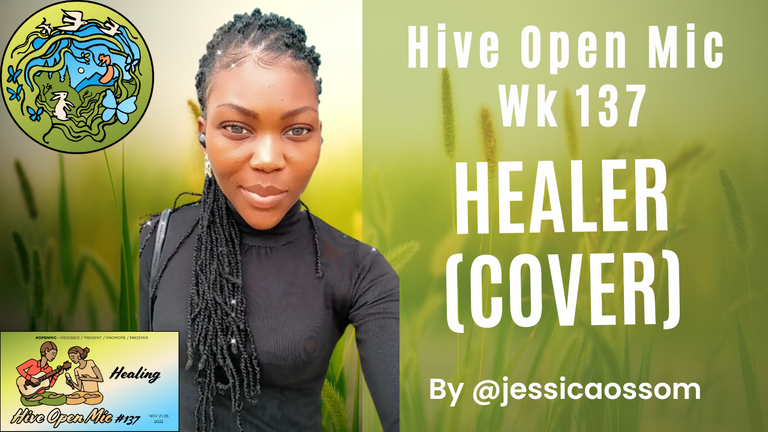 I decided to do a song by Kari Jobe titled healer for this week's Hive Open Open Mic weekly contest. The theme "Healing" was chosen by the community's recent spotlight @jaydr
The #OpenMic contest is one of my favorite contests because it allows music lovers to learn a new song every week. Like last week, I learned a new song titled "Don't stop believing". It's a nice rock-type Pop song.
The song I am presenting this week is a song that I have known for some years now. It is a song I learned in my church's choir. It's a Christian song.
This song has been covered by many artists, including Hillsong. However, I read that the song was originally written by an Australian songwriter named Michael Guglielmucci. He was diagnosed with a terminal illness, which inspired the song "Healer". It seems that there are quite a few controversies surrounding the song.
My opinion is that it is a worship song, sung to God by those with faith. Despite the obstacles or illnesses they face, they believe that Christ is their healer, so God is able to heal them through Jesus. He is the only one who can heal them. Most importantly God is more than enough.
I presented a very short version of this song without an instrumental in Hive Open Mic week 125. Majority of the people that commented said that they would have loved it if it was longer. Looking at it now, I saw that it fit the theme 'Healing', so I decided to sing the full song.
Thanks for reading and I hope you enjoy watching the video.
You hold my every moment

You calm my raging seas
You walk with me through fire
And heal all my disease
I trust in You, Lord I trust in You

I believe You're my healer
I believe You are all I need
Oh, I believe

I believe You're my portion
I believe You're more than enough for me
Jesus You're all I need

---

▶️ 3Speak
---
---