Creative Sunday ||Dido - Life For Rent (cover) by @jessicaossom

---
Hello, Hive Learners community!
I hope everyone is having an amazing weekend.
For this weekend's creative Sunday, I presented an Acapella cover of the song Life For Rent by Dido.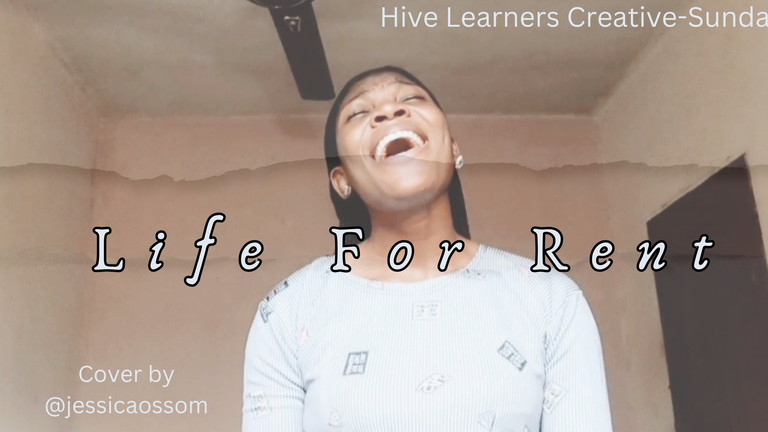 Edited On Canva
I decided to sing the song because it had been ringing in my head since this morning. I chose to sing it a cappella because I wanted to keep it simple and focus on the lyrics.
From my perspective, I think Life for Rent by Dido is about an individual or a lady who feels she is powerless and owns nothing that matters in life to her. She feels as if her life is not her own and is instead in the hands of others.
She questions her existence and wonders why she is here. She longs for a life of her own, a life that she controls and owns. She expresses her dissatisfaction with her life and wishes for a life of her own.
In this song, the value of life and the importance of owning it are profoundly expressed.
I returned from church a while ago. I did a few things that I needed to do before placing my phone in the position I always put it in when I wanted to record a video.
Currently, two of the equipment I use to record videos for my music covers have been damaged.
I returned home the other day only to find my ring light broken. The most annoying thing was that no one admitted to being responsible. I was so angry that I yelled at everyone in the house. I then decided to take a break to calm down and collect my thoughts. I had to find a way to replace the broken equipment as soon as possible. That's why, since that day, I have always locked my door when I go out.
I haven't replaced it yet, though, but I have been working on finding a solution to the problem. I have also taken measures to make sure it doesn't happen again.
Whenever I want to record a video, I just stack big bags in my box and then find something to support my phone. It's not an ideal solution, but at least it's better than a broken ring light. I'm hoping to buy a new one soon, but in the meantime, I'm making the most of the makeshift set-up.
The second piece of equipment is my earbuds, ever since the charging port developed issues, I have not been able to use them. I had to take it to an engineer, who told me it could be fixed. I do not see myself disposing of such an expensive earbud after just a year and two months, I should at the very least try my luck to see if it can be repaired.
I hope you enjoy the rest of your weekend.
---
▶️ 3Speak
---
---