Newbies Initiative Task 5. Tribe Tokens and Tags.
Indeed we learn every day so long as our mind is open and ready for learning. No one is an island of knowledge and no knowledge is a waste. Constant practicing of what we've learned is what brings about permanency, I don't want to use the word perfection because nobody can be perfect, only God is perfect.
When I initially joined the hive blockchain, I knew that the native token could be sold to exchange for money but I never knew how I was going to get the native token hive. That's funny, right?
I remember that I was getting only hp and hbd. Each time I checked my wallet, I wouldn't see hive but would see hp and hbd. I didn't even know that hbd is also a reward that can be exchanged for our local fiat. I ignored it, I was only after hive.ré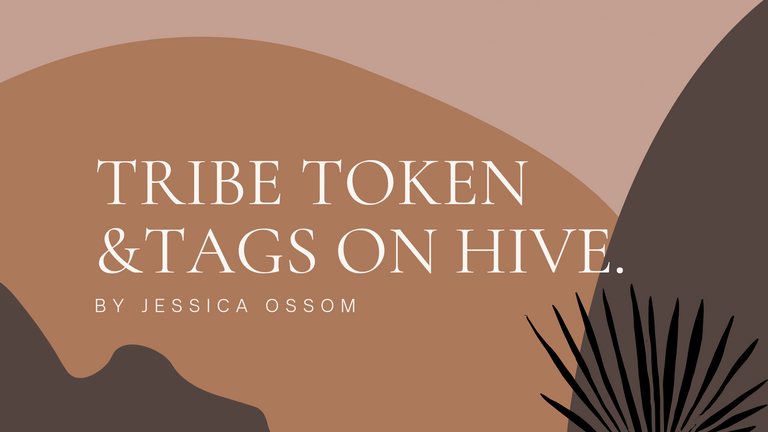 A few months into my stay in the blockchain, I discovered the hive engine wallet. Somehow through the help of a friend, I was able to learn how to sell tokens in the hive engine for hive and I learned how to move them from the hive engine to my hive wallet.
I was excited when I learned how to do that and was more excited when I learned how to sell my hive token with ease on an exchange.
At first, I had assumed that it was one very complex thing on the blockchain. I was wrong.
Let's talk about the hive engine token which is also called the Tribe token.
To be honest, I've only recently learned that they are called tribe tokens, I've always called them hive engine tokens.
NEWBIES INITIATIVE QUESTIONS AND ANSWERS ABOUT TRIBE TOKENS.
Why do communities create tokens on Hive?
Communities create tokens on hive to reward the community members. These rewards are ways the community appreciates members for their quality engagement and time spent in the community.
Explain why the use of tags is very important on Hive.
So far that I have known up to the moment, the major reason why the use of tags is very important on hive is that it gives our content visibility. Using the right tags is important because it enables other authors and curators to easily find a post without having to search and scroll through the blockchain for a long time. From the tutorial post, I found the word SEARCH ENGINE OPTIMIZATION, this is what the appropriate use of a tag does. Tags allow the right audience sees your post.
List some general tags you know on Hive. Explain the difference between these tags
We have several tags on the blockchain.
#foodiebeehive: This tag is used for content that is about food. It could be a tutorial about a particular food that is prepared or anything related to good.
#comedy: This tag can be used on a humorous post. Someone may be feeling bored and may want to find a good comedy post that would make them laugh. If such a person simply clicks on the comedy tag, what would pop us would only be comedy posts.
#spiritual: If you want to talk about religion or all that has to do with something out of the physical realm, clucking on the spiritual tag would take you to posts like that.
#Marketfriday: This community allows users around the world to share the pictures and experiences of their visit to the market. The search helps to find only a market Friday post.
There are more tags like #Music #Life #Games and many more.
What are the various ways you can earn tribe tokens on hive?
Tribe tokens can be earned as rewards through engagement in the community. For example, posting quality content in the community.
Several communities organize contests and usually, at the end of the contest, winners are rewarded with the tribe token.
Staking a tribe token earns you more. Each time you create a post in a community, you earn their tribe token. For instance, proof of brain. When you stake your $POB token, you earn the token when the curator's reward is distributed.
You have come to the end of this post, I appreciate the t io me you spend reading and hope to see
---
---