[Eng-Esp] Ms. Marvel (Episode 6, Spoiler Alert!) A character with a lot of potential
Source
Now that the Ms. Marvel series is over and looking back, I can say that although there were some episodes that left something to be desired, it was a series that did not disappoint me, especially since this last episode brings some very interesting things that I will comment below.
A long-awaited reunion
Kamala returned from her trip to Pakistan to New Jersey and there she reunited with her two best friends: Bruno and Nakia, and is that they form a group not only with great chemistry but each one from his personality brings much to the series. In addition to being an unconditional support for our superheroine and her friend.
Thus we will find Nakia already being an important figure within the mosque, something she had fought for and that goes beyond rescuing the leading role of women in religion but also in society in general even when she does not have superpowers and the fact of daring to lead and defend the rights of the most vulnerable is already a great quality.
For his part, Bruno, is a character that I loved, since his scientific wisdom has contributed much to clarify the powers of his friend and the circumstances surrounding him. His brilliant mind can contribute much to the development of the events of the Marvel Universe, as well as other scientists have done, he helps us to understand what at first seems a totally inaccessible mystery.
Ya terminada la serie de Ms. Marvel y haciendo una mirada retrospectiva puedo decir que aunque hubo episodios que dejaron qué desear, no obstante en su conjunto fue una serie que no me decepcionó, de manera especial este último episodio trae cosas muy interesantes que en seguida comento.
Reencuentro esperado
Kamala regreso de su viaje a Pakistán a New Jersey y allí se reencuentra con sus dos mejores amigos: Bruno y Nakia, y es que conforman un grupo no sólo con mucha química sino que cada uno desde su personalidad aporta mucho a la serie. Además de que son de un apoyo incondicional para con nuestra superheroína y su amiga.
Así nos vamos a encontrar a Nakia ya siendo una figura de importancia dentro de la mezquita, algo por lo que había luchado y que va más allá de rescatar el papel protagónico de la mujer en la religión sino también en la sociedad en general incluso cuando no tiene superpoderes ya el hecho de atreverse a liderar y defender los derechos de los más vulnerables es ya una gran cualidad.
Por su parte Bruno, es un personaje que me encantó, ya que desde su sapiencia científica ha aportado mucho a esclarecer los poderes de su amiga y las circunstancias que le rodean. Su mente brillante puede aportar mucho al desarrollo de los eventos del Universo de Marvel, así como lo han hecho otros científicos nos ayuda a comprender lo que en un principio parece un misterio totalmente inaccesible.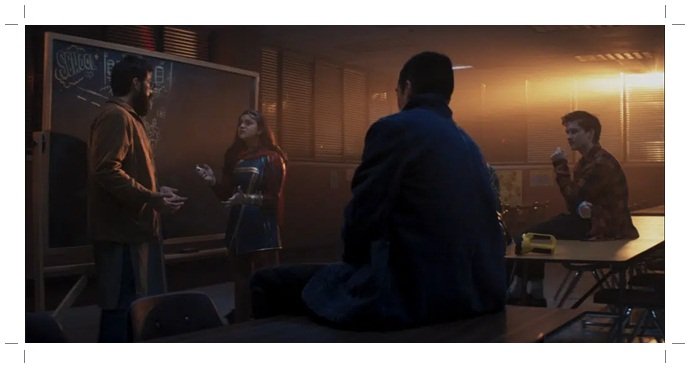 Source

Acceptance of the new superheroine
This episode is the best of the whole series, among other things because it is the consecration of Kamala not only as a superheroine but the, so to speak, guardian of her confreres of religion (remember that she is Muslim) and her fellow citizens, as it is practically the whole city that in one of the scenes rushes to defend her from false accusations, of course also because she saves many people from a catastrophe, a greater reason to be on her side.
Speaking of sides, I always like to note how the side that superheroes choose is that of good, justice, and truth. This is what our protagonist does by offering her help to prevent the Damage Control secret service from capturing Kamran but also the same thing she does by preventing him from attacking his captors, you see, this is the true service to justice and the most vulnerable.
Precisely this is what is polishing the skills of Kamala that already here is shown to us in a degree of greater evolution, even new facets of her powers are discovered, something totally wonderful and spectacular that although it is present in other characters they knew how to give her that particular magical touch, as they repeat again and again in the series.
Aceptación de la nueva superheroína
Este episodio es el mejor de toda la serie, entre otras cosas porque es la consagración de Kamala no sólo como una superheroína sino la, por decirlo de alguna manera, guardiana de su cohermanos de religión (recordemos que ella es musulmana) y sus conciudadanos, pues es toda la ciudad prácticamente la que en una de las escenas se avalancha para defenderla de falsas acusasiones, claro también porque salva a muchas personas de una catástrofe, un mayor motivo para estar de su lado.
Hablando de lado, siempre me gusta notar cómo el lado que los superhéroes eligen es el del bien, la justicia y la verdad. Es lo que nuestra protagonista hace al ofrecer su ayuda para evitar que el servicio secreto del Damage Control capture a Kamran pero también lo mismo que realiza al evitar que éste ataque a sus captores, como ven, es el auténtico servicio a la justicia y a los más vulnerables.
Precisamente esto es lo que va puliendo las habilidades de Kamala que ya aquí se nos muestra en un grado de mayor evolución, incluso nuevas facetas de sus poderes son descubiertas, algo totalmente maravilloso y espectacular que aunque está presente en otros personajes le supieron dar en ella ese toque particular mágico, como una y otra vez repiten en la serie.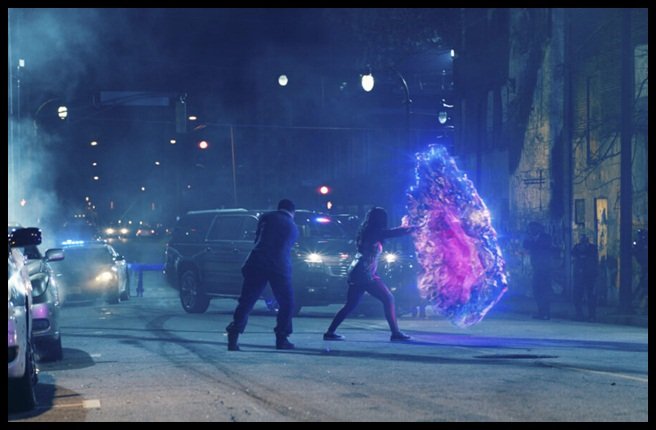 Source

Opening to the future
Here I am not referring only to the fact that this is a teenage superheroine and that, therefore, there is still much to learn from her, such that the character can evolve but also because there are, from my point of view, two pearls that they let us drop precisely in the last scenes.
The first is that thanks to the studies that Bruno had been doing, it is discovered that Kamala's powers come from a mutation. Mutate what? I said at that precise moment... This opens up two possible scenarios, one paving the way for the X-Men, the traditional mutants we know (Wolverine, Storm, Cyclops, Professor X, etc.), and two, the entrance of the Inhumans to the UCM. In a few words, the "race" of these is similar to mutants, since they are products of a genetic alteration, the difference is that they are experiments of another race, that of the Kree, but let's leave these until here that can be the subject of another post.
The truth is that the existence of the mutation is already a fact of the UCM with this small but great scene. On the other hand, the second fact to highlight that leaves the series with an opening of interest is that at the end appears Captain Marvel, How? Did I say to myself? Yes, apparently Kamala's bracelet somehow communicated with this legendary heroine and they exchanged their location. It's time to wait with even more excitement for the upcoming 2023 release of The Marvel, a movie in which Kamala, Carol Danvers, and Monica Rambeau will share adventures since all three have shared something in common in their lives. All this makes Ms. Marvel a character with a lot of potentials.
Apertura al futuro
Aquí no me refiero sólo al hecho de que se trata de una superheroína adolescente y que, por lo tanto, hay todavía mucho que aprender de ella, mucho que el personaje puede evolucionar sino también porque hay, desde mi punto de vista, dos perlas que nos dejan caer precisamente en las últimas escenas.
La primera es que gracias a los estudios que había estado haciendo Bruno, se descubre que los poderes de Kamala provienen de una mutación. Muta qué dije en ese preciso momento... Esto abre a dos posibles escenarios, uno preparar el camino a los X-Men, los mutantes tradicionales que conocemos (Wolverine, tormenta, cíclope, porfesor X, etc.) Y dos, el ingreso de los inhumanos al UCM. En pocas palabras, la "raza" de estos es parecida a los mutantes, puesto que son productos de una alteración genética, la diferencia es que son experimentos de otra raza, la de los Kree, pero dejemos estos hasta aquí que puede ser temática de otro post.
Lo cierto es que ya la existencia de la mutación es un hecho del UCM con esta pequeña pero grandiosa escena. Por otra parte, el segundo hecho a resaltar que deja a la serie con una apertura de interés es que al final aparece capitana Marvel, Cómo? Me dije... Sí, al parecer el brazalete de Kamala comunicó de alguna forma con esta legendaria heroína e intercambiaron su ubicación. Toca esperar con más emoción todavía el próximo estreno para el 2023 de The Marvel, película en la que compartirán aventuras Kamala, Carol Danvers y Mónica Rambeau, ya que las tres han compartido en su vida algo en común. Todo esto hace de Ms. Marvel un personaje con mucho potencial.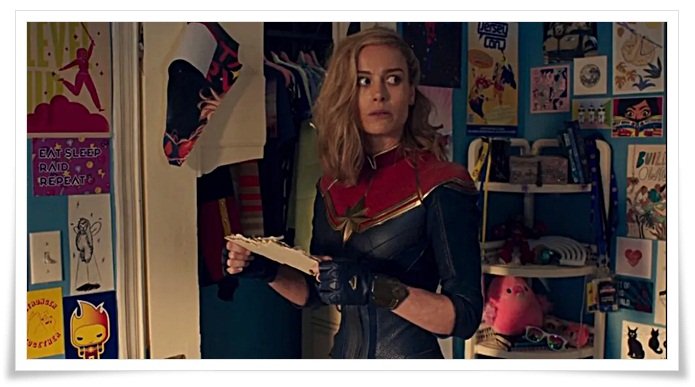 Source

Thank you very much for having accompanied me in the reading of this post, wishing you always the best and that we can meet again in the next publication, I say goodbye, see you later.
Muchas gracias por haberme acompañado en la lectura de este post, espero tus comentarios y que nos podamos volver a encontrar en una próxima publicación, hasta luego.


---
---
---
---

---

---
---