[Eng-Esp] Rising Stars: Opening packs and my current status in the game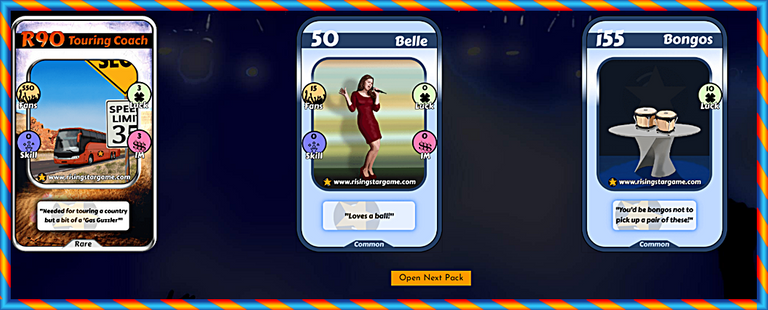 Today I made a purchase of 12 packs for 100 thousand starbits, and although I was not as lucky as in my last opening (where I got an epic) it was still interesting because one option that we will always have available in the sale of cards. Therefore, I made a review of the market and put a couple for sale, waiting for other cards to be scarcer so I can sell them too because by simple law the less supply and more demand we can make a more profitable operation.
On the other hand, although I am more interested in collecting unique cards, there is a type of card that never hurts to have several of them. These are the cards of the vehicle family, which provide us with fans on our way to the top. Let's not forget that the starbits we receive per mission are proportional to the number of fans. Well, in this opening I got two R90 Touring Coach which gives me 550 fans, and two R115 Microlight, which gives me 400. This means that only with these cards do I gain 1900 permanent fans.
In this regard, I have made an approximate of how many fans we would need to get "x" amount of starbits doing several missions a day and having the ego at 0, and my experience is that for every 5000 fans we can make about 1000 starbits daily, which means that for every 50000 are 10000, and so on. All this is approximate that can be done without problems when you have already reached a certain level of play.
Hoy he hecho una compra de 12 packs por 100 mil starbits, y aunque no tuve tanta suerte como en mi última apertura (donde saqué una épica) igual estuvo interesante porque una opción que siempre tendremos disponible es la venta de cartas. Por eso, hice una revisión del mercado y puse un par la venta, en espera que escaseen más otras cartas para también poderlas vender, ya que por simple ley mientras menos oferta y más demanda podremos hacer una operación que sea más rentable.
Por otra parte, aunque me interesa más reunir cartas únicas, hay un tipo de carta que nunca están de más tener varias de ellas. Son las cartas de la familia de los vehículos, las cuales nos proveen de fans en nuestro camino a la cima. No olvidemos que los starbits que recibimos por misión son proporcionales al número de fans. Pues bien, en esta apertura obtuve dos R90 Touring Coach que me da 550 fans y dos R115 Microlight, que me da 400. Lo cual quiere decir que sólo con estas cartas gané 1900 fans permanentes.
Al respecto, he hecho un aproximado de cuántos fans necesitaríamos para obtener "x" cantidad de starbits haciendo varias misiones al día y teniendo el ego a 0, y mi experiencia es que por cada 5000 fans podemos hacer unos 1000 starbits diarios, lo cual significa que por cada 50000 son 10000, y así sucesivamente. Todo esto un aproximado que sin problemas se puede hacer cuando ya se ha llegado a determinado nivel de juego.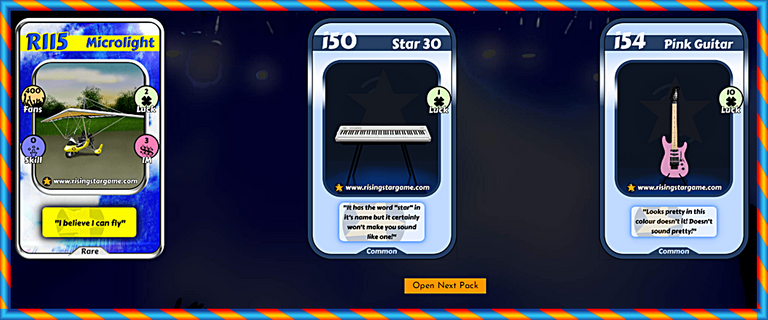 Along with the issue of fans I also focus on collecting new cards, so, reviewing the market I took the opportunity to acquire in an offer of 40 thousand starbits the E43 Ziggy that gave me 600 fans, 300 skills, 5 luck, and 5 I.M., which means that each fan cost me 66.6 starbits and each skill 133.3, which is a very good proportion compared to the price of other similar cards.
Currently, the cards that I need the most are the instrument cards, and that's because I've focused more on acquiring the guitar class cards, which are the music lessons I do. However, I have also been able to take advantage of some good deals in previous days, for example, the Epic Microphone E13 Unidyne and the Epic Drums E25 Pro Kit.
Therefore, I share here a musical piece assembled using precisely some of my latest acquisitions, where they stand out: With the E13 microphone Ziggy, that special personality that feels played by beings from another planet, Charlie, who accompanies giving melody with the Banjo i9, Macy who shines playing the E25 drum kit, Katie who takes advantage of the particular sound of the E36 guitar and Douggie who in the background is heard with the R43 String Machine.
Junto al tema de los fans también me enfoco en ir coleccionando nuevas cartas, por eso, revisando el mercado aproveché para adquirir en una oferta de 40 mil starbits la E43 Ziggy que me dio 600 fans, 300 skill, 5 luck y 5 I.M, lo que significa que cada fans me salió a 66,6 starbits y cada skill a 133,3, lo cual es una muy buena proporción respecto al precio de otras cartas semejantes.
Actualmente las cartas que más me hacen falta son las de tipo instrumento, y eso es porque me he enfocado más en adquirir las de la clase guitarra, que son las lecciones de música que hago. No obstante, también he podido aprovechar en días previos unas buenas ofertas, por ejemplo, el micrófono épico E13 Unidyne y la batería épica E25 Pro Kit.
Por eso, comparto aquí una pieza musical montada usando precisamente algunas de mis últimas adquisiciones, donde resaltan: Con el micrófono E13 Ziggy, esa personalidad especial que se siente tocada por seres de otro planeta, Charlie, que acompaña dando melodía con el Banjo i9, Macy que se luce tocando la batería E25, Katie que aprovecha el sonido particular de la guitarra E36 y Douggie que en el fondo se oye con el R43 String Machine.


Thank you very much for having accompanied me in the reading of this post, wishing you always the best and that we can meet again in the next publication, I say goodbye, see you later.
Muchas gracias por haberme acompañado en la lectura de este post, espero tus comentarios y que nos podamos volver a encontrar en una próxima publicación, hasta luego.


---
---
---
---

---

---
---