[Eng-Esp] What's new at RisingStar and our strategy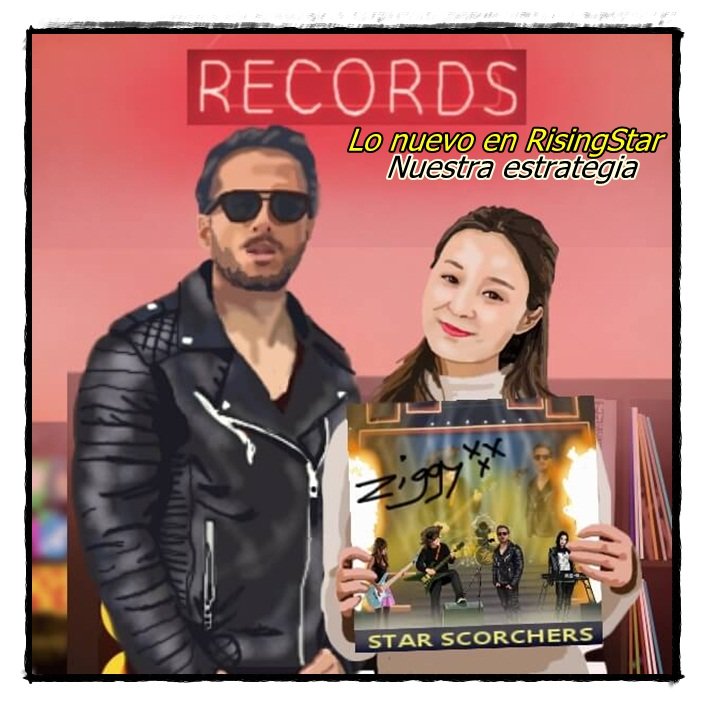 One of the things that keeps Nfts games stable over time is their continuous development, adding interesting features and new functionalities. This is one of the characteristics to highlight of the Rising Star game, this pleases us players who have been here for a long time and, above all, attracts more players, proof of this is that we currently have more than 7000 active players, a more than surprising growth, I remember that when I started we were around 400.
A few days ago we have enabled the "Record Signing" mission, which is a new way to grow in the game, of course always according to the philosophy that inspires you: just like the great stars of music, who did not begin to shine from one day to another but were polished every day through the constant commitment to do what he liked, the art that he was passionate about.
This new mission is related to the existing one, also a couple of months ago, of the Fan Club, which gives us a card every certain number of missions. Currently, there are 29 cards (but one will be added weekly), and the relationship with the new mission is that before doing it - as a condition to get the reward - it will randomly ask us to have a specific Fan Club card if we do not have it we finish the mission without getting anything, but with the possibility that the next time we play it will ask us for a card that we do have, as we must remember that the Fan Club card that it asks us changes when we do the mission again.
The other requirements are 300 fans, level 20, 30 minutes, and 65% of energy. The rewards for which we can opt are:
A FA1 Supportive Friend (88,95 % chance), which gives us 5 in fans and skill, and 0 in luck and I.M.
A FA2 Casual Fan (10% chance) gives us 50 in fans and skill, and 2 in luck and WI.
A FA3 Super Fan (1% chance) gives us 500 in fans and skill, and 2 in luck and I.M.
A FA4 Mega Fan (0.05% chance) gives us 10K in fans and skill, and 50 in luck and WI.
This is great because the basis of the growth of this game is the number of fans we have, and this is what this mission is directly aimed at, that we grow in our personal fan club.
Una de las cosas que mantiene estable en el tiempo a los juegos Nfts es su continuo desarrollo, añadiendo características interesantes y funcionalidades nuevas. Esto es una de las características a resaltar del juego de Rising Star, esto nos gusta a los jugadores que ya estamos hace tiempo aquí y, sobre todo, atrae a otros más, prueba de esto es que actualmente contamos con más de 7000 jugadores activos, un crecimiento más que sorprendente, recuerdo que cuando empecé eramos alrededor de 400.
Hace unos días se ha habilitado la misión de "Record Signing" la cual es una nueva manera de ir creciendo en el juego, claro siempre según la filosofía que le inspira: así como las grandes estrellas de la música, que no empezaron a brillar de un día a otro sino que se fueron puliendo cada día por medio del compromiso constante en hacer aquello que le gustaba, el arte que le apasionaba.
Esta nueva misión está relacionada con la ya existente, también hace un par de meses, de los Fan Club, la cual nos da una carta cada cierto número de misiones. Actualmente existen 29 cartas(pero se irán añadiendo una semanalmente), y la relación que existe con la nueva misión es que antes de realizarla - como condición para obtener su recompensa - nos va a pedir de forma aleatoria que tengamos alguna carta específica de los Fan Club, si no la tenemos terminamos la misión sin obtener nada, pero con la posibilidad de que la próxima vez que juguemos nos pida una carta que sí tengamos, ya que recordemos la carta de los Fan Club que nos pide cambia al realizar la misión de nuevo.
Los demás requisitos que nos pide son 300 fans, nivel 20 , 30 minutos y 65% de energía. Las recompensas a la cual podemos optar son:
Una FA1 Supportive Friend (88,95 % de posibilidad), que nos da 5 en fans y skill, y 0 en luck e I.M.
Una FA2 Casual Fan (10% de posibilidad) nos da 50 en fans y skill, y 2 en lucks e I.M.
Una FA3 Súper Fan(1% de posibilidad) nos da 500 en fans y skill, y 2 en lucks e I.M.
Una FA4 Mega Fan (0.05% de posibilidad) nos da 10K en fans y skill, y 50 en lucks e I.M.
Esto es estupendo pues la base del crecimiento de este juego es la cantidad de fans que poseemos, y a esto apunta directamente esta misión, que vayamos creciendo en nuestro club personal de fans.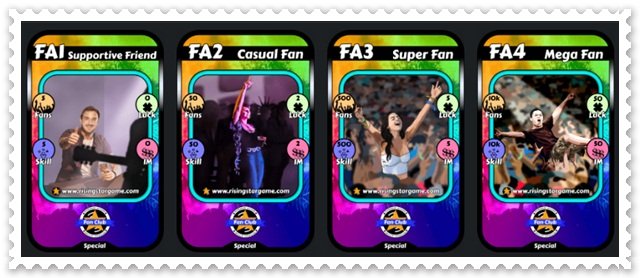 Regarding this new mission that Rising Star has introduced, the strategy that I have considered is not to focus so much on doing it, but rather to accumulate Fan Club cards, since the possibility of being rewarded in that one will depend on my performance in this one. In conclusion, for now, I have to do more Fan Club missions to capitalize on their cards. But as this game has taught me, there is no hurry, the stars rise slowly, but they do at last.
Another new point that Rising Star has brought us these days is the proposal made to the decentralized fund of Hive (DHF) to make the growth of the game even more explosive both in development and marketing, very necessary to continue attracting players to this magnificent ecosystem that has been building this game, in fact, there are now several ways to interact with it, now there are not only the standard missions and the millionaire, there are also the Festival Tour, the Fan Club and, now, the Record Signing. There is also the custom shop to make instruments in the NFT crafting, the music promoter to get starpro, the record staking to get a percentage of profit from the sale of records of some Hivers, and the NFT blending that merges some cards to get a better one and the buying and selling of NFT cards in a market that, due to the increase in the number of players, is becoming more and more active.
For my part, the team already has my vote, since it really shows is a solid project that seeks to improve every day, which had a circumstantial birth (during the pandemic) but from the sincere effort of just 4 members as the core team has achieved great things, among which the number of people who enter the Hive blockchain through this game has to be highlighted. Therefore, to support this proposal is to support the adoption and greater awareness of the Hive blockchain.
Respecto a esta nueva misión que Rising Star ha introducido la estrategia que me he planteado es no enfocarme tanto en realizarla, sino más bien en acumular cartas de Fan Club, ya que la posibilidad de ser recompensado en aquella va a depender de mi desenvolvimiento en ésta. En conclusión, por ahora debo realizar es más misiones de Fans Club para capitalizarme en sus cartas. Pero como este juego me ha enseñado, no hay prisa, las estrellas ascienden lentamente, pero al fin lo hacen.
Otro punto novedoso que nos ha traído Rising Star estos días es la propuesta que ha hecho al fondo descentralizado de Hive (DHF) para lograr que el crecimiento del juego sea más explosivo aún tanto en desarrollo como en marketing, muy necesario para seguir atrayendo jugadores a este magnífico ecosistema que ha ido construyendo este juego, en efecto, actualmente existen varias formas de interactuar con él, ahora no existen sólo las misiones standard y la millonaire, también están la del Festival Tour, las del Fan Club y, ahora, las de Record Signing. Además están la custom shop para fabricar instrumentos en el NFT crafting, el music promoter para obtener starpro, el récord staking para obtener un porcentaje de ganancias por la venta de discos de algunos Hivers, el NFT blending que fusiona algunas cartas para obtener una mejor y la compra y venta de cartas NFTs en un mercado que, debido al aumento de número de jugadores, cada vez es más movido.
De mi parte, ya el equipo tiene mi voto, ya que realmente se nota es un proyecto sólido que busca mejorar cada día, que tuvo un nacimiento circunstancial (durante la pandemia) pero que desde el esfuerzo sincero de apenas 4 integrantes como equipo central ha logrado grandes cosas, entre las que se ha de destacar el número de personas que ingresan a la blockchain de Hive a través de este juego. Por lo tanto, apoyar esta propuesta es apoyar una adopción y mayor conocimiento de la blockchain de Hive.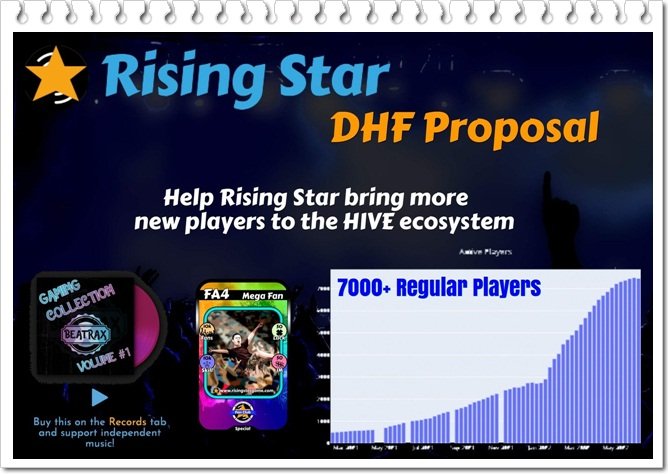 Finally, I'll tell you a little about how I have done in my last opening of card packs because the growth strategy that I am currently following is based on the accumulation of fans and increase of skills so that my rewards remain more or less stable. For this, I buy at least 12 packs per month for 100 thousand starbits at the end of the month to have more options to release a new and rarer card, because, although releasing a rare per pack one comes out well (at least in the long term) if an epic comes out, the success is guaranteed, since one of these can cost at least 30 thousand Starbits. However, 50 thousand is also a reasonable regular price.
In my last pack purchase I got an Epic card, the E80 MC Vision, which is currently on the market at 76000 Statbits as the minimum price, which is 21 Hive, 7.50$ at the time of writing this post. Not bad, especially if we see its stats: 600 Fans, 300 Skill, 30 Lucks, and 5 I.M. I also acquired other cards from the market to increase my number of both fans and Skill and the number of unique cards, as I am a lover and collector of Rising Star cards.
Para finalizar, les comento un poco cómo me ha ido en mi última apertura de packs de cartas, pues, la estrategia de crecimiento que estoy siguiendo actualmente se basa en la acumulación de fans y aumento de skills para que mis recompensas se mantengan más o menos estables. Para esto compro al menos 12 packs mensual por 100 mil starbits a final de mes para tener más opciones de sacar una carta nueva y de mayor rareza, pues, aunque sacando una rara por pack uno sale bien (al menos a largo plazo) si sale una épica, el éxito está garantizado, ya que una sola de estas puede costar mínimo 30 mil Starbits aunque 50 mil es también un buen precio regular.
En mi última compra de packs saque una carta Épica, la E80 MC Vision, que actualmente está en el mercado a 76000 Statbits como precio mínimo, esto es 21 Hive, 7.50$ al momento de escribir este post. Nada mal, sobre todo si vemos sus estadísticas: 600 Fans, 300 Skill, 30 Lucks y 5 I.M. También adquirí otras cartas del mercado para aumentar mi número tanto de fans como de Skill y el número de cartas únicas, ya que soy un amante y coleccionista de las cartas de Rising Star.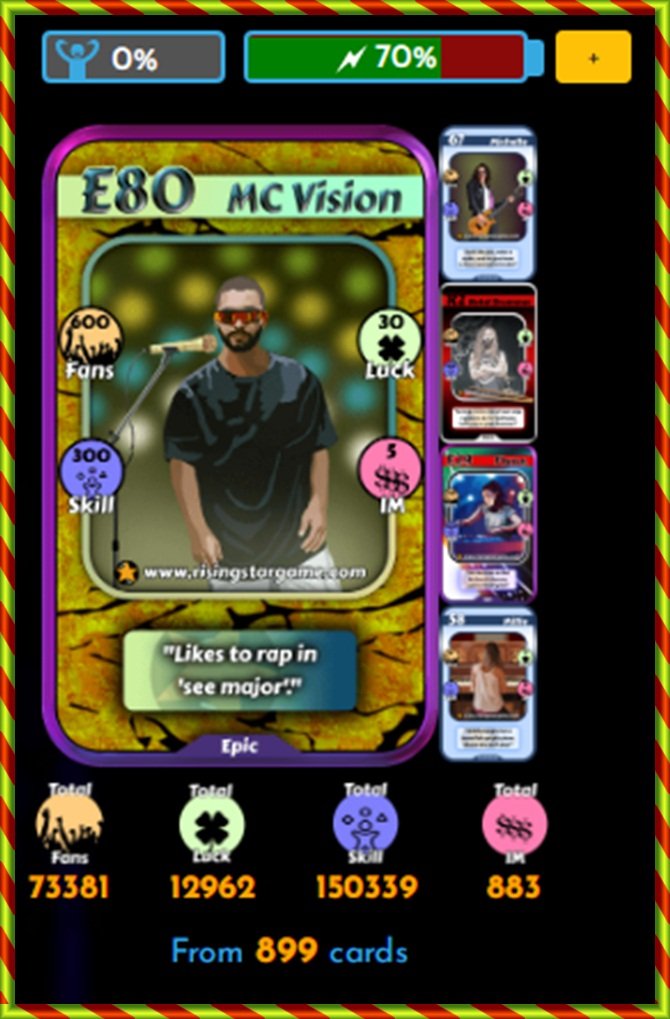 Thank you very much for having accompanied me in the reading of this post, wishing you always the best and that we can meet again in the next publication, I say goodbye, see you later.
Muchas gracias por haberme acompañado en la lectura de este post, espero tus comentarios y que nos podamos volver a encontrar en una próxima publicación, hasta luego.


---
---
---
---

---

---
---