She Hulk (Cuarto Episodio, Spoiler Alert!) Entre citas y trucos de magia [esp][eng]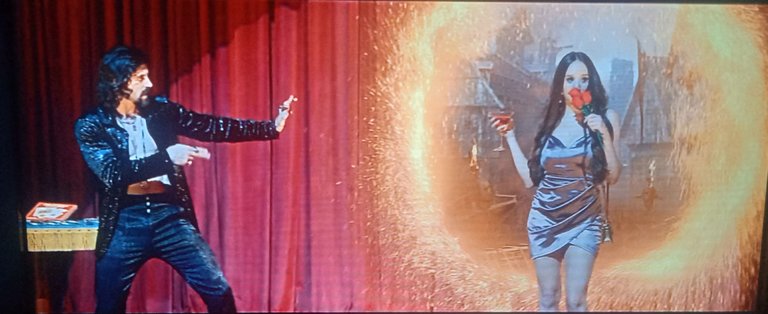 Este cuarto episodio de She Hulk muestra una interesante evolución del personaje en cuanto a su compenetración con su nueva identidad, pero también se encuentra sazonado por dos grandes escenas, ambas le dan ese tono cómico que desde un inicio ha querido resaltar la serie, aunque una es más sobre la vida íntima de la protagonista mientras la otra gravita en torno a un caso judicial que le presentan para defender relacionado con Wong, el hechicero supremo.
Problema legal con la magia
El litigio que She Hulk deberá resolver es sobre un pseudo hechicero que dentro de la ciudad realiza shows de magia para impresionar a su audiencia. Este personaje estudió un corto tiempo las artes místicas y ahora usa de manera irresponsable lo que aprendió, es un uso irresponsable porque una de las cosas que hace es abrir portales, debido a su falta de pericia en cualquier momento puede abrir el portal equivocado y ocasionar un desastre, como de hecho ocurrió en una de las escenas más interesantes en cuanto vemos a nuestra superheroína en acción.
Me encantan los casos judiciales porque, pues los argumentos que se exponen a veces son muy interesantes y uno aprende, aunque sea de manera superficial, sobre ciertos temas. Este episodio no escapa de esta realidad, y además es una nueva oportunidad para que nuestra abogada muestre sus dotes, porque realmente es muy habilidosa, y siento, es algo que puede ser muy bien aprovechado por el UCM.
This fourth episode of She Hulk shows an interesting evolution of the character in terms of her rapport with her new identity, but it is also seasoned by two great scenes, both give it that comic tone that from the beginning the series has wanted to highlight, although one is more about the intimate life of the protagonist while the other gravitates around a court case that she is presented to defend related to Wong, the sorcerer supreme.
Legal problem with magic
The litigation She Hulk will have to solve is about a pseudo sorcerer who within the city performs magic shows to impress his audience. This character studied for a short time the mystic arts and now he uses irresponsibly what he learned, it is an irresponsible use because one of the things he does is to open portals, due to his lack of expertise at any time he can open the wrong portal and cause a disaster, as in fact happened in one of the most interesting scenes as soon as we see our superheroine in action.
I love court cases because, as the arguments that are exposed sometimes are very interesting and one learns, even if superficially, about certain issues. This episode does not escape this reality, and it is also a new opportunity for our lawyer to show her gifts, because she really is very skilled, and I feel, it is something that can be very well exploited by the UCM.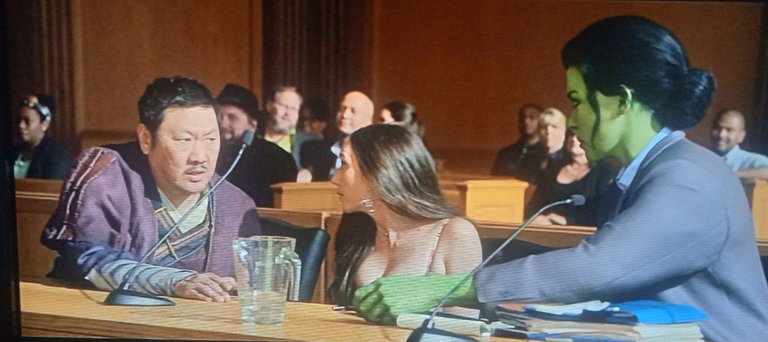 La cita perfecta
Marvel sigue dándonos dosis de humanidad en sus presentaciones, por eso es de resaltar la búsqueda de pareja que realiza Jennifer Walters en este episodio, pues ya con 30 años puede estar pensando que ya no tiene oportunidad, como dicen por aquí que "se le pasó el tren." No obstante, se empeña en realizarlo, aunque no tiene suerte, apenas una cita logra concretar, y ni siquiera esta le dejó una buena experiencia.
Ahora, cuando en contra de su orgullo, se le ocurre la idea de buscar cita como She Hulk todo cambia, les llegan varios pretendientes, y logra concretar cita con varios de ellos, aunque tampoco fue tarea fácil en esta ocasión, ya que uno era presumido, otro solo hablaba de sí y el último la llamo "espécimen" claramente porque estaba era impresionado pero no enamorado.
"El que busca, encuentra", por eso, la constancia de She Hulk termina por dar sus frutos porque se consigue (realmente hace Match) con alguien que en principio si se muestra realmente enamorado de ella, no es egoísta, es cariñoso y está dispuesto a escucharla. He aquí donde empieza a hacer las pases con ella misma, pues, lo que no había logrado en 30 años como Jennifer lo realizó en unas horas como Hulk que al final es ella misma, pues, recordemos que se diferencia de su primo Bruce Banner cuando se transforma, ella tiene total dominio de sí
The perfect date
Marvel continues to give us doses of humanity in their presentations, that's why it is to highlight the search for a partner that Jennifer Walters makes in this episode, because already with 30 years old she may be thinking that she no longer has a chance, as they say around here that "she missed the train." Nevertheless, she insists on doing it, although she has no luck, she barely manages to make a date, and not even this one left her with a good experience.
Now, when against her pride, she comes up with the idea of looking for a date as She Hulk everything changes, several suitors arrive, and she manages to make a date with several of them, although it was not an easy task on this occasion, since one was presumptuous, another only talked about himself and the last one called her "specimen" clearly because he was impressed but not in love.
"He who seeks, finds", therefore, She Hulk's perseverance ends up paying off because she gets (actually makes Match) with someone who in principle if he is really in love with her, is not selfish, is caring and is willing to listen to her. This is where she begins to make the passes with herself, because, what she had not achieved in 30 years as Jennifer, she did in a few hours as the Hulk, who in the end is herself, because, remember that she differs from her cousin Bruce Banner when she transforms, she has total control of herself.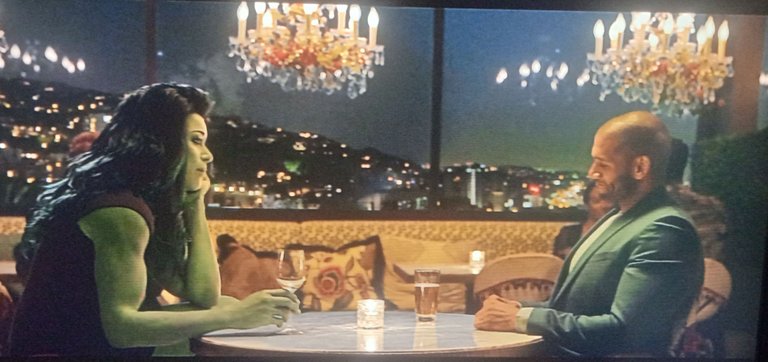 Inicio de un proceso de identificación
Desde el "...no me siento orgullosa por esto" que dice Jennifer al transformarse en Hulk para conseguir una cita hasta el momento en que lo logra, es donde veo el comienzo en una evolución del personaje, porque al fin y al cabo se da cuenta de que no es tan malo ser una Hulk, pues, puede conseguir algunos beneficios por ello. Ahora bien, esto es desde mi punto de vista un camino que apenas empieza a recorrer, ya que tampoco es ideal que te quieran solo por ser de una forma y no acepten otras partes esenciales de ti.
Esto fue lo que paso aquí, porque quien en un principio se sentía atraído por She Hulk en realidad solo estaba enamorado de esa parte de nuestra protagonista, lo cual le resta punto a su encuentro inicial porque la verdad era que no había aceptado ese lado humano, aun cuando ella se había sincerado con él, me hizo recordar aquí a las personas famosas que no son reconocidas y valoradas no como seres humanos sino solo como seres famosos, cuando al final se trata de la misma persona.
Creo que una de las cosas a las que se dirige la serie (que por cierto está por terminar, hoy fue su penúltimo episodio) es que finalmente la abogada Jennifer asuma plenamente su nueva identidad. Es algo que le ha costado mucho, pero que cada episodio va en una especie de ascenso positivo respecto a ello.
Beginning of an identification process
From the "...I'm not proud of this" that Jennifer says when she transforms into the Hulk to get a date until the moment she succeeds, is where I see the beginning in an evolution of the character, because at the end of the day she realizes that it's not so bad to be a Hulk, well, she can get some benefits for it. Now, this is from my point of view a road she is just starting to walk, because it is not ideal to be loved just for being one way and not accepting other essential parts of you.
This is what happened here, because the one who at first was attracted to She Hulk was actually only in love with that part of our protagonist, which detracts from their initial encounter because the truth was that he had not accepted that human side, even when she had been sincere with him, it reminded me here of famous people who are not recognized and valued not as human beings but only as famous beings, when in the end they are the same person.
I think one of the things that the series (which by the way is about to end, today was its penultimate episode) is for attorney Jennifer to finally fully come to terms with her new identity. It's something that has cost her a lot, but that each episode goes on a sort of positive upswing with respect to it.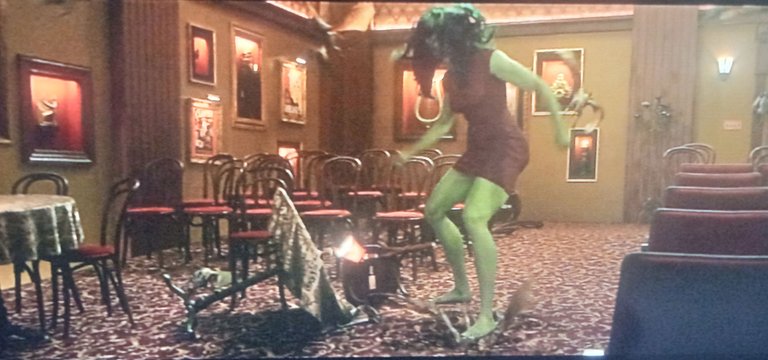 Muchas gracias por haberme acompañado en la lectura de este post, espero tus comentarios y que nos podamos volver a encontrar en una próxima publicación, hasta luego.
Thank you very much for having accompanied me in the reading of this post, wishing you always the best and that we can meet again in the next publication, I say goodbye, see you later.
---
---
Fotos de mi propiedad, tomadas con un Redmi 9A.
---
---


---
---

---

---
---