Misleading advertising.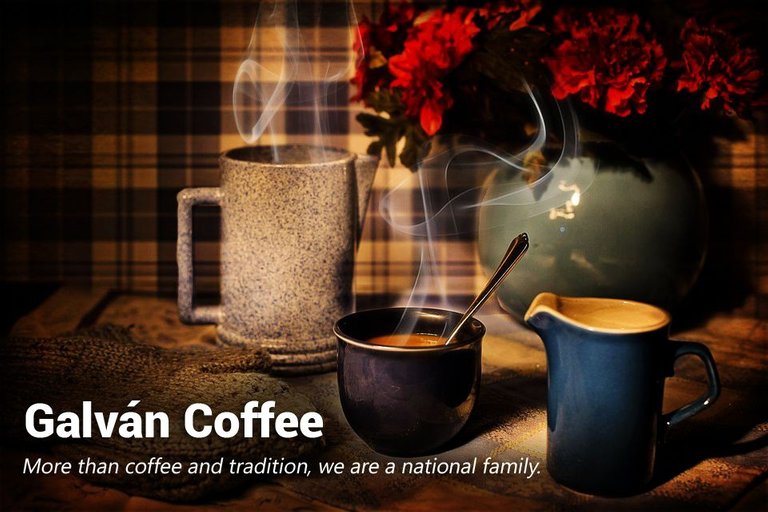 This coffee is an artisanal product, brought to you directly from the field. The hands of a family of farmers have been planting and harvesting it for 50 years, more than coffee, we are tradition.
Thus read the label of the coffee that Don Lino Galván had marketed for more than 20 years, since he inherited his father's factory by himself, leaving his two sisters with nothing. Of course, the means by which Don Lino took possession of all the fertile land and the factory were shady and irregular, so his sisters never spoke to him again, and the coffee production that united his family for decades, had now become what divided them.
The coffee was not the same as it had been for years, as the quality dropped so did the sales, and Don Lino would renege and curse his sisters, whom he blamed for having bewitched the factory. Don Lino's sons, Rafael and Junior, were not so superstitious, they knew it could not be the fault of their bitter aunts and had been suggesting to their father for some time that he hire a publicist. After many losses, Don Lino agreed, but warned his children that he would allocate very little money to this initiative.
Rafael, his eldest son, was a violent and extravagant man, he liked to appear to have an economic status that the family no longer had. He went to big parties, wore obscenely expensive clothes and jewelry, and had alcoholic tendencies. On the other hand, the youngest son, Junior, was a computer junkie who cared little for the family business. Rafael wanted to hire a foreign advertising company, but with his father's poor financial disposition, he could only afford to hire a young publicist from his town, the boy was a recent graduate, lived with his mother and his armpits were sweating. Rafael hated him.
In his own studio Don Lino met with his two stubborn sons and the young publicist. Without any detours Don Lino told the boy:
-Sales were down, so a large part of the crop is still stored for a long time in the silos, the grain has aged and lost its flavor. What will you do to sell that brat?
The young man was shaking his leg and clenching his sweaty hands. On one side Rafael was stabbing him with his eyes as he poured himself a third glass of gin. In a corner of the room Junior sat there trying to contain the anxiety produced by his drugs.
-It seems to me that your family is very well known and loved in the region, Mr. Lino," the young publicist interjected as he tried hard not to stutter, "we can use the family history to relaunch the product.
-Which family are you referring to exactly? - My aunts are crazy witches who hate us, my father hasn't even been mentioned in the local media for years, my useless brother has had a couple of drunk driving scandals, I'm the only decent figure in the family," Rafael asked pontifically.
-But surely there is something that can move people - said the boy trying to sound confident - Is there a possibility of a family reconciliation? In our country people love soap operas.
-If someone died it would be news for sure - said Junior shyly.
-Are you volunteering? - growled Rafael.
-I mean one of our aunts, for example - continued the younger brother - It's like when Michael Jackson died, everybody forgot about the sexual abuse accusations.
-I like the idea - Don Lino affirmed.
-But we can't have control over when people die," said the terrified young man.
-Don't be so sure about that," said Rafael as he left the room.
-Do your part, we will do ours - ordered Don Lino to the young publicist.
Four days later the morning news announced:
Yesterday morning Doña Margarita Galván, the older sister of the national businessman Don Lino Galván, owner of the famous Café Galván factory, died in a tragic accident. The country is moved and thousands of people join the mourning accompanying the family to the funeral of Doña Margarita. In the images we see Don Lino and his children embracing Doña Maria Mercedes Galvan, Don Lino's younger sister. We have on the line Rafael Galván, eldest son of the businessman, who will give us his statements.
-We are very grateful to the television station for giving the necessary coverage to this tragic family episode - Rafael declared with his eyes full of tears - my aunt was a great woman, but unfortunately something was wrong with her car and it ran out of brakes. The whole family is shocked, because a few months ago my father and his sisters had reconciled, after several years of disagreement, and they were preparing for the re-launching of a new café, this time with a new slogan: More than coffee and tradition, we are a national family.
At that moment Rafael broke down in tears, and the journalist who was also sobbing continued with the news, affirming that the country would be waiting for the re-launching, especially now that the family needed to overcome this hard moment.
They did the relaunching with the old grains and the sales skyrocketed, don Lino had enough money to pay the TV station for the coverage and his younger sister for the melodrama. He also gave money to Rafael for the job of cutting the brakes on his aunt's car. And the family got richer and richer, while their consumers enjoyed a coffee that was old and tasteless, but with media drama to back it up. The only one who didn't get a penny was the young publicist, who had to leave town after Rafael's threats.
Original content by the author.
Resources: Tablet ZTE E10Q
Photos from Pixabay source/fuente
Translated with Deepl.com
All Rights Reserved || @jetta.amaya// 2022
---
---