Ruta Mujéricas / Un amoroso recorrido a través de las historias de grandes mujeres #1 "Vencedoras de la Negra" (Español/Ingles)

Un saludo amoroso para todos mis amigos de Hive. Hoy quiero compartir en esta maravillosa comunidad de mujeres una experiencia fascinante. Mi pareja y yo tenemos una colectiva llamada Mujeriegas, desde allí trabajamos con mujeres de todas las edades y con diferentes intereses. En esos numerosos encuentros hemos conocido amigas increíbles y hemos registrado sus historias, las cuales compartimos con otras mujeres en un recital poético musical llamado Mujéricas, que realizamos durante todo el año en una ruta interminable por diferentes espacios de nuestra comunidad y comunidades cercanas.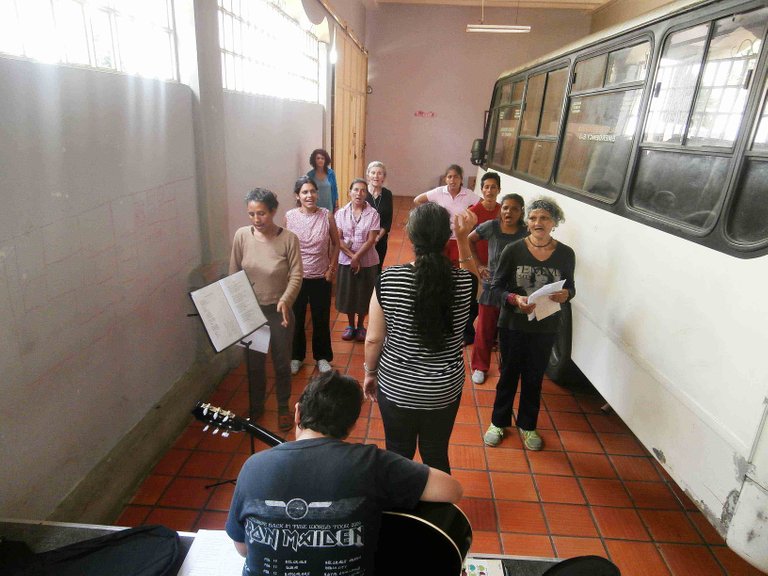 En el año 2017 estuvimos en el "Centro de Tratamiento Socialista Isaías Medina Angarita", un lugar que alberga a mujeres en situación de calle, la mayoría de ellas diagnosticadas con enfermedades mentales por sus condiciones de vida. Durante 7 estupendos meses compartimos con 8 de las ciudadanas atendidas allí, conformando un coro que ensayaba dos veces a la semana. Junto con ellas montamos 6 canciones latinoamericanas cuyos contenidos estaban enfocados en la alegría, el amor, la resilencia y cargados de mensajes positivos, también se presentaron en diferentes lugares públicos y cantaron para numerosas personas.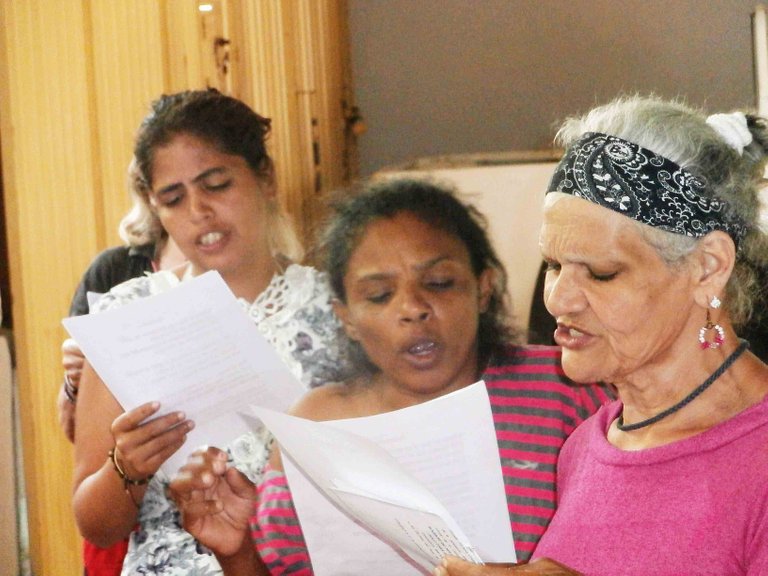 Lo que parecía un desafío por tratarse de un grupo de ciudadanas todas diagnosticadas según el DSM (El Manual diagnóstico y estadístico de los trastornos mentales) con: discapacidad intelectual, esquizofrenia, esquizofrenia de tipo paranoide, trastorno esquizoafectivo, trastorno mental orgánico, trastorno afectivo orgánico, trastorno bipolar, entre otras; fue realmente una experiencia extraordinaria y gratificante, llena de aprendizajes, reflexiones, crecimiento, valoración colectiva y amor reciproco.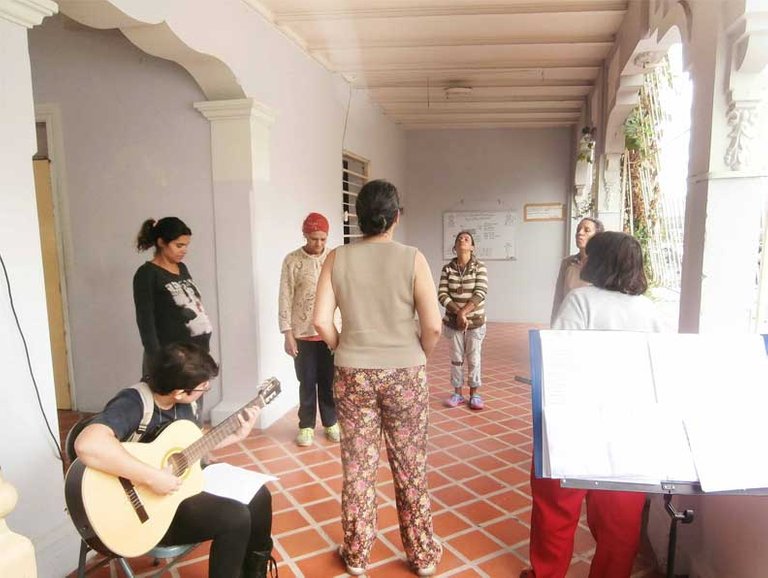 De esa maravillosa experiencia que marco nuestros corazones de alegrías y tristezas, porque la realidad es que aunque aprendimos inmensamente con aquel grupo, también conocimos la brutalidad con la que la vida golpea a muchas mujeres pobres, así como las grandes injusticias que tienen que enfrentar sin tener acceso a sus derechos humanos fundamentales, nos quedaron muchas historias y recuerdos, aquí comparto con ustedes la historia de una de ellas: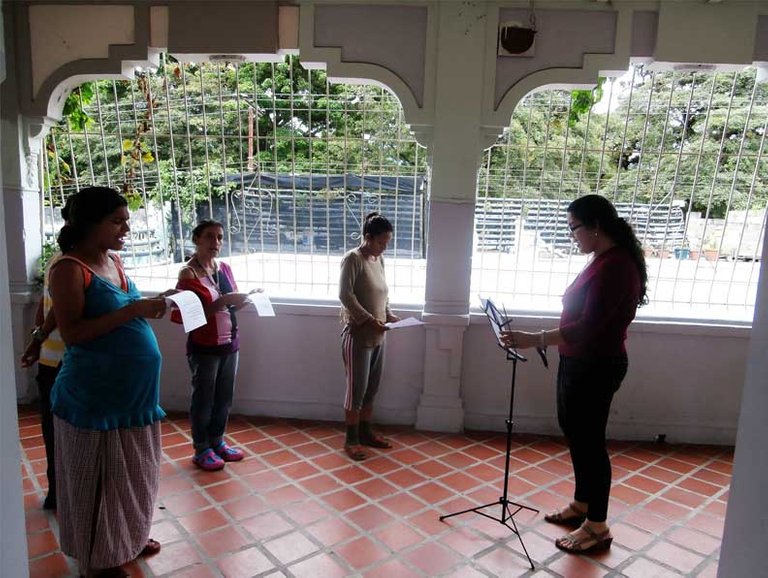 Mónica
-Estoy preñada-, dijo Mónica cuando escucho que alguien cruzaba la puerta, era la tercera vez que lo decía - Estoy preñada, el director de CTS me violo-, el muchacho en el escritorio hizo una mueca de fastidio, Mónica continuo –Si, ese me violo, allá todos lo manosean a uno, de mi casa me botaron otra vez cuando supieron que estoy preñada, y ¿Cómo vuelvo a CTS si el que me violo es el director?, no quiero volver-, el muchacho en el escritorio pregunto algo al que había entrado un instante atrás, se rieron y siguieron hablando como si Mónica no estuviese allí. Unos minutos después alguien más cruzo la puerta -Estoy preñada- comento Mónica otra vez. A lo largo de nuestra vida todas las mujeres hemos enfrentado acoso sexual y/o abuso sexual por lo menos una vez, y a la mayoría de nosotras nadie nos cree. ¿Quién le va a creer a una loca, despeinada, mal vestida? ¿Quién? Yo sí. Hermana yo si te creo.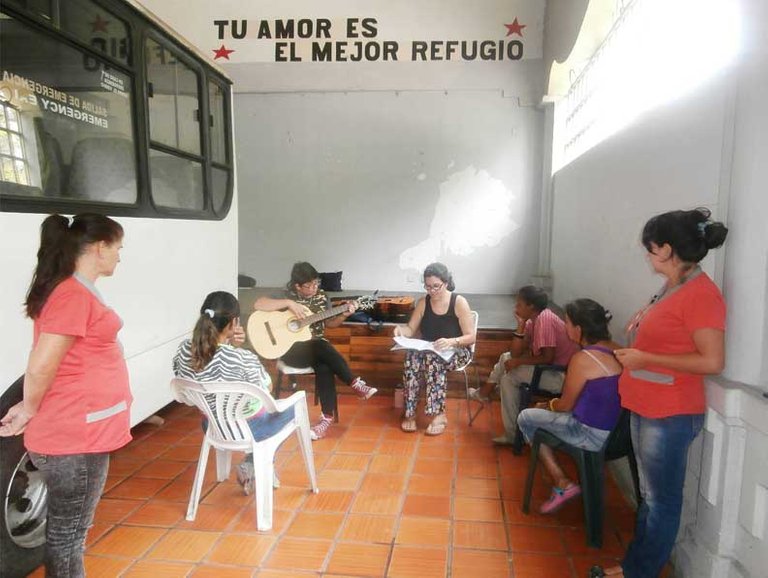 Contenido original del autor.
Recursos: Tablet ZTE E10Q
Traducido con Deepl.com
Todos los Derechos Reservados || @jetta.amaya// 2022
---
Ruta Mujéricas / A loving journey through the stories of great women #1 "Black winners"
(Spanish/English)
A loving greeting to all my Hive friends. Today I want to share in this wonderful community of women a fascinating experience. My partner and I have a collective called Mujeriegas, from there we work with women of all ages and with different interests. In those numerous meetings we have met incredible friends and we have recorded their stories, which we share with other women in a poetic musical recital called Mujéricas, which we perform throughout the year in an endless route through different spaces in our community and nearby communities.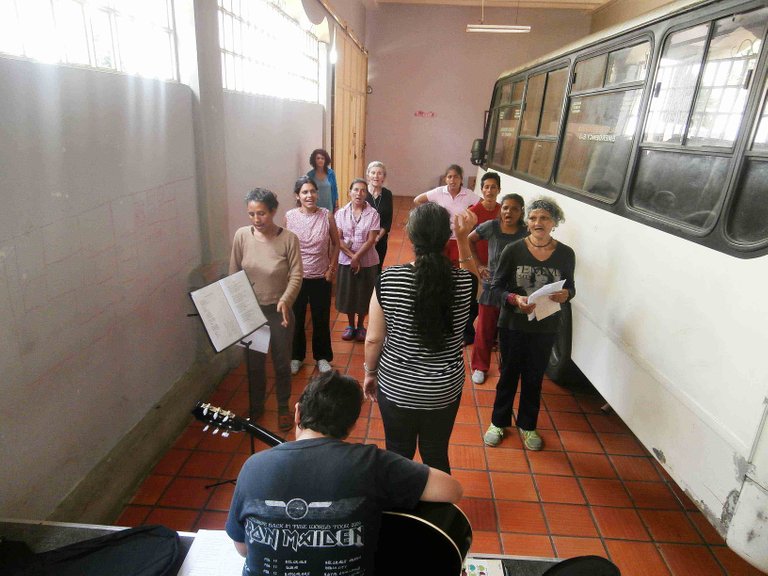 In 2017 we were in the "Isaías Medina Angarita Socialist Treatment Center", a place that houses women in street situation, most of them diagnosed with mental illness due to their living conditions. For 7 wonderful months we shared with 8 of the women who live there, forming a choir that rehearsed twice a week. Together with them, we performed 6 Latin American songs whose contents were focused on joy, love, resilience and loaded with positive messages, they also performed in different public places and sang for numerous people.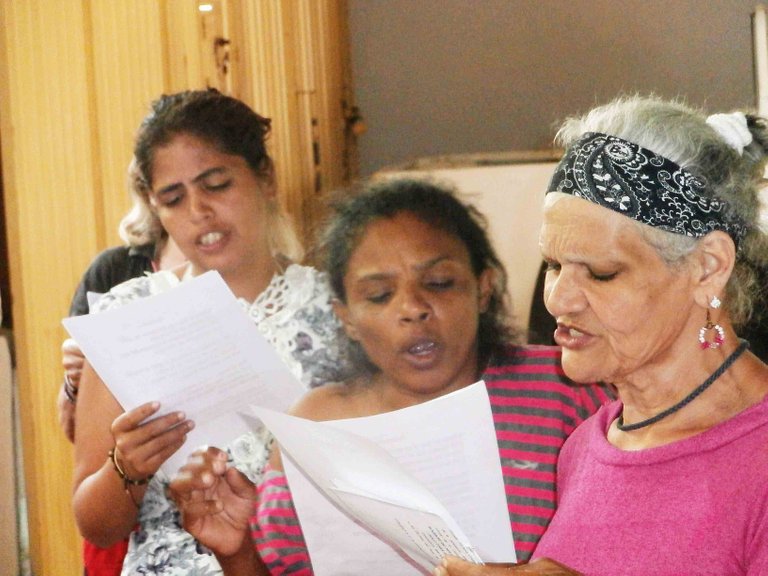 What seemed a challenge because it was a group of citizens all diagnosed according to the DSM (The Diagnostic and Statistical Manual of Mental Disorders) with: intellectual disability, schizophrenia, paranoid schizophrenia, schizoaffective disorder, organic mental disorder, organic affective disorder, bipolar disorder, among others; was really an extraordinary and rewarding experience, full of learning, reflections, growth, collective appreciation and mutual love.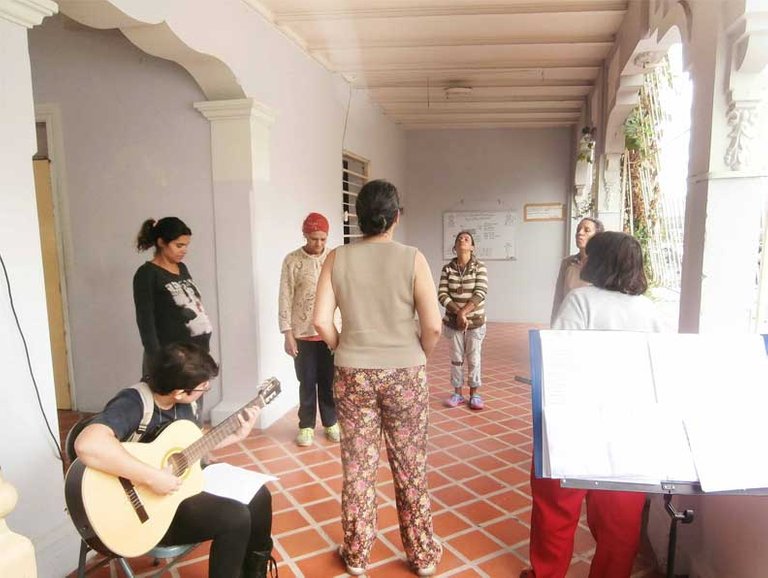 From that wonderful experience that marked our hearts with joys and sorrows, because the reality is that although we learned immensely with that group, we also knew the brutality with which life strikes many poor women, as well as the great injustices they have to face without access to their fundamental human rights, we were left with many stories and memories, here I share with you the story of one of them: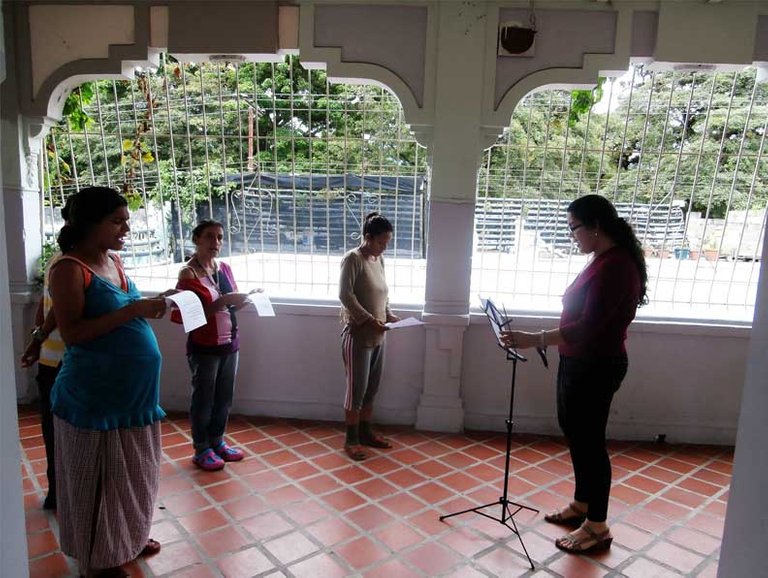 Monica
-I am pregnant-, Monica said when she heard someone crossing the door, it was the third time she said it -I am pregnant, the director of CTS raped me-, the boy in the desk made a grimace of annoyance, Monica continued -Yes, that one raped me, there everybody gropes you, from my house they threw me out again when they knew that I am pregnant, and how can I go back to CTS if the one who raped me is the director, I don't want to go back-, the boy at the desk asked something to the one who had entered a moment before, they laughed and continued talking as if Monica was not there. A few minutes later someone else came through the door, "I'm pregnant," Monica commented again. Throughout our lives all of us women have faced sexual harassment and/or sexual abuse at least once, and most of us nobody believes us. Who is going to believe a crazy, disheveled, poorly dressed woman? Who? I do. Sister, I believe you.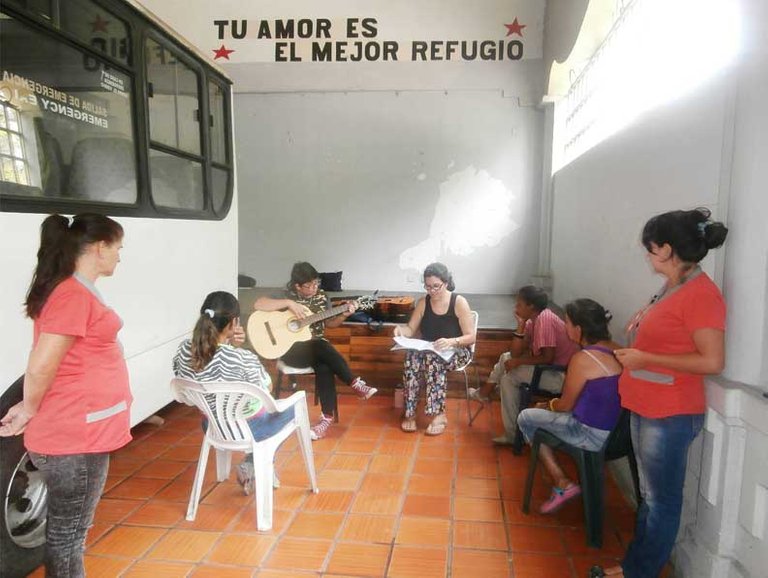 Original content by the author.
Resources: Tablet ZTE E10Q
Translated with Deepl.com
All Rights Reserved || @jetta.amaya// 2022
---
---