Splinterlands Weekly Challenge Battle! STONE GOLEM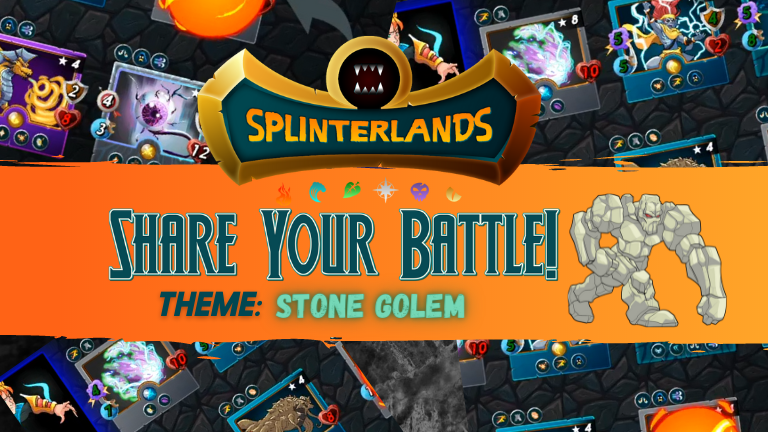 Every week there is a Splinterlands challenge to share a battle using a specific card and on this week's post it is the Stone Golem card. I also encourage Splinterlands players to partake in the challenge because you get to try different strategies and earn some crypto in the process.
Featured Monster: Stone Golem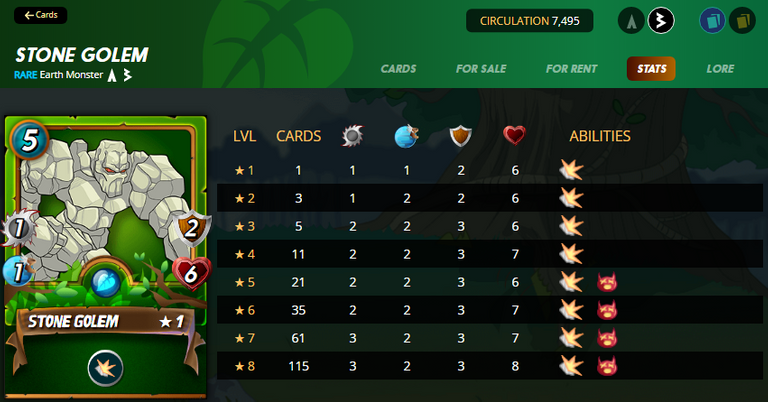 Stone Golem is a earth splinter card and it starts off with the shield ability. This ability reduces physical and ranged damage in half. At level 5, it learns the stun ability which makes it more useful. So it's a great choice as a front-line tank. This card is also part of the starter pack so everyone should have access to this card.
I don't own this card but I did say that this card is given to everyone to use at level 1. Unfortunately I don't use this card very often because I prefer Chain Golem, Flesh Golem or Unicorn Mustang most of the time. However it is great if matched with some healers in the back-line or in physical matches.
My plan for this card is to have it tank in the front-line and take a few hits while I deal damage. Unfortunately it doesn't deal a lot of damage so it is just there to soak up a few hits while I deal damage.
Rule set, Battle and Plan

The rule set this time is Holy Protection and Spreading Fury. So this means every single card will get a divine shield (no damage from first hit) and enrage (1.5x speed and melee damage). We have access to water, earth, death and dragon. There is also 34 mana available.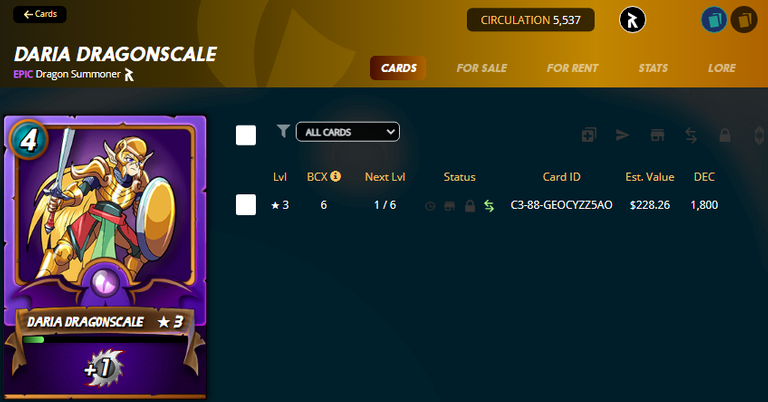 The summoner I choose to use this time is Daria Dragonscale. I choose this because of the enrage ability. I will also mix in some magic or ranged monsters in my line up incase they use Mylor as their summoner. So this means I will bring in mostly physical monsters to take advantage of the summoner buff and enrage.
Round 1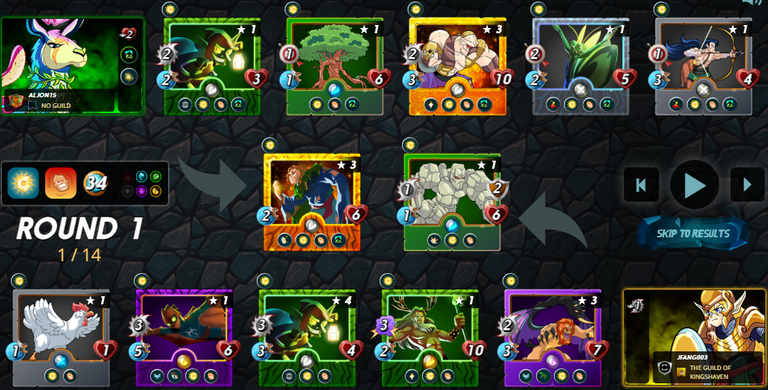 I don't like fighting Llama so I think this match could be a 50/50 chance of wining. Although it's much better than fighting Mylor with my current set up. I choose Kron because it has high health and it can heal itself every turn so it can buy me some extra time.
Round 2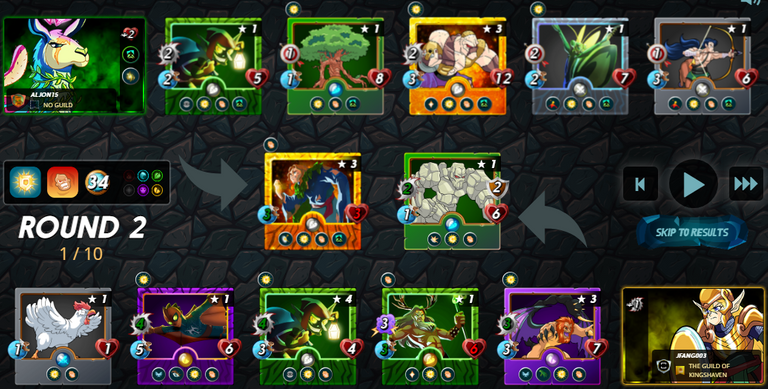 The first round is over and only Kron took some damage. It might be a bit too early to tell who will win but I think I am on the better side after the first round.
Round 3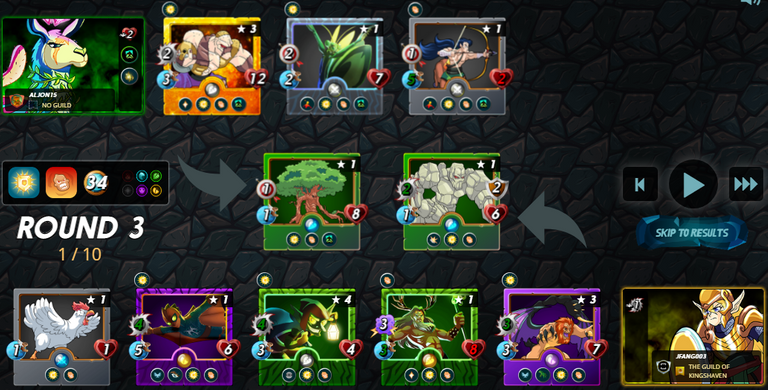 I am more confident after taking out two cards with minimal damage to myself. At this point, Kron is able to heal the damage he has taken and my Stone Golem is still at full health. My line up is dealing plenty of damage each turn so I am not worried on that end either.
Round 4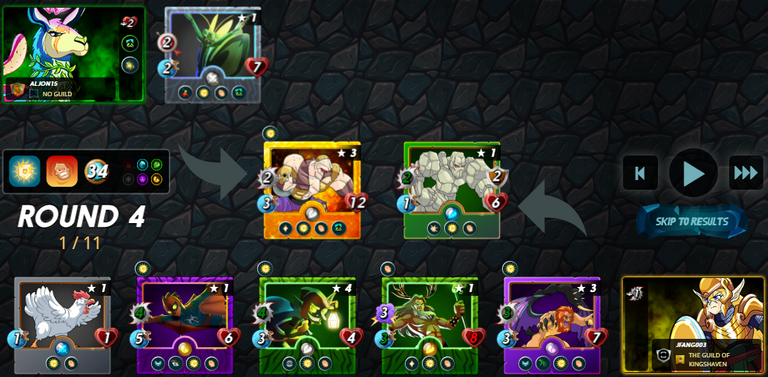 Like last round, I have taken no damage and his Flesh Golem will require anywhere between 4 to 8 hits to take out my Stone Giant. Kron will recover any damage he takes and I have a current damage output of 16 damage. So I am not even afraid of last stand on Flesh Golem.
Round 5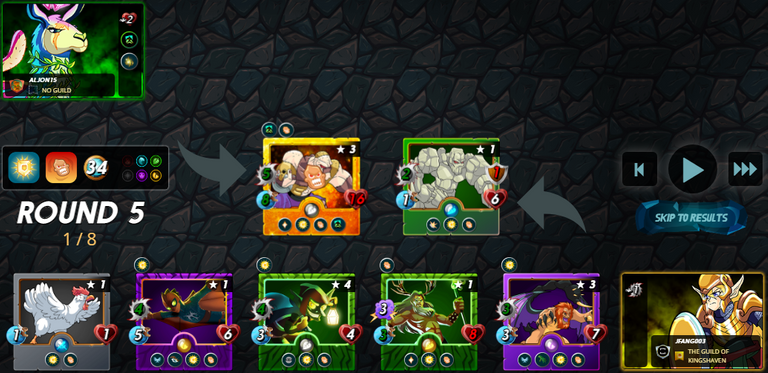 I was wrong about the previous round since I forgot about the enrage ability. However I still have a damage output of 16 per round so I don't think there is any way for my opponent to recover unless I miss most of my attacks. Therefore I will just fast forward to the end.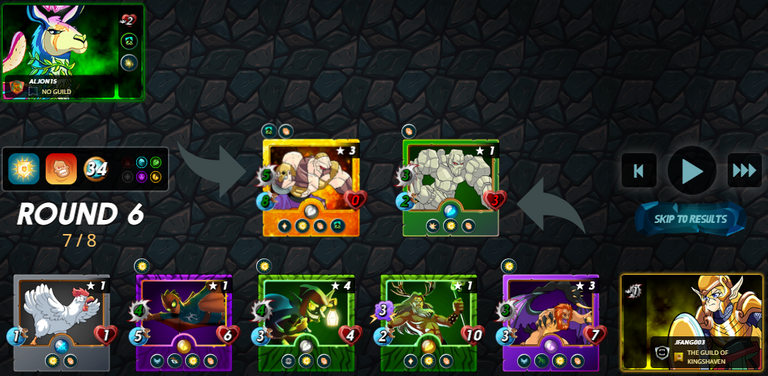 I did take a bit more damage on my Stone Giant but I was able to fully clear the match without losing a single card on my side. I did miss quite a bit against his Flesh Golem due to 8 speed but I still managed with the quantity of attacks.
Conclusion
The battle this time around went exactly like I expected. My physical monsters did great work doing damage and my Kron tanked quite a bit of damage using his self heal ability. In fact most of my opponent's snipe ability was fully healed each round so my opponent wasted two of his attacks. I did think Stone Giant would die but it managed to survive the match.
As for my opponent's line up, I understand they like Flesh Golem and how useful it is when combined with enrage and last stand. However I just feel like it is wasted in the middle. I also felt my opponent didn't have a lot of damage. So I feel like he wanted to just outlast me and generally prefer to deal more damage instead.
You can see my entire match here.
What did you think of my match? Was there anything you would of done differently? I think it is quite interesting to see how different players use the same card.
---
---