Dressing up a barbie, spring gala
Saludos para todos mis compañeros artistas que fomentan mi creatividad con sus trabajos e iniciativas.
Hoy se abre la pasarela para ver a la barbie y/o Ken desfilar atuendos y accesorios, estoy muy emocionada por ello.
Éxitos para todos en este reto que nos invita los administradores de la comunidad @needleworkmonday.
Greetings to all my fellow artists who encourage my creativity with their work and initiatives.
Today the catwalk opens to see the barbie and/or Ken parade outfits and accessories, I am very excited about it.
Success to all in this challenge that invites us community managers @needleworkmonday.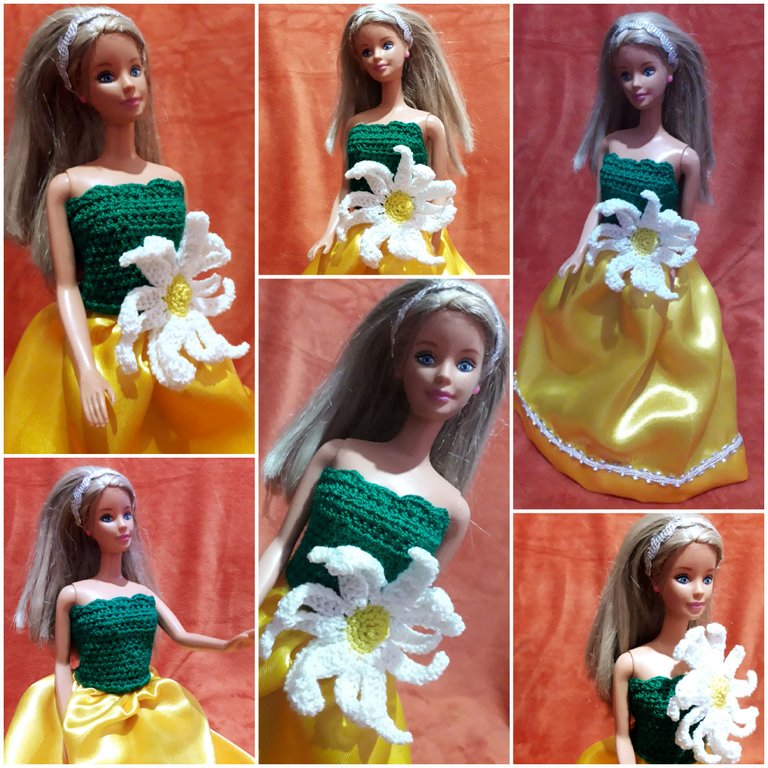 ---
¿En qué me he inspirado para esta labor?
What was my inspiration for this work?
---
Me encantan las flores, en especial las margaritas, tengo un gran amigo amoroso que me ha regalado margaritas en diferentes ocasiones, creo que por ello me gustan aún más. En este momento él está fuera del país en que resido y cada año para su cumpleaños tejo una margarita y pasa a ser parte de la tarjeta y luego el topper de la torta; este sábado hice la margarita, le envié su tarjeta y luego coloqué la margarita sobre la torta que preparé y finalmente hice una videollamada para cantarle cumpleaños.
Acá les comparto textualmente el mensaje que me envió mi amigo bello por WhatsApp como respuesta a la tarjeta: "sabes que tienes un campo inmenso de margaritas en mi pecho", esas palabras enamoran y me hacen muy feliz ❣️
Como ando en esa nota de las margaritas quise que la margarita fuese un prendedor para el traje que realicé para la barbie.
I love flowers, especially daisies, I have a great loving friend who has given me daisies on different occasions, I think that's why I like them even more. At the moment he is out of the country where I live and every year for his birthday I knit a daisy and it becomes part of the card and then the topper of the cake; this Saturday I made the daisy, I sent him his card and then I placed the daisy on the cake I prepared and finally I made a video call to sing his birthday to him.
Here I share with you textually the message that my beautiful friend sent me by WhatsApp in response to the card: "you know that you have a huge field of daisies in my chest", those words make me fall in love and make me very happy ❣️
Since I'm on that daisy note I wanted the daisy to be a pin for the outfit I made for the barbie.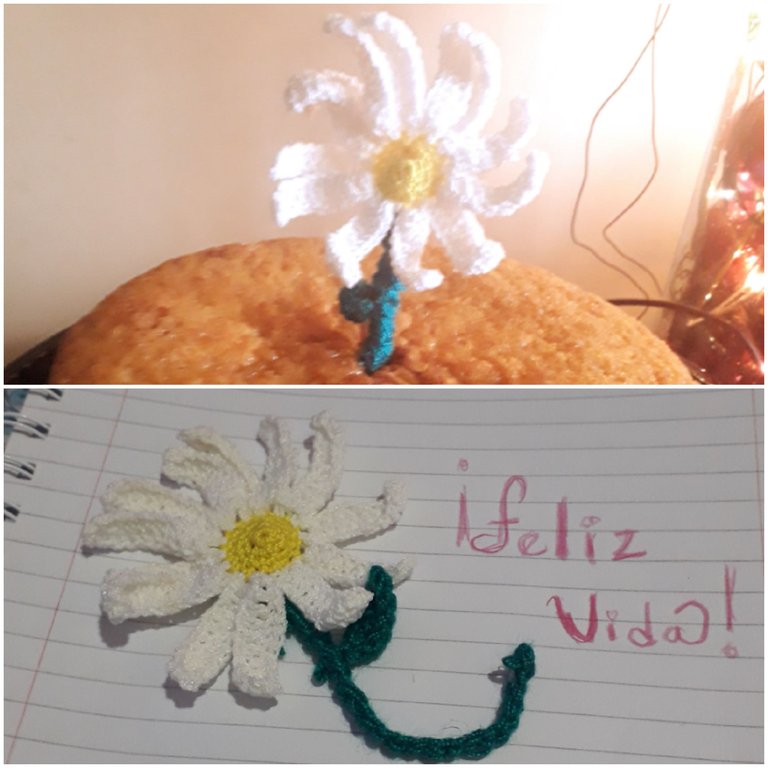 ---
Hablemos de la modelo, la barbie
Let's talk about the model, the barbie
---
Creo que me voy a comprar una barbie de tal forma no perderme ni un evento de esta maravillosa comunidad.
Aún con mi lesión de la mano que va mejorando, no quería dejar de participar, recordé que una amiga tiene una nieta, la nieta tiene barbie, le pregunté a mi amiga que si le puede decir a la nieta que me preste una de sus barbie, mi amiga le dijo le preguntaría, la nieta accedió y ello me puso muy feliz 😍.
Es que sin barbie no me hacía ilusión participar, podía hacer las piezas pero no tendría quien las luciría.
Hasta pensé en hacer una muñeca con las dimensiones de la barbie, pero sería una imprudencia en este momento someter a mi mano a esa atividad.
I think I'm going to buy a barbie so I won't miss a single event of this wonderful community.
Even with my hand injury that is getting better, I did not want to stop participating, I remembered that a friend has a granddaughter, the granddaughter has a barbie, I asked my friend if she can tell the granddaughter to lend me one of her barbie, my friend said she would ask her, the granddaughter agreed and that made me very happy 😍.
I could make the pieces but I wouldn't have anyone to wear them.
I even thought of making a doll with the dimensions of the barbie, but it would be reckless at this time to subject my hand to that activity.
---
Desarrollo de la labor
Development of the work
---
La falda
Seleccioné una tela de raso amarilla, esta tela me había quedado del forro de un bolso que había realizado, y quería que la falda fuese amarilla para que resaltará la margarita al colocarla.
Corté la tela del largo de la cintura a los pies, dejando dos centímetros adicionales para el ruedo, doblé la tela como especie de un ruedo y la cosí, luego pasé elástica y hale armando la cintura.
Finalmente realicé el ruedo y coloqué una cinta plateada para decorar.
Hubiese preferido hacer el vestido tejido, tengo más habilidades de tejedora que de costurera 😀.
The skirt
I selected a yellow satin fabric, this fabric was left over from the lining of a bag I had made, and I wanted the skirt to be yellow so that the daisy would stand out when I put it on.
I cut the fabric from the waist to the feet, leaving two additional centimeters for the hem, I folded the fabric as a kind of hem and sewed it, then I passed elastic and pulled it to make the waist.
Finally I made the hem and placed a silver ribbon for decoration.
I would have preferred to knit the dress, I have more knitting skills than sewing 😀.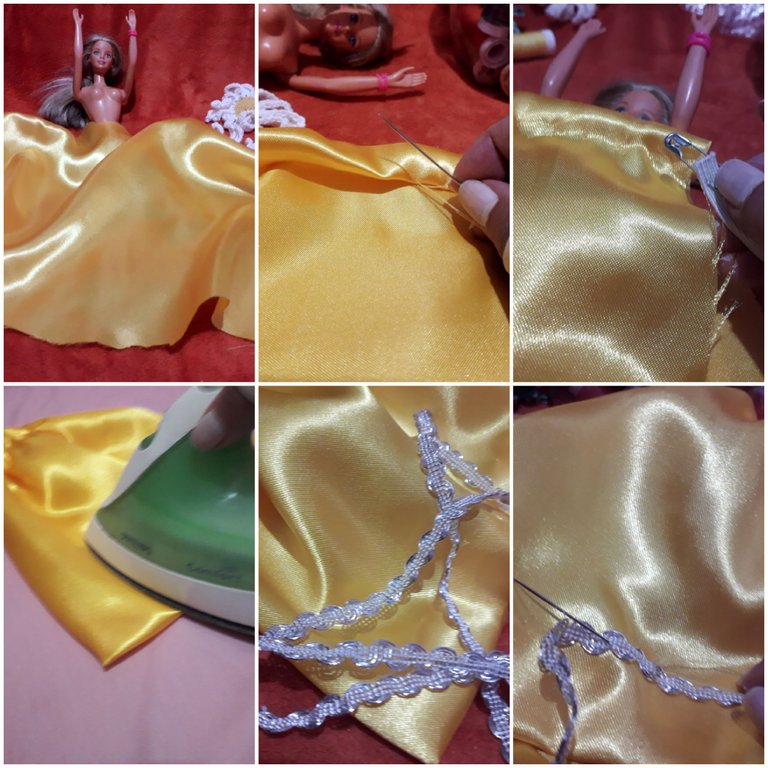 La blusa
Para la blusa preferí tejer, sentí que hacer una blusa en tela no me quedaría bonita, así que me coloqué una muñequera de silicón y comencé a tejer lentamente, de tal forma no hacer tanto esfuerzo en la mano.
Para realizar esta blusa la hice con hilo acrílico. Cuando estuvo lista le coloqué un broche de plástico.
Tejer me hace tan feliz 😍, aunque fue corto el tiempo, fue suficiente para invadirme de la sintonía con la calma que este acto de tejer me ofrece.
Por cierto, seleccioné el color verde para la blusa, de tal forma representen las hojas y el tallo de la margarita.
The blouse
For the blouse I preferred to knit, I felt that making a blouse in fabric would not look pretty, so I put on a silicone wristband and began to knit slowly, so as not to make so much effort in my hand.
To make this blouse I made it with acrylic yarn. When it was ready I attached a plastic clasp.
Knitting makes me so happy 😍, although the time was short, it was enough to invade me with the calmness that this act of knitting offers me.
By the way, I selected the color green for the blouse to represent the leaves and stem of the daisy.
La margarita la había tejido el sábado pasado, la coloqué como prendedor en tres posiciones diferentes, en la cintura, al centro de la blusa y a la derecha en la parte superior.
Me parece que la margarita luce mejor en la cintura.
I had knitted the daisy last Saturday, I placed it as a pin in three different positions, at the waist, at the center of the blouse and on the right side at the top.
I think the daisy looks better at the waist.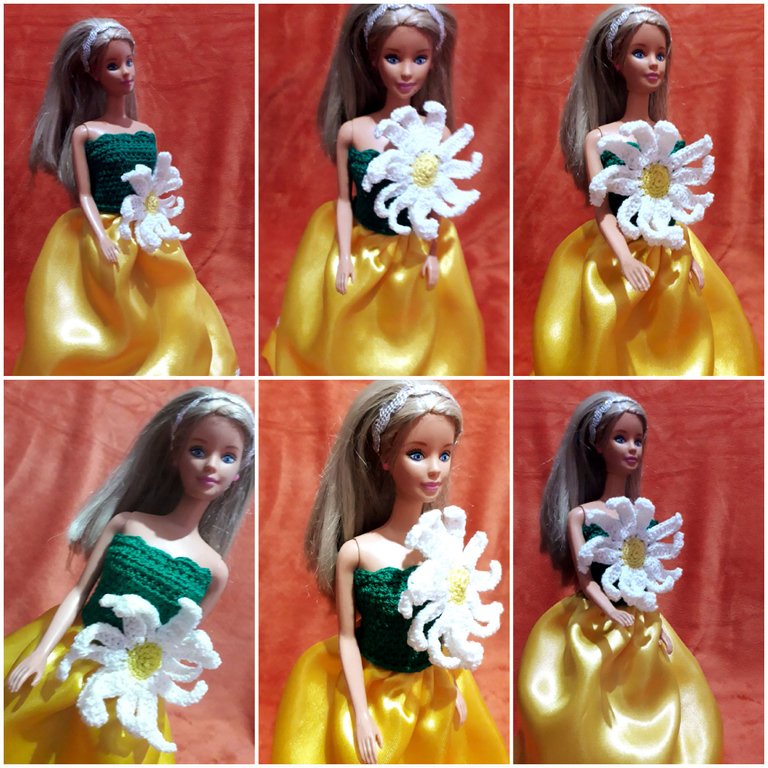 ---
El resultado
The result
---
Aunque no tengo habilidades de costurera, he quedado satisfecha con el resultado, la barbie luce una gala primaveral, en donde realza la margarita, que es el motivo de este resultado vibrante.
Although I have no sewing skills, I was satisfied with the result, the barbie looks like a spring gala, where the daisy, which is the reason for this vibrant result, stands out.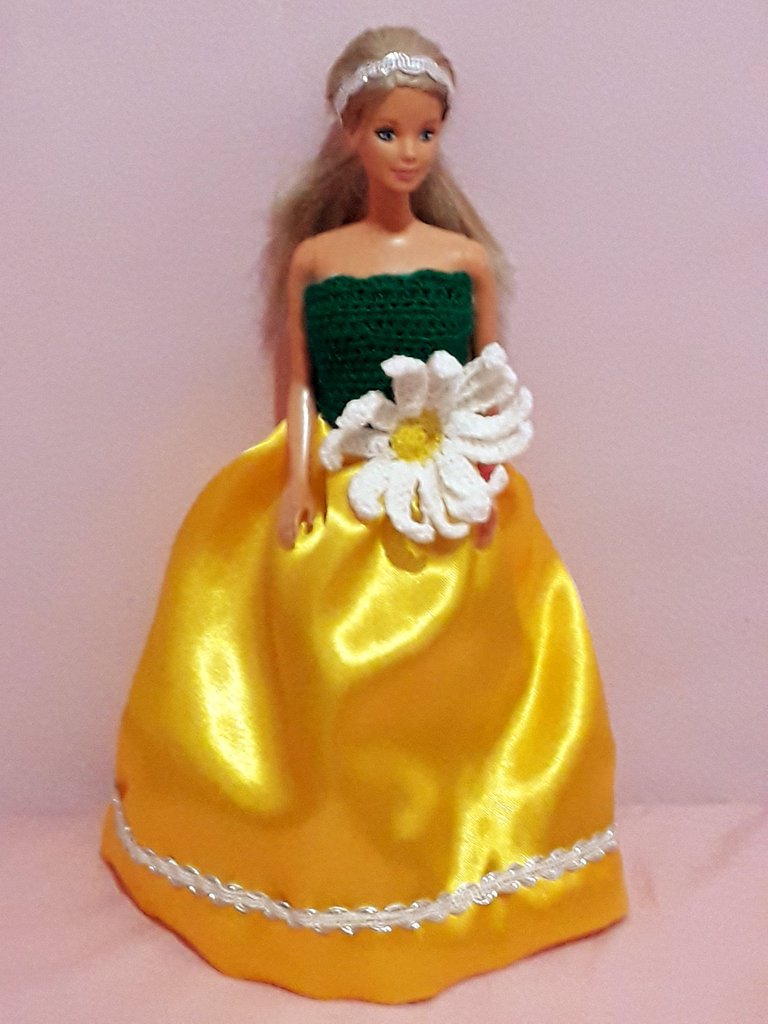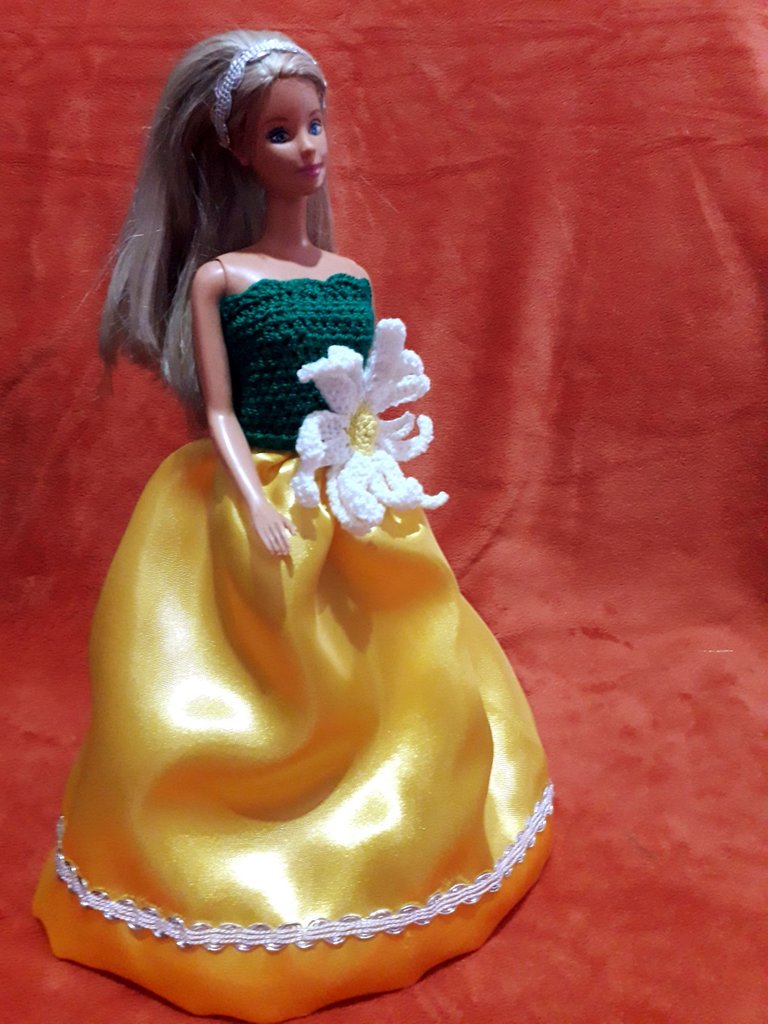 ---
Gracias por dedicar un espacio de su tiempo para leer la publicación. Si hay alguna pregunta, por favor pregúntame en la sección de comentarios a continuación.
Thank you for taking the time to read this publication. If there are any questions, please ask me in the comments section below.
Texto e imágenes: Por @jicrochet
Text and images: By @jicrochet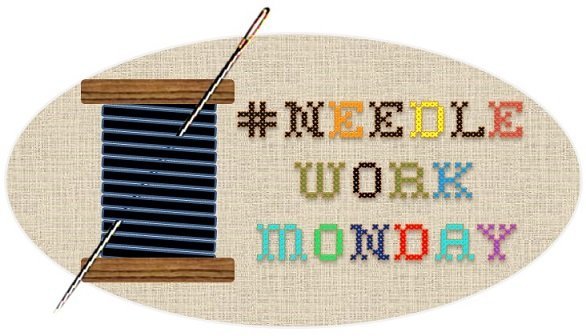 Translated with www.DeepL.com/Translator (free version)
---
---