I show you how to make a card using fabric appliqués.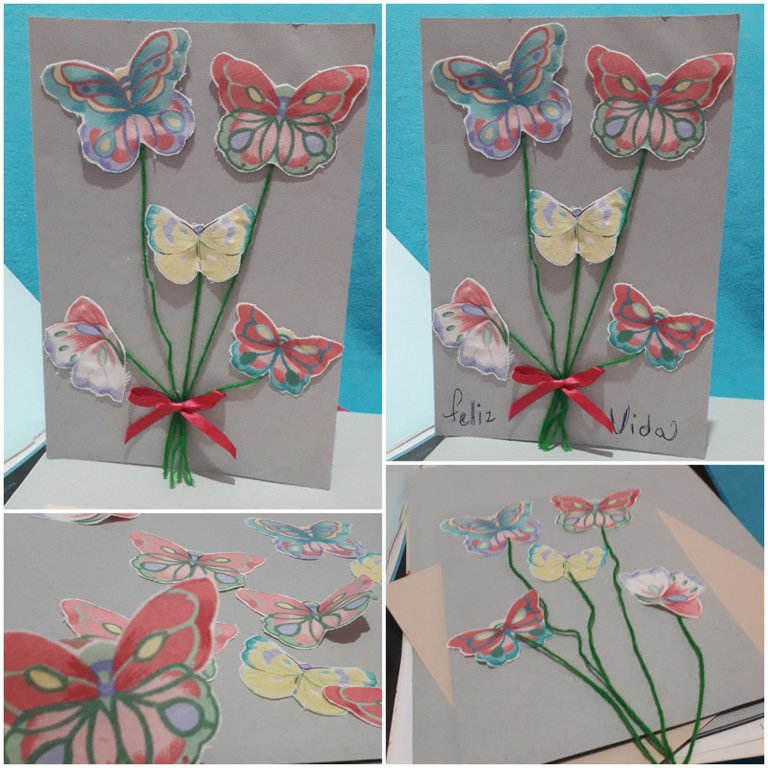 ---
La inspiración de este proyecto.
The inspiration for this project.
---
Me encanta regalar tarjeta, me encanta poder hacer esas tarjetas que obsequiaré a alguien ❤️.
Con la era digital, se han desplazado estos detalles de regalar una tarjeta a alguien que no sea digital. La oportunidad de poder escribir una tarjeta de forma manuscrita es una oportunidad que se debe buscar, es que cuando escribo una tarjeta usando un lapicero es como si el corazón fuese mi mano, realmente es un momento inspirador que te atesoro ❣️.
Hoy les comparto cómo realicé una tarjeta con apliques de tela, esta será la tarjeta que acompañe el regalo de una persona muy especial 😍.
Es una maravilla que tengo diversos materiales para hacer manualidades, así que la mayoría de veces puedo realizar una manualidad sin la necesidad de comprar algo, acostumbro a ir comprando materiales, casi que tengo una mercería 🙃. Así que en esta ocasión no es la excepción, revisando mis materiales, me tropecé con estos apliques de telas con motivo de mariposa, los cuales son perfectos para hacer la tarjeta que regalaré a mi amiga, ella es fanática de las mariposas.
I love card gifting, I love being able to make those cards that I will gift to someone ❤️.
With the digital age, these details of gifting a card to someone who is not digital have been displaced. The opportunity to be able to write a card in handwritten form is one to look for, it's when I write a card using a pen it's like the heart is my hand, it really is an inspiring moment that I treasure you ❣️.
Today I share with you how I made a card with fabric appliqués, this will be the card that will accompany the gift of a very special person 😍.
It's a wonder that I have different materials to make crafts, so most of the time I can make a craft without the need to buy something, I use to go shopping for materials, I almost have a haberdashery 🙃. So this time is no exception, going through my materials, I stumbled upon these fabric appliqués with butterfly motif, which are perfect to make the card I will give as a gift to my friend, she is a butterfly fanatic.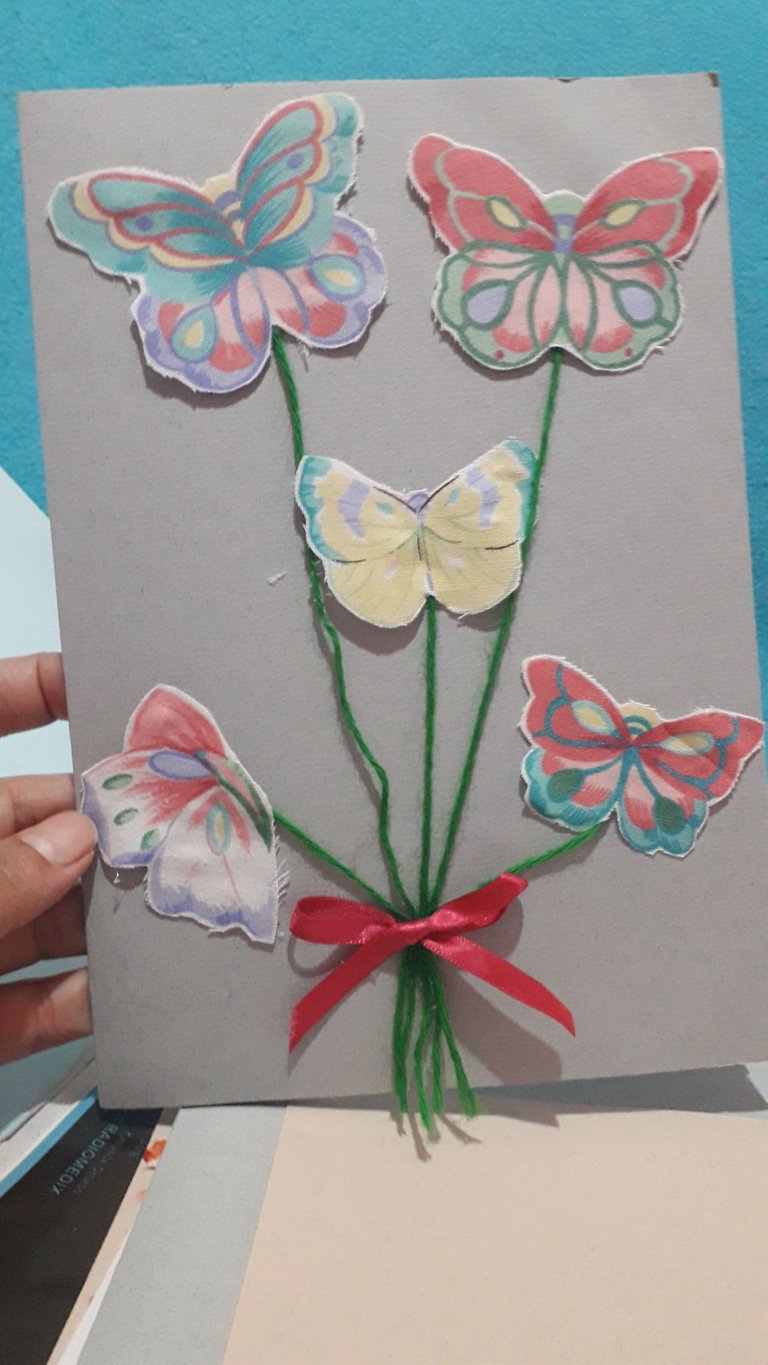 ---
Hablemos de los materiales.
Let's talk about the materials.
---
Me conmueven tantos estos apliques de tela, son tan tiernos y de unos colores tan suaves, que cuando los encontré en mi búsqueda, me dije serán perfectos para hacer una especie de ramillete de mariposas sobre cartulina, una combinación perfecta para realizar la tarjeta.
I am so touched by these fabric appliqués, they are so tender and in such soft colours, that when I found them in my search, I said to myself that they will be perfect to make a kind of bouquet of butterflies on cardboard, a perfect combination to make the card.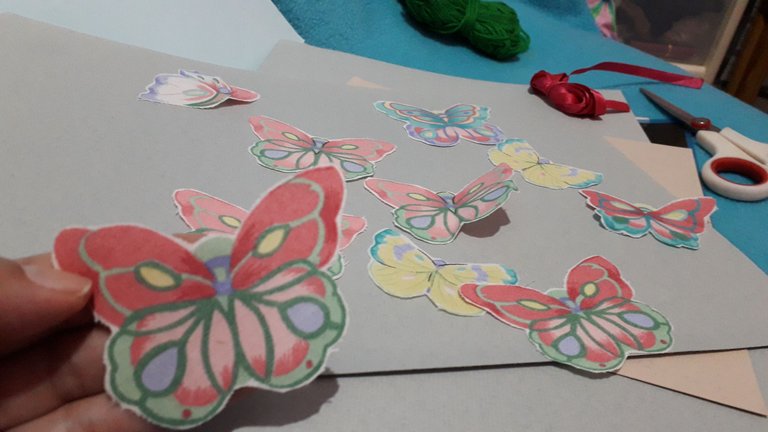 También usé cinta de raso, estambre, tijeras, una cartulina tamaño carta y una pistola de silicone.
I also used satin ribbon, yarn, scissors, a piece of cardboard and a silicone gun.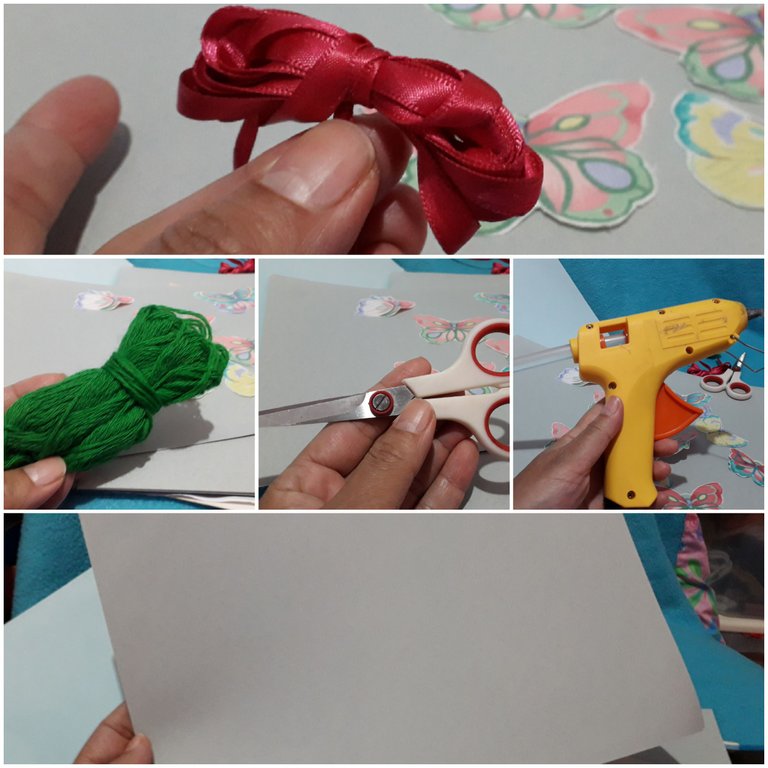 ---
Les cuento cómo realicé esta hermosa tarjeta.
I will tell you how I made this beautiful card.
---
Comencé doblando la cartulina por la mitad, de tal forma armar la tarjeta, esta cartulina es resistente y es de un color gris, es perfecta para que las mariposas se posen sobre ella.
I started by folding the cardboard in half to make the card, this cardboard is strong and grey in colour, perfect for the butterflies to land on.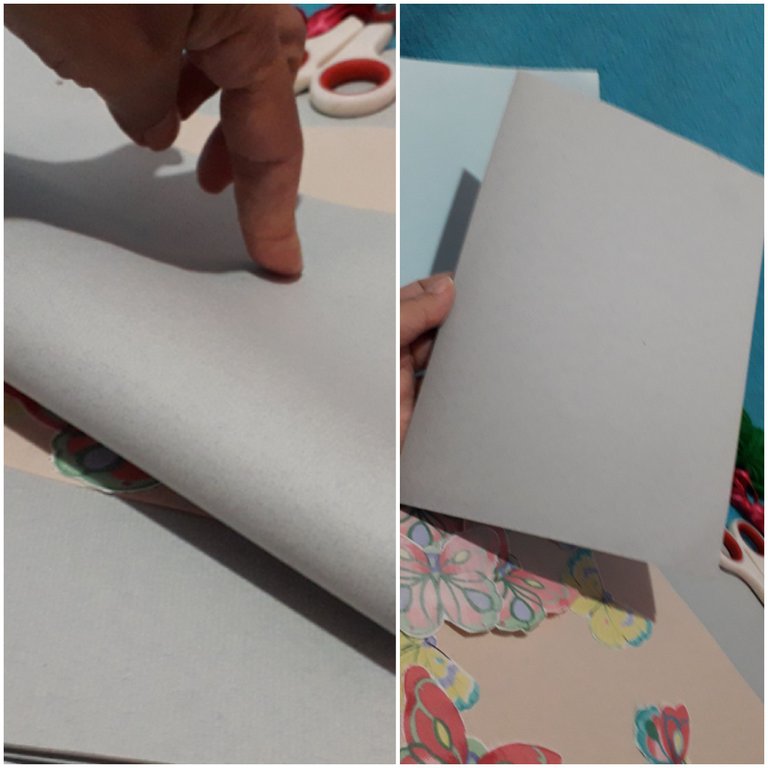 Seguidamente ubiqué los apliques de mariposa encima de la cartulina, los distribuí para que formarán una especie de ramillete de mariposas.
I then placed the butterfly appliqués on top of the cardboard, arranging them to form a sort of butterfly bouquet.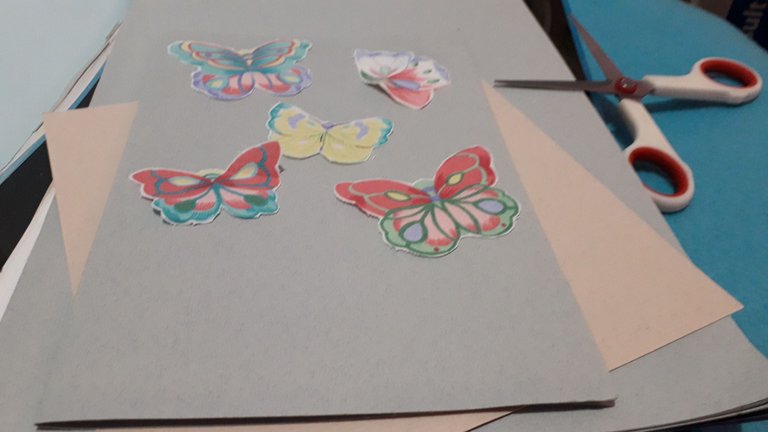 A continuación ubiqué trozos de estambre debajo de cada mariposa, esos trozos de estambren representarían las ramas del ramillete de mariposas.
I then placed pieces of stamen under each butterfly, these pieces of stamen would represent the branches of the butterfly bouquet.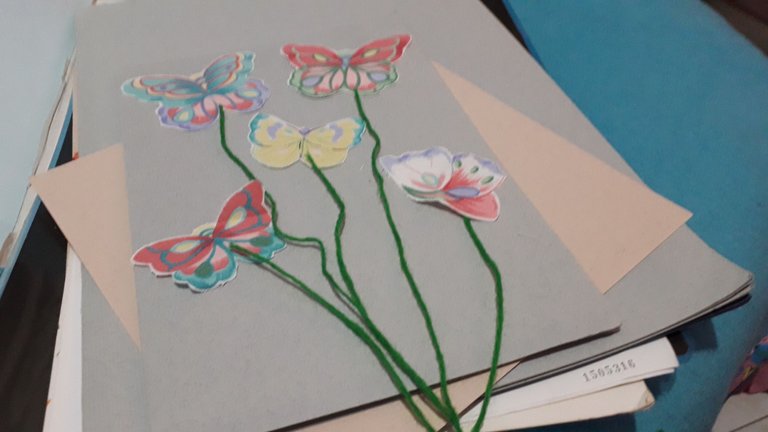 Usando silicone caliente pegué las mariposas sobre la cartulina.
Using hot silicone I glued the butterflies onto the cardboard.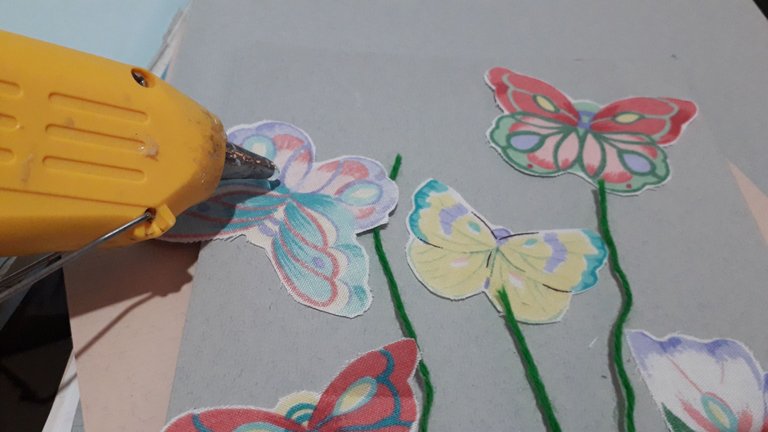 También pegué cada hebra de estambre sobre la cartulina.
I also glued each strand of yarn onto the cardboard.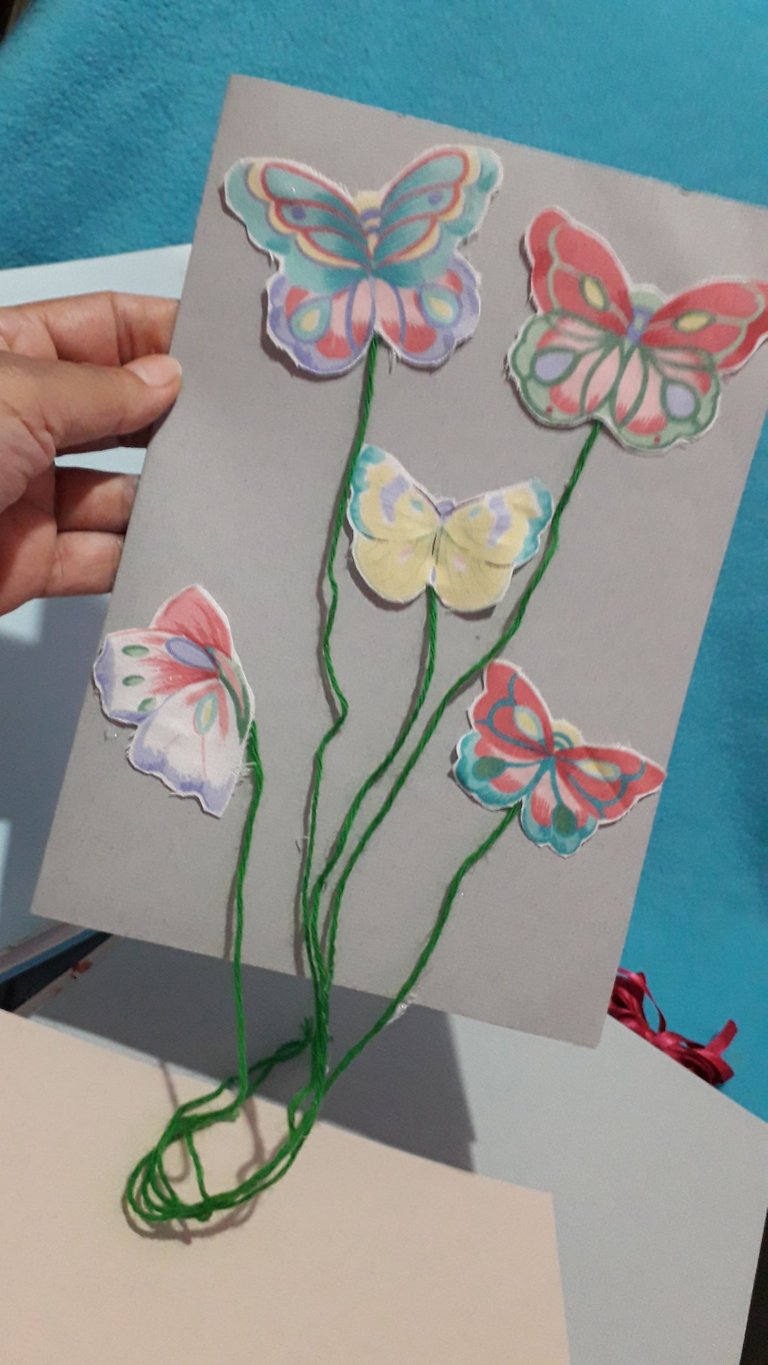 Luego con la cinta de raso realicé un pequeño lazo, uní los extremos de las hebras de estambre y pegué con silicone el lazo de cinta de raso.
Then I made a small loop with the satin ribbon, joined the ends of the strands of yarn together and glued the satin ribbon loop with silicone.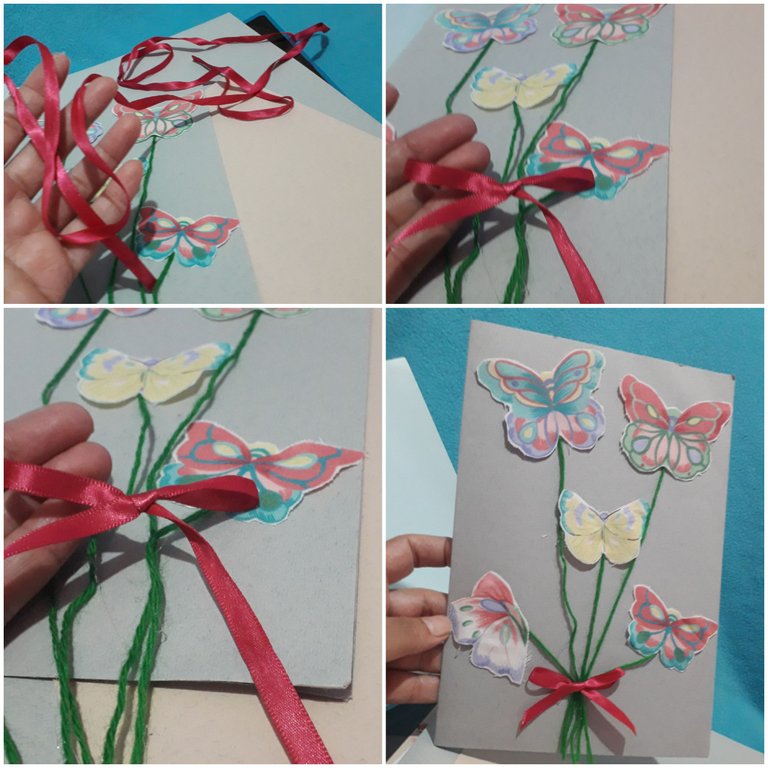 Finalmente escribí un pequeño texto en la portada de la tarjeta. Aún me falta escribir la dedicatoria de la tarjeta, la cual escribiré cuando le entregue el regalo a mi amiga.
Considero que es bueno rescatar estas tradiciones, de hacer tarjetas y obsequiarlas a ese ser especial que te inspira, seguramente harás que esa persona se sienta aún más especial.
Finally I wrote a small text on the cover of the card. I still have to write the dedication of the card, which I will write when I give the gift to my friend.
I think it is good to rescue these traditions, to make cards and give them as a gift to that special person who inspires you, you will surely make that person feel even more special.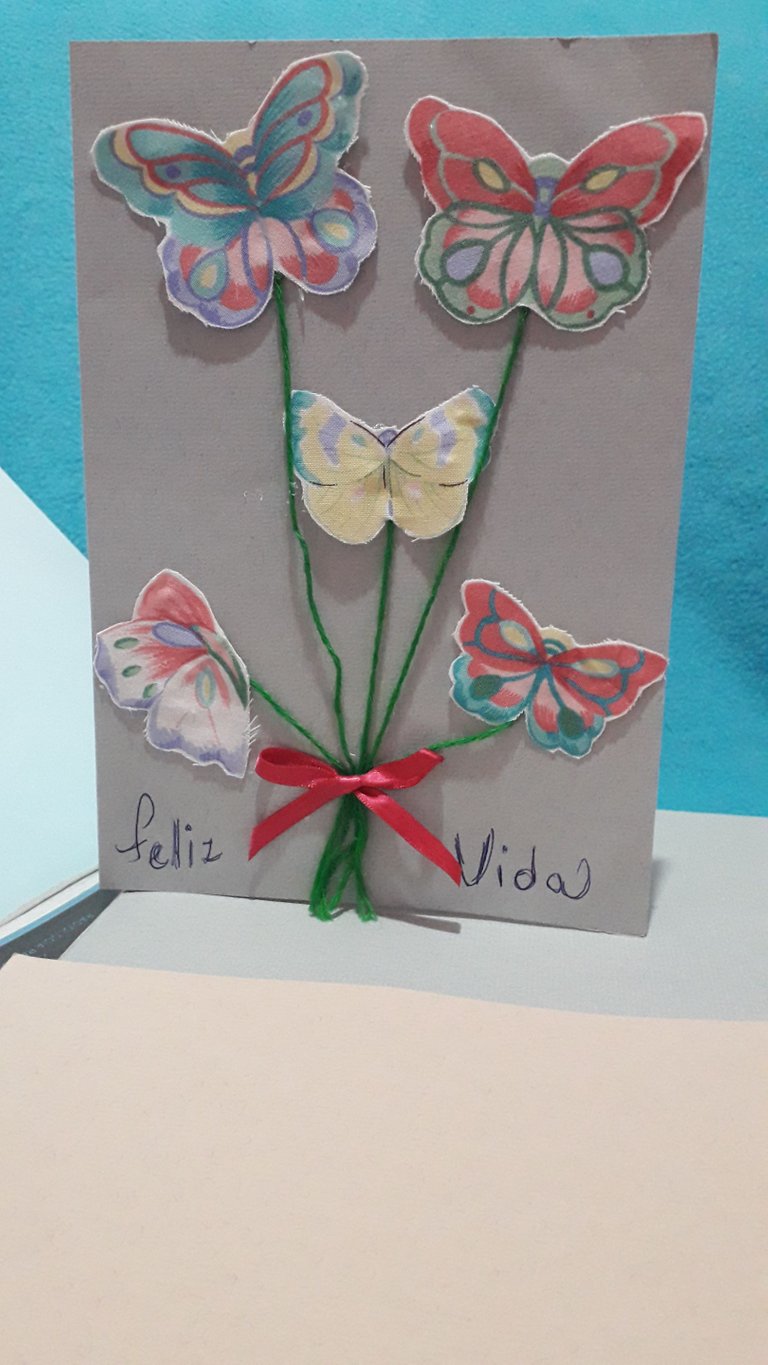 ---
Gracias por dedicar un espacio de su tiempo para leer la publicación. Si hay alguna pregunta, por favor pregúntame en la sección de comentarios a continuación.
Thank you for taking the time to read this publication. If there are any questions, please ask me in the comments section below.
Texto e imágenes: Por @jicrochet
Text and images: By @jicrochet
Translated with www.DeepL.com/Translator (free version)
---
---