An Art Commission That I Can't Say No
Hello! 🥰
It has been a while since I did an art commission. This time, it is a commission requested by a dear friend of mine. I consider her more than just a friend that I met online. Thank God for her because she helped me to make an account here on Hive.
So, @jude.villarta had commissioned me to make a chibi art for her friend. She DM-ed me on Discord back in October for an art commission, and this is after I drew Keanu in her chibi. I totally forgot about it and she just reminded me last December. Would it be funny if I forgot to draw it when she told me in three months advance, Haha! 🤣 I appreciate her saying very advanced because I got to draw only when time permits. There are days too when I do not feel like drawing, so sometimes it depends on my mood.
Our convo
As I said earlier, we communicated through Discord, like most of the time. Often, she DM me about chismis (gossip HAHA) or personal stuff. She started with "Madam Ji". That is her endearment to me already because we were supposed to call each other "sissy", but she said it was too girly. 🤣🤣🤣
Okay, going back-- ehem ehem. So, the commissioned art is for her IRL friend @hiddenblade. I talked to Hidden once or twice already through HivePH Discord server. I thought she was snobby and a serious person, but turned out that she is this sweet lady. 🥰 I find her voice very cute!
Of course, how can I say no to any request from JM (well, except to date her 🤣). I said to her that just send me the references, and I will finish the art little by little in my vacant time.
I actually can relate to the art because, in our household, we have three dogs and four cats. I actually did some pet blogs already. If you want to know them a bit, you can click here and here. Though I am not actually a "furmom" because technically I am not the one who really takes care of them HAHA! 🤣 I am just here for their attention, lol.
---
JM then sent me a rough sketch of how to put six elements in one frame (at this point, I forgot about Mew), so it was supposed to be seven.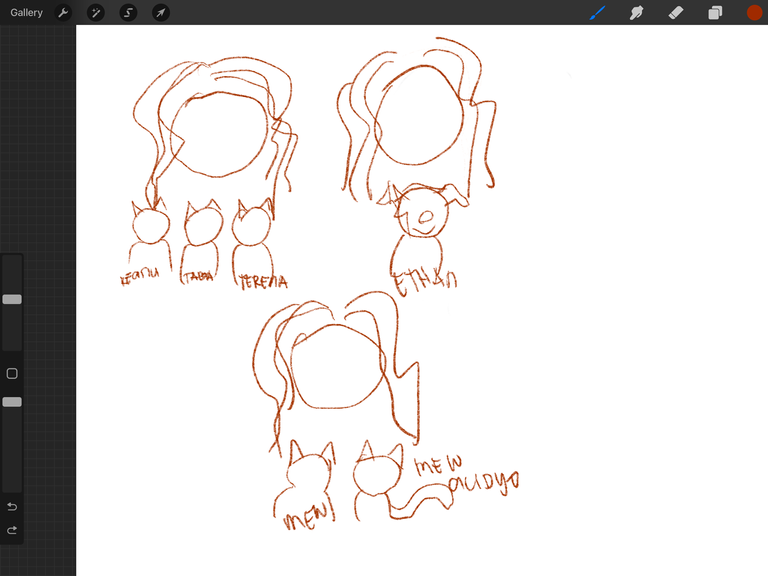 Rough sketch by JM
Non-verbatim
ME: So, am I going to draw three chibis?
Her: Yeah, but can you do it?
Me: (Me wanting to impress my sissy 🙃) Yeah, I can do it in one frame.😏
Her: Okay, just tell me if you need more references.
After four days, I sent her my sketch. I think I was busy at this time which is why it took four days to send a simple sketch. 😟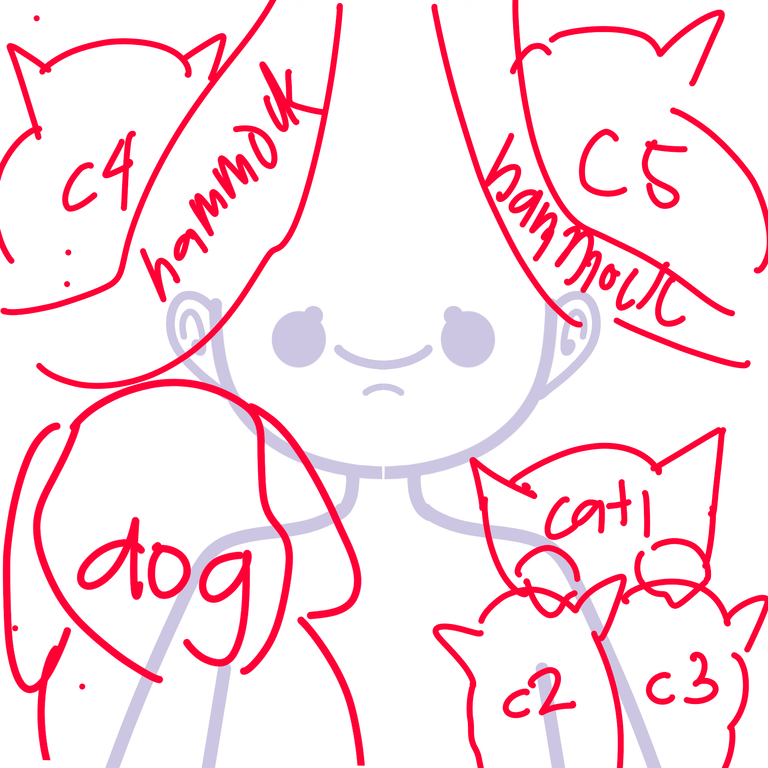 I drew five cats here, but in my head I was counting four only. HAHA! probably brain fried by the day.
Me: Sissy, this is what I think for Hidden's chibi. I will start tomorrow.
Her: Sure! The artist's interpretation matters. How the artist sees it and composes it matters. Whatever the outcome is, as long as it is from you, all good.
YIEEEEE! I was so kilig (giddy) for a minute. 😍
01/12/2023
I actually sent the "final" art around 8 PM, so that we can play Among Us already by 8:30 PM 🤣. I was so happy that she liked it, but she was like "where is @acidyo?". I was like in my head, "Acidyo? Did you send a reference?".
A moment of realization...
"OOOOOOHHHH! He is Mew. Dang, it. 🤣 No problemo, give me a second!"
While we were playing Among Us, every time I am dead, I turned to my computer to draw Mew. Phew~
By 10 PM, I sent her the final draft of the chibi! I am happy that she liked it, hehe! Thank you, sissy, for commissioning me!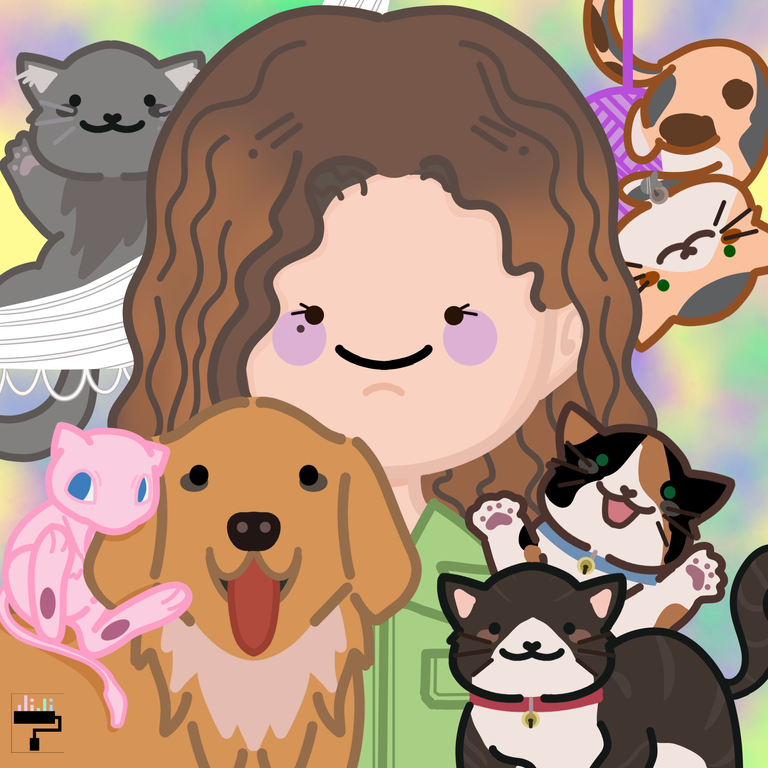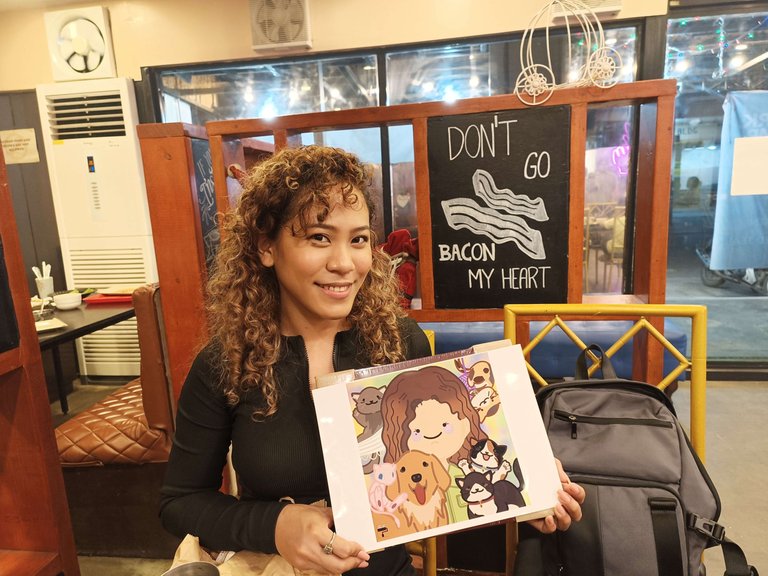 Thanks for sending this pic, sissy!
Belated happy birthday, Hiddenblade! 🎈
---
That is it for this art blog. I will see you at the next one!
📸 All photos are owned and taken by me, otherwise credited.
©️jijisaurart
Software: Medibang Paint Pro
Check out my Chibis on Hive collection on NFT Showroom
👾 NFT Showroom: https://nftshowroom.com/jijisaurart
🥰 Open for Chibi commissions!
---
---