Chibis on Hive | Oni Girl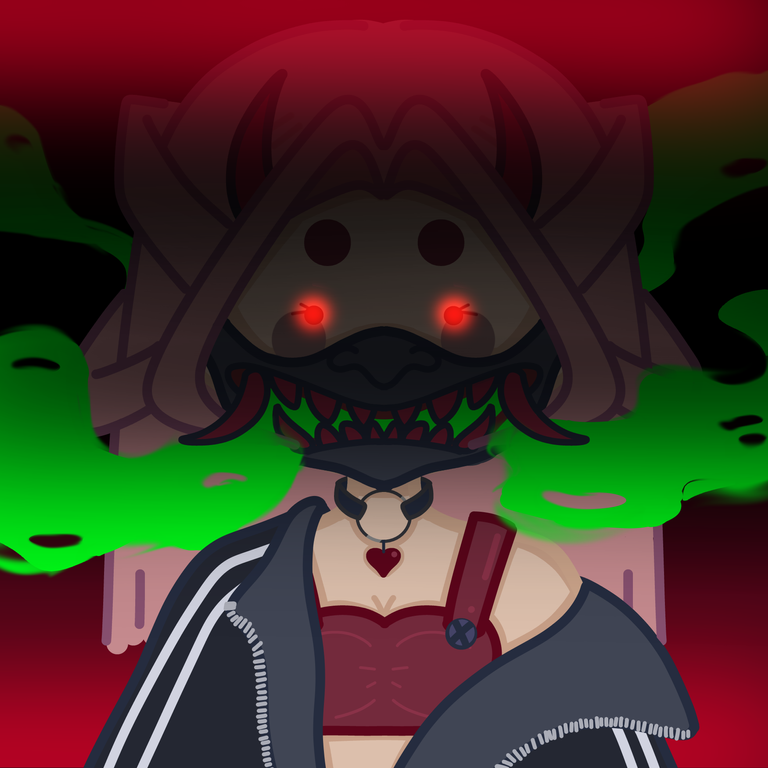 Name
I was looking for the perfect demon name for a girl, then I stumbled upon Lilith. Lilith means "of the night". It is a name from the Akkadian word "Lilitu". This name is the female version of the word "demon". Based on Mesopotamian mythology, she is known as the first wife of Adam, who was then expelled from the Garden of Eden because of her rebellious act. In Jewish tradition, her children are known as the evil spirit wandering in the world.
Character Inspiration
I was thinking of a baddie girl character and thought of the oni, a demon based on Japanese mythology. Oni has this scary face and a big appearance. Many of the ways he punishes are by peeling off the skin and crushing bones (yikes). That is the inspiration for the mask. I thought of drawing the whole mask, but it would cover the chibi face, hehe (just an excuse not to draw, lol). Lilith is wearing streetstyle-inspired clothing, the jacket, choker, and inner top. The green smoke is for extra creepiness, hihi. Lilith is not too late for Halloween, isn't she?
Character Story
Lilith is a city girl who loves experimenting with her style. She loves wearing odd masks, such as the oni. She just recently purchased a chocker with a dangling heart gem. Oh, her mask can puff green smoke! Do not worry, not poisonous, totally safe.
---
This NFT is up for grabs! Check it out here!
All of my NFTs are 1/1 non-generative, hand-drawn art, 1 by 1 produced.
👾 NFT Showroom: nftshowroom.com/jijisaurart
That is it for this art blog. I will see you at the next one!
📸 All photos are owned and taken by me, otherwise credited.
©️jijisaurart
---
---