Encountering The Winter Boss For The First Time!
Hello, hello!💗🥳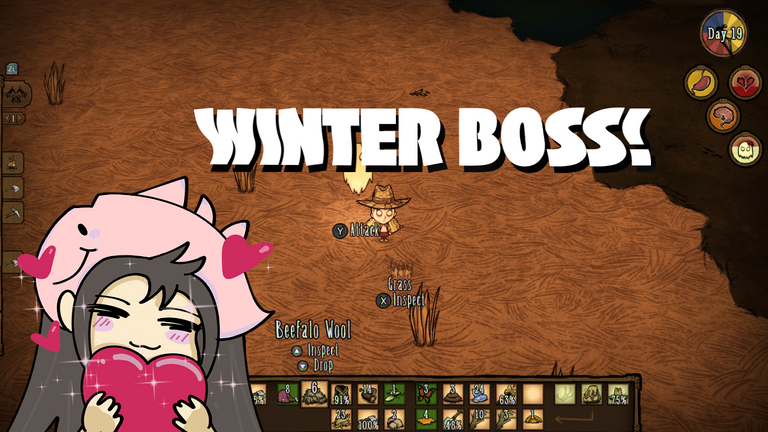 This blog is supposedly published a week ago. I have to catch up with game blogging because I have a lot of pending, haha. Also, once I published a blog, I immediately delete all the screenshots to save space, haha! Do you do the same? 😅😅
In this blog, I will mention tips and strategies that I learned during the Winter season. All of my tips are based on my game-play experience. 🙂
I haven't gotten fed up yet of Don't Starve Together. 😆
---
Winter is coming!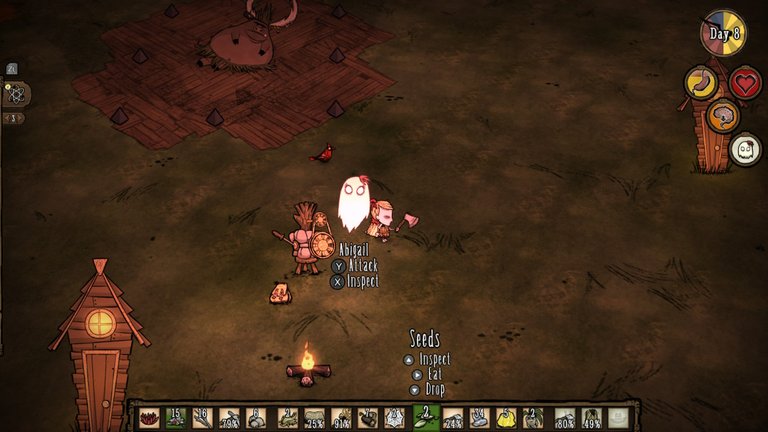 On Day 8, I already have my Science Machine. Very important to craft stuff.
The game always starts in Autumn. Flowers, berries, carrots, and honey are abundant during this season. While I am looking for a good spot to camp, I collect food so as not to starve during the exploration. Also, exploring opens your map further. I prefer camping near the pig king because the pigs around him will attack monsters if they come near. You can also give meat (except monster meat) to the pig king in exchange for gold. 😍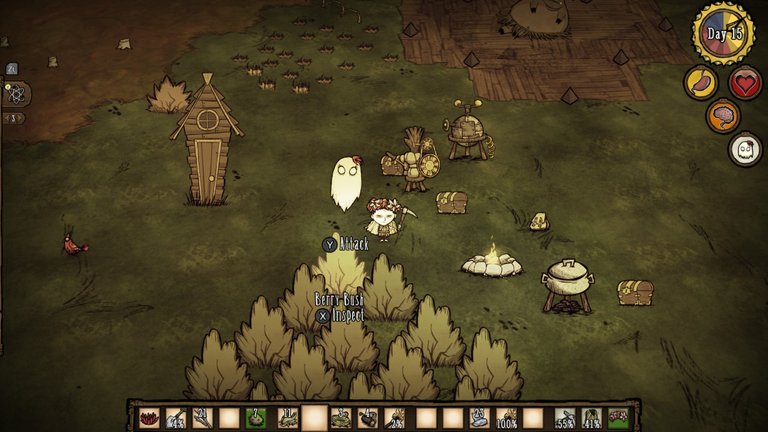 On Day 15, I have a couple of berry bushes to fill me up when I cannot hunt for meat. Crockpot is easy to make. This craft has a better addition to your health and belly. I set a chest near the crockpot so that it is easier to store and pick food in and out. At this window time before Winter, I collect recipes to make warm clothes. I prefer beefalo hat and thermal stone.
Winter is here 🥶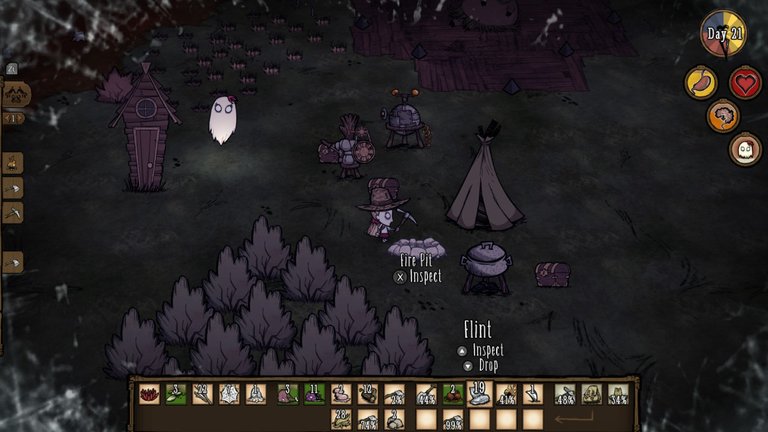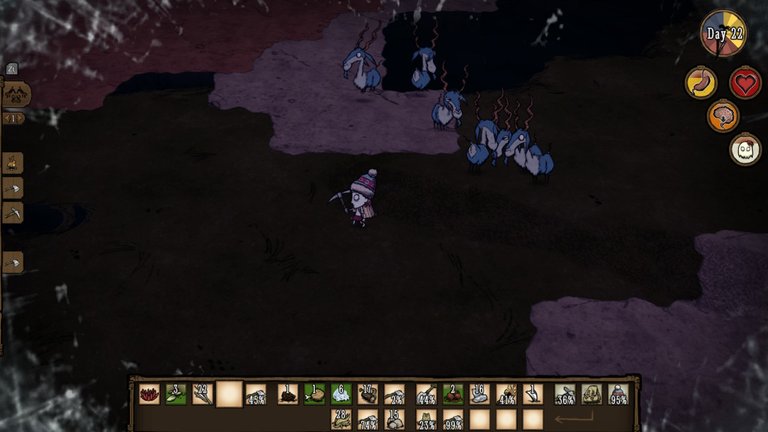 I met a pack Volt Goat. Generally, they ran away if you try to attack them.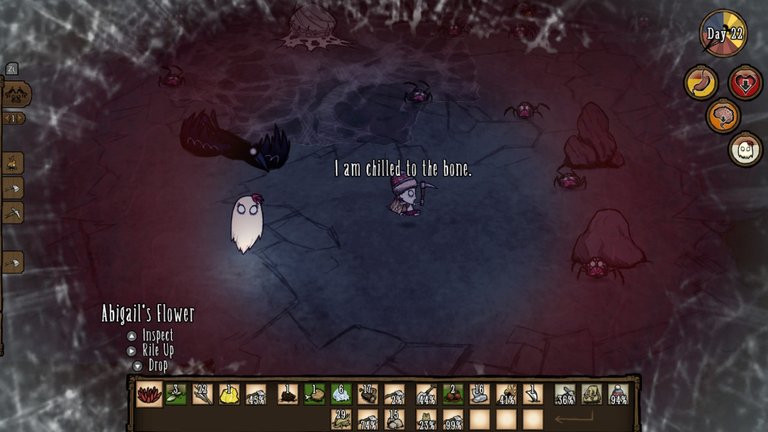 The screen starts to have cracks on the edges when it is too cold so it is important to collect logs to keep yourself warm. This will drain health rapidly. Beefalo hat requires a horn, which is a chance drop. Alternatively, I craft a winter hat. Beefalo has better insulation and taking damage.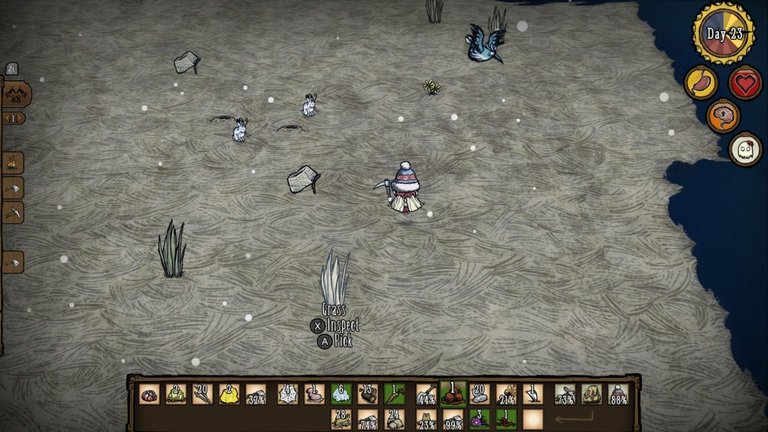 It started to snow at Day 23. I set up some traps near rabbit holes. Put some berries or seeds for bait. There is a bigger chance to trap rabbits. Live rabbits are the recipe for rabbit earmuffs. Also, you can eat and cook them.
Almost game over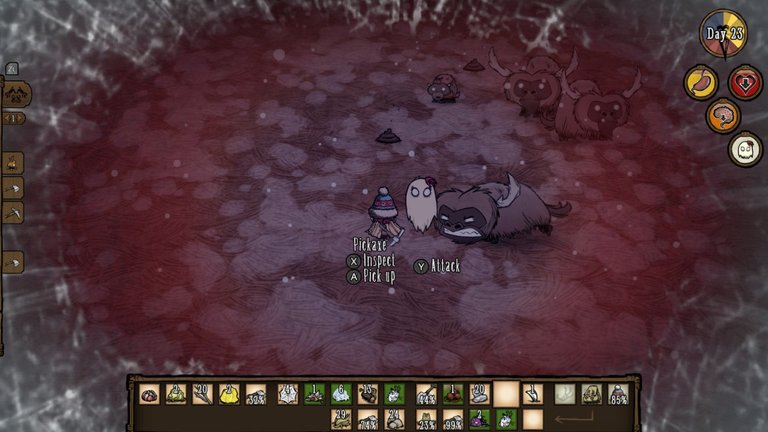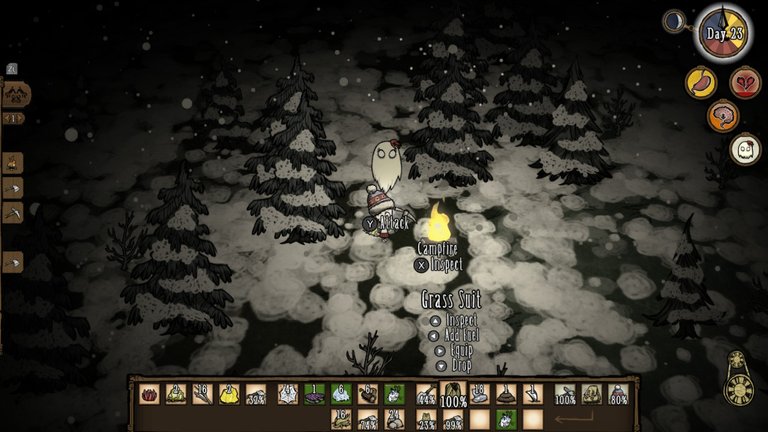 A combo of freezing and damage for a beefalo. 😆 My health took big damage from both, haha! Also, I think I do not have thermal stone here, ugh. 🤣 When I have a small health left, I just ran away and eventually, the beefalo will stop chasing me. What is annoying in DST is that you cannot equip armor and a backpack at the same time. Some food can heal you but just a little effect on your health.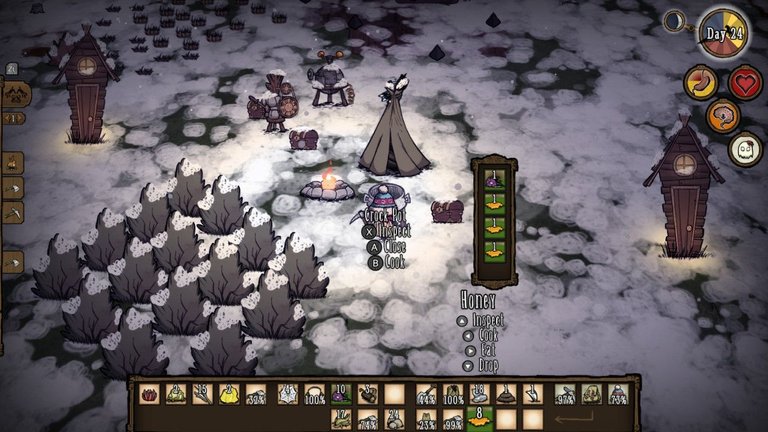 I recommend building your tent as soon as possible because it is a great help when it comes to your health and sanity. It will make you hungry rapidly so make sure that before entering the tent, your belly is full. I set it near the campfire so it is easier to see when the darkness comes.
Store honey before winter because they do not spoil easily. In the crockpot, you can put whatever combination of food. Just take note that putting more than one monster meat will take damage on your sanity. Berries do not grow during Winter, so harvest them before it snows. I do not have a fridge so I store them on chests.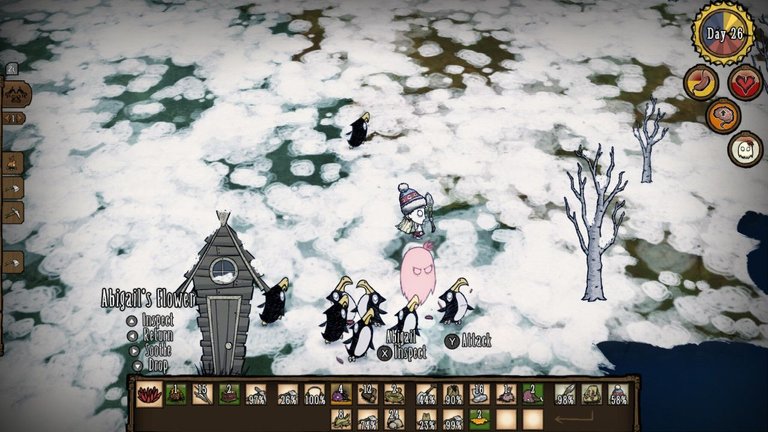 Though cute and harmless, I have to kill these penguins, huhu. Sorry, penguins! 🤣 Winter is tough and harsh. There are no fruits and veggies growing so I have to hunt for meat. Penguins have eggs and feathers too.
I accidentally set my berries on fire T_T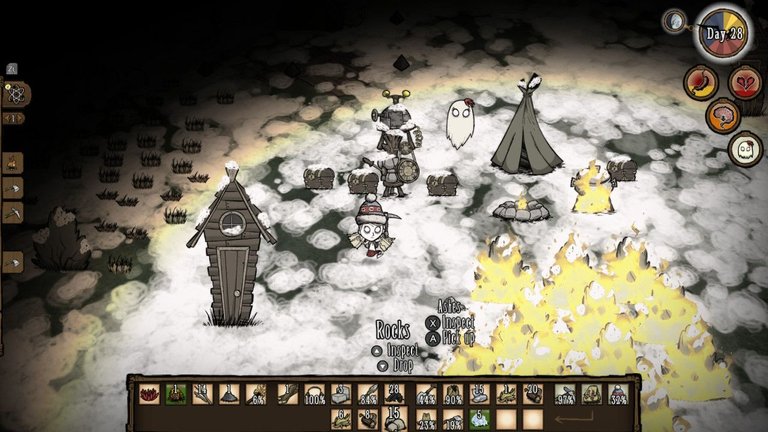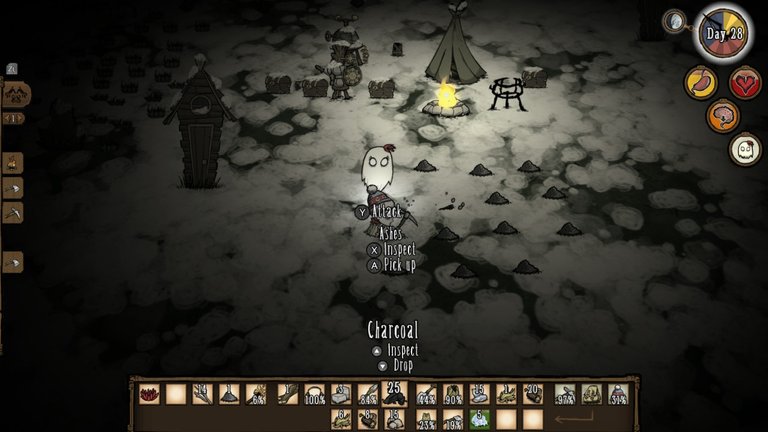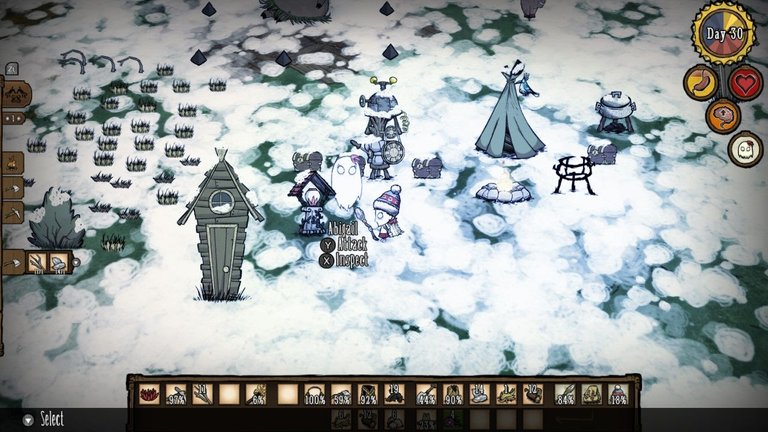 I was panicking HAHAHAAH! I accidentally lit up a freaking bush and made a domino effect T_T. It was hard collecting all those bushes... I can't do anything but stare at them engulfed by the fire. All that was left were ashes. 🤣 Even my crockpot was dead toasted, hahaha.
Winter boss Deerclops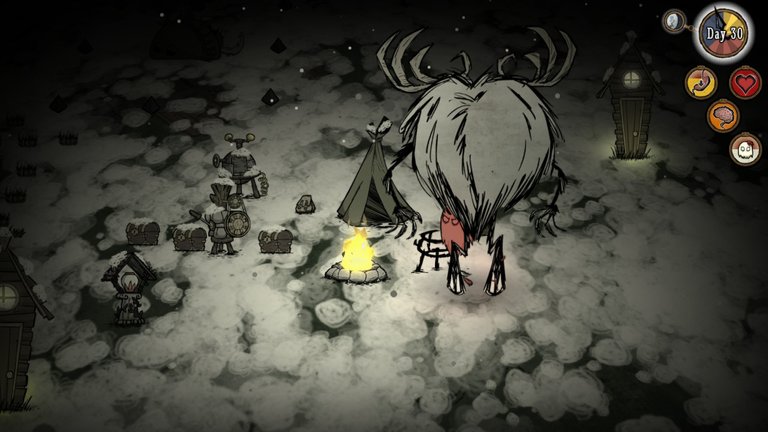 I wonder why the ground was shaking. Osht! A gigantic creature appeared at midnight. I was in the tent at that time, so I think I was safe? 😆 I was able to run away after midnight and waited a couple of days before going back to camp. The pigs were fighting Deerclops but he is so (makunat) tough. 😅
I DED at Day 34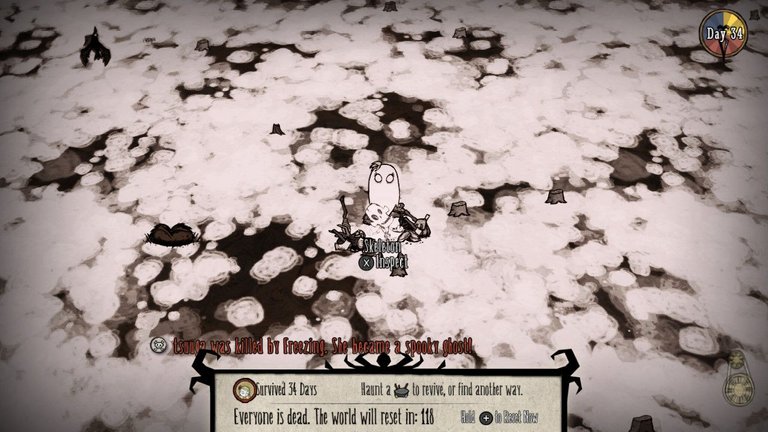 Though did not die of Deerclops, I ded because of the extreme cold. All of my winter clothes were worn out and was out of recipe to make fire. 😆
---
That is it for this blog. I will see you next time!
📸 All photos are owned and taken by me, otherwise credited. Screenshots from Don't Starve Together.
©️jijisaurart
Check out my Chibis on Hive collection on NFT Showroom
👾 NFT Showroom: https://nftshowroom.com/jijisaurart
🥰 Open for Chibi commissions!
---
---