Happy Heart's Day!
Hello! 💖
Happy Valentine's day! Do you have a date today? 😊 In my case, I do not have one, haha! I am not sad or looking for a date, but it would be nice to have someone to celebrate it romantically, right?
But as I get older, I feel like Valentine's day is just a marketing scheme. For example, on Valentine's day, promotions are everywhere! It is evident most in restaurants. Buy 1 take 1. Get free ice cream when you dine with your girlfriend. Get free steak when you dine with your mistress, it is on the house. Haha. Something like that. 🤣
But I think it really depends on the person on how they see it. For me, Valentine's can be every day. Maybe it is just a day to remind us about our loved ones. Not bad. 🥰 Well, this is your chance to confess your crush too, haha! Life is too short! I compliment people who are brave to tell their feelings with others. It is just admirable of them.
I drew something for today's celebration. Enjoy the process! 😍
---
Skecth and Concept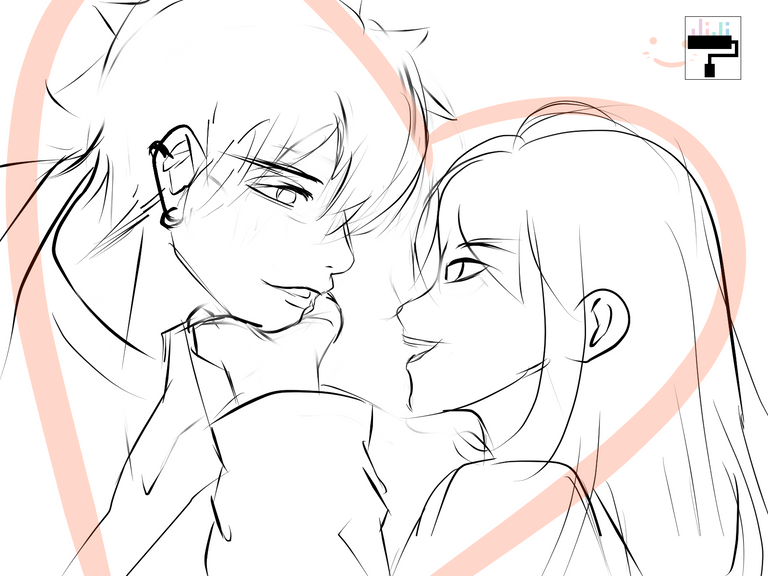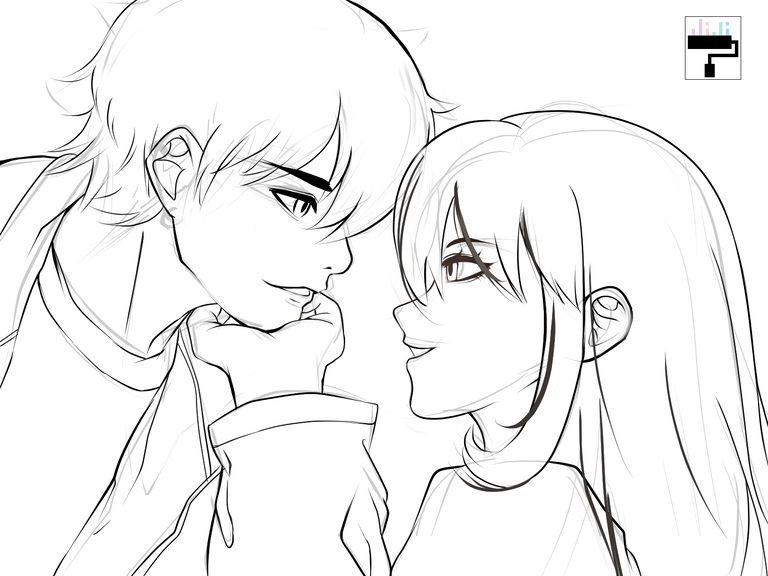 Of course, I will use my character Jijisaur in the frame. Hmm, who is this lucky guy? (Haha, kidding). So, the concept would be, the two characters are making eye contact, but more like there is a connection between them. The guy is just listening to the girl, mesmerizing her existence. She can talk all time, he does not mind.
Thanks for the reference here that I found from Pinterest. It really helped me build this art. Used a landscape canvas this time. I used the g-pen brush for both the sketch and lineart. I lowered the opacity for the sketch and added a new layer to trace it. I do not really copy the sketch, but it is just a guide for the lineart.
---
Flat colors, shading, background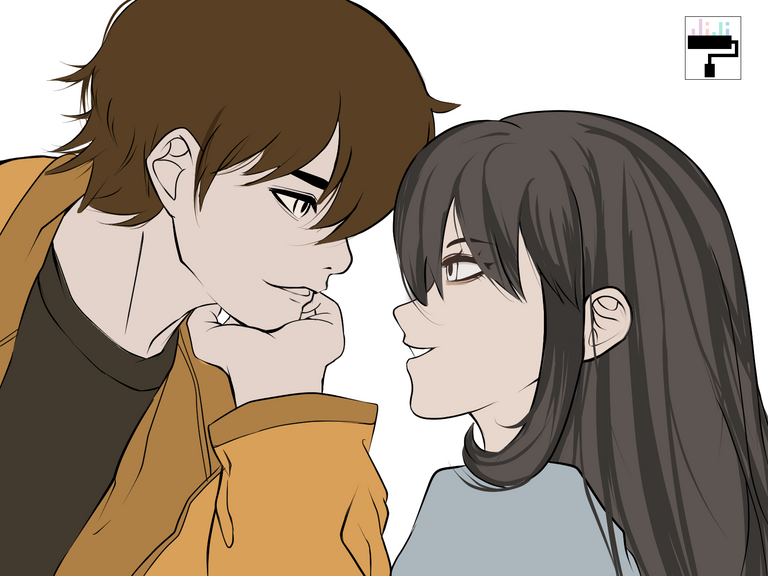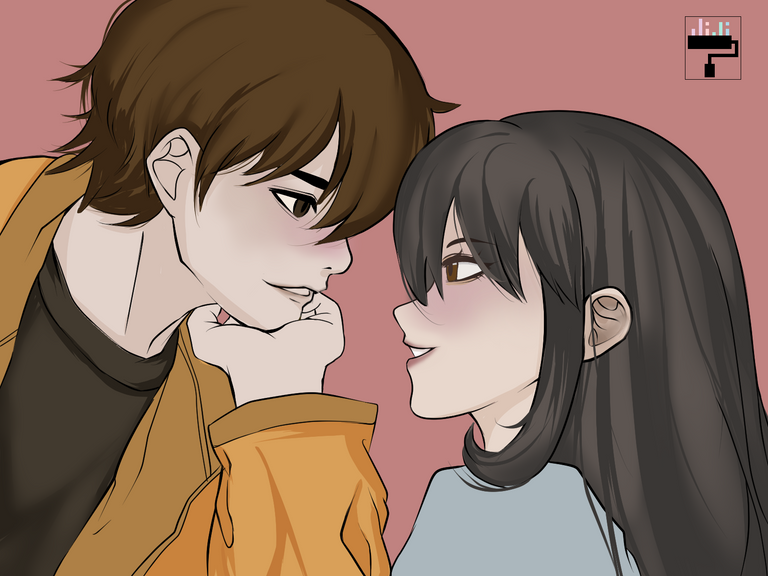 For Jijisaur's color, I just color-picked it from my previous avatar. I always use these colors for this character. The colors are gray for the hair, a yellow undertone for the skin, a blue blouse, and dark brown eyes.
The guy, has dark brown hair, with a yellow undertone. The skin color is a little grayish. The orange jacket is actually a reference to my jacket haha! I do have an orange windbreaker I bought from H&M. Of course, thanks for the reference! And then, a simple black shirt.
I was contemplating if I should go for a sunset background but thought to myself to just go for a simple plain dark pink background. Let's focus on the characters.
---
Details on the hair and clothing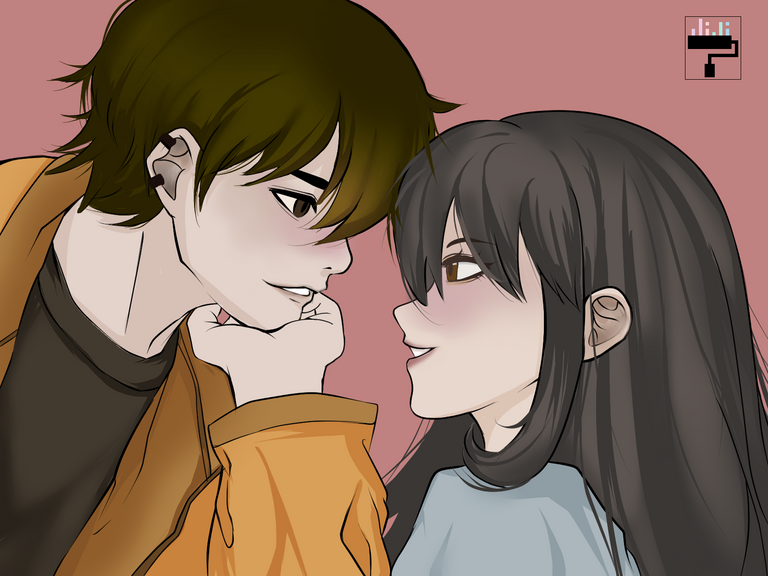 I used the airbrush for the shading of the guy's hair. Notice that I also added some ear cuffs, well, just for an accessory. I focused more on Jijisaur's hair here. I added a new layer for the stands of hair, just not to be stiff. For the clothing's shadow, my technique is, just to clip a new layer, color-pick the base later, and then set it on 50 percent multiply. Tadaa~ instant shadow, hehe. Also, added some light blush on the nose area.
---
Final Art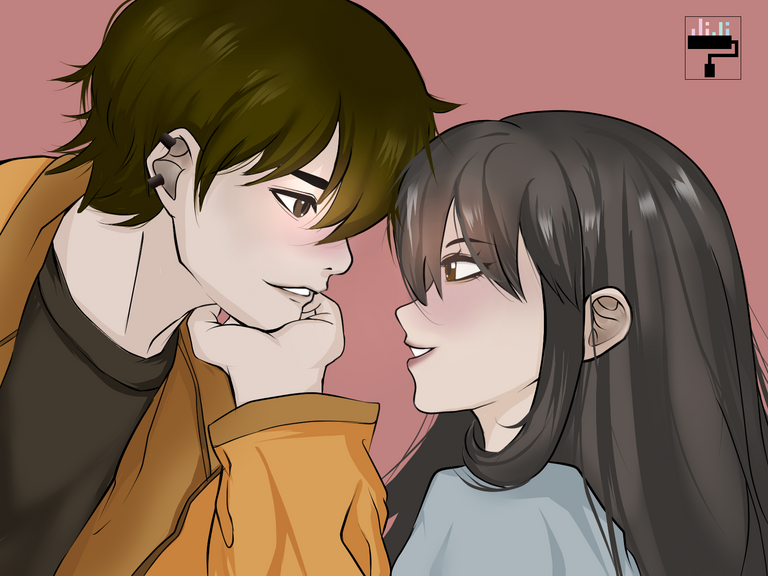 I added another layer for the hair strands sticking out for the guy. For final touches, i added some shine to the hair using a g-pen, and then airbrushed a light blush pink on the hair, just a little glow on the skin too.
I use the magic liquify tool to unjust the chin, ears, and eye area. Added hair strands and erased some unnecessary lines, especially the intersecting ones. I should have used the vector mode, lol.
Tadaa~ It is done! 🥰
I hope you enjoyed the process and happy Valentine's day! 💖
---
That is it for this art blog. I will see you at the next one!
📸 All photos are owned and taken by me, otherwise credited.
©️jijisaurart
👾 NFT Showroom: nftshowroom.com/jijisaurart
🥰 Open for commissions!
All of my NFTs are 1/1 non-generative, hand-drawn art, 1 by 1 produced.
---
---