Just A Short Walk | Mr. Pumpkin Beetle
Let's walk!
6:00 AM, time to get up for a short walk.
I sat on the edge of my bed, trying to collect my thoughts on what I should do for the day. Nothing much really for me on weekends except to just chill. So, yeah, walk it is. Yeah, it was a Sunday but my brain is telling me to go for a walk. It is my routine to wake up at six in the morning even if it is a rest day. Maybe it is my body clock.
I did my thing in the bathroom, changed clothes, laced up my running shoes, and started walking. Walking makes my clouded mind clear. I think walking is so underrated. If you feel like not in the mood or just bored, just walk.
I just brought my phone, and macro lens. I did not bring my tumbler because it is annoying to carry it around because I am afraid that I might lose it, so instead, I just left it at home.
I plan to walk for 5 km. I just rely on the GPS of my phone and my pedometer installed in it. At 6:15 am, I already see people out of their homes, especially the elders. They were eating their pandesal and coffee. Pandesal is just basic bread. For me, it is better to have a cheese filling on it, hmm yum!
To make my walking more productive, I went to the park, especially in the spot of foliage. In that spot, I am assuming that I will take a shot of insects or worms for the blog.Yeah, it is really hard to capture insects because they move so fast. Also, my shaky hand is not helping me at all!
Ugh, it was a pain to look for a bug. I am all sweaty and hot. Until I saw something was moving. Oh, it is an orange bug! I thought it was a tiny flower. At this point, I realized that I forgot my glasses. I did not see it immediately.
It was my first time seeing this kind of bug. It is very tiny and it was not moving aggressively at all. I attached my macro lens to my phone and started taking pictures. Probably took 20 shots for this little buddy. I took pictures as long as I can and as long as the bug will not move. Alas, it flew. Maybe I disturbed Mr. Pumpkin Beetle.
After taking photos, I continued to walk for 2 km more until I reached home. I am so sweaty and sticky, not a good feeling, ugh. After taking a refreshing shower, I reviewed my shots.
Almost 3/4 of the shots are either blurry or not at the right angle. I am so particular about how I want the subject to be positioned on the frame. Yeah, at least I got some very nice shots!
Mr. Pumpkin Beetle is so cute!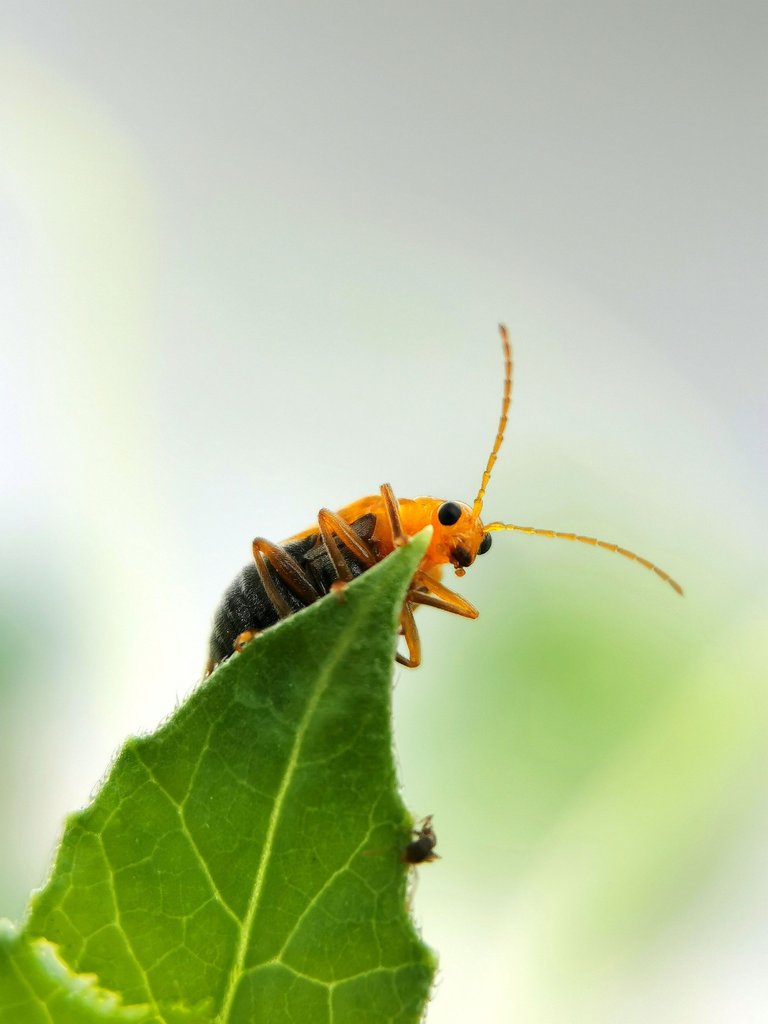 Its red-orange color is complementing the foliage in the background. Actually, I want Mr. Pumpkin Beetle to take home but I think it is impossible, haha.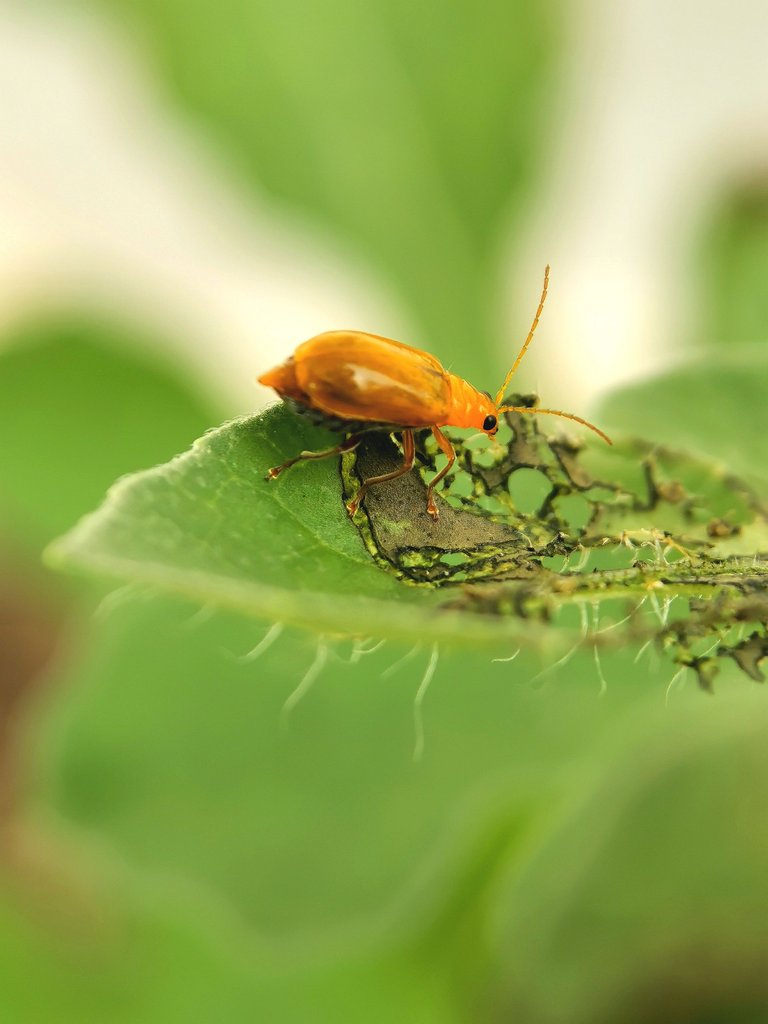 Aulacophora foveicollis, the red pumpkin beetle, is a species of beetle in the family Chrysomelidae. It is a foliar pest of members of the Cucurbitaceae, particularly the pumpkin. It is also a pest of millets in India.
Species: A. foveicollis
Genus: Aulacophora
Source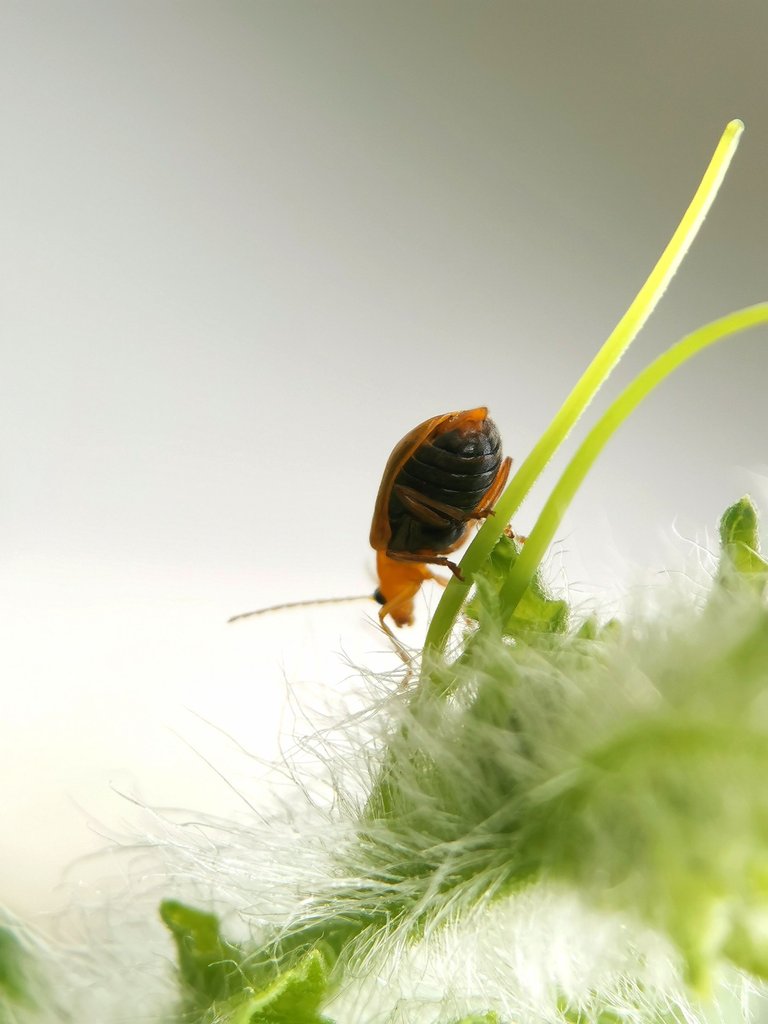 I had fun taking pictures with this little bug even though I got itchy in the foilage just to get these shots. It is all worth it! These are the sacrifices photographers do just to deliver a story in a frame.
I hope I shared something interesting in this blog. That is it for now.
---
📸 All photos are owned and taken by me, otherwise credited. ©️jijisaurart
---
---