Splinterlands Social Media Challenge! | Spirit of the Forest
Hello, Summoners! 🍃💫
Another day, another 💫Splinterlands💫 art blog! Aside from the social media challenge, I am also joining the weekly art contest. It is hard at first to draw two entries for a week, but I am getting the hang of it now. 😆😆😆 I am just actually squeezing my time into drawing and blogging. Over all, I am really having fun knowing more of Splinterlands! 🔥
For this week's character, I chose Spirit of the Forest! 🍃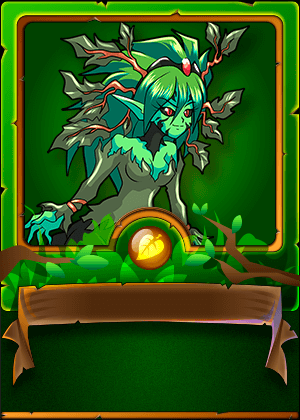 ---
Sketch and concept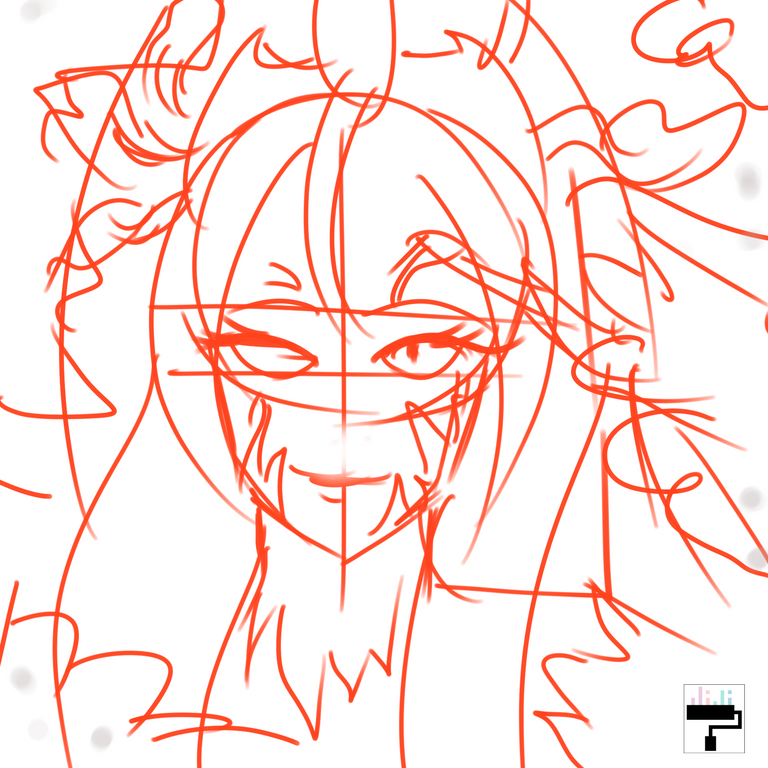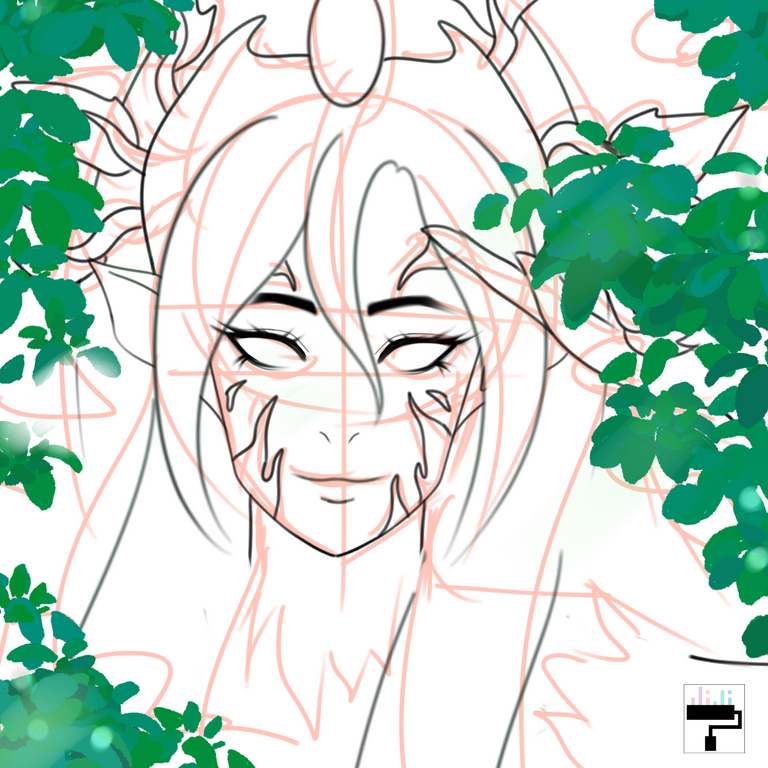 No idea why I chose red for the sketch this time. 🤣 Usually, I use black color. Well, I should make it a habit to use a different color for the lineart so that it is easier to distinguish the two. For this art, I got this from Pinterest as my reference.
I first added the leaves around to cut the work, haha! A little trick is put first what it is in front of the character so that it will save you time not working on those blocked parts of the character. 😝 The brush is a default brush in the software. I just switched to different colors of green for layering. I used a soft brush for the lineart. The symmetrical ruler is a great help for the eyes, nose, and lips.
---
Colors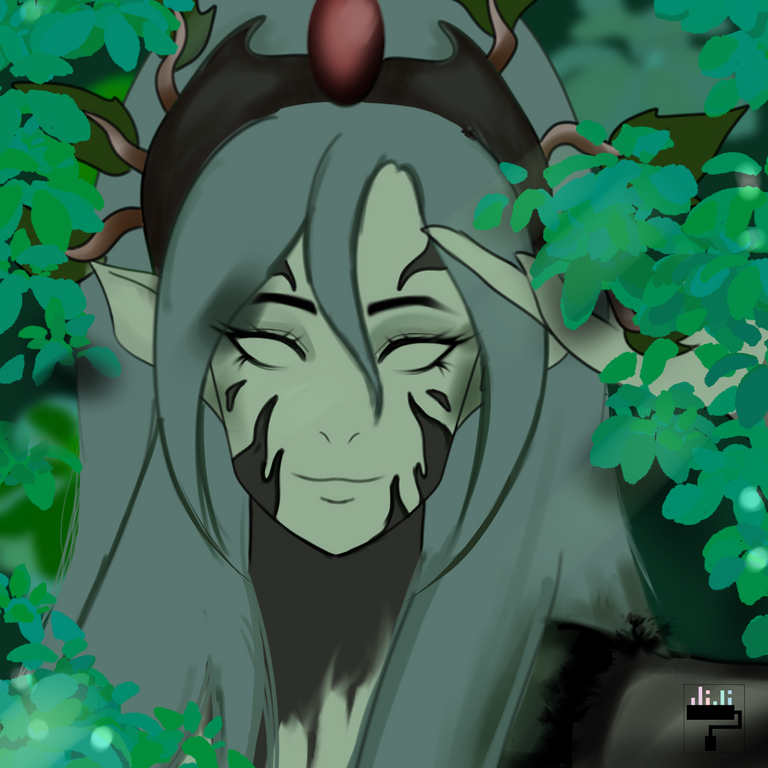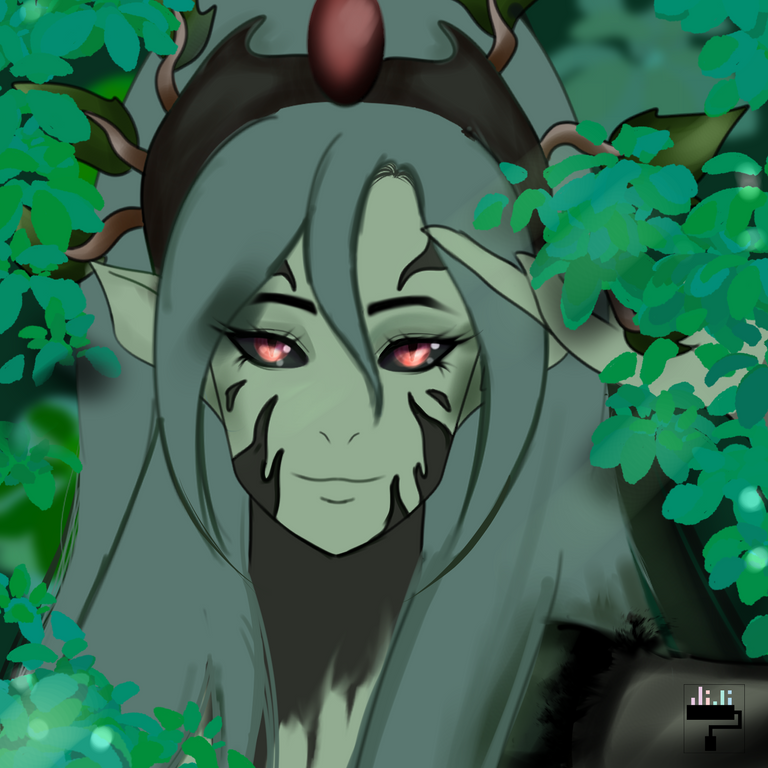 ---
I always want my base colors to be undersaturated so that when I do the shadings and highlights, I have more rooms to play. It was not easy to choose the base color for the hair, skin and clothings since they have the same color, which is green. I just played and adjusted the shades to see if it fits right. Also added the green background with blurred leaves. My base color is messy... I know! 😆 Okay, it happens, what can I do? HAHA. Wait til the final outcome, it will be fine.
For sure the eyes were my favs to make. The sclera for this character is color black, and the iris is red. Very gnarly. I just do not like to encounter a creature like this in the forest, haha!😁😁😄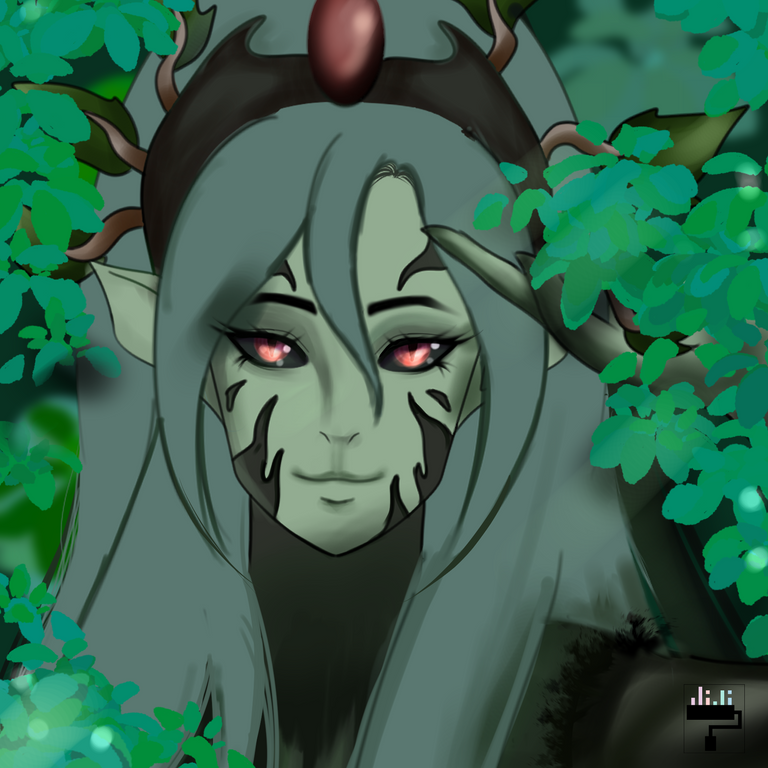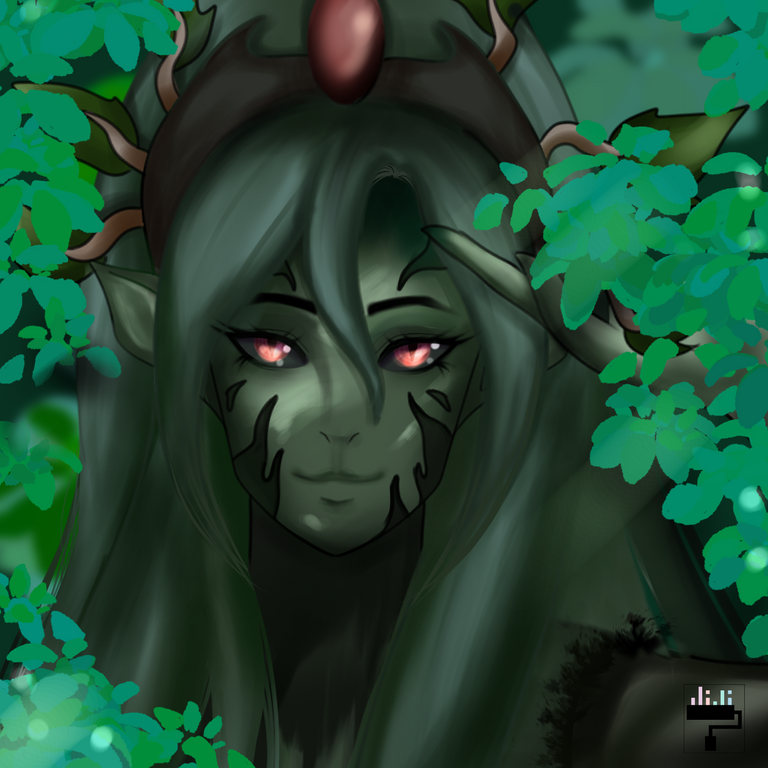 I applied more shadings on the neck area and on the arms. I was giving up on this point because I feel like it started messily. 😟 Oh, well, I am already committed to this art. It will be a waste of time and effort if I linger on my negative thoughts. I put more shadings on the hair, crown, and hair. I use airbursh, blending brush, and soft brush to make the character softer.
---
Final Art
Let's add the magical glow! 🥰 I am using an airbrush in add glow setting. I use the combination of colors green, yellow, and white. I put the red fruit last minute because I feel like the green is overwhelming. It is just green everywheren. Turned out good! ❣️
Tadaa~ finished art! Spirit of the Forest in art style!
---
Join Splinterlands here!
🔥Collect, Trade, Battle!🔥

Software: Clip Studio Paint Pro
That is it for this art blog. I will see you at the next one!
📸 All photos are owned and taken by me, otherwise credited. Logo and original art from Splinterlands.
©️jijisaurart
👾 NFT Showroom: nftshowroom.com/jijisaurart
🥰 Open for commissions!
---
---