Diversifying Your Message on HIVE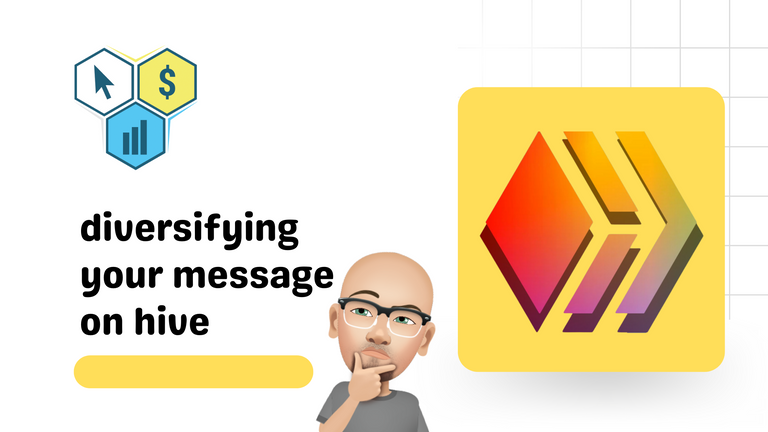 The last few days, I've been trying to pinpoint the direction I want to take with my online marketing endeavors. To be honest, they completely changed when the going through the CLICK.TRACK.PROFIT training modules introduced me to the wonders of HIVE.
What happened along the way, is that I became a HIVE loyalist. I went all in and my mindset completely changed from what can I get from HIVE to what I can do to contribute to this awesome blockchain and it's communities.
Although, I continue to dabble off chain with my list building the focus pivoted to wanting to tell my subscribers about my journey on the blockchain.

I have been grinding on here for a solid year and seven months without missing a day and overall two years as a HIVER and although it pales in comparison to so many, I believe it's long enough to say I've had a front row seat to experience and or see a lot of what it offers to so many.
Whether, folks take full advantage of the plethora of platforms or whether doubters or naysayers are skittish at the thought of joining HIVE, there are a handful of us that fully embrace what we have access to here.
So in essence, I'm still on that online marketing path; but with a different perspective.

I'm a big fan of some awesome people on this blockchain, but there are still a few off chain that I still follow and one of them being GARY VEE, I'm sure I've mentioned that a dozen times.
The guy grew up in New York and I totally relate to him and one of the reasons that I never gave up coming back into online marketing after taking a long break post failure.
I've been listening to his podcasts for years and he's fairly consistent with his content, which makes it easy to remain a fan of his. It's why I continued to follow @jongolson through the years, because of his consistency with his message.

If you know anything about Gary Vee, he hammers the constant message about the importance of putting out content in the hottest social media platforms multiple times a day without fail.
Now, this is a guy who is a walking conglomerate and still is consistently putting out content daily on familiar social media platforms like Facebook, Instagram, LinkedIn, Twitter, TikTok, YouTube and more...
He's really big on YouTube shorts now.
You basically have to put yourself out there and get noticed by using these free platforms and of course early on take advantage of the cheap advertising opportunities which many of those platforms mentioned above are no longer inexpensive.

The thing is, that yes, if we can find a way to stay relevant in some of those platforms, we should probably do so. I honestly, don't have the passion or time to do so, unless it's related to my workouts under the orange lights and it's community.
But, let's backtrack a bit.
I'm totally all in on HIVE and I still remain a CTP Ambassador. I still believe is some of the core actions for success as an entrepreneur.
Guess what?
We have those type of tools at our disposable here on HIVE.
So, this is where my passion lies when it comes to using platforms similar to those mentioned above..

I have an employer, so 40 hours plus a week goes to my job and including my family life and my commitment to remaining fit while throwing in some off chain time for my email marketing, so I'm working with borrowed time on HIVE. But let me be clear, that time is non-negotiable. I will make time for activity on HIVE - EVERYDAY - without fail!
What is so spectacular about this blockchain is the opportunity for me to have the access to many ways to build, create and engage while always feeling and knowing that it is and was productive.
Can you say that when you are on the traditional social media platforms? I don't mean if you are on the level of Gary Vee. I mean the guy says hello on his Discord channel and the amount of activity that goes on after that hello from his followers lights up like a Christmas tree. It's rather insane.
Anyway, I digress.
Personally, I blog using @ecency or @peakd or put up photos and a post on @liketu or do a video on @threeshorts or @threespeak and now we can microblog on @leofinance threads and let's not forget there is also @dbuzz and of course using the ListNerds mailer to discover content and share my content or other's content.
Did I mention, my @actifit posting as well?
There are still plenty of other options and some that I just can't find the time to use, but do try even if it's once in a while to do my part in making sure they know I appreciate the folks behind it or their community more specifically the @wearealive tribe.
and I'm still sure I'm missing some, but definitely not forgotten.
The point to all this is a simple one.
If you have something that is important to you and you want to share it, there are plenty of ways to spread the message across the many platforms that HIVE offers.
Taking that further, @forexbrokr really made me think about the approach we speak to others about when it comes to HIVE. It's the dApps that we should be talking about: Why I don't tell my friends and family about Hive
Like many of us on HIVE, using the tools that are available and not taking it for granted; allows for spreading our brand, content and or messages across many channels on the blockchain with the ability in many cases to share it outside of it, is kind of badass.

Let's Gooooooooooooooooo!!!
*HIVE Image in the Divider Courtesy of @doze
I'm an upgraded member and use the following services:
CANVA.COM
IMGBIN.COM
CLICKTRACKPROFIT.COM
LEADSLEAP.COM
LISTNERDS.COM
---
---