Earning Crypto for Simply Building Your Business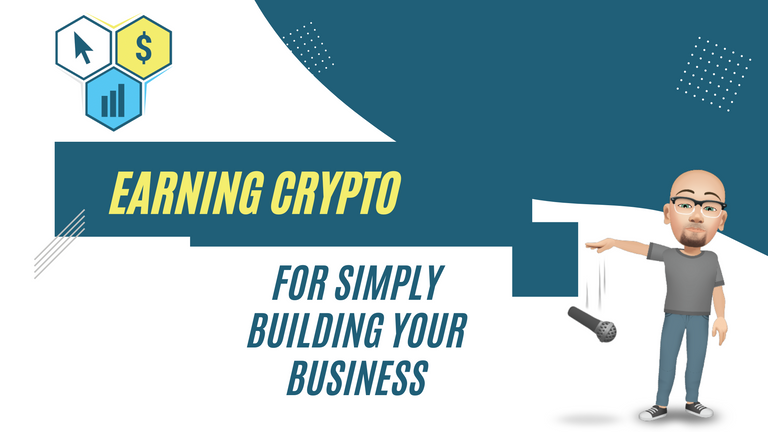 Teetering on spinning our wheels by using the same tactics to build an online business, earn an income online or grow a current business off chain is still evident.
As I've said countless times, that I still rotate my lead capture pages at ad and traffic sites that have done well for me.
With that said, I still see so many folks still using the same lead capture pages that others use for the same programs and not bothering to at the very least stand out a bit with either their photo or a photo unique to them if they don't want to put their personal picture up.
Then when I visit some of the online marketing social sites and folks constantly ask the same questions that they brush off practical answers to or they consistently make the same mistakes that further deepens them into wondering why they are not getting any sign-ups or earning commissions.

Don't get me wrong, I've been there done that and in no way can I criticize them for it. It's just the vacuum that is easy to get sucked into.
We see the same shit in the crypto world to a certain extent.
Now, without beating a dead horse it's obvious that I'm going to trumpet the opportunities that entrepreneurs have on HIVE that puts us in a great position to focus on building brand, growing a business and avoiding the pitfalls committed off-chain.
When you can earn rewards without having to be sales forward, it puts a person in a great position to focus on building, creating and engaging.
If nothing else, those lessons are learned by actually being active on HIVE; if you are starting out or have had minimal success in the traditional arena of online marketing.
You can come onto HIVE with nothing and immediately have access to your own account and your own blog. You can create videos and you can microblog. A plethora of tools to build and create.

There is another solid path for entrepreneurs who continue to lack the progress they so badly want.
A platform like CLICK.TRACK.PROFIT provides an easier to understand bridge to HIVE.
OR
What has become a great content discovery tool and mailer ListNerds is also another way to be in familiar territory before dipping their toes into HIVE.
It could be overwhelming, especially when you are almost programmed to do the same old things consistently done outside of HIVE, which becomes detrimental eventually.
At the end of the day The CTP Swarm is a community that includes many people who have been through the same trenches, so we can speak to the good, bad and ugly of online marketing.

Perhaps, funneling folks that are early on in their entrepreneurship goals could be a much better introduction to HIVE; because they will come without the bad habits.
They could be better served to go through the training in CTP, because it takes you through it step by step and minimizes being overwhelmed.
It also, provides the training of those things that still work today if done correctly; like list building and other key steps to have positive longevity online.
What is awesome about the core teachings that the CTP team has always been behind combined with being on HIVE makes for a powerful and synergized system of earning crypto while building your business online - but on a blockchain - this amazing blockchain.
Again, I know I'm preaching to the choir with this content; but I also share some of these blog posts with my subscribers and frankly it never gets old for us OG's.

Let's Gooooooooooooooooo!!!
*HIVE Image in the Divider Courtesy of @doze
I'm an upgraded member and use the following services:
CANVA.COM
IMGBIN.COM
CLICKTRACKPROFIT.COM
LEADSLEAP.COM
LISTNERDS.COM
---
---