The Art of Hit or Miss on HIVE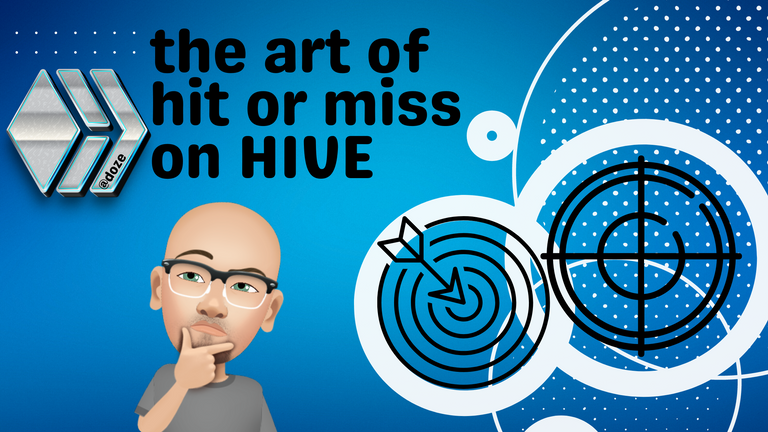 It's easy now to be on this amazing blockchain and react with a side eye to those who are not on HIVE.
I myself, coming onto HIVE, because for years I wanted to find a way to earn extra income online and gave it a try and failed, moved on and came back to try one more time.
Throughout those two attempts, the first was an absolute failure and was based on impatience and lamenting the errors made; so wallowing was an easier way to deal with the failure. I really never blamed anyone but myself.
Folks have a tendency to blame others for their shitty situations.
The second time around, I came with a different mindset and within the first year of coming back; I found myself on HIVE. I give credit to @jongolson and The CTPteam for having a system that helps folks like me in the online marketing environment, improve and/or learn a better way to succeed as an affiliate marketer or at a grander scale; entrepreneurship.

You can waste a shitload of time in some of the circles we spent trying to get a good side hustle going, if you don't face certain realities seriously from the get go.
I mean, when I started online marketing the first time some of the tactics that don't work today was prevalent in sucking people in and making folks believe that you can make six figures just by clicking one or two keys on your keyboard and let it ride.
Today, folks are more aware and get enough information to dispel much of the bullshit out there; but folks looking for the "easy" way to become rich by pushing that key or two on the keyboard will always be out there.

Personally, I never was that unrealistic. To this day, if I play a lottery ticket; I tell my fiancé just let me win the hypothetical 100k and let others win the 40 million jackpot or whatever insane amount that folks play the lottery for.
I mean, if I could travel more often then that is probably the most splurgy thing Tiffa and I would do. Benzes and Mansions are not what I'm looking for.
So let me circle back to the point of this post.
This post may be preaching to the choir here on HIVE, but I will share it with my subscribers who the majority are not sold on blockchains, crypto or HIVE. I know this, because once in a while, some have reached out to me and given me the same old speech about their plight, but their heads remain in the clouds, fixated on anything else but and resist the opportunity to give it a worthwhile try.
I am not hating on their stance, because I was in that position for a bit before joining HIVE and it took me a while to come to my senses 🤣

My experience on HIVE has been extraordinary for a bunch of reasons, but the most impactful are the opportunities that we have to express ourselves either by content creation, development, engagement, investing and other areas that caters to anyone looking to build something meaningful for their future is on this blockchain.
To simplify it, we can do every single thing you can do off chain on any social media platform on HIVE.
One of the most successful entrepreneurs that I follow is Gary Vee and he is exceptional at using social media platforms at the right time and he'll cuss and scream about whatever is the platform you should be on to build brand everyday until the next one comes by.
The point is that, we can do the same here.
What other place can you go to and try a plethora of platforms, earn rewards while you find a sweet spot to grow with?
No matter what you want the world to know about you, your brand or someone else's brand you can do it in a blog, in a microblog, in a buzz, in a picture or on video.
I may be wrong, but this platform is full of non-judgmental people and more than a handful of supportive folks. This may change as it continues to grow, but we have the opportunity to try things and fall on our faces and still come out ahead.

Personally, I could put a post and not get much traction from it, but then put a quick video and boom, get some extra activity. Then I could do another video and not get much activity, but then put up a photo and again - BOOM!
What it all comes down to, is that I found a place that I can be myself, still go after my goals, learn new things from amazing people, be liked or not liked, get upvoted, downvoted or not voted, get comments or not comments and it's all ok.
The saying "throw shit against the wall and see what sticks" sounds harsher than what it means, but hits or misses on HIVE is worth more to me than being that wall elsewhere.

Let's Gooooooooooooooooo!!!
*HIVE Image in the Divider Courtesy of @doze
I'm an upgraded member and use the following services:
CANVA.COM
IMGBIN.COM
CLICKTRACKPROFIT.COM
LEADSLEAP.COM
LISTNERDS.COM
---
---