Thread Mode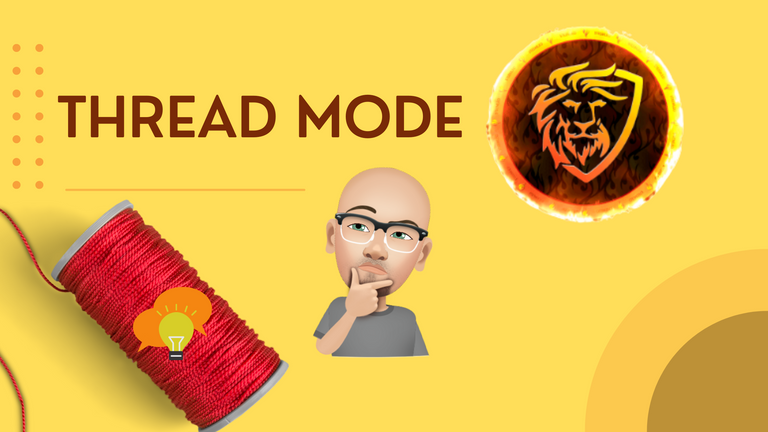 For those living under a rock, at least those in the HIVE community that haven't heard about LEOthreads at this point; has to be at a minimum as few as I can count with my fingers.
I mean, I've only been a HIVER for less than 2 years and talks of Project Blank were echoing since I've been on this blockchain.
Of course, the potential of a Project Blank excites everyone and incredibly we now have a platform that has provided this community with what could be the early stages of it.
I for one do not take what we have in front of us lightly. As a user, as a person who has accounts for many years with everything from FB to IG to LI to YT and so on, I understand the power those social media giants have and how having alternatives to them on HIVE is exciting.
The option of microblogging and being able to post short form content, on the go posts and take engagement to a whole other level is a huge thing. Regardless, of what some may think of it and put it in a negative light; this shit is powerful.
I don't believe it's being built to replace long form content. Not at the very least. It's important for the HIVE blockchain to offer everything folks are looking for off chain but BETTER.
It's incredible to see so many gravitate to the threads and how creative they are to provide their own touch to making it more attractive. Tons of ideas being provided and more importantly how some of those ideas are being adopted, may be adopted or will be adopted as it continues to grow, improve and eventually morph into the go to alternative for microblogging.
With that said, it's important that it becomes attractive and sustainable while enticing a wide range of users with all kinds of interests and passions.
I'm just a user, so for my own selfish needs; I welcome an option to create short content, engage with the community but still have the opportunity to earn rewards.
That does not mean, I wouldn't continue using my go to platforms like @peakd @liketu @ecency but with my time limitations having a job it allows me to participate even more if there is an actual place where a quick short post or a quick acknowledgement to a post would be acceptable.
I mean at the end of the day, whatever I post through those platforms I would thread share it anyway.
My routine already includes after a longer form post or photo with a post, I thread share it, mail it on LISTNERDS, tweet it to the Twitter HIVE community and boost it through Ecency.
So I've immediately included threads in my day to day, because I believe in like so many others who do the same at this point. That also allows me to be more active at @leofinance which has always been intimidating for me.
What is awesome about the HIVE community and in this instance die-hard LEOS that have provided interesting ideas and although some of those ideas won't make the cut, there could be ideas that come from those ideas or parts of those ideas that can, has been or will be used.
Also, those who provided ways to get the best out of threads.
I mean the just this morning the man behind LEOthreads @khaleelkazi put out a post LEOTOK that could be an amazing option for those who like to make/post videos but shorter versions of them.
@taskmaster4450le inviting me to participate in the Thread Casts, which if it can be perfected engaging through threads during live events can be a game changer.
@anomadsoul providing ideas about keeping threaders more on LEOthreads and he breaks it down like a boss in this post; I'll just share it here: Could this be the Ultimate Thread feature?
@bitcoinflood who is someone I've followed off chain back in our online marketing days and now I see him kicking ass on LEO/HIVE and threads was made for this man lol and he has some tips promoting LEOthreads: How To Effectivley Promote Leo Threads
When you say marketing, I have to include @jongolson and his thoughts on threads from a marketer's point of view, since I'm on HIVE by way of the CTP team and never looked back: Threads: From A Marketers Point Of View
There are so many more, but it's evident that the passion is there for this alternative and it's potential is what it has always been when Project Blank was something that folks have been clamoring for.
From our point of view and not sure if it's an idea, because it's a no-brainer, but @metzli and I believe that having a channel for the very solid Hispanic community that HIVE has. I thought of #hilos but Metzli came with a better tag #themas because it was more to the what threads really translates to in this context.
Metzli also made me laugh when she commented on one of my threads:
"I'm threading so much I almost finished cross stitching a blanket."
Love it!
I'll leave you with that.

Let's Gooooooooooooooooo!!!
*HIVE Image in the Divider Courtesy of @doze
I'm an upgraded member and use the following services:
CANVA.COM
IMGBIN.COM
CLICKTRACKPROFIT.COM
LEADSLEAP.COM
LISTNERDS.COM
---
---