Marriage Love is More Than A Feeling But A Choice
Love is a beautiful thing to experience, in fact love is a primary need of a man in my opinion, yours may differ. If you are alive and you have not recieved or given out love, then you realy , really need help and an urgent one at that.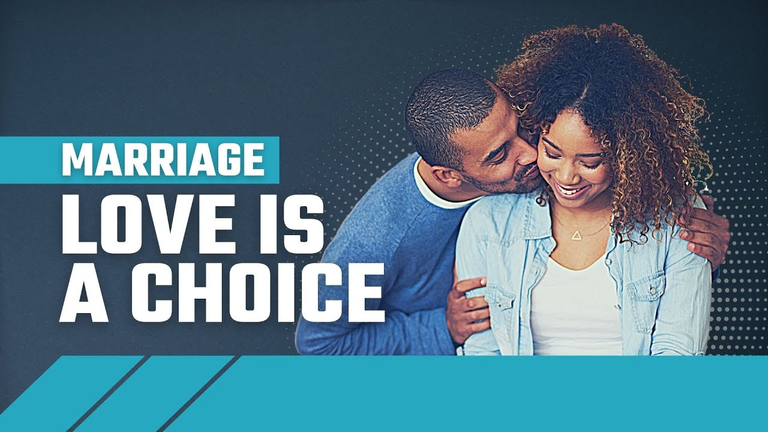 sources
A while ago i personally had seen love as just a feeling, but as i began to grow, i realized that there was something more that i needed to find out. Yes Love is a verb, An action word, why will i then rest my confidence on just our feelings, i did this for many year and was always disappointed at the end of day.
Those days when we were all driven by emotions or feelings, thank God that we did not die, we were just following our feelings not knowing that it , not knowing that it was more than just a feeling but a choice. If love is a feeling then it means that, we will be guided and controlled by feelings and emotions in taking decisions as it borders our relationships.
You are supposed to be responsible for your decisions and actions in life, but how will it be if your life and relationships are being driven by feelings, what will be your fate when you encounter conflict and challenges, it therefore means that all expectation will only exist in illusion.
It takes a conscious and deliberate effort to choice or decide to make love real, considering the factors like communication, trust, intimacy and emotional security, it will take your conscious effort to choose to love and be loved.
Why is love a choice?:
Love is a choice because it demands so much of hard work, to make it work, to love, you will have to fore go many things, the level of sacrifices that love demands is so much than feelings and emotions can offer. If you were invited by feelings and emotions, you will need more than that to stay and it will be your deliberate decision.
The Basic Features of Love:
just yesterday, my close friend confided in me how he saw an handsome young guy at the bank, and her legs were off her foots, she was distracted so much, that she had to find out who the young man was, base on your value system, when you meet with people that processes your soft port, there will be so much of attraction, some could be by physical appearance, composure or character wise, it must start with an attraction, but it is your choice to move or respond to that attractive feelings.
This happens after there is an attraction between two person, and there is something common among the two individuals that is uniquely linking the two of them. you will hear things like i don't know but there is something about him or her that makes me feel safe anytime am with him/her, most times the very factor may not be identified but you can not also deny the fact that there is a common decimal between you both. How you know is that, you will always feel that something is not just complete about you, until when the other part is around.
Trust is something that you can not buy from any shop, nor receive as gift but you have to work for it to earn it, this is to say that it will take a process of being honest, commitment to your decisions, ability to take responsibility for your wrong, effective communication, ready to help at all times, show joy to people and be vulnerable
This in the true sense is not in seniority, it is once ability to able to freely accept someone for who he is, even when you don't totally agree with his/her school of thought, in another word i will call it honor, or your reference for someone, it does not come naturally but you learn.
What next when the vapor of Emotions sublime:
it is important to note that after the emotional excesses, love will still continue, the will come when you don't feel the stuffs you use to feel, when all that use to excite you no long excite you, you will still all that is required to stand after you have done all within your reach. This is when as a man, all the stuff in your woman that use to move you no longer does, when the things you use to like about the person no more trips you, it is not time to back out but a time to re-engage, re-strategize and go for it.
Many in love have not derive all that love has to offer, just because of operating love at angle of feelings emotions . thank you.
---
---