MACRO PHOTOGRAPHY - "Raynox DCR-150 macro conversion lens + Sigma 18-200mm telephoto" 📷✍️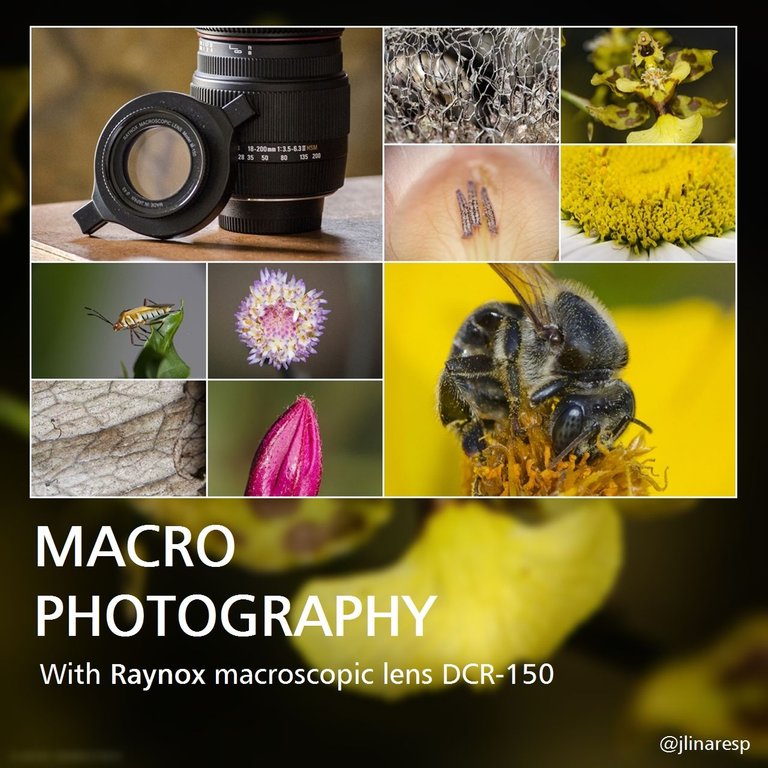 ---
Look who was in the bottom of a box... 😊
Hello #Hive friends!.... I'm still determined to get back into macro photography and so I've been going through my boxs with lenses, tripods and flashes which I haven't used for years (since I've been into street photography, I'm something like a "photographic Spartan" 😂).... But, in the process of dusting off my old accessories, I found my old Raynox DCR-150 macro conversion lens.
Note: This lens is labelled as "RAYNOX MACROSCOPIC LENS Model M-150" but it is universally known as "Raynox DCR-150" and that is so even on the manufacturer's official website... Something whose reason I have never understood by the way! 😂... But because of that I also call it "Raynox DCR-150" (which is much more comfortable and less ostentatious than as it appears on the label on the glass edge).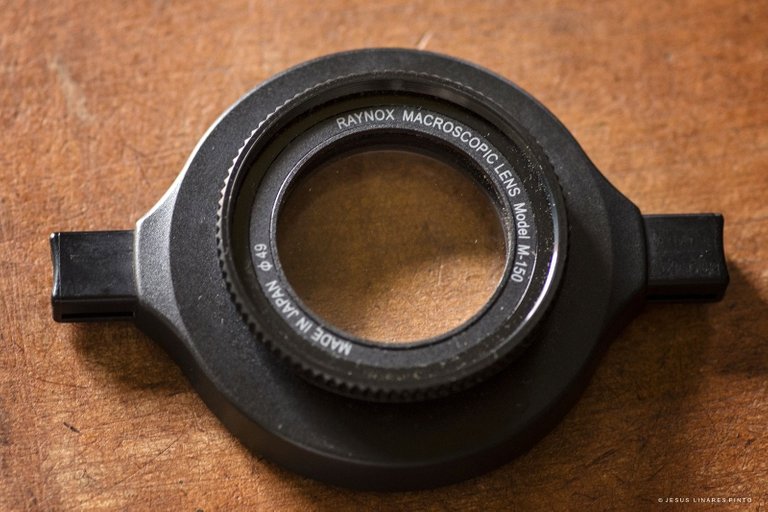 The lens is built in Japan and the parts are very robust, as is the quality of the glass, which is very good. Despite having been stored for years in a neoprene case, it seems to me that it is still in perfect condition.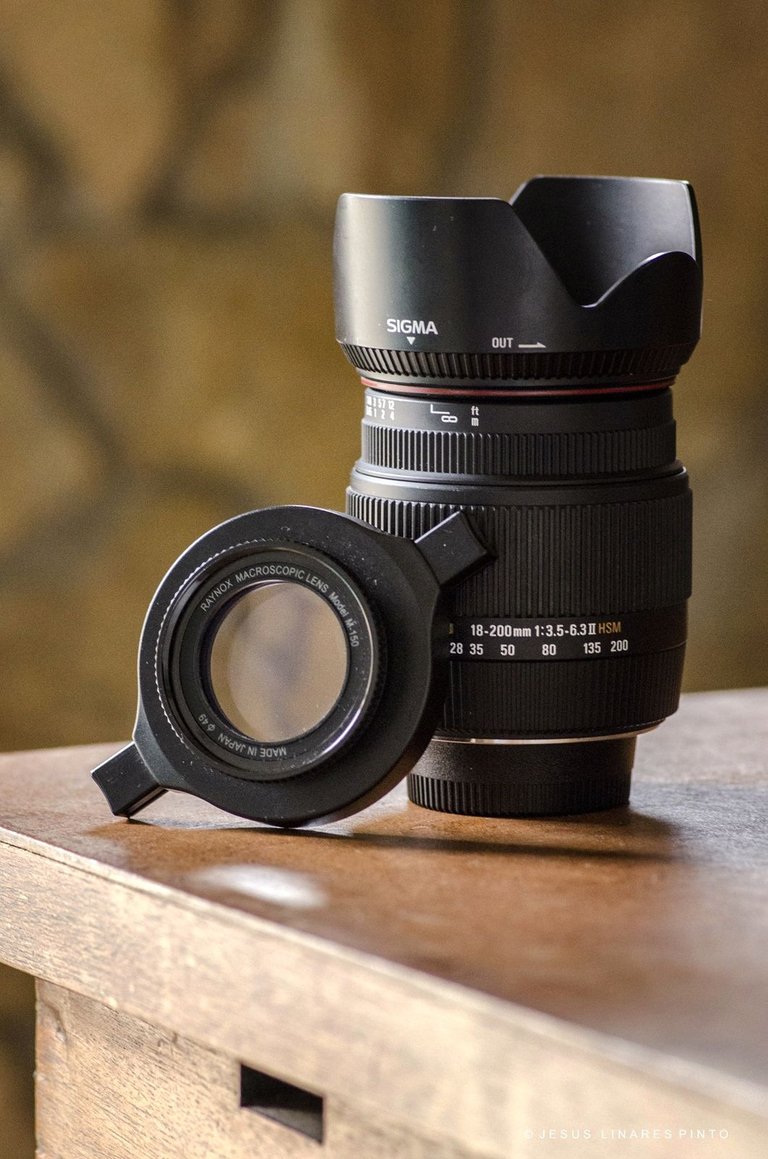 I bought this lens a couple of years before I bought my dedicated macro lens. I did this because I wanted to do macro photography but without investing in a dedicated lens, as I didn't know if I would really get excited about that kind of photography.... That was back in 2007 or 2008 as I recall.... And at that time this lens represented an expense of $60 for me, instead of the $400 that a dedicated macro lens would have cost me. Obviously, as you can all guess, soon after that I liked macro photography so much, then I decided to invest more money in a dedicated lens and other accessories. That's how this Raynox lens ended up in the bottom of my boxes of photography stuff.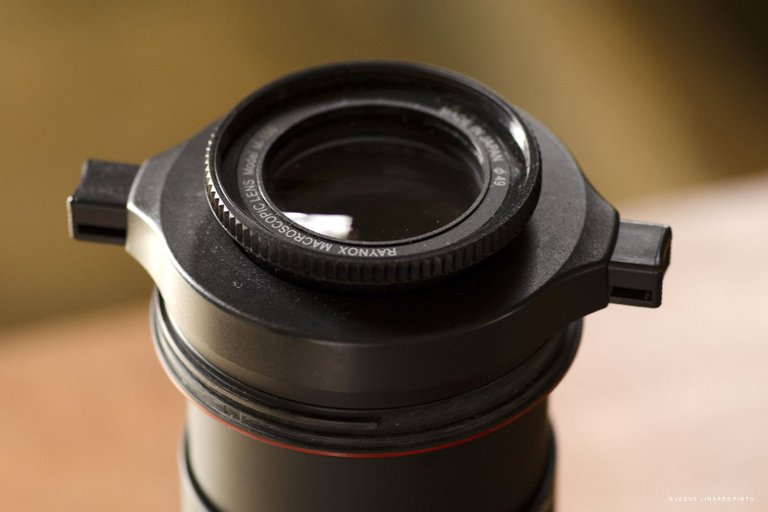 I remember using this Raynox lens attached to my 18-55mm kit lens on my very old Nikon D3100 camera (My first DSLR as I remember)... But now I have a Sigma 18-200mm f3.5-6.3 II DC OS HSM wich I call my "all-terrain lens" on hand, like this I decided to use this to do some tests and see how it behaves with longer focal lengths, because I remember that with 55mm it was quite efficient and maintained a good image quality.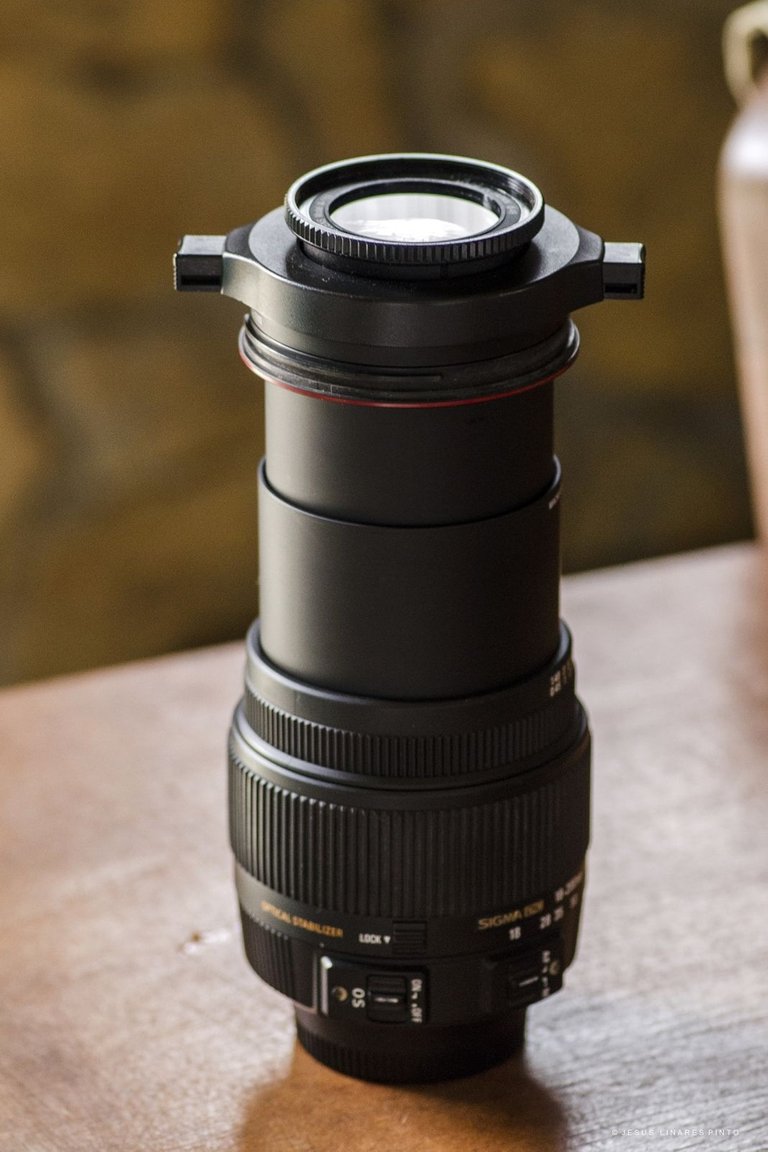 This Sigma telephoto lens is the one I usually use for most of my country walks and street photos, so being able to "enable" a macro mode thanks to the Raynox lens will be really good for me. Although, I must say, this telephoto lens weighs 490 grams, so I will only gain in versatility, but I will not be able to lighten the weight hanging from my neck compared to when I use my Tokina Macro lens (470 grams of weight). Also, this Sigma lens almost triples its length when used at 200mm focal length...you can see it in this photo, it looks like a heavy artillery round! 😂... But let's see some macro photos and I'll tell you how it went...
---
Taking some macro photos...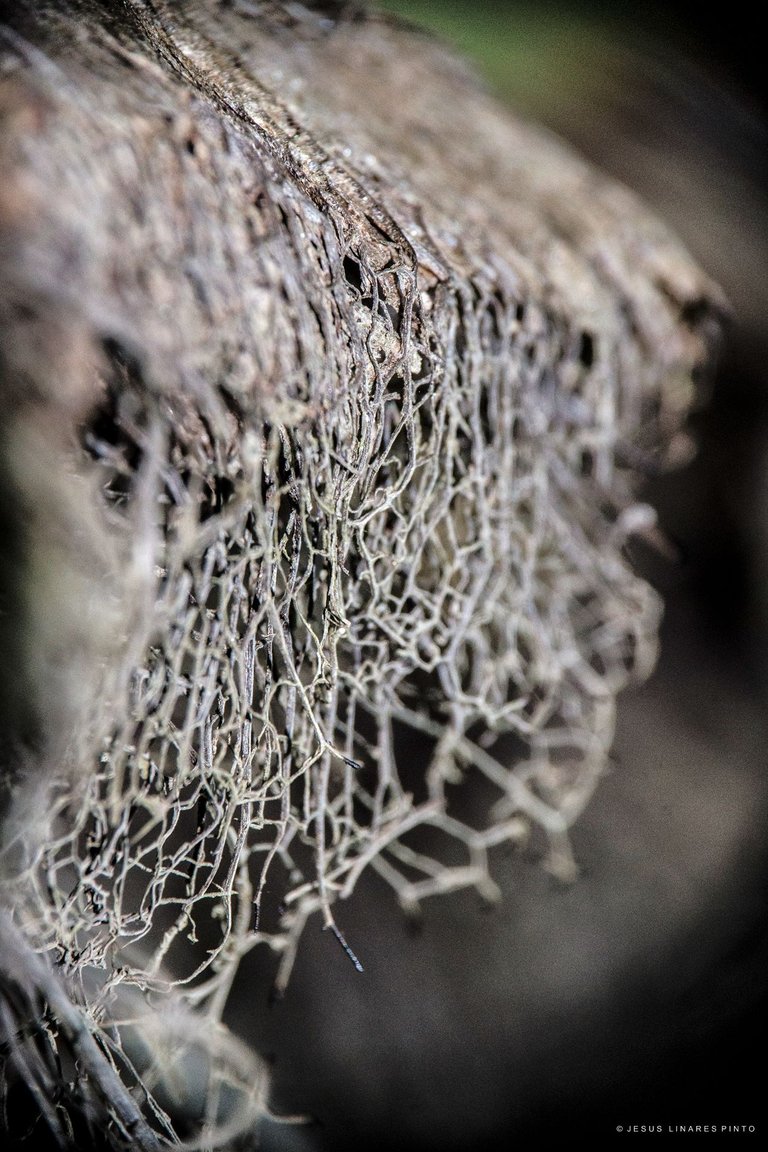 📷 01 | Nikon D7000 | 140mm | f/14 | 1/320s | ISO 640 | FLASH -1.3 EV
This was the first photo I took with this combination of lenses. I don't understand why I didn't zoom all the way in but only set it to 140mm. Did I think I was shooting a gun for the first time or something? 😂... Well, but anyway, as soon as I saw this picture in the camera viewfinder, I was pleasantly surprised, because I didn't expect such a relatively good result.
---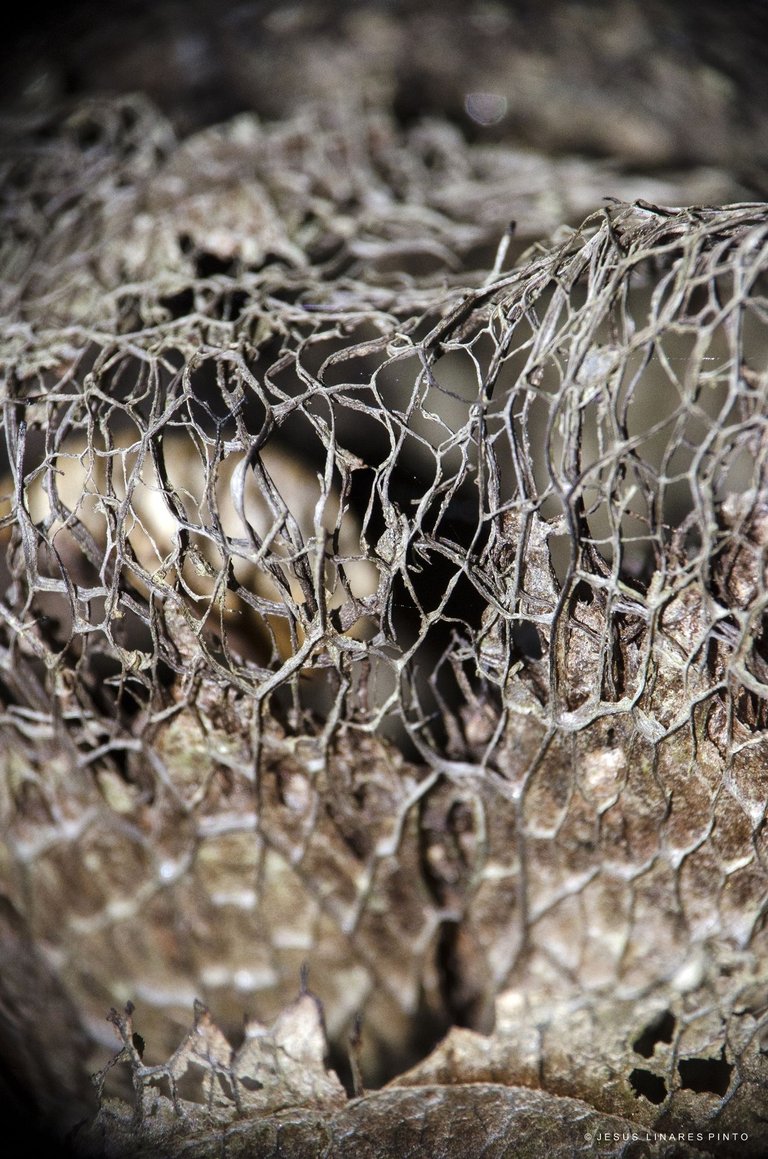 📷 02 | Nikon D7000 | 200mm | f/14 | 1/320s | ISO 640 | FLASH -1.3 EV
Now look at this photo with a focal length of 200mm... Wow!... I have to admit that this impressed me as soon as I saw it.... I know that the sharpness is not as high as when I take pictures with my 100mm Tokina Macro lens, but the result is very good and I think it is worth to carry this little lens in a pocket of my backpack all the time... This shot was taken at a focus distance of less than 25 cm (that's less than the 30 cm minimum focus distance in my dedicated macro lens).
---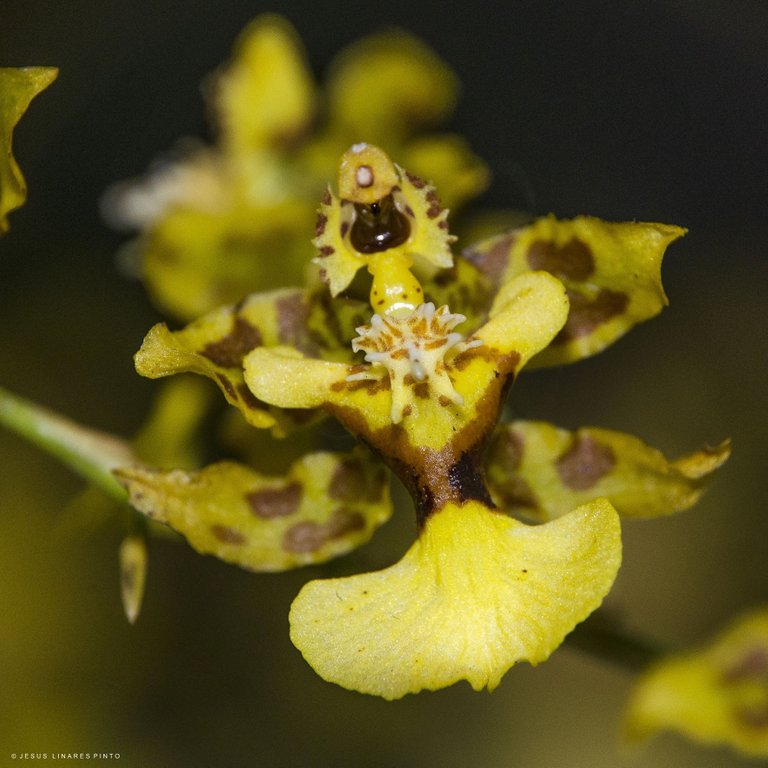 📷 03 | Nikon D7000 | 200mm | f/14 | 1/320s | ISO 640 | FLASH -1.3 EV
Aperture f/14, shutter speed 1/320s, ISO 640 and the built-in flash graduated to -1.3 EVis a preset that I have saved on my camera for a couple of weeks when I started doing macros again... Because this Sigma lens is quite "dark" (not very good at absorbing light), I think using it for macro photography without flash is something I should rule out. Well, I usually use the flash at -1.3EV to avoid "burning" the photos as much as possible and because of that I am usually forced to use a relatively high ISO (like ISO 640 in this case), that is perhaps a disadvantage in this lens combination. But,on the other hand, this telephoto lens is stabilized (my Tokina macro lens isn't) so I guess that will prevent a good number of shaky photos due the 1/320s shutter speed.
---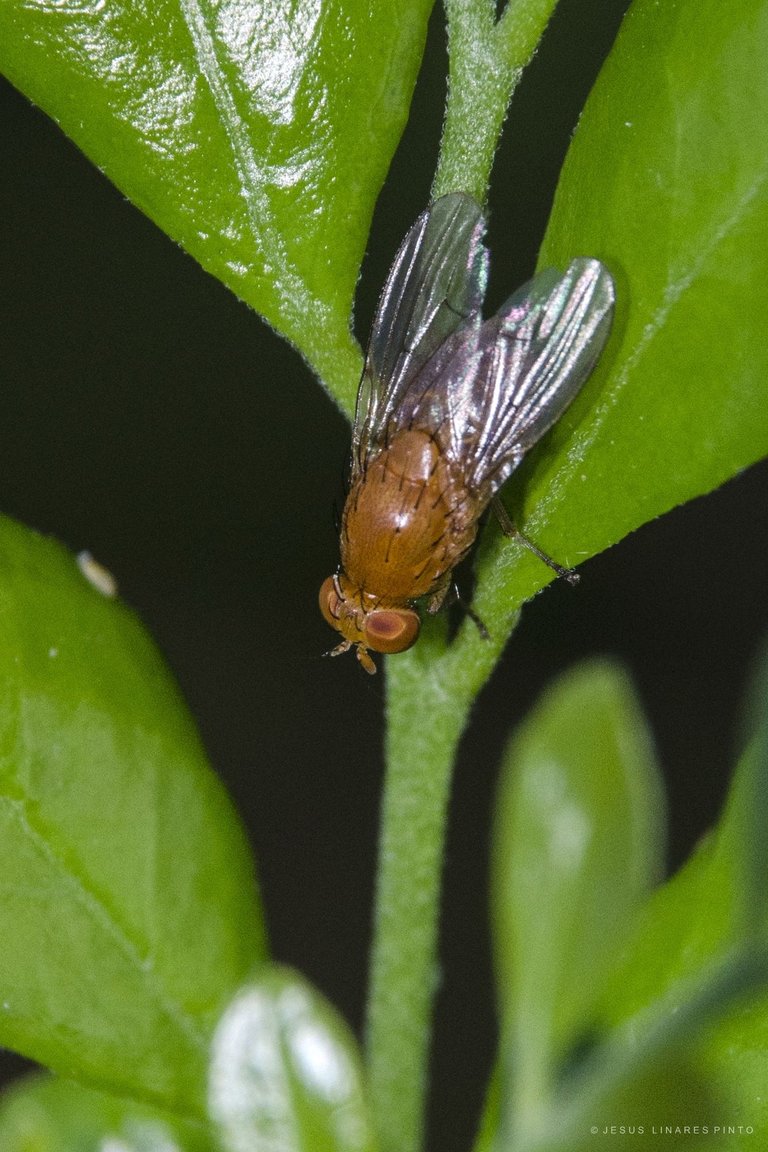 📷 04 | Nikon D7000 | 200mm | f/14 | 1/320s | ISO 640 | FLASH -1.3 EV
As I said before, the working distance with these lenses is dramatically reduced (the Sigma telephoto lens without the Raynox, focuses to a minimum of 45 cm, but by attaching it you can focus between 25 cm and 30 cm perfectly)... Good, but not everything is rosy here, because even with an aperture of f/14 the depth of field is greatly reduced and (for crazy people like me who hate tripods) this can be a real headache. Also be aware that at such short distances, the small built-in flash used without a diffuser (I said it, I'm a "photographic Spartan", please bear with me) can start to "burn" on glossy surfaces quite really awful.
---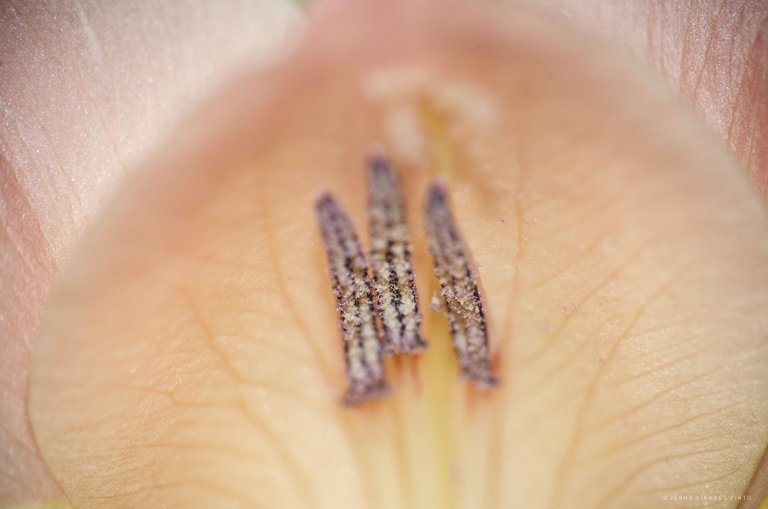 📷 05 | Nikon D7000 | 200mm | f/14 | 1/320s | ISO 640 | FLASH -1.3 EV
Below 25 cm away, the focus starts to do some really weird things (check the photo 05, with those pistils perfectly in focus right in the center, but totally out of focus just a couple of millimeters above or below)... I have no idea how this happens.
---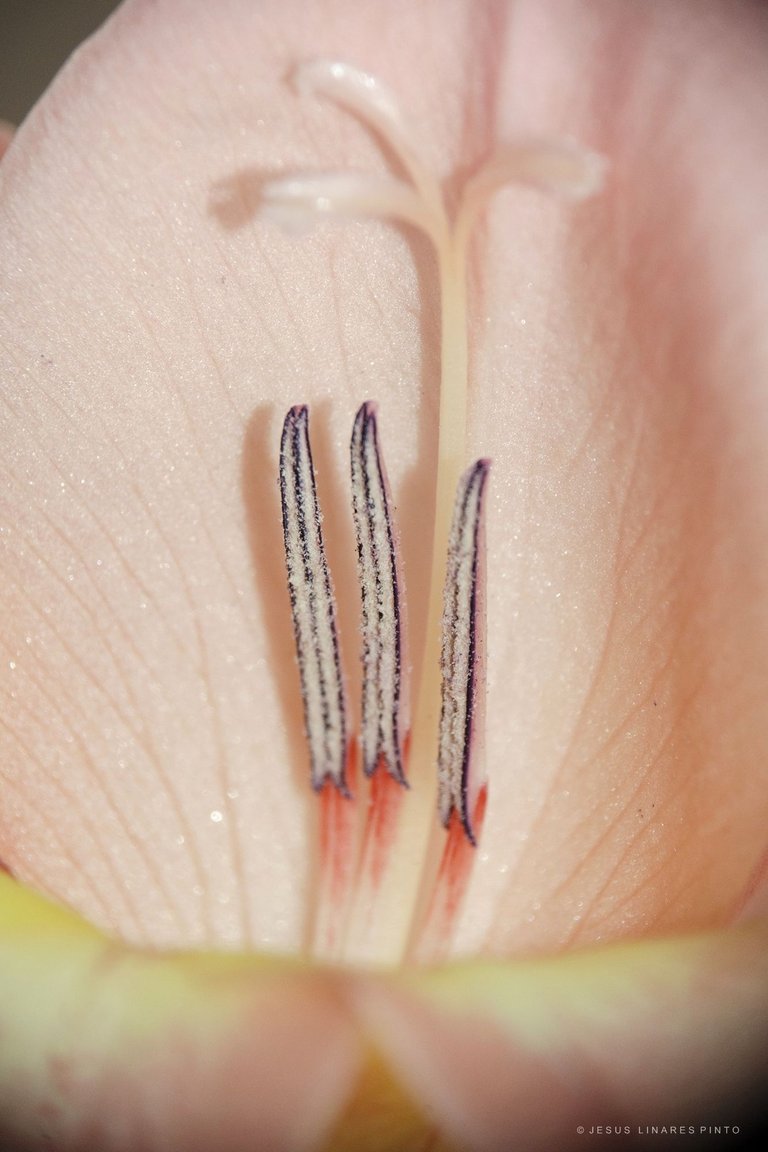 📷 06 | Nikon D7000 | 200mm | f/14 | 1/320s | ISO 640 | FLASH -1.3 EV
Now look at photo 06 focusing just a few centimeters further... Better, right?... Well, this is like everything new that one usually tries... I'll have to learn! But hands down, it's a delicious thing to do.
---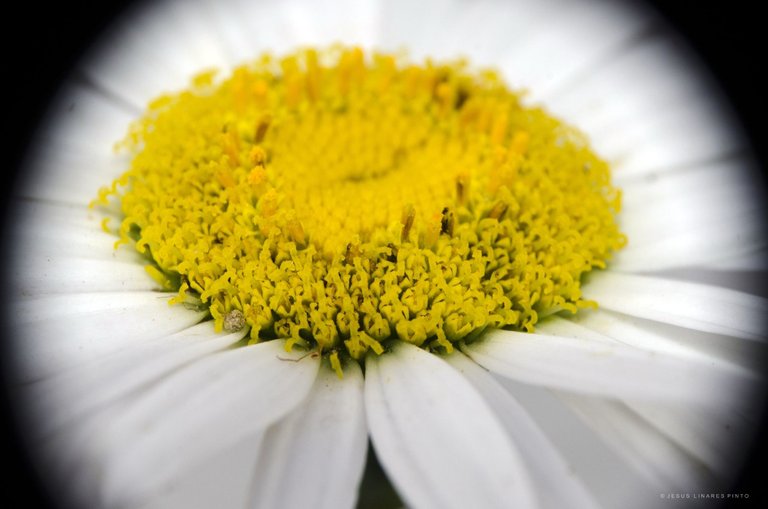 📷 07 | Nikon D7000 | 200mm | f/14 | 1/320s | ISO 640 | FLASH -1.3 EV
Look at photo 07... That grotesque vignetting shadow appears when focusing at distances greater than 40 ctms!... I don't really understand why this happens, but it still amazes me that at 200mm, this Raynox lens provides such a range of focus so wide (I seem to remember that when I used it with my 18-55mm lens the range was much less)... Maybe at 40 or 45 cm is the maximum that this combination of lenses can be used... But who would want to do a macro at such a distance?... So this is not something relevant.
---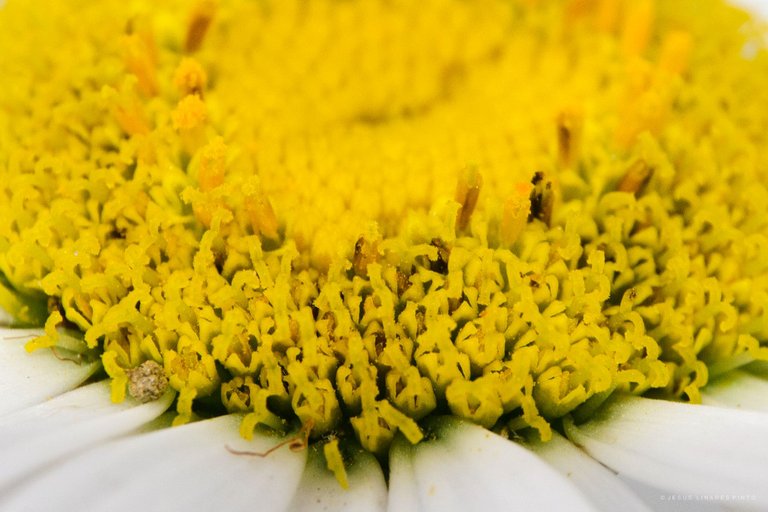 📷 08 | Nikon D7000 | 200mm | f/14 | 1/320s | ISO 640 | FLASH -1.3 EV
Photo 08 is a generous crop of photo 07... Maybe not an excellent result, but still quite decent details can be maintained despite the crop. This is the kind of thing I have to keep in my head if I intend to go out and do macros with this Raynox lens.
---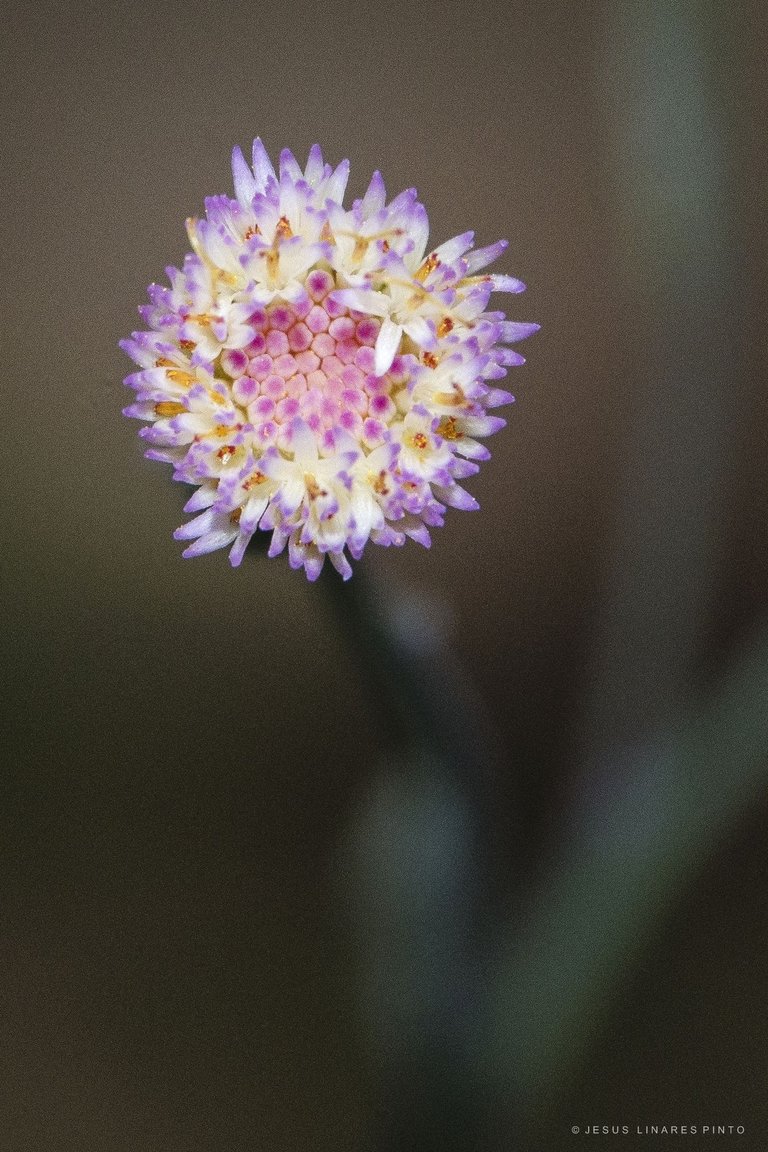 📷 09 | Nikon D7000 | 200mm | f/14 | 1/320s | ISO 640 | FLASH -1.3 EV
---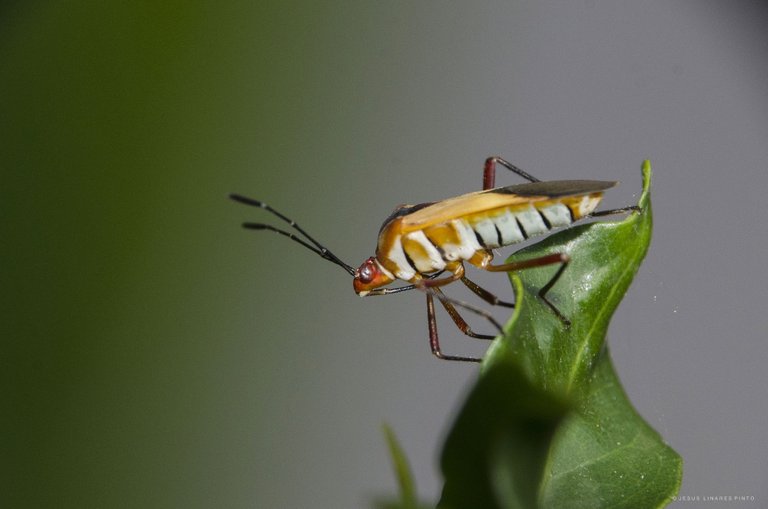 📷 10 | Nikon D7000 | 200mm | f/14 | 1/320s | ISO 640 | FLASH -1.3 EV
Shooting macros with a general purpose lens and the Raynox macro converter seems to make the camera do some unusual things. For example, noise levels can vary dramatically in the image. For example, photo 09 has noise in the dark areas, while photo 10 is quite free of noise. This happens despite being made with the same settings. I think that everything has to do with the level of light available, which affects the behavior of the sensor.
---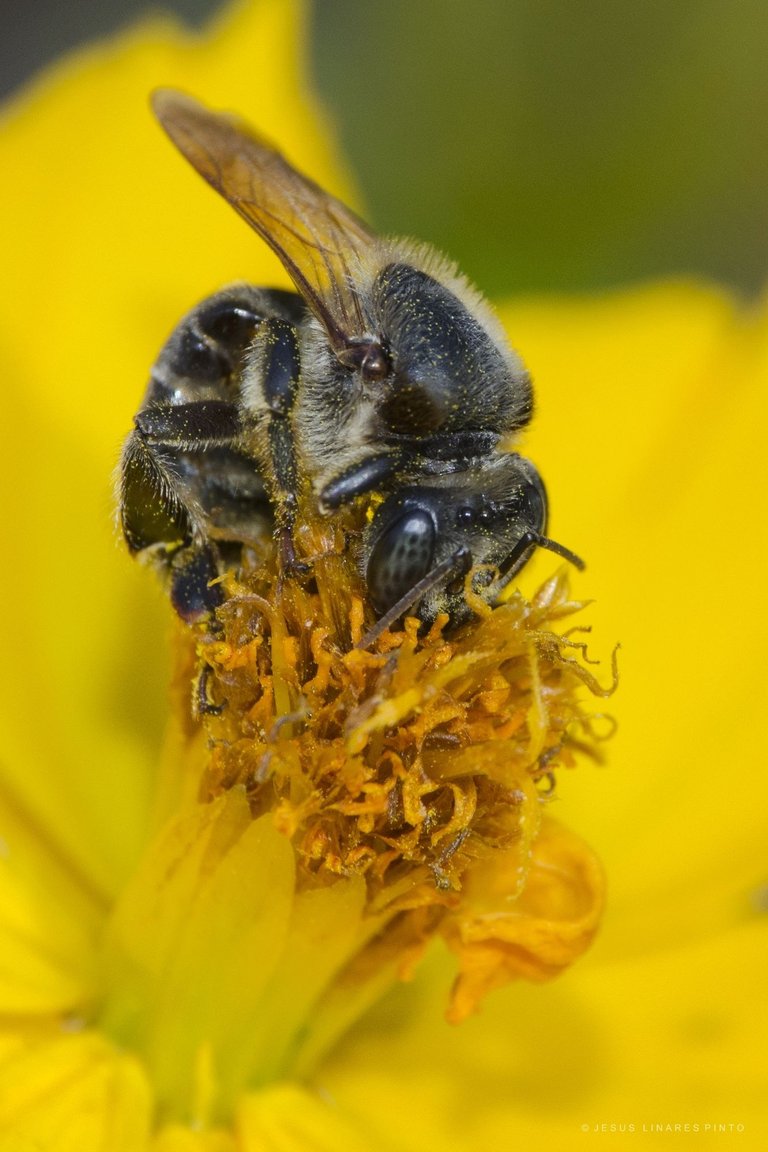 📷 11 | Nikon D7000 | 200mm | f/14 | 1/320s | ISO 640 | FLASH -1.3 EV
This Sigma lens has another advantage and to be honest I hadn't thought of that until I photographed this bee drinking on a flower in the photo 11. It's all about its High Speed Motor (HSM) to focus... Wow... This is a good thing when it comes to photographing insects.
---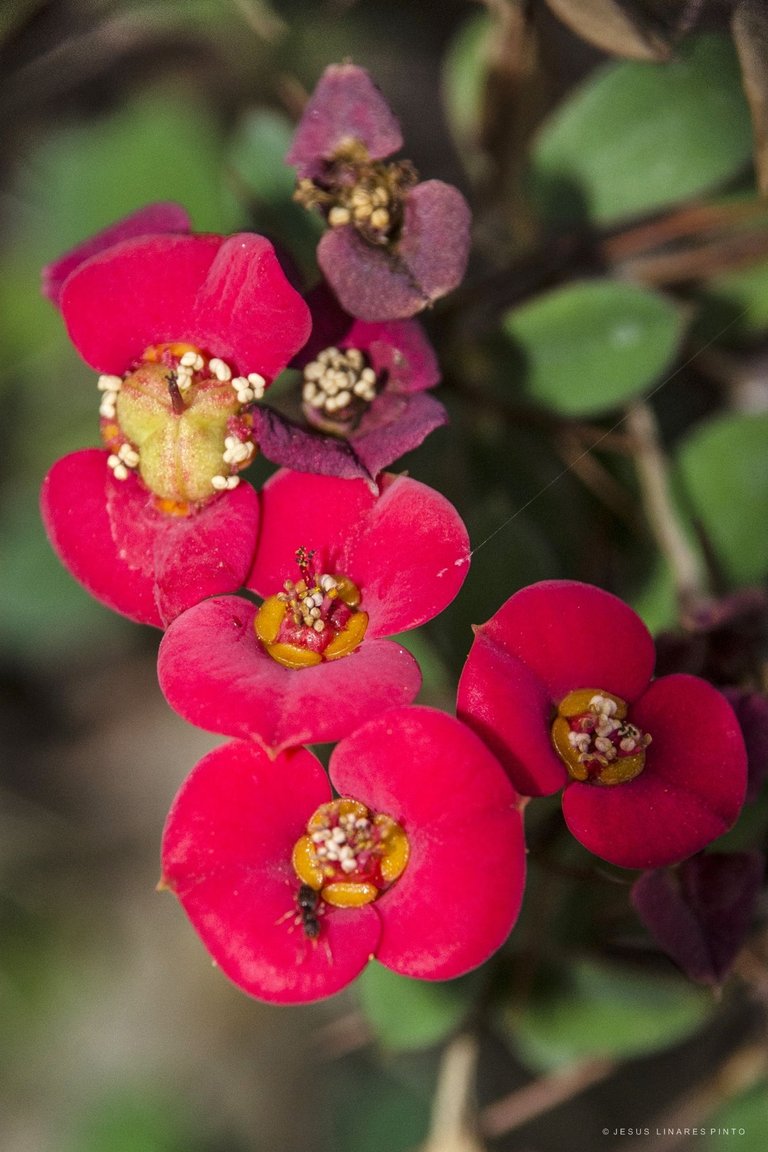 📷 12 | Nikon D7000 | 200mm | f/14 | 1/320s | ISO 640 | FLASH -1.3 EV
Because I'm taking these photos with the built-in flash at such short distances as I narrated previously, I want to add that siple things as taking the photos vertically or horizontally, and even slightly turning the camera up or down on the subject, can have a big effect in the result of lighting thewhole image. So every photo has a bit of "trial and error" involved in it.
---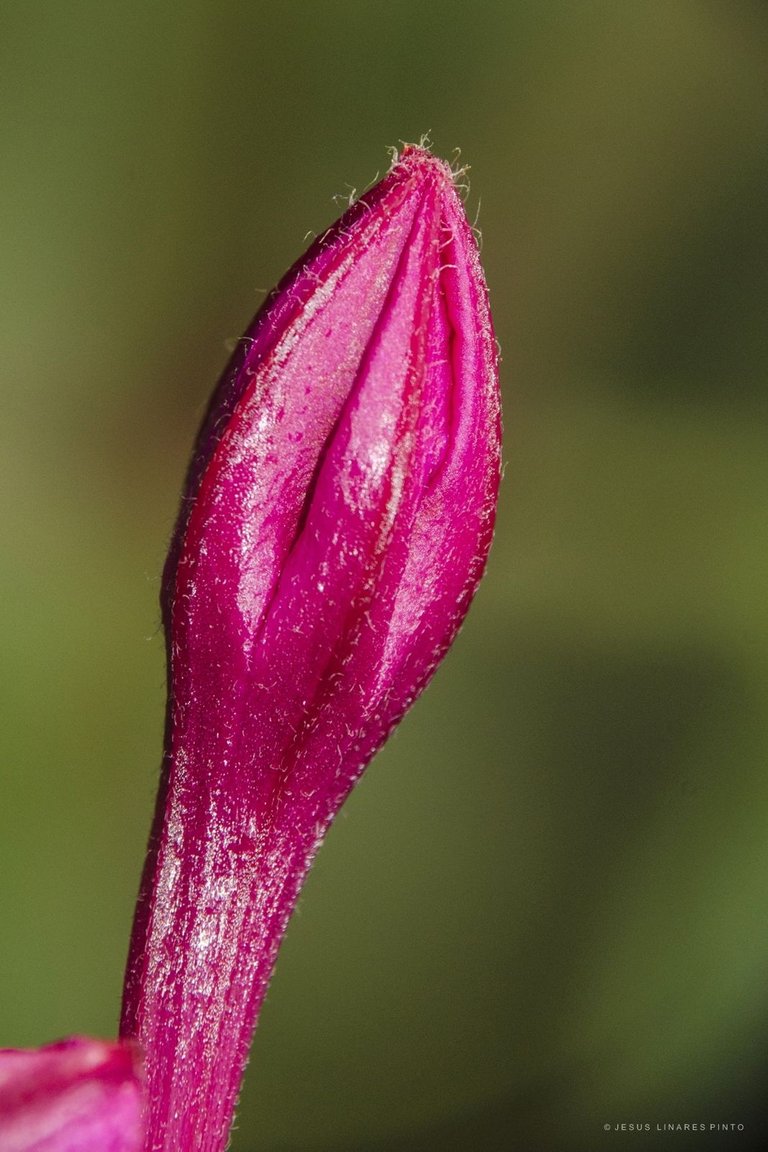 📷 13 | Nikon D7000 | 200mm | f/14 | 1/320s | ISO 640 | FLASH -1.3 EV
Technical note: All the photos are captured using my NIKON D7000 camera, the captures are made in RAW format and then these files are processed using Adobe Camera Raw until achieving almost all the desired adjustments and appearance and then exported as JPG... Some secondary changes such as depth, straightening, minimal cropping and adding watermarks were made using PhotoScape 3.6.1.
---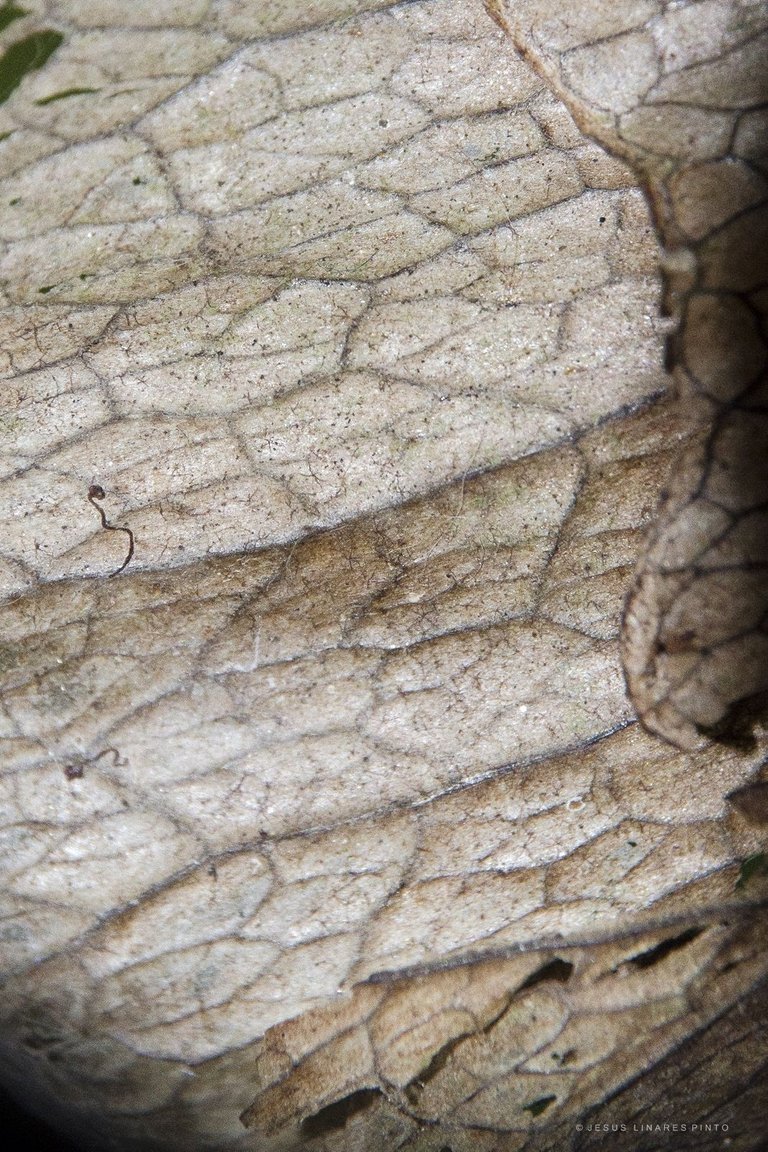 📷 14 | Nikon D7000 | 200mm | f/14 | 1/320s | ISO 640 | FLASH -1.3 EV
This photo 14 was taken on a withered leaf by zooming in as much as possible and sacrificing the edges of the image due to the shadow cast by the flash and the excessively short depth of field, so I had to crop it a lot, leaving only the visible parts.. But I thought it was a very good thing to know how far I can go if I want to capture really tiny details with this combination of lenses.
---
In conclusion...
The Raynox DCR-150 macro lens is a very good device for giving macro abilities to a general purpose lens like the Sigma 18-200mm f3.5-6.3 II DC OS HSM. However, keep in mind that the results will never be as good as when using a dedicated macro lens and also rule out the possibility of shooting macros in natural light even in direct sunlight.
Another recommendation (although this applies to any type of photos, not only when doing macros) is to photograph in RAW format and use the processing to make some photos better in sharpness and even in their light patterns. In my case, these photos allowed me slightly more leeway than I do using a dedicated macro lens.
On the other hand, I have a 55-300mm telephoto... So maybe I'll try this Raynox lens combined with this lens soon!... I promise to share with you the results when this happens...😊👍
---
Thank you very much for your visit and appreciation!
---
"We make photographs to understand what our lives mean to ourselves."
-Ralph Hattersley-

Camera: Nikon D7000 | Lens: Tokina ATX-PRO 100mm f/2.8 d MACRO + Raynox DCR-150 macro conversion lens
Montalbán, Carabobo, Venezuela.
---
---