"STOLEN STORIES" - MONOMAD - 09DIC22 || ENG-ESP || (9 Pics)


---
Hello dear #Hive friends!.... These recent days have been full of street, have been days of running into people I had not seen in months and even years.... I've also had moments of "lonely and silent streets" during which I isolate myself in a delightful way.
¡Hola queridos amigos #Hive!... Estos días recientes han estados repletos de calle, han sido días de toparme con personas a las cuales no había visto en meses e incluso años... También he tenido momentos de "calles solitarias y silentes" durante los cuales me aíslo de una manera deliciosa.
But now, without further ado, let's get to my "Stolen Stories" and all of these in the post are my entry to today's #monomad challenge...
Pero ya, sin más preámbulos, vayamos con mis "Historias Robadas" y todas estas en la publicación son mi entrada al reto #monomad de hoy...
---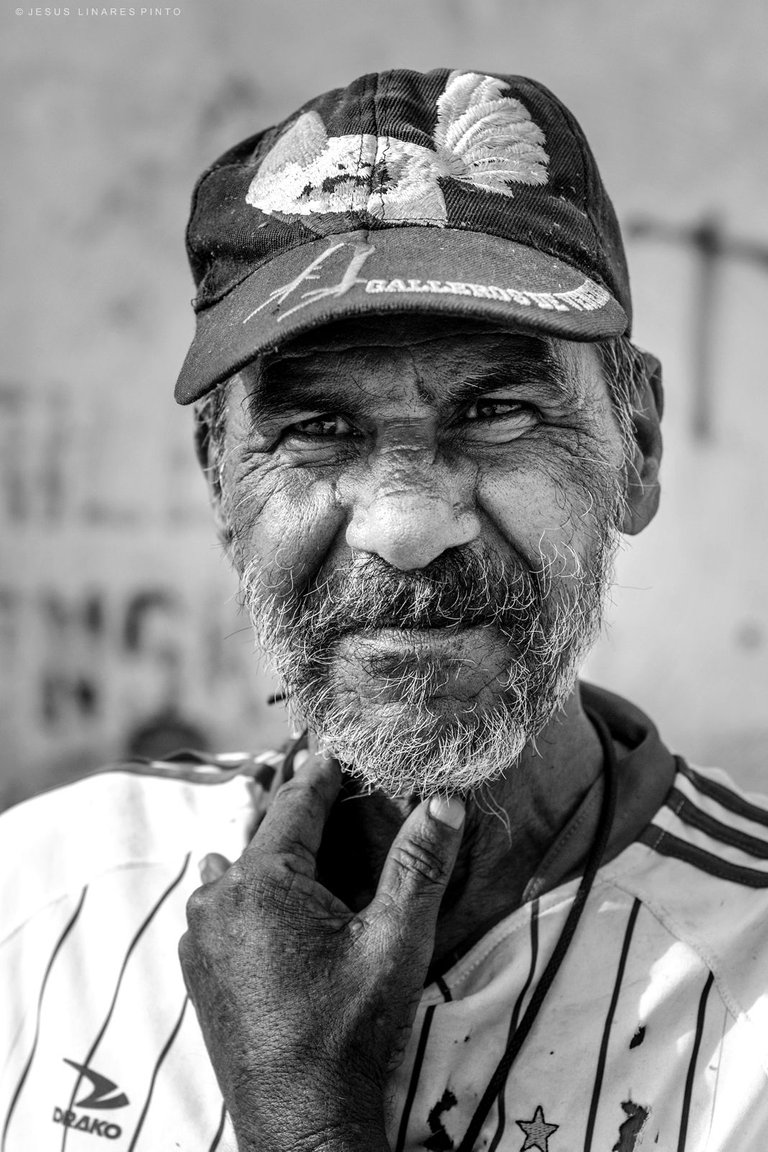 "Carlos".... Carlos grew up in town and I met him during high school, when he was a couple of grades ahead of me.... Carlos got out of high school and started to lead a normal life like almost everyone here... But one day he started to lose his memory and his ability to do many things.... However, Carlos recognizes me when he meets me in the streets and talks to me about his high school years...
"Carlos".... Carlos creció en el pueblo y le conocí durante la secundaria, cuando estudiaba un par de grados mas avanzados que yo... Carlos salió de la secundaria y comenzó a llevar una vida normal como casi todos aquí... Pero un buen día comenzó a perder la memoria y su capacidad para hacer muchas cosas... Sin embargo Carlos me reconoce cuando me encuentra en las calles y me habla sobre los años de bachillerato...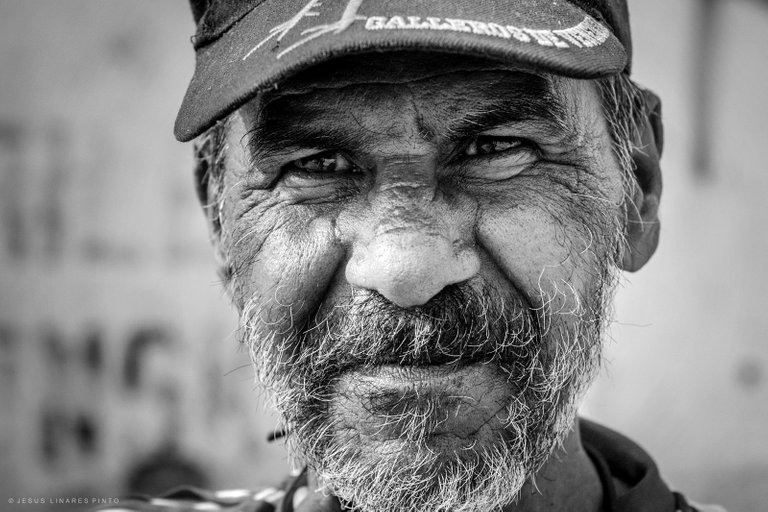 There is something of Carlos in his look, that's why I made this cutout to the main portrait, because his look reminds me of the Carlos that I knew before he lost his faculties... Someone who was always nice, friendly, cheerful and eloquent...
Hay algo de Carlos en su mirada, por eso hice este recortes al retrato principal, porque su mirada me recuerda al Carlos que conocí antes de que perdiera sus facultades... Alguien que era siempre simpático, amigable, alegre y elocuente...
---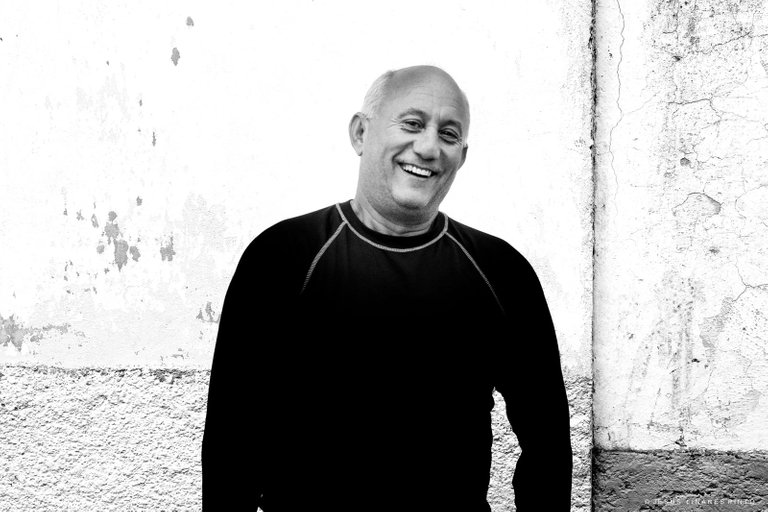 "Luis Gerardo"... This smiling and jovial guy you see in this picture is my friend and neighbor "Luis Gerardo Marvez", he had migrated to Chile with his wife about 7 years ago and since then we had not seen each other... But this week I was astonished to find him walking to exercise in the morning just a couple of blocks away from my house... I asked him: "Weren't you living in Chile?" And he told me (laughing) that yes, but that he had definitely returned to Venezuela... When I asked him: "Why did you come back?" he answered me: "I have divorced and I have left my ex-wife there in Chile!... And he continued laughing almost without being able to stop!... What a strange guy my friend Luis Gerardo!... :))
"Luis Gerardo"... Este tipo risueño y jovial que ven en esta foto es mi amigo y vecino "Luis Gerardo Marvez", él había migrado a Chile junto con su esposa hace unos 7 años atrás y desde entonces no nos habíamos visto... Pero esta semana me asombre al encontrarlo caminando para ejercitarse en la mañana a apenas un par de calles de mi casa... Le he preguntado: ¿Acaso no estabas viviendo en Chile?... Y me dijo (entre carcajadas) que sí, pero que había retornado a Venezuela definitivamente... Al yo preguntarle: ¿Porqué te regresaste? me contesto: "¡Me he divorciado y he dejado a mi ex-esposa allá en Chile!... ¡Y siguió carcajeando casi sin poder detenerse!... ¡Vaya un tipo raro mi amigo Luis Gerardo!... :))
---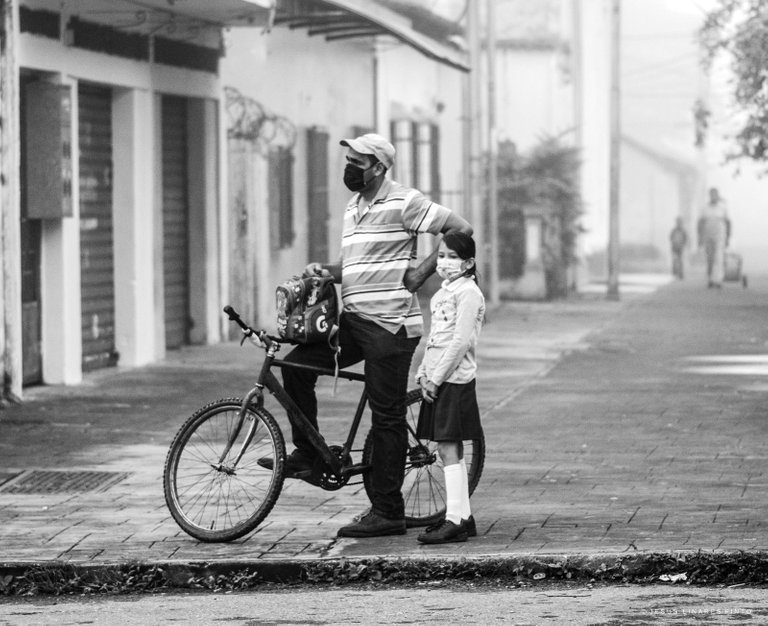 "Waiting to enter"... A father and his young daughter wait outside a school so that the girl can enter to hear classes.... It's funny, but the return of the kids to school has brought a touch of eloquence to the town's mornings, which had looked pretty desolate during the months of pandemic restrictions...
"Esperando para entrar"... Un padre y su pequeña hija esperan a las afueras de un colegio para que la niña pueda entrar a oír clases... Es curioso, pero el retorno de los chicos a las escuelas ha dado un toque de elocuencia a las mañanas del pueblo, las cuales lucían bastante desoladas durante los meses que duraron las restricciones debidas a la pandemia...
---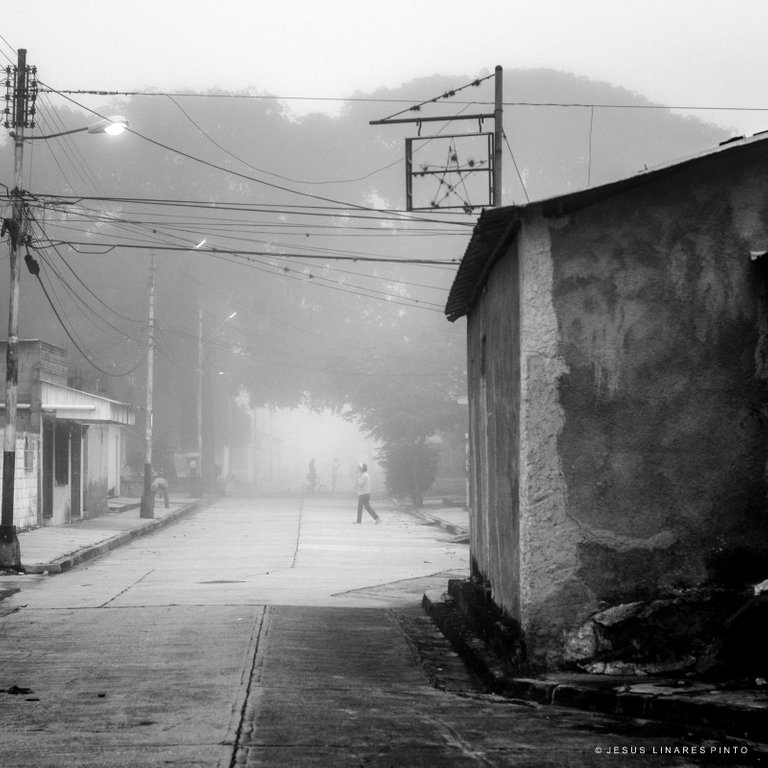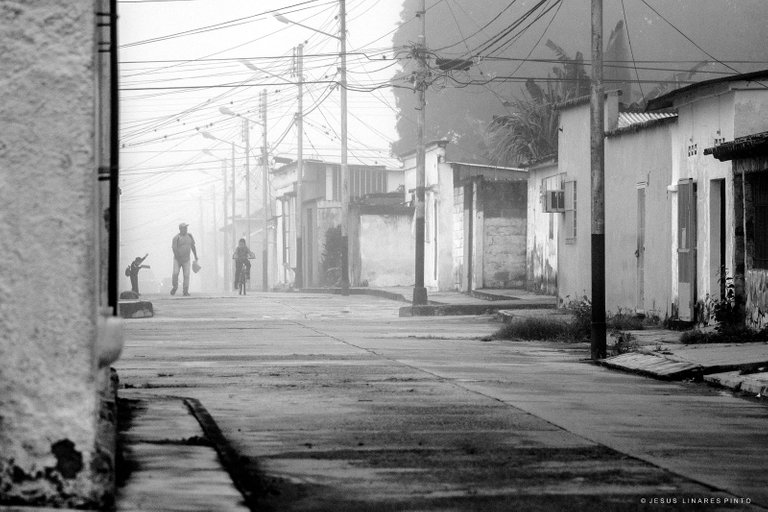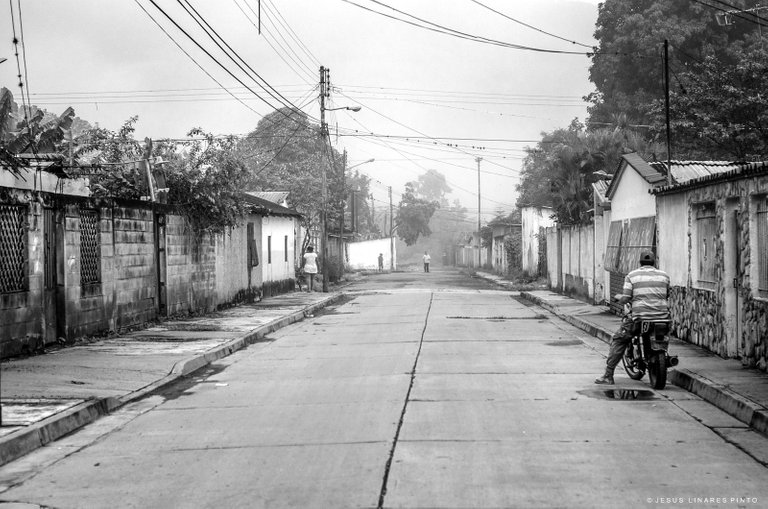 "Town happening"... Meanwhile, in the streets far from schools and stores... The town is still happening as usual, dotted with human presence, with precarious voices crossing the morning mist... And I use this to isolate myself and record the passing of the day, as a mere spectator...
"Pueblo ocurriendo"... Mientras tanto, en las calles alejadas de las escuelas y de los comercios... El pueblo sigue ocurriendo como siempre, salpicado de presencia humana, con voces precarias que cruzan la neblina delas mañanas... Y yo uso esto para aislarme y registrar el devenir del día, como un simple espectador...
---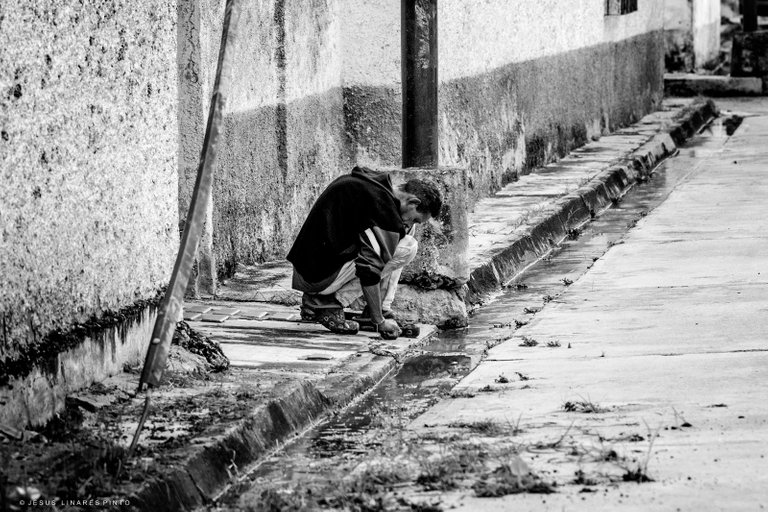 "Life"... Sometimes I manage to capture very crude images, like this one where a former thug, famous in other times for his misdeeds and violent behavior, wanders the streets and does incoherent things... I don't have words to explain this kind of things... I only have the photograph to record them...
"La vida"... A veces logro captar imágenes muy crudas, como esta en donde un antiguo maleante, famoso en otros tiempos por sus fechorías y violento comportamiento, deambula por las calles y hace cosas incoherentes... No tengo palabras para explicar este tipo de cosas... Solo tengo la fotografía para registrarlas...
---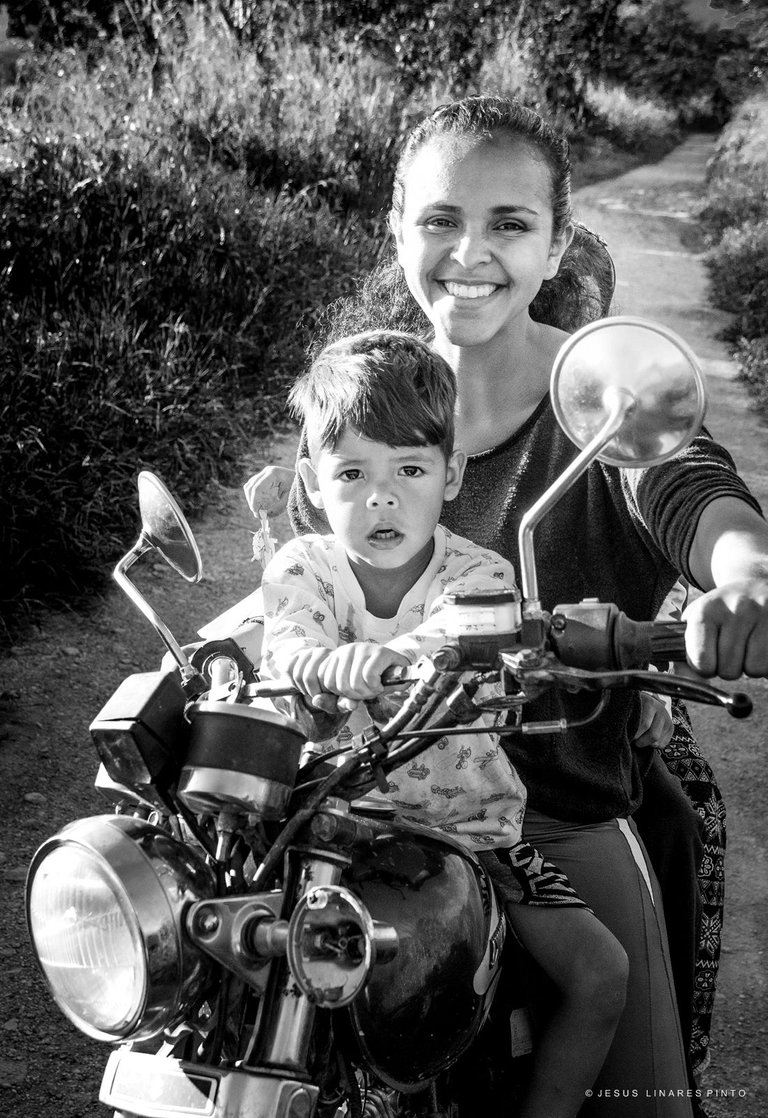 "Mother... A few days ago I went out to take pictures in a rural area, it is a land which once belonged to a large private plantation, but was expropriated by the government of the time and given to some villagers to cultivate... This young mother lives in those lands and usually goes to the village with her children using her motorcycle... She stopped to interrogate me because she thought I was something like an "explorer" sent by the former owners of the plantation, who are supposedly in the process of recovering the land... I told her that I was no such thing and then I shot a picture of her and her baby!... ;)
"Madre"... Hace días atrás salí a hacer fotos en un área campestre, se trata de unas tierras las cuales otrora pertenecieron a una gran plantación privada, pero fueron expropiadas por el gobierno de turno y entregadas a algunos pobladores para que las cultivasen... Esta joven madre vive en esas tierras y suele ir al pueblo con sus hijos usando su motocicleta... Ella se detuvo a interrogarme porque pensaba que yo era algo así como un "explorador" enviado por los antiguos dueños de la plantación, quienes supuestamente están en tramites para recuperar las tierras... ¡Le dije que yo no era tal cosa y entonces le disparé una fotografía a ella y su bebé!... ;)
---
Thank you very much to everyone for stopping by and appreciating... We'll see you soon again with more stories and more Black and White photography from the town of Montalban... A hug to all!
Muchas gracias a todos por pasar por aquí y apreciar... Nos veremos pronto de nuevo con más historias y más fotografía en Blanco y Negro desde el pueblo de Montalbán... ¡Un abrazo a todos!
---
END / FIN
---
"We make photographs to understand what our lives mean to ourselves." - Ralph Hattersley.
"Hacemos fotografías para comprender lo que nuestras vidas significan para nosotros mismos." - Ralph Hattersley.

Camera: Nikon D7000 | Lens: Sigma 18-200mm f3.5-6.3 II DC OS HSM
Cámara: Nikon D7000 | Objetivo: Sigma 18-200mm f3.5-6.3 II DC OS HSM
Montalbán, Carabobo, Venezuela.
---
---