"STOLEN STORIES" - MONOMAD - 11MAR23 || ENG-ESP || (8 Pics)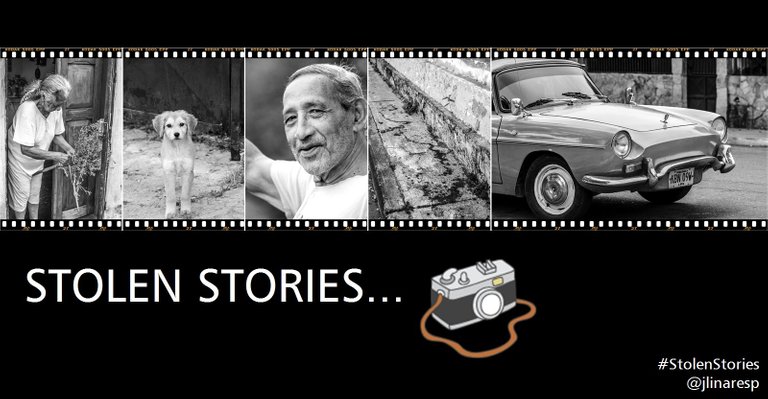 ---
Hello #Hive friends!... Welcome to a new edition of my "Stolen Stories".... Today the menu is diverse because I've selected photos with very different themes...
¡Hola amigos de #Hive!... Bienvenidos a una nueva edición de mis "Historias Robadas"... Hoy el menú está diverso porque he seleccionado fotos con temática muy diversa...
This is my entry to today's #monomad challenge... I hope you enjoy it!...
Esta es mi entrada al reto de #monomad de hoy... ¡Espero que la disfruten!...
---
"Ramón"... I have been trying to make a street portrait of my friend Ramón (and a very good friend of my late father) but the image was always blurred... I even said to him "Ramón, you are blurred!.... But finally I was able to capture him in a quite natural gesture while he was chatting with some friends in the street... Ramón was a butcher many years ago, then he was a baker and now he is retired...
"Ramón"... He estado intentando hacer un retrato callejero a mi amigo Ramón (y muy buen amigo de mi difunto padre) pero siempre la imagen quedaba borrosa... ¡Hasta llegué a decirle "Ramón, tú estás borroso!... Pero finalmente pude capturarlo en un gesto bastante natural mientras conversaba con unos amigos en la calle... Ramón era carnicero hace muchos años atrás, luego fue panadero y ahora está retirado...
---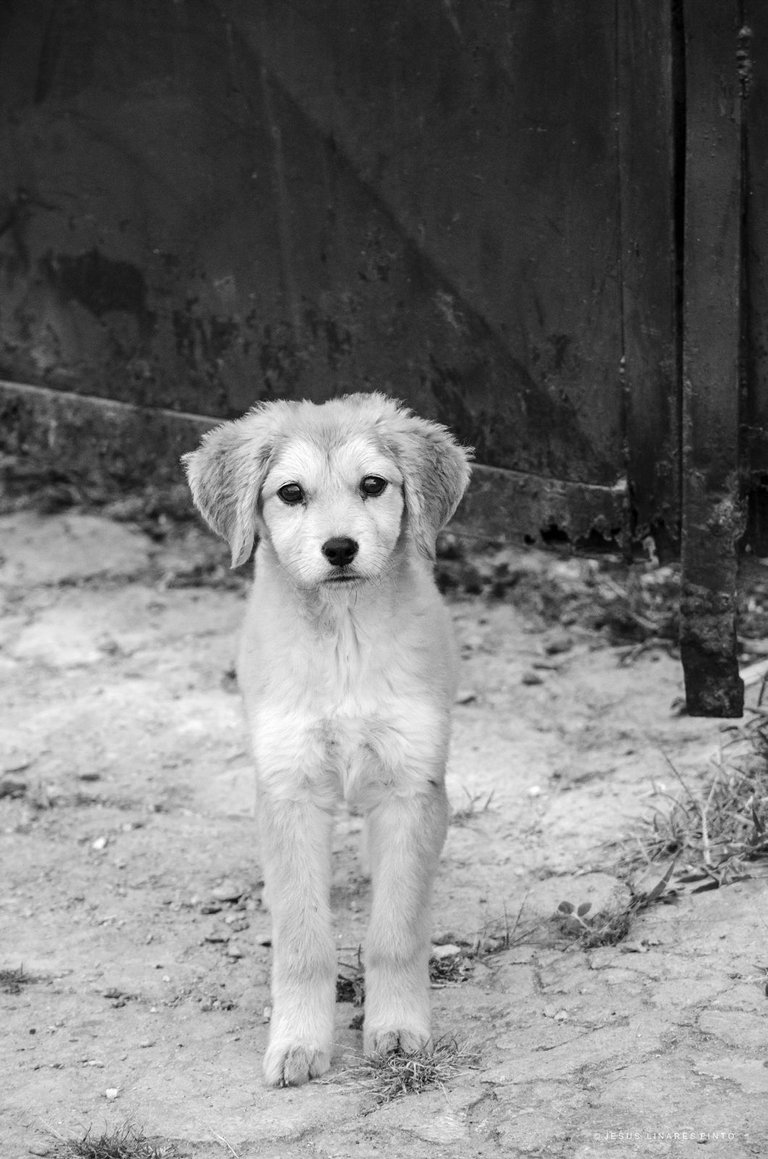 "The best eyes of the day"... Don't you think it's beautiful...? Suddenly I felt that I was being watched and when I turned my face towards a garage door, I found this beautiful puppy whose gaze was almost human and excessively tender... I love this kind of thing when it happens to me!...
"La mejor mirada del día"... ¿No les parece algo hermoso?... Repentinamente me sentí observado y al volver el rostro hacia la puerta de un garaje, me encontré con este hermoso cachorro cuya mirada esa casi humana y excesivamente tierna... ¡Amo este tipo de cosas cuando me suceden!...
---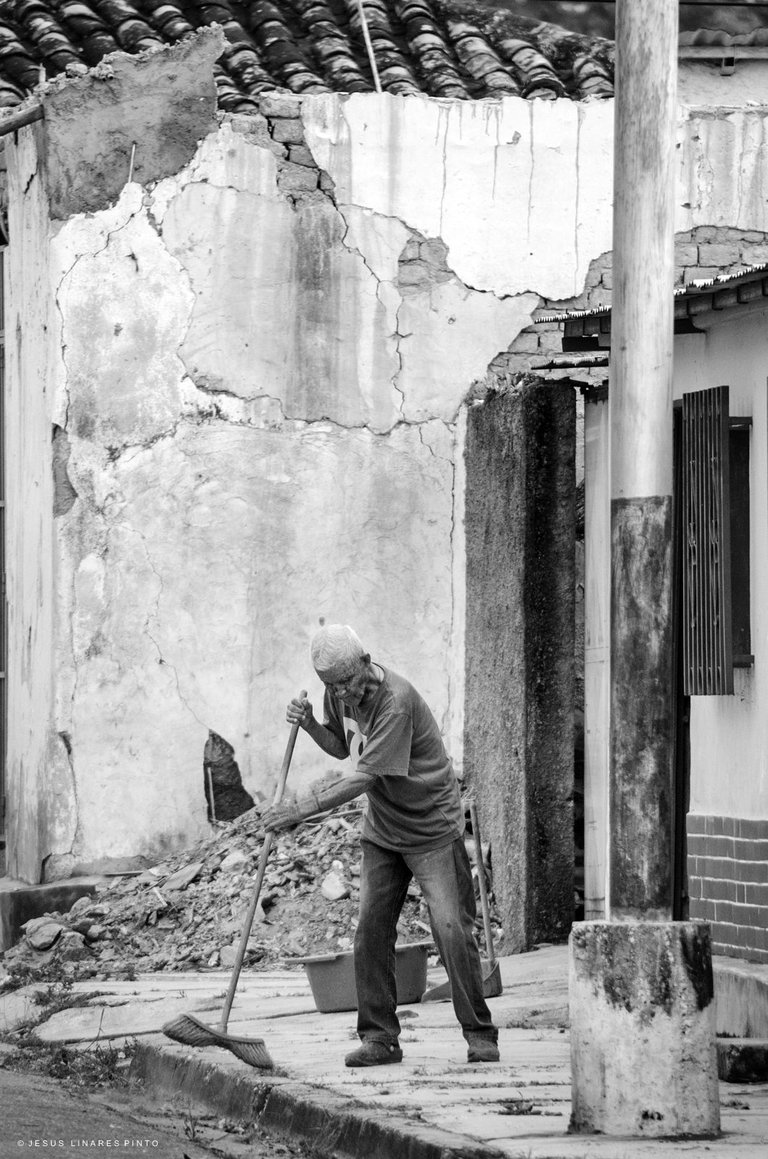 "Tachuela"... That is the local nickname of this little old man who is sweeping the street, but his real name is Julio, but even he identifies himself as "Tachuela"... 40 years ago, Tachuela drove the ambulance at the village hospital... All of us kids admired him a lot, because he used to rush through the streets of the village carrying people to and from the hospital to help them!.... He drove the ambulance until the beginning of this century when he retired.... Now he lives alone, his wife and the only son who lived with them succumbed to the coronavirus in 2021.... Life can be hard some times...
"Tachuela"... Ese es el mote de ese menudo anciano que está barriendo la calle, pero su nombre real es Julio, pero inclusive él mismo se identifica como "Tachuela"... 40 años atrás, Tachuela manejaba la ambulancia del hospital del pueblo... ¡Todos los chicos lo admirábamos mucho, porque solía pasar raudo por las calles del pueblo llevando y trayendo a las personas para ayudarlas!... Manejó la ambulancia hasta principios de este siglo cuando se retiró... Ahora vive solo, su esposa y el único hijo que vivía con ellos sucumbieron por el coronavirus en 2021... La vida suele ser dura a veces...
---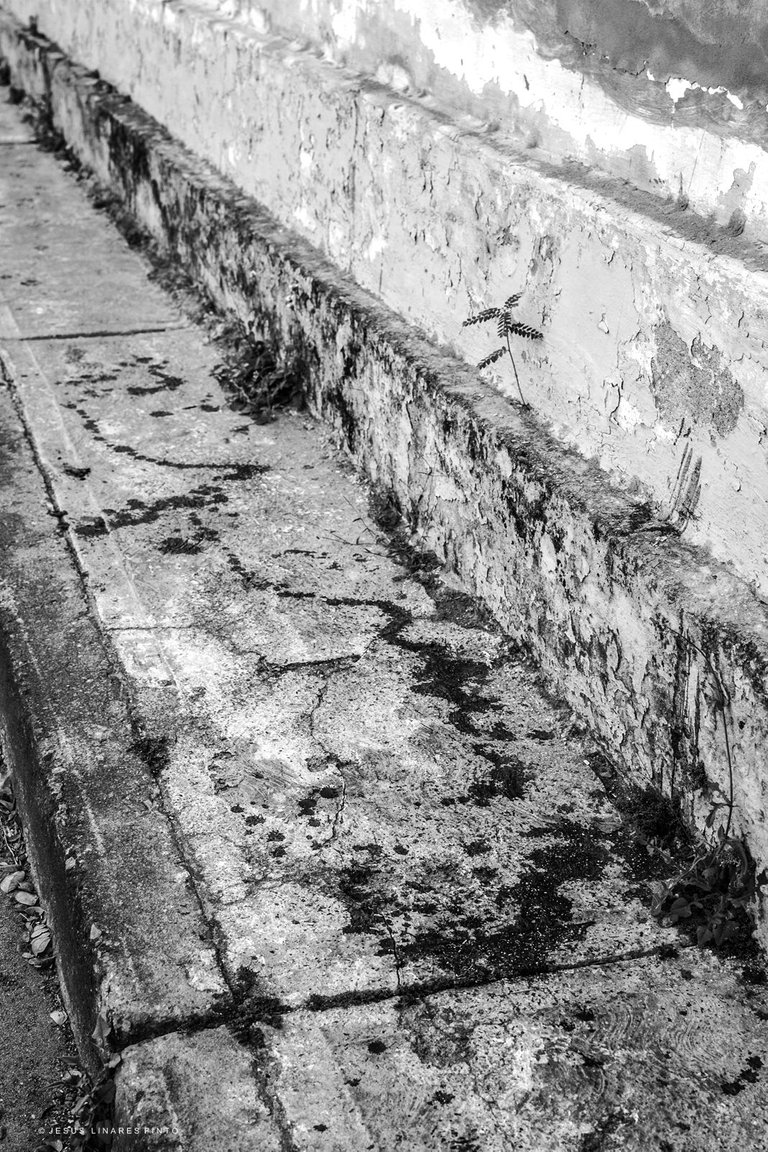 "Traces of blood"... This is an ugly thing to see on the streets, but it happens... Days after I took this photo, someone told me the story behind this trail of blood... It is about a man who was wounded by his wife (yes, you read that right) his own wife cut him with a knife on his arm... Apparently the man was being unfaithful and his wife suffered a fit of anger and jealousy and intercepted him in the street and unceremoniously wounded him.... But the strangest thing about this story is that I have been told that this is "the third time this has happened" and that the person who has taken him to the doctor and then nursed him back to health is "his own wife"... What a love-hate relationship!... 😂
"Rastro de sangre"... Esto es algo feo de ver en las calles, pero sucede... Días después de hacer esta foto, alguien me contó la historia detrás de este rastro de sangre... Se trata de un hombre que fue herido por su esposa (sí, han leído bien) su propia esposa le cortó con un cuchillo en su brazo... Al parecer el hombre estaba siendo infiel y su esposa sufrió un ataque de ira y celos y le interceptó en la calle hiriéndolo sin contemplaciones... Pero lo más extraño de esta historia es que me han dicho que esta es "la tercera vez que esto sucede" y que la persona que lo ha llevado al curar y luego lo se encarga de cuidarlo hasta que sana, es "su misma esposa"... ¡Vaya una relación de amor y odio!... 😂
---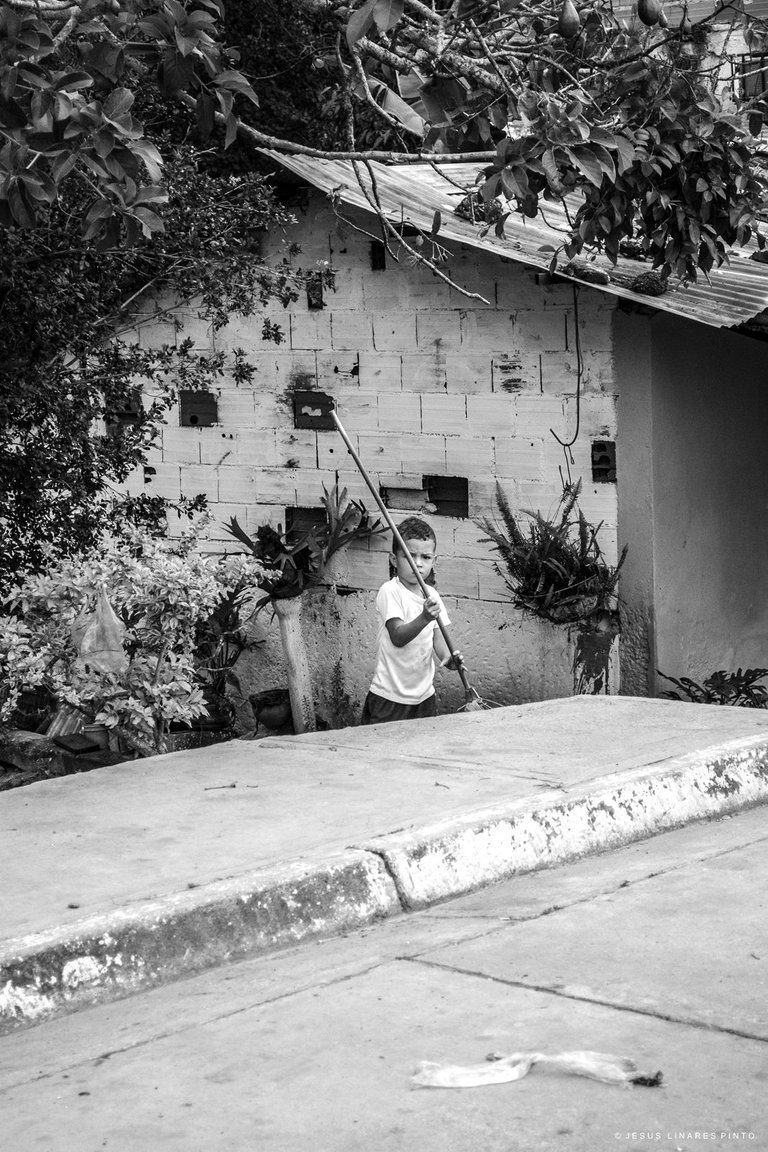 "Good day to beat up the photographer"... Well, strange things are happening around here!.... This kid came out of that house armed with a stick and said "I'm going to beat the shit out of you"... I started laughing nervously, shot this photo and ran out of there!... What a bad mood this kid is in!...😂😂😂
"Buen día para apalear al fotógrafo"... ¡Pues, están sucediendo cosas extrañas por aquí!... Este niño salió de esa casa armado con un palo y me dijo "Te voy a dar de a palos"... ¡Comencé a reírme nerviosamente, le disparé esta foto y me fui corriendo de allí!... ¡Vaya mal humor el de este chico!...😂😂😂
---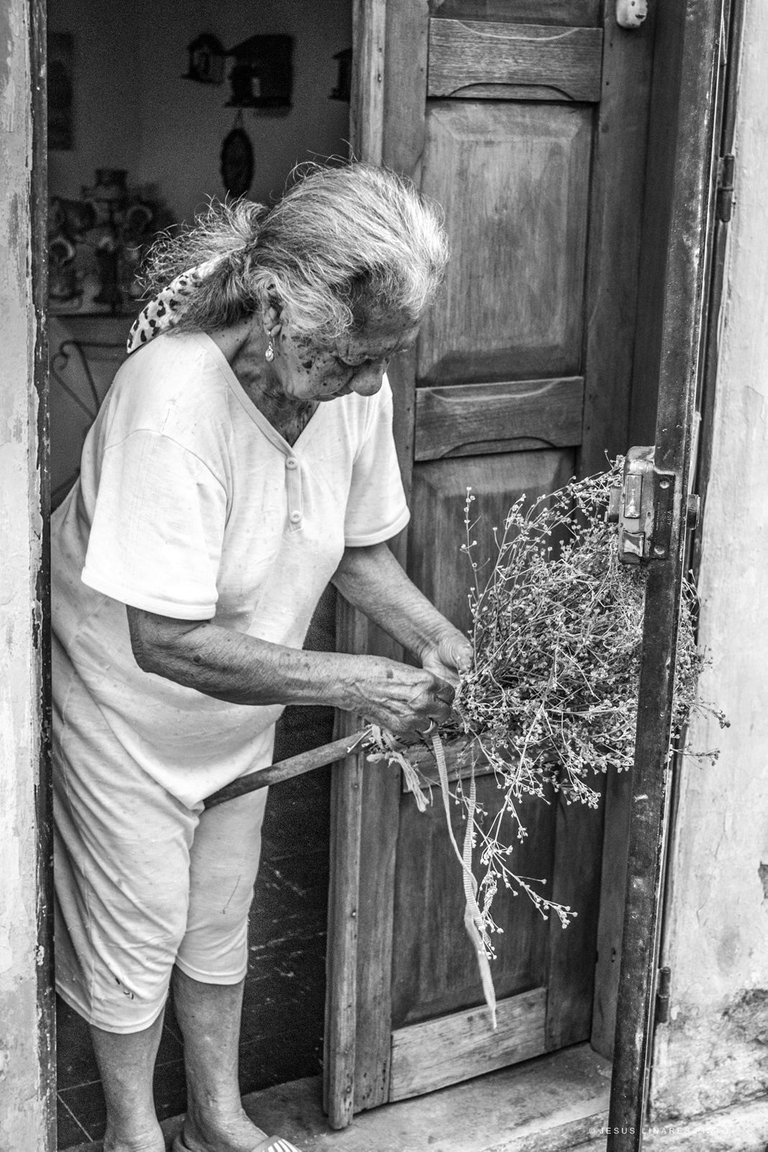 "Tying a broom"... This lady is María, my friend Martín's mother... While I was talking to him, his mother was tying a broom with branches to sweep the street... Then Martín furtively signalled me to take this photo without her noticing... Then I had the bad idea of asking her: "Mrs. María, will you use that broom to fly tonight?"... She obviously told me to go to hell while her son Martín let out a loud laugh! 😂😂😂
"Atando una escoba"... Esta señora es María, la madre de mi amigo Martín... Mientras yo hablaba con él, su madre ataba una escoba con ramas para después dedicarse a barrer la calle... Entonces Martín furtivamente me hizo una seña conminándome a hacer esta foto sin que ella se percatase... Luego tuve la mala idea de preguntarle: Señora María, usará usted esa escoba para volar esta noche?"... ¡Obviamente me ha mandado al carajo mientras su hijo Martín dejaba escapar una sonora carcajada!!!... 😂😂😂
---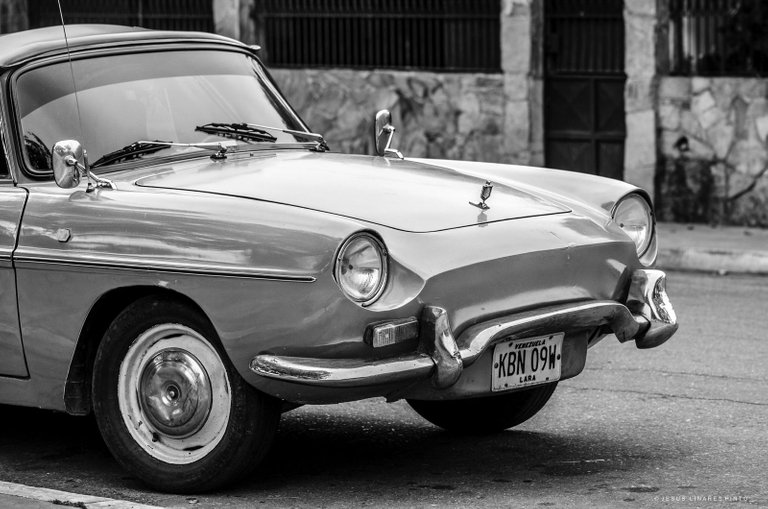 "Benildo's old Renault"... This beautiful classic car belongs to Benildo Guerra, an elegant character of our village, who usually uses this vehicle to go to the central square of the village and attend mass... I need, one of these days, to stay and wait for Benildo to show up and take a picture of him with his great car...
"El viejo Renault de Benildo"... Este hermoso auto clásico pertenece a Benildo Guerra, un elegante personaje de nuestro pueblo, el cual suele usar este vehículo para ir hasta la plaza central del pueblo y asistir a misa... Necesito, un día de estos, quedarme a esperar a que Benildo aparezca y hacerle una foto junto a su genial auto...
---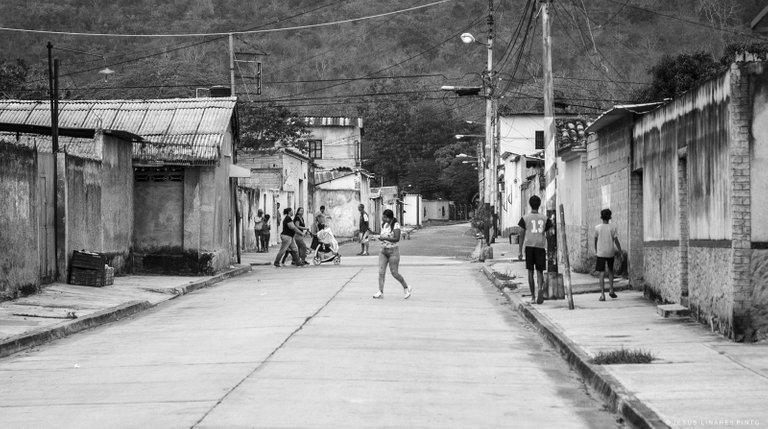 "The street being the street"... I close this edition with this simple but eloquent photo... It is one of the last streets in the south of the village, I captured it because of the pleasant impression that all those people walking daily caused me... One of those photos that I take without knowing why but I love them...
"La calle siendo la calle"... Cierro esta edición con esta foto simple pero elocuente... Es una de las ultimas calles al Sur del pueblo, la capturé debido a la impresión agradable que me causaron todas esas personas caminando cotidianamente... Una foto de esas que hago sin saber porqué pero me encantan...
---
Many thanks to all of you for stopping by and appreciating... We'll see you soon again with more pictures, more streets and more stories always in black and white... A hug to all of you!
Muchas gracias a todos por pasar por aquí y apreciar... Nos veremos muy pronto nuevamente con más fotografías, más calles y más historias siempre en blanco y negro... ¡Un abrazo a todos!
---
END / FIN
---
"We make photographs to understand what our lives mean to ourselves." - Ralph Hattersley.
"Hacemos fotografías para comprender lo que nuestras vidas significan para nosotros mismos." - Ralph Hattersley.

Camera: Nikon D7000 | Lens: Sigma 18-200mm f3.5-6.3 II DC OS HSM
Cámara: Nikon D7000 | Objetivo: Sigma 18-200mm f3.5-6.3 II DC OS HSM
Montalbán, Carabobo, Venezuela.
---
---