STREET PORTRAITS || MONOMAD || ENG-ESP || (5 Pics)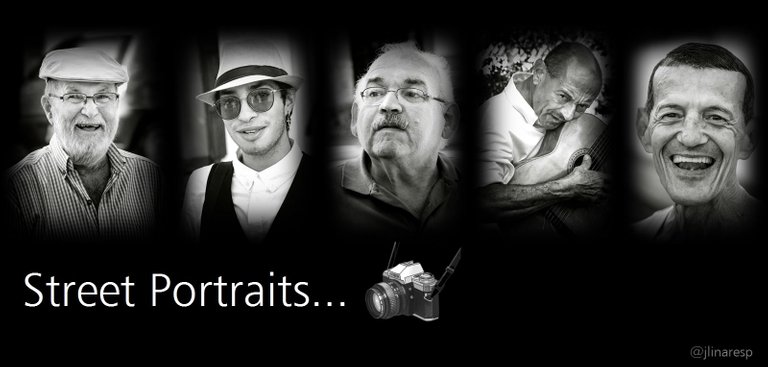 ---
Hello #HIVE friends!!!... Today I bring to share with you five portraits captured in the streets of my town... Some of the people that appear in these portraits you may already know, since they appear in photos from previous publications... But I wanted to make this "portraits only" post using other photos which I wanted to edit and turn to black and white...
Hola amigos de #Hive, hoy traifgo para compartir con ustedes cinco retratos capturados enlas calles de mi pueblo... Algunas de las paersonas que aparecen en estos retratos, ya ustedes quizás las conozcan, pues aparecen en fotos de publicaciones anteriores... Pero quise hacer este post de "solo retratos" usando otras fotos las cuales deseaba editar y virar al blanco y negro...
So this is my entry for today's #Monomad challenge... 📷
Esta es entones mi entrada para el reto #Monomad de hoy... 📷
---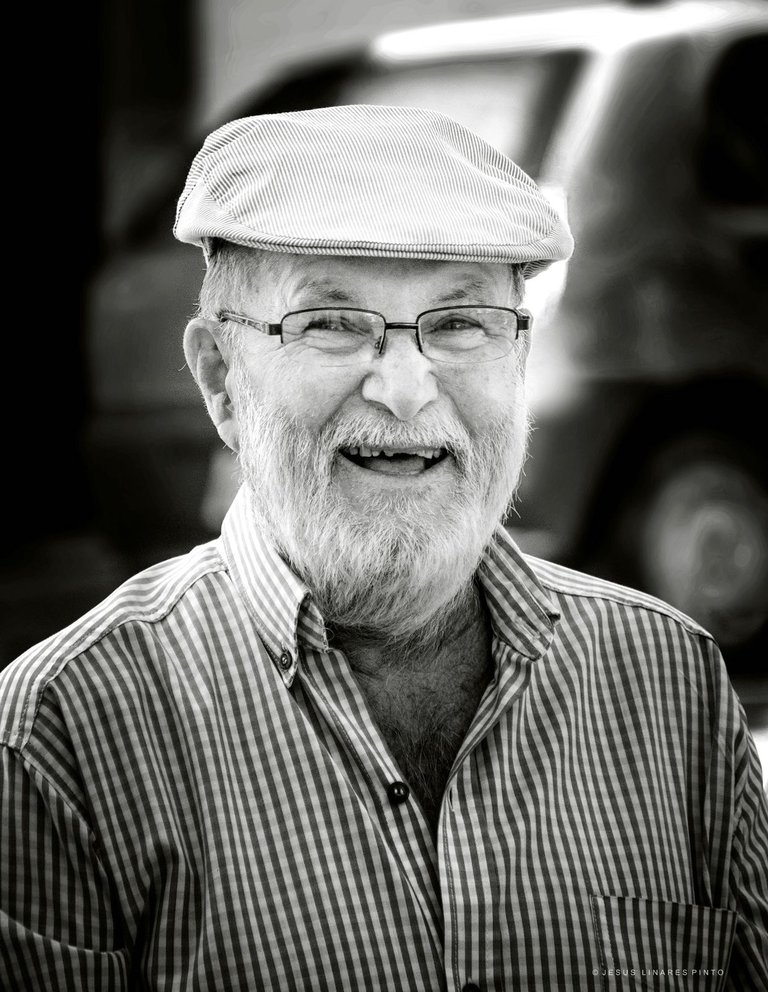 "Jesus"... I had previously taken full-body portraits of my friend Jesús Soto, but this is the first close-up shot of his face that I've been able to do... Jesus (as you can see) is a extremely sweet person... He is an eloquent and jocular man, he is also a retired politician, businessman and sponsor of many local artists, he loves theater and music and usually contributes funds for projects related to these...
"Jesús"... A mi amigo Jesús Soto previamente le había hecho retratos de cuerpo completo, pero esta es la primera toma cerrada de su rostro, que he podido hacerle... Jesús (como pueden ver) es alguien extremadamente agradable... Es un hombre elocuente y jocoso, también es político retirado, empresario y mecenas de muchos artistas locales, ama el teatro y la música y suele aportar fondos para proyectos relacionados con estos...
---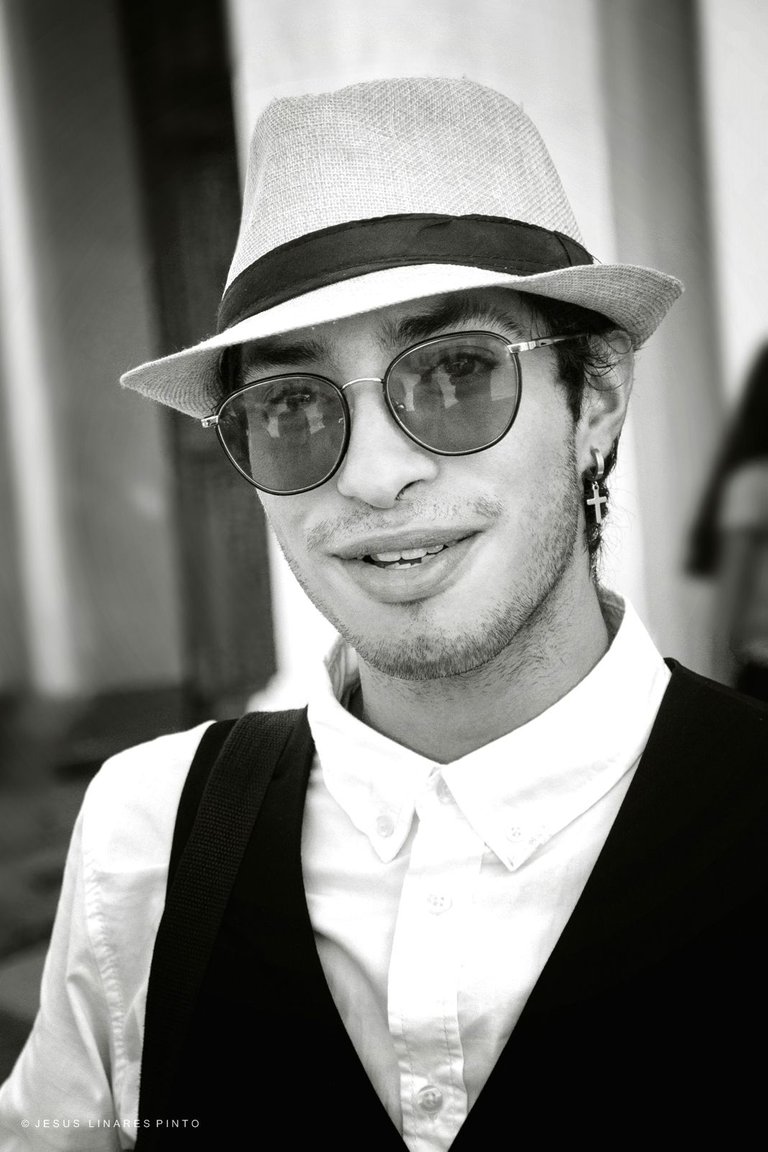 "Another Jesus"... Ha ha ha :) ... I have many namesakes in my town!... This is Jesús Aguilar Riera... A few days ago I published a portrait of him playing his violin in the street... Now I wanted to share this frontal portrait... Jesús is (as you already know) an excellent musician and at just 23 years old he has graduated in music and teaches classes... I saw him grow up as a child, he is the son of a relative of my mother , therefore we are related by blood... Furthermore, he was my daughter's classmate during her elementary school years... Good boy this Jesus!
"Otro Jesús"... Ha ha ha... ¡Tengo muchos tocayos en mi pueblo!... Este es Jesús Aguilar Riera... Pocos días atrás publiqué un retrato de él tocando su violín en la calle... Ahora quise compartir este retrato frontal... Jesús es (como ya ustedes saben) un excelente músico y ya con apenas 23 años se ha licenciado en música e imparte clases... Le vi crecer desde niño, es hijo de una pariente de mi madre, por lo tanto tenemos algún parentesco sanguíneo... Además, era compañero de mi hija durante los años de escuela primaria... ¡Buen chico este Jesús!
---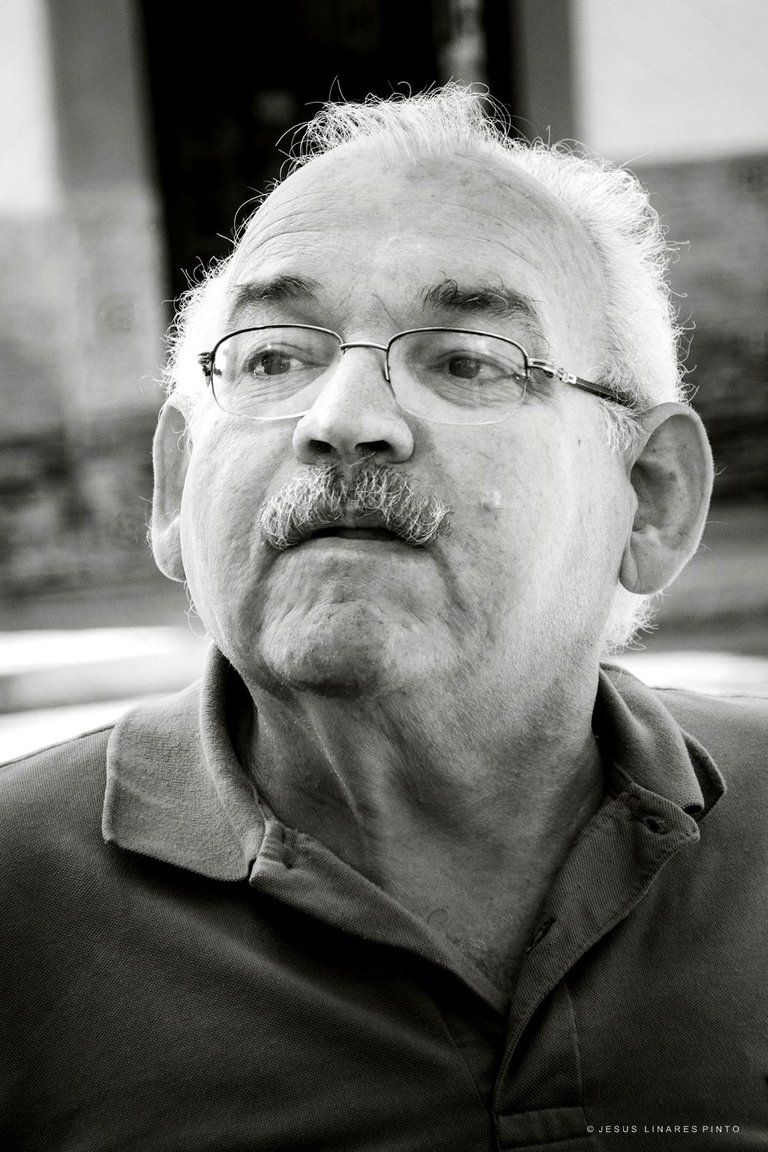 "Luis Augusto"... My friend Luis Augusto Pinto is also a distant relative of mine... He was born with severe hearing limitations but since he was a child he learned to read lips very well and even gestures many words effectively, therefore he can communicate with relative ease... And wow, he usually communicates abundantly!... Well, his addiction to finding out everything and spreading news is something legendary in the town... ha ha ha... It's a kind of traveling local newspaper, despite his limitations!... Good person our Luis Augusto.
"Luis Augusto"... Mi amigo Luis Augusto Pinto también es pariente lejano mio... Nació con severas limitaciones auditivas pero desde niño aprendió a leer los labios muy bien e incluso gesticula muchas palabras de forma efectiva, por lo tanto puede comunicarse con relativa facilidad... ¡Y vaya que suele comunicarse abundantemente!... Pues su adicción por enterarse de todo y propagar noticias es algo legendario en el pueblo... ha ha ha... ¡Es una especie de periódico local ambulante, a pesar de sus limitaciones!... Buena persona nuestro Luis Augusto.
---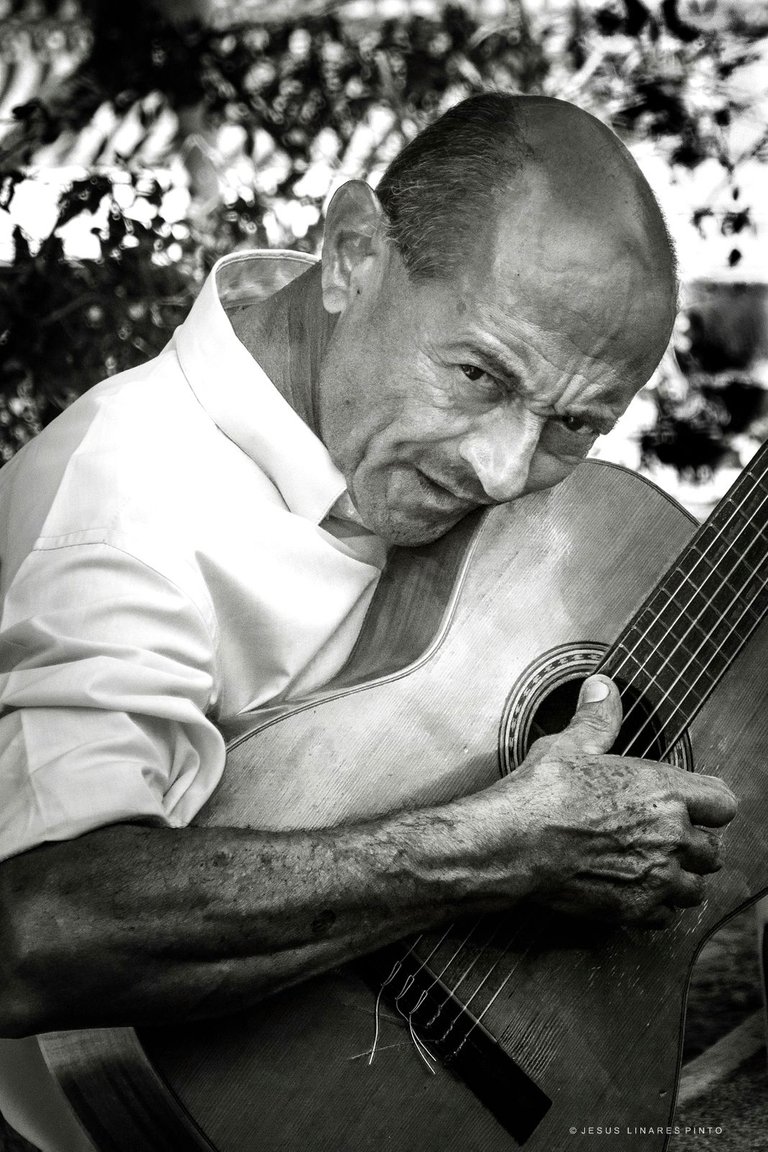 "Edgar tuning his guitar"... In recent days I shared with you a photo of Edgar playing his guitar, but I also wanted to share this photo of him while he tunes his guitar with his ear put to it... It seems to me that this photo it's charming and reveals a lot of Edgar's passion for his musical instrument!...
"Edgar afinando su guitarra"... En días pasados compartí con ustedes una foto de Edgar tocando su guitarra, pero quise también compartir esta foto de él mientras afina su guitarra con el oído pegado a ella... ¡Me parece que esta foto es encantadora y revela mucho de la pasión de Edgar por su instrumento musical!...
---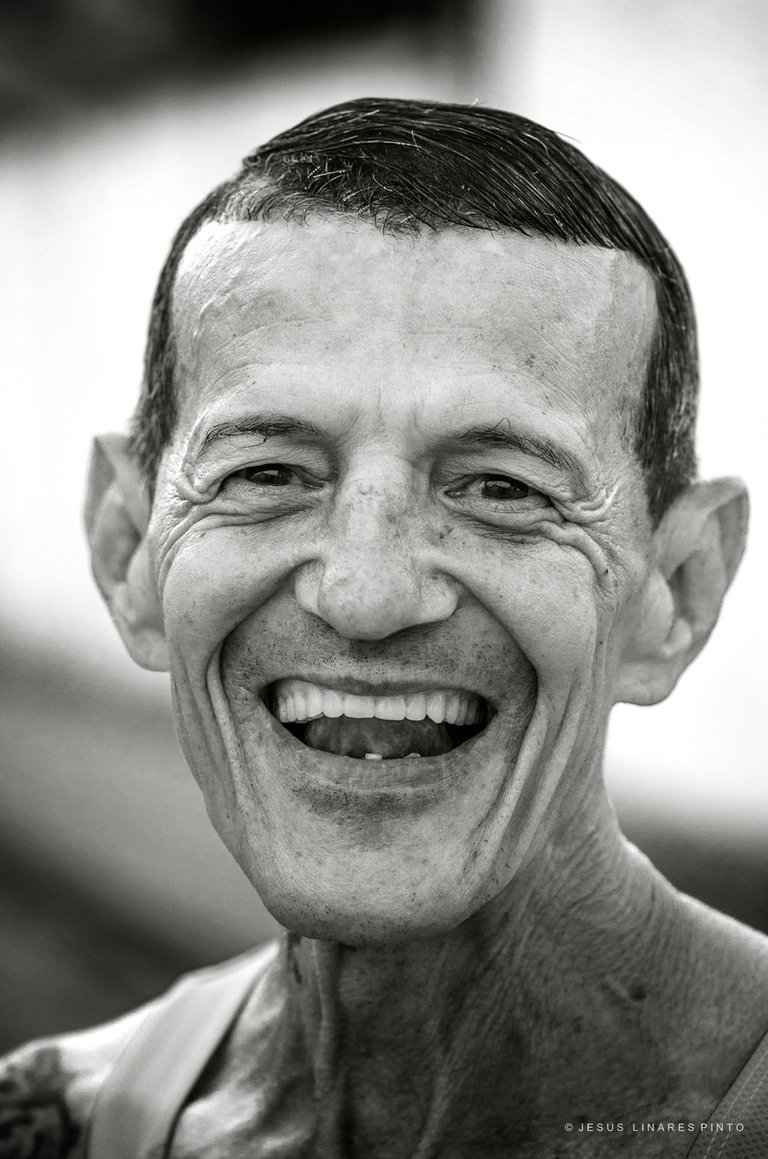 "Marcos"... You may have already seen my friend Marcos (also known as "El Clavo") in some of my other posts... But this is the best portrait I've ever made of him and that's why he's here now!.... Marcos was a marathon runner for decades, today he still runs in master categories and keeps winning awards.... He also sells hot-dogs and (like everyone here) does several things to earn his living... Marcos is looking good for being close to 70 years old!... Don't you think? It seems that running marathons is a good recipe to stay healthy...
"Marcos"... A mi amigo Marcos (También conocido como "El clavo") ya le han visto quizás en otros de mis posts... ¡Pero este es el mejor retrato que le he hecho y por eso está aquí ahora!... Marcos fue maratonista durante décadas, hoy en día sigue corriendo en categorías master y sigue ganando premios... También vende hot-dogs y (como todos aquí) hace varias cosas para ganarse el sustento... ¡Marcos luce bien para estar próximo a cumplir 70 años!... ¿No creen ?... Parece que correr maratones es una buena receta para mantenerse sano...
---
And so I end my publication of street portraits!... Thank you all very much for stopping by and appreciating... We'll see you again soon with more Black and White photographs to share... A hug to all.
¡Y así termino mi publicación de retratos callejeros!... Muchas gracias a todos por pasar por aquí y por apreciar... Nos veremos pronto nuevamente con más fotografías en Blanco y Negro para compartir... Un abrazo a todos.
---
END / FIN
---
"We make photographs to understand what our lives mean to ourselves." - Ralph Hattersley.
"Hacemos fotografías para comprender lo que nuestras vidas significan para nosotros mismos." - Ralph Hattersley.

Camera: Nikon D7000 | Lens: Sigma 18-200mm f3.5-6.3 II DC OS HSM
Cámara: Nikon D7000 | Objetivo: Sigma 18-200mm f3.5-6.3 II DC OS HSM
Montalbán, Carabobo, Venezuela.
---
---