STREET PORTRAITS || MONOMAD || ENG-ESP || (8 Pics)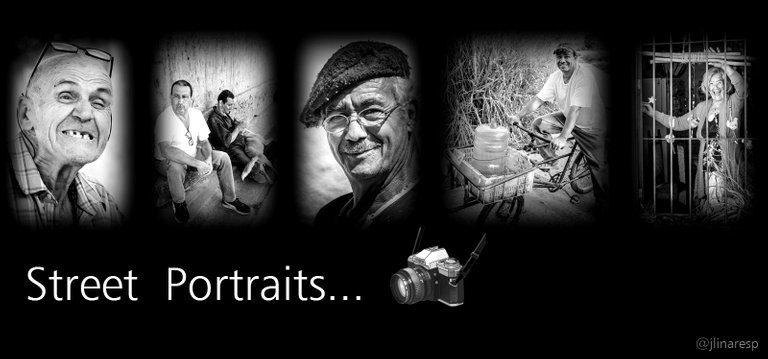 ---
Hello #Hive friends, happy holidays to everyone!.... As I commented in my previous post.... "Lately my life has been filled with portraits"..... Let's say it's more of a "phase", but the truth is, during my recent photo walks, people seem to make it easy for me to take their portrait, whether it's a close up shot or a more distant, impersonal shot.... I'm enjoying this a lot! 😎📷
¡Hola amigos de #Hive, felices fiestas a todos!... Tal como comenté en mi post previo... "Últimamente mi vida se ha llenado de retratos"... Digamos que se trata más bien de una "etapa", pero lo cierto es qué, durante mis recientes caminatas fotográficas, parece que las personas hacen fácil para mi el que les haga un retrato, ya se trate de una toma cercana o un disparo más alejado e impersonal... ¡Estoy disfrutando esto a montones!
This then is my entry to today's #monomad challenge...
Esta es entonces mi entrada al reto #monomad de hoy...
---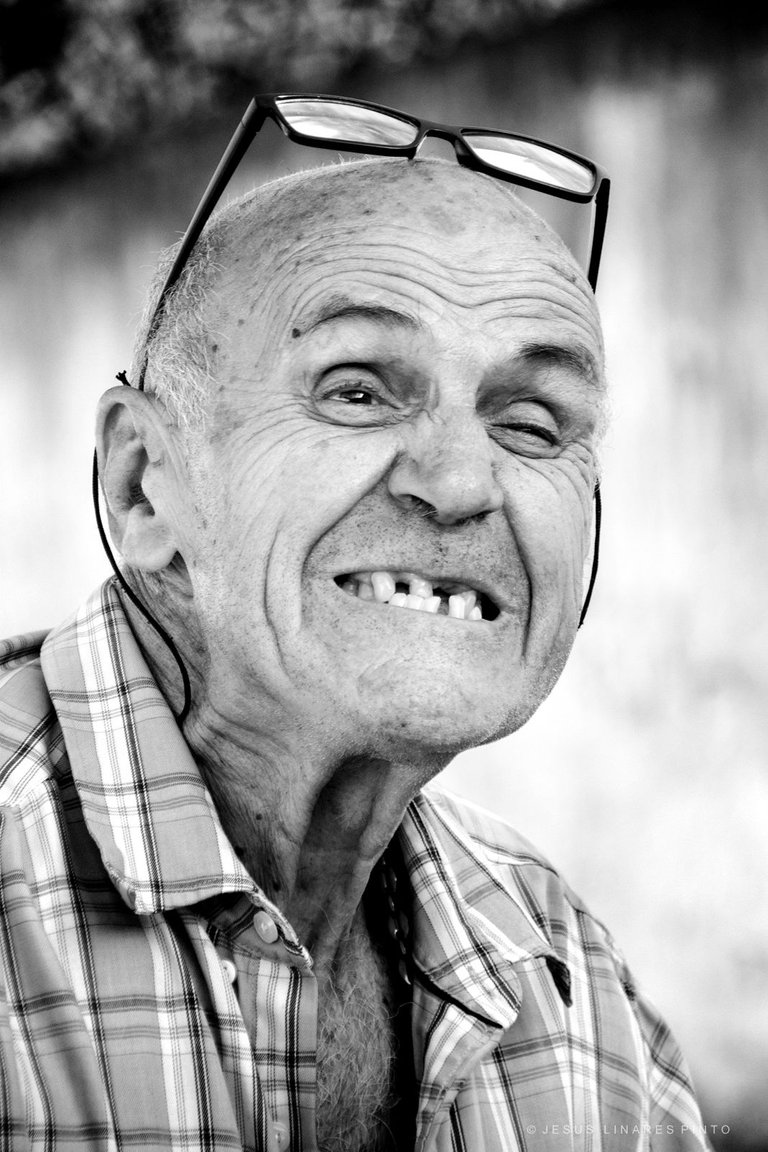 "Floriano"... When I was a kid, I used to see Floriano in the street and shout "Hello Popeye" (the townspeople called him "Popeye" because of his corpulence and strength, just like the cartoon character)... Then that young Floriano would grimace and I would burst out laughing!... And he still does that when I say "Hello Popeye"!... (It's been more than 40 years since then)... 😂
"Floriano"... Cuando yo era un niño, solía ver a Floriano en la calle y gritarle "Hola Popeye" (la gente del pueblo le llamaba "Popeye" por su corpulencia y fuerza, como el personaje del cartón animado)... ¡Entonces aquel joven Floriano hacía una mueca y yo reía a carcajadas!... ¡Y sigue haciendo eso cuando le digo "Hola Popeye"!... (Han pasado más de 40 años desde entonces)... 😂
---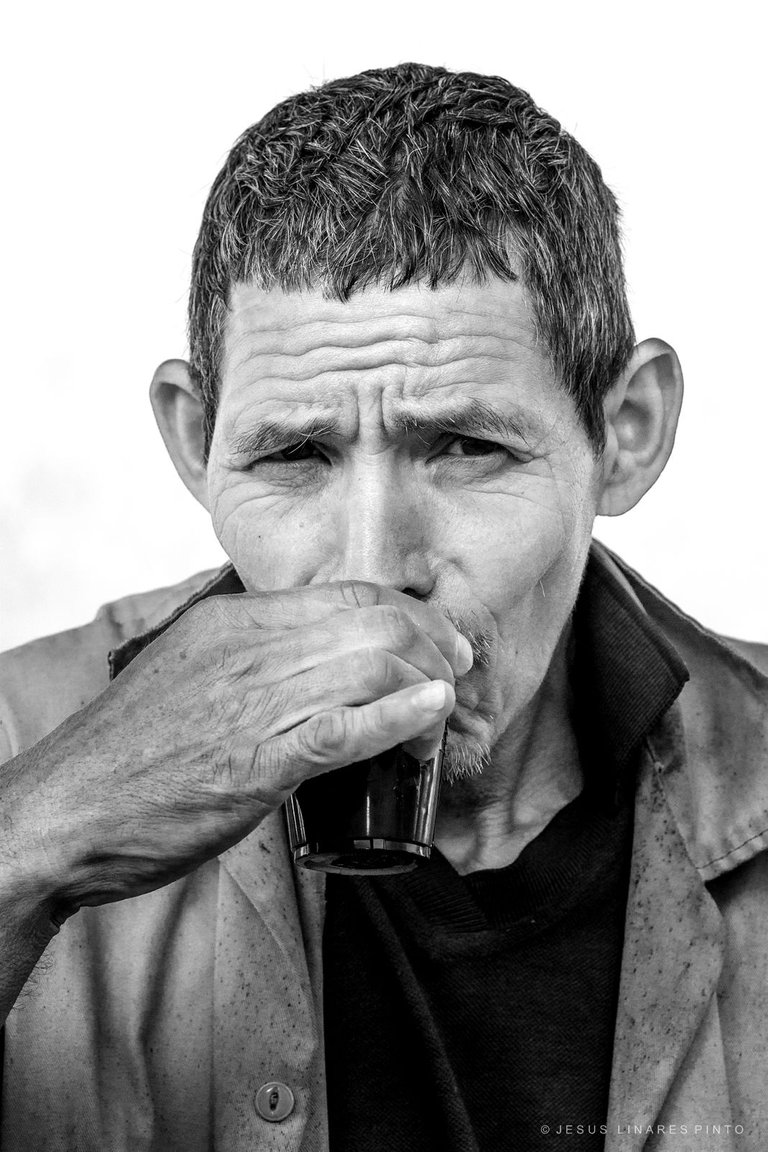 "Tirso Vidoza"... Geez, I'm really becoming a menace shooting with my camera!... My friend Tirso I shot this portrait of him as he was coming out of a small abasto sipping a hot coffee!... I almost made him drop his drink and burn himself!... ha ha ha ha 😂.... Tirso said: Damn, it had to be the crazy guy with the camera! 😵‍💫📷
"Tirso Vidoza"... ¡Caray, realmente me estoy volviendo una amenaza disparando con mi cámara!... ¡A mi amigo Tirso le disparé este retrato cuando salía de un pequeño abasto sorbiendo un café caliente!... ¡Casi hago que se le caiga su bebida y se queme!... ha ha ha 😂... Tirso dijo: ¡Demonios, tenía que ser el loco de la cámara! 😵‍💫📷
---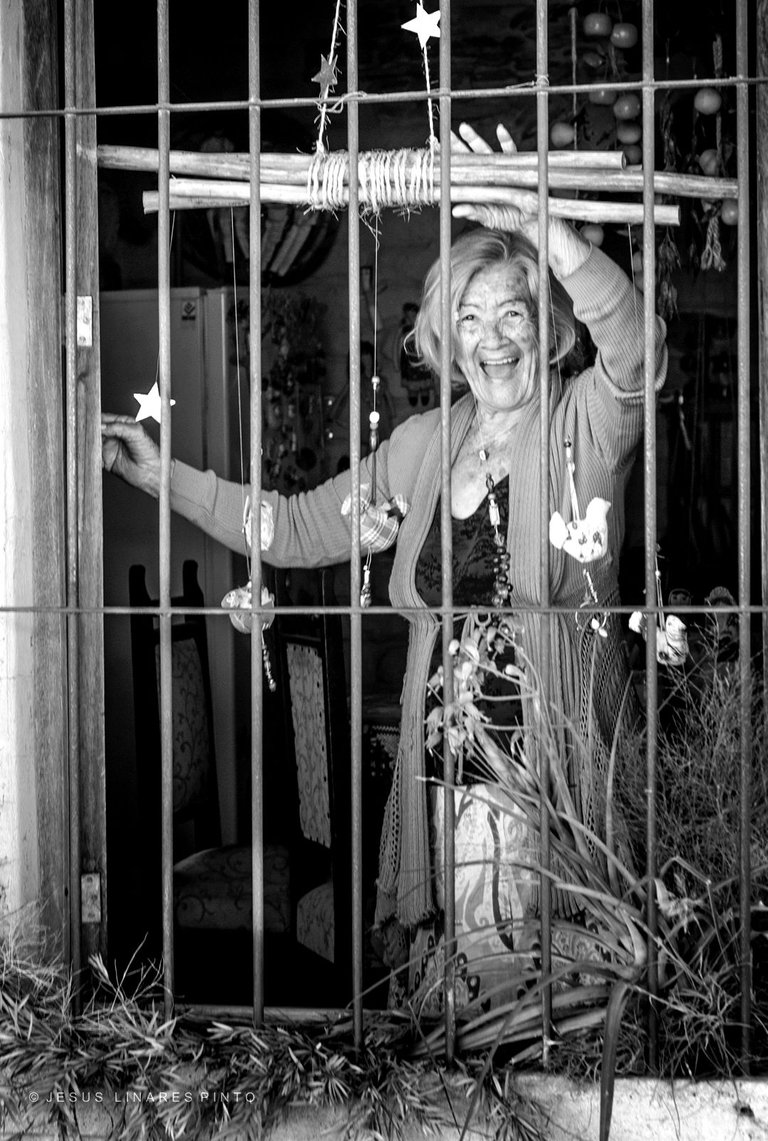 "Aunt Angelina"... Angelina Chirivella has been a friend of my mother's since they were children, she is also a retired teacher and worked together with my mother in one of the local schools teaching primary school children... Angelina is something like "my aunt", because she and my mother are very close and they live only 3 streets away from each other... Taking this picture made my day!... It's my aunt Angelina in her pure state!... 😍
"La tía Angelina"... Angelina Chirivella es amiga de mi madre desde que eran niñas, también es maestra retirada y trabajó junto con mi madre en una de las escuelas locales dando clases a los niños de primaria... Angelina es algo así como "mi tía", pues ella y mi madre son muy cercanas y viven apenas a 3 calles de distancia una de la otra... ¡Hacer esta foto me hizo el día!... ¡Es mi tía Angelina en estado puro!... 😍
---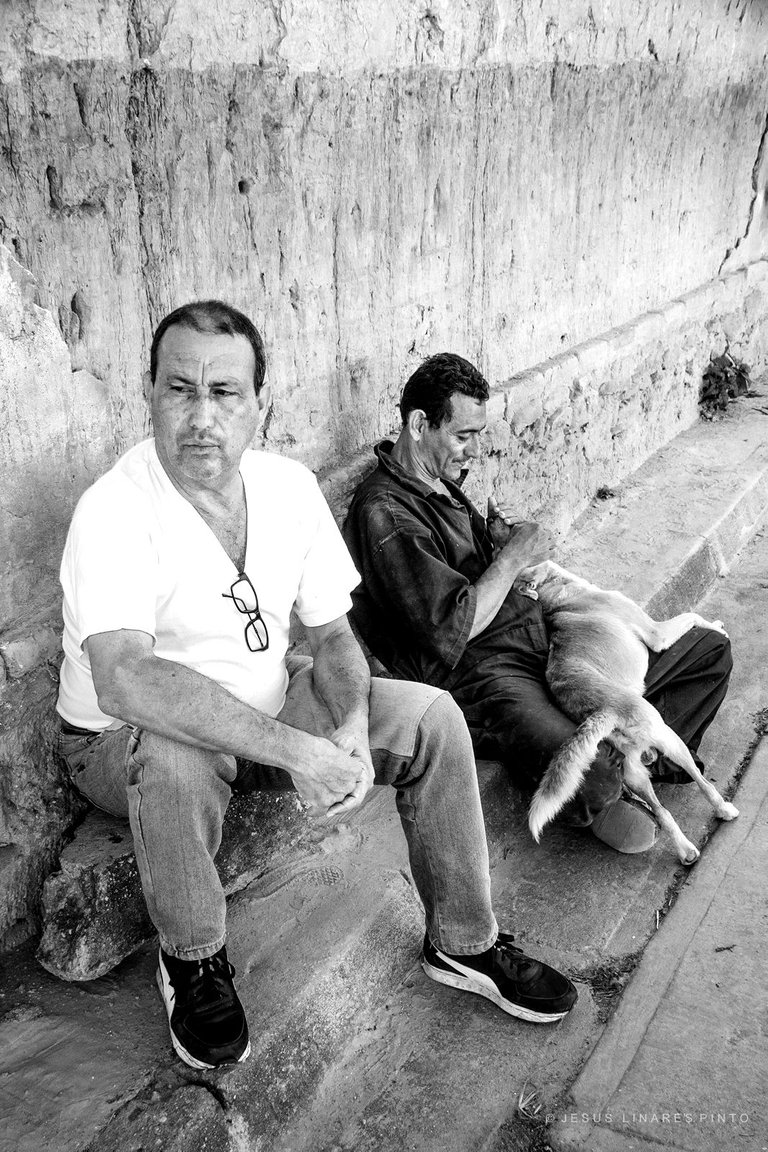 "Oscar, Venancio and Chicho"... Oscar (in the foreground) works repairing anything (sewing machines, blenders, coolers, stoves, air conditioners and a thousand other things) and Venancio is his assistant... During the afternoons they usually sit in a corner diagonal to Oscar's mother's house... That dog that Venancio caresses is "Chicho" the stray dog that usually chases me when I go out to take pictures? As you can see, Chicho is everyone's friend around here!... 🐶
"Oscar, Venancio y Chicho"... Oscar (en primer plano) trabaja reparando cualquier cosa (maquinas de coser, licuadoras, ventiladores, cocinas, aires acondicionados y mil cosas más) y Venancio es su ayudante... Durante las tardes suelen sentarse en una esquina diagonal a la casa materna de Oscar... Ese perro al cual Venancio acaricia es "Chicho" el perro callejero que suele perseguirme cuando salgo a tomar fotos... ¡Como pueden observar, Chicho es amigo de todos por aquí!... 🐶
---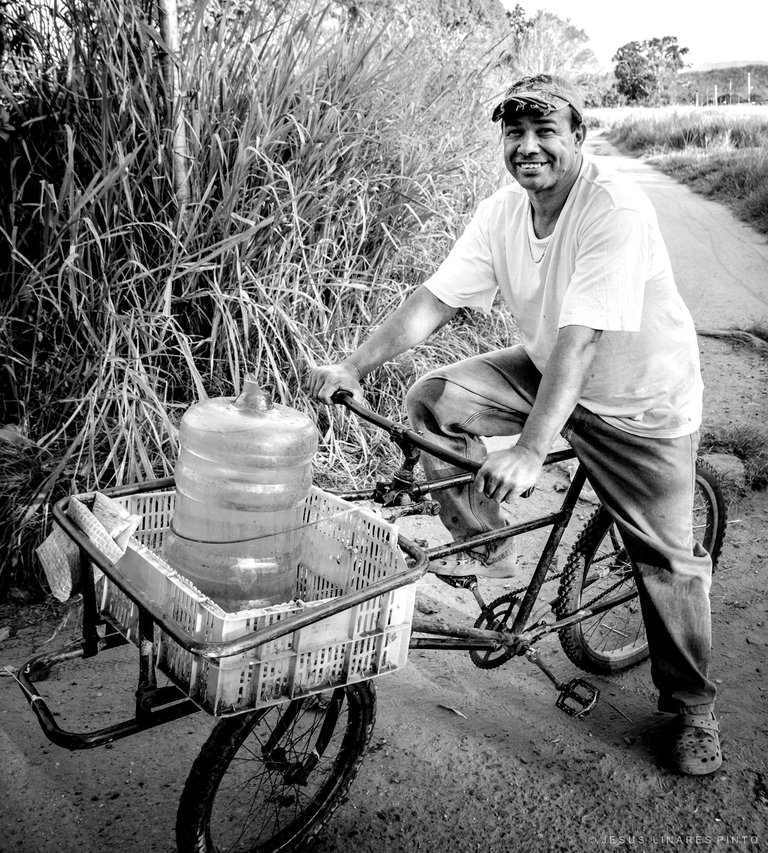 "Manolo"... Manuel Ojeda (Manolo) is my friend since childhood, he is a blacksmith by profession, but I made this portrait of him while he was coming back carrying water in a public fountain... What a strange thing to ride a bicycle with such a container full of water!... But here the need obliges to do such things!...
"Manolo"... Manuel Ojeda (Manolo) es mi amigo desde la niñez, es herrero de profesión, pero este retrato se lo hice mientras regresaba acarreando agua en una fuente pública... ¡Vaya una cosa extraña pasear en bicicleta con semejante recipiente lleno de agua!... ¡Pero aquí la necesidad obliga a hacer esas cosas!...
---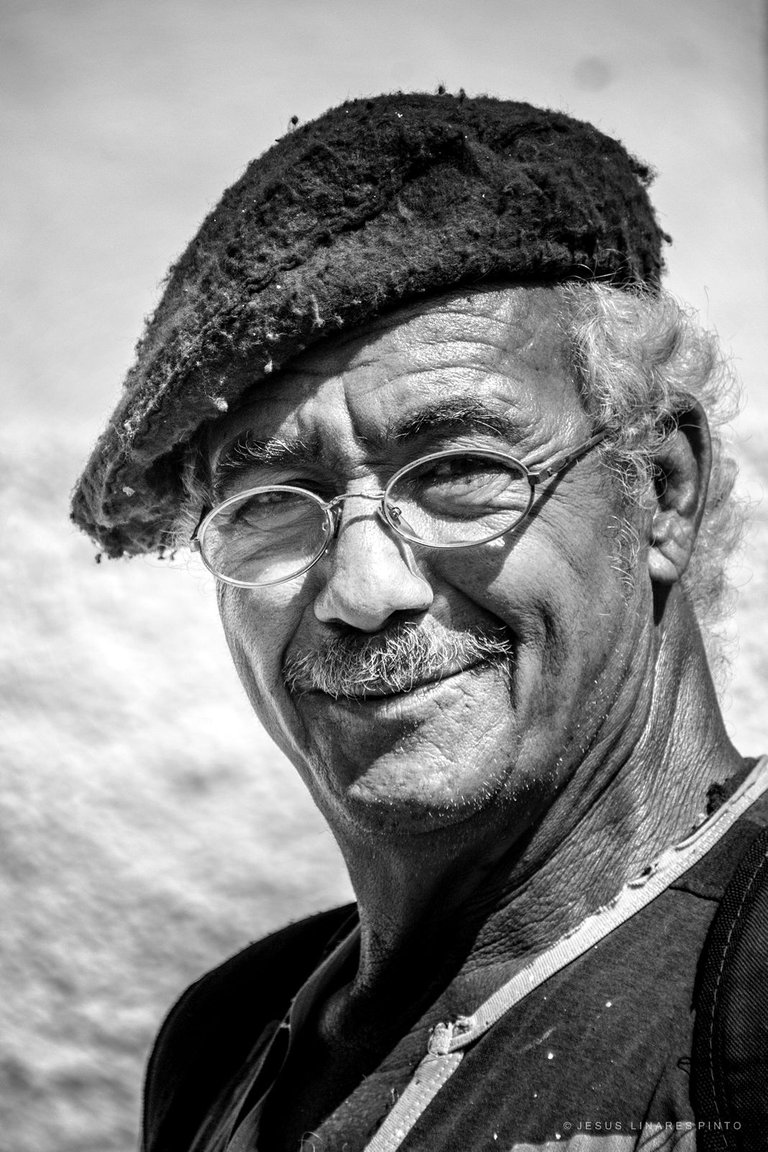 "Miguel Lecuna"... Until the end of 2010, Miguel could be seen on his bicycle delivering letters all over the municipality... At that time, he was an employee of the local post office of the national post office... That office was closed I do not remember at what time... Now Miguel sows and does odd jobs to survive... He was also a political militant, but that was left behind...
"Miguel Lecuna"... Hasta finales del 2010 se podía ver a Miguel en su bicicleta repartiendo cartas por todos los rincones del municipio... Era por aquel entonces, empleado de oficina local de correos nacionales... Esa oficina fue clausurada no recuerdo en que momento... Ahora Miguel siembra y hace trabajos ocasionales para sobrevivir... También fue militante político, pero eso quedó atrás...
---
"Rafael Pifano"... Son of Italian immigrants during the pre-WWII period, Rafael grew up watching his father do everything possible to develop the potential of our town and to project it as a "First level Agro Industrial Municipality"... His father almost succeeded, but at the end of the twentieth century everything changed here and the town fell into backwardness... Now Rafael is an industrial engineer in retirement, who usually sows tobacco and other crops in the countryside with his sons and sons-in-law...
"Rafael Pifano"... Hijo de inmigrantes italianos durante el período previo a la WWII, Rafael creció viendo a su padre hacer todo lo posible por desarrollar el potencial de nuestro pueblo y proyectarlo como un "Municipio Agro Industrial de primer nivel"... Su padre casi lo logra, pero a finales del siglo XX todo cambió aquí y el pueblo se sumió en el atraso... Ahora Rafael es un ingeniero industrial en retiro, que suele sembrar en el campo tabaco y otros rubros junto a sus hijos y yernos...
---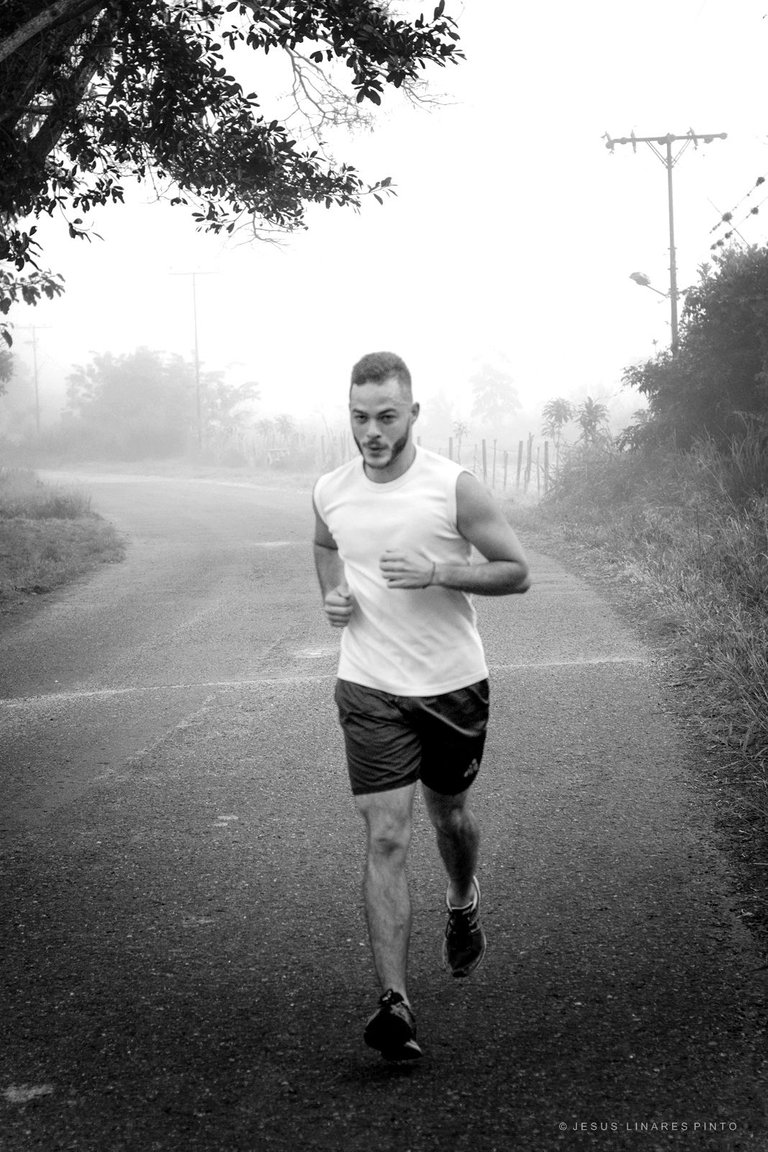 "Hector"... My young friend Hector is a veterinarian... I watched him grow up since he was born, because his family and mine have always been friends... Hector grew up in the countryside and in constant contact with his family's farm animals, which is what led him to study veterinary medicine... In this photo he appears in another of his passions "running"...
"Héctor"... Mi joven amigo Héctor es veterinario... Lo vi crecer desde que nació, pues su familia y la mía somos amigos desde siempre... Héctor creció en el campo y en constante contacto con los animales de granja de su familia, eso lo llevó a estudiar veterinaria... En esta foto aparece en otra de sus pasiones "correr"...
---
Thank you very much to everyone for stopping by... I wish happy holidays to those who celebrate these dates and of course send my best wishes and hugs... ¡Will see you soon again with more black and white pictures!... 📷😊
Muchas gracias a todos por pasar por aquí... Les deseo unas felices fiestas a aquellos que celebren estas fechas y por supuesto envío mis mejores deseos y abrazos... ¡Nos veremos pronto de nuevo con más fotografías en blanco y negro!... 📷😊
---
END / FIN
---
"We make photographs to understand what our lives mean to ourselves." - Ralph Hattersley.
"Hacemos fotografías para comprender lo que nuestras vidas significan para nosotros mismos." - Ralph Hattersley.

Camera: Nikon D7000 | Lens: Sigma 18-200mm f3.5-6.3 II DC OS HSM
Cámara: Nikon D7000 | Objetivo: Sigma 18-200mm f3.5-6.3 II DC OS HSM
Montalbán, Carabobo, Venezuela.
---
---