TOWN IN COLOURS - "ROADS " - 05NOV22 || ENG-ESP || (11 Pics)


---
Hello #Hive people!... This post is about my particular vision of rural roads... Roads are already something "purely photographic", especially when it comes to roads in this kind of rural environment, as they offer several possibilities to take advantage of perspectives and generate interesting visual fugue points... But the roads go beyond the usual technical talk that we can expound for hours about how to take pictures on them... Roads are also a bit "poetry" and a bit "humanity" and the chances are for when we go with a camera in our hand, we will come across more than just things to photograph... We might also come across "ourselves reflected in what we see"...
Hola gente de #Hive... Esta publicación se trata de mi visión particular de los caminos rurales... Los caminos ya de por sí son algo "netamente fotografico" en especial cuando se trata de caminos en este tipo de entorno rural, pues ofrecen diversas posibilidades para aprovechar perspectivas y generar puntos de fuga visuales interesantes... Pero los caminos van más allá de la acostumbrada perorata técnica que podemos exponer durante horas respecto a hacer fotografías en ellos... Los caminos también son un poco "poesía" y otro poco "humanidad" y lo más posible es que cuando vayamos con una cámara en la mano, nos topemos con algo más que cosas para fotografiar... También podríamos encontrarnos con "nosotros mismos reflejados en lo que vemos"...
---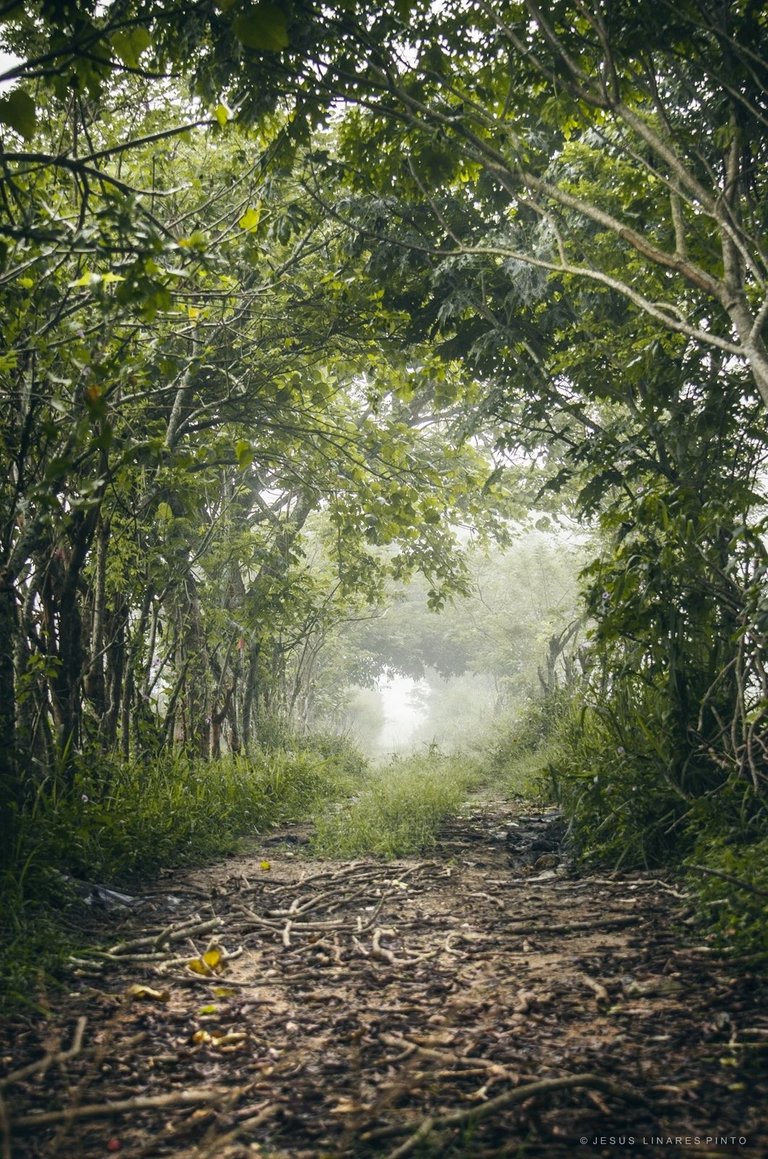 As is my custom, I'll add a few lines at the bottom of the photos... Because taking pictures of roads makes me abstracted, but when I'm abstracted I usually hear myself saying things and things... The good thing about this is that not all of them have to do with the photos, I also tend to go beyond...
Como es mi costumbre, voy a agregar algunas lineas al pie de las fotos... Porque fotografíar caminos me abstrae, pero cuando me abstraigo suelo escucharme a mi mismo diciendo cosas y cosas... Lo bueno de esto es que no todas tienen que ver con las fotos, también suelo ir más allá...
---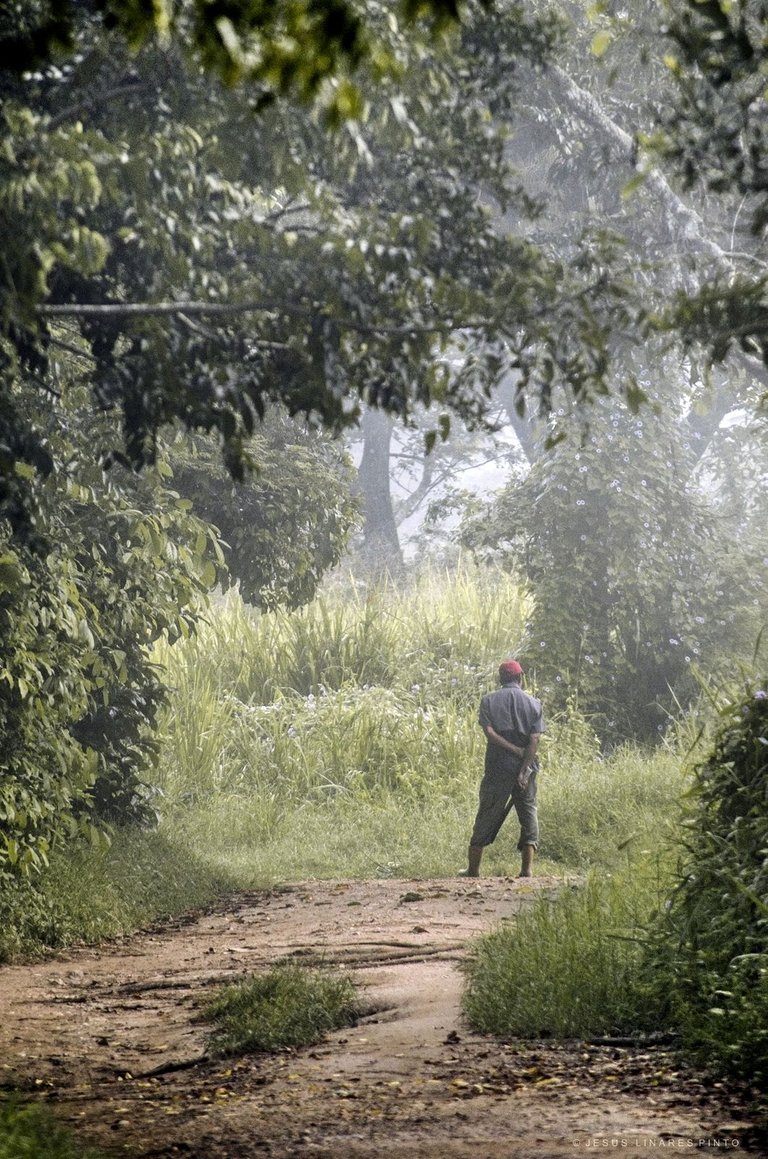 I like to "steal photos"... One of these days I'll end up denying a photo to someone who asks me to take one... That would be really funny!.... But I love to take photos of people without them knowing I'm doing it... Roads and a telephoto lens of at least 300mm are pretty good for this!... ;)
Me gusta "robar fotos"... Un día de estos terminaré negando una foto a alguien que me pide que le haga alguna... ¡Eso sería realmente chistoso!... Pero me encanta hacer fotos de las personas sin que ellas sepan que lo hago... ¡Los caminos y un teleobjetivo de por lo menos 300mm son bastante buenos para esto!... ;)
---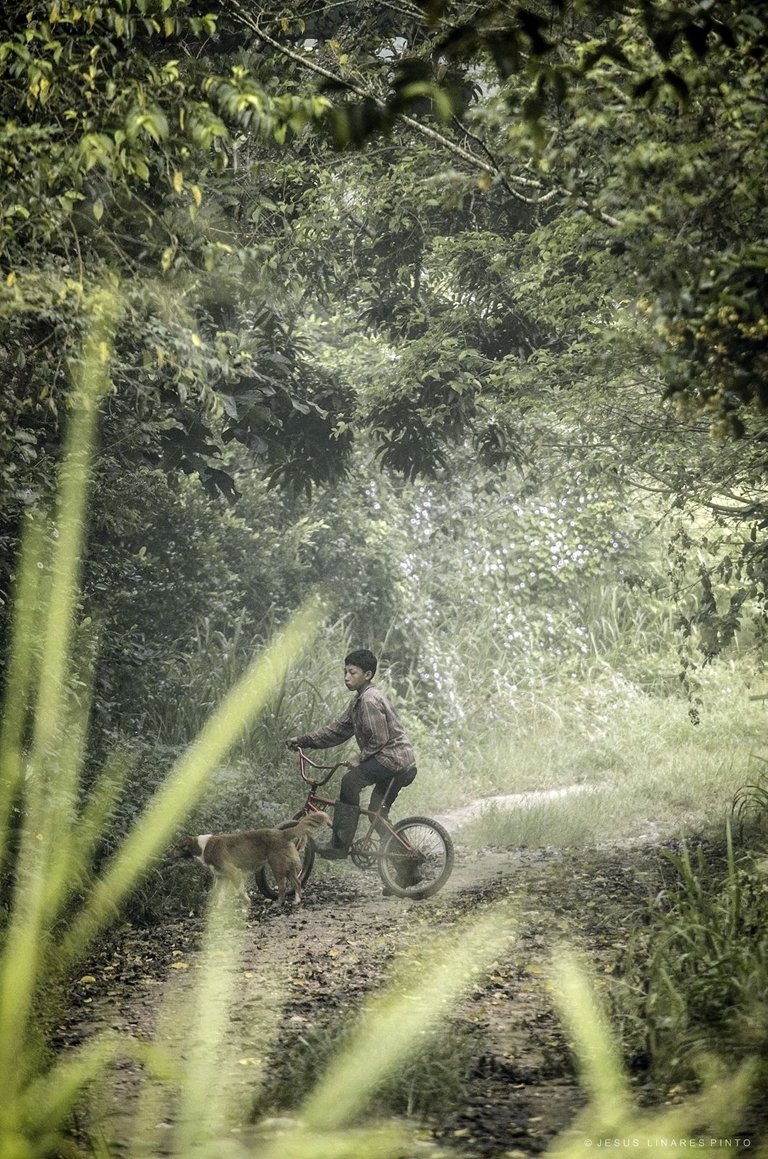 Regarding "stolen photos"... I don't always have to be far away from the development of the photo... This picture above was taken "hidden behind the grass"... So I'm not only a madman who shoots pictures from far away with a camera, I can also be almost under the armpits of people and they won't notice me!... Blessed roads!... ;)
A propósito de "fotos robadas"... No siempre tengo que estar lejos del desarrollo de la foto... Esta imagen arriba la hice "oculto detrás del pasto"... ¡Así que no soy solo un loco que dispara fotos desde lejos con una cámara, también puedo estar casi debajo de las axilas de las personas y ellos no me notarán!... ¡Benditos caminos!... ;)
---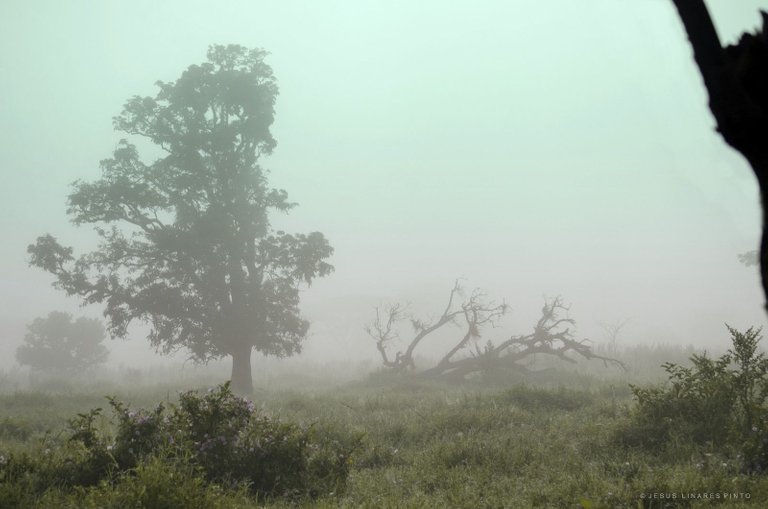 And photographing roads is sometimes also "photographing from the road"... I would like to call this photo: "Living and dead tree" :(
Y fotografiar caminos a veces es también "fotografiar desde el camino"... Me gustaría llamar a esta foto: "Árbol vivo y árbol muerto" :(
---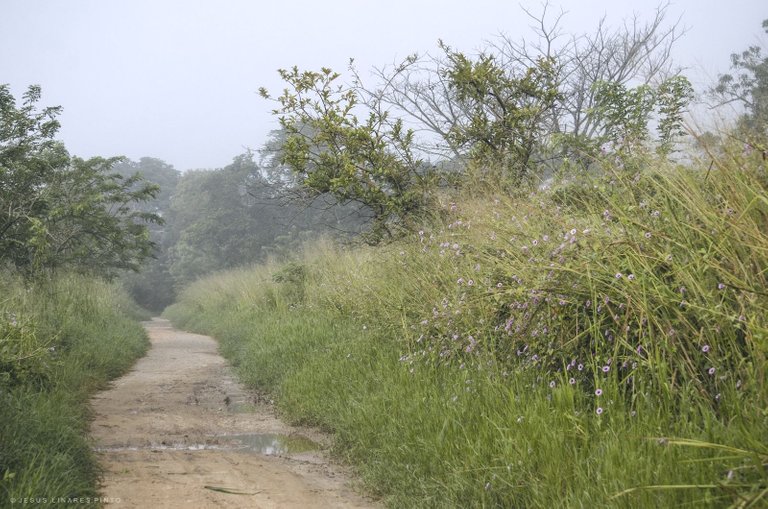 I have to confess that I feel lucky to be on these roads.... They are so close to my home, I know them so well... And yet every time I come here, everything seems to be different from the last time...
Tengo que confesar que me siento con suerte con estoy en estos caminos... Son tan cercanos a mi casa, los conozco tan bien... Y sin embargo cada vez que llego aquí, todo parece ser distinto a la ultima vez...
---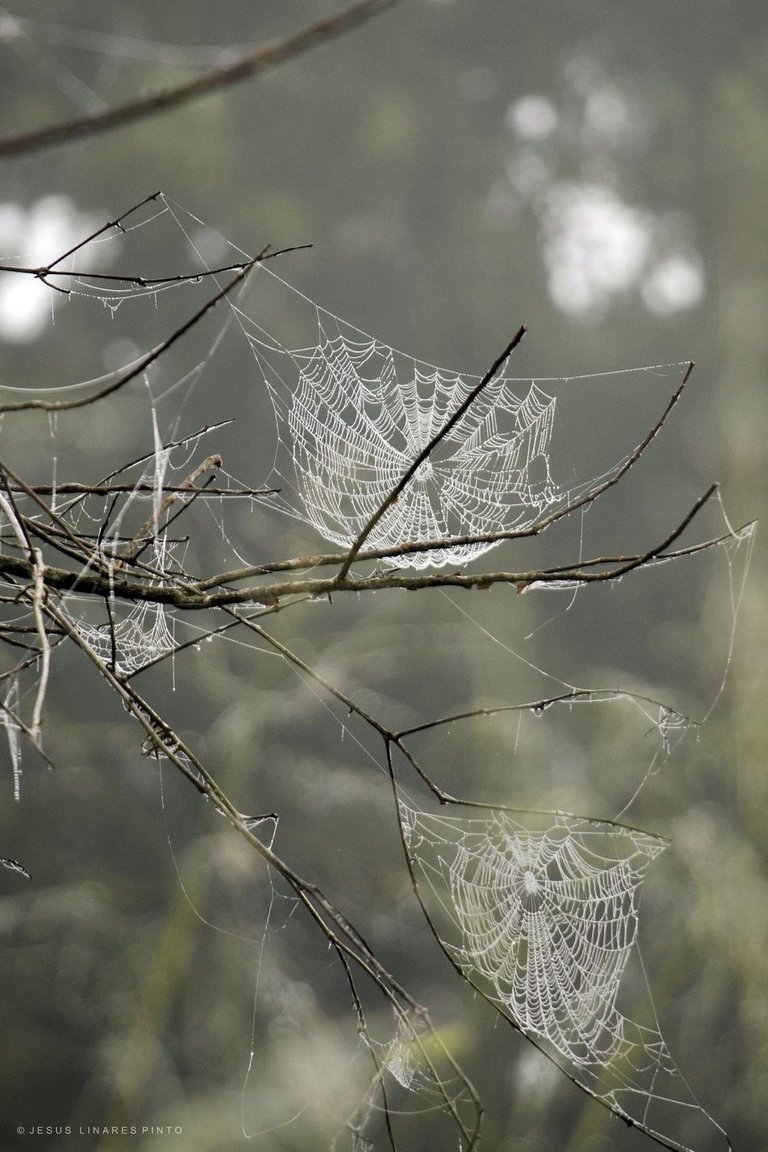 Photographing these dew-filled spider webs, a phrase has occurred to me: "I won't take the photo I want, I'll take the photo I need"... Wow!... This is a ridiculously dramatic phrase (almost as much as myself).... I hope that if I ever become famous after I die (the chances of that happening while I'm alive seem almost none) someone on the blockchain rescues this phrase and credits it to me... ha ha ha ha.... I've already started saying stupid things!... I love myself when I do this!... :)
Fotografiando estas telas de araña repletas de rocío, se me ha ocurrido una frase: "No haré la foto que deseo, haré la foto que necesito"... ¡Wow!... ¡Esta es una frase ridículamente dramática (casi tanto como yo mismo)... ¡Espero que sí llego a volverme famoso después de morir (las probabilidades de que eso suceda mientras vivo parecen casi nulas) alguien en la blockchain rescate esta frase y me la acredite... ha ha ha... ¡Ya comencé a decir estupideces!... ¡Me amo cuando hago esto!... :)
---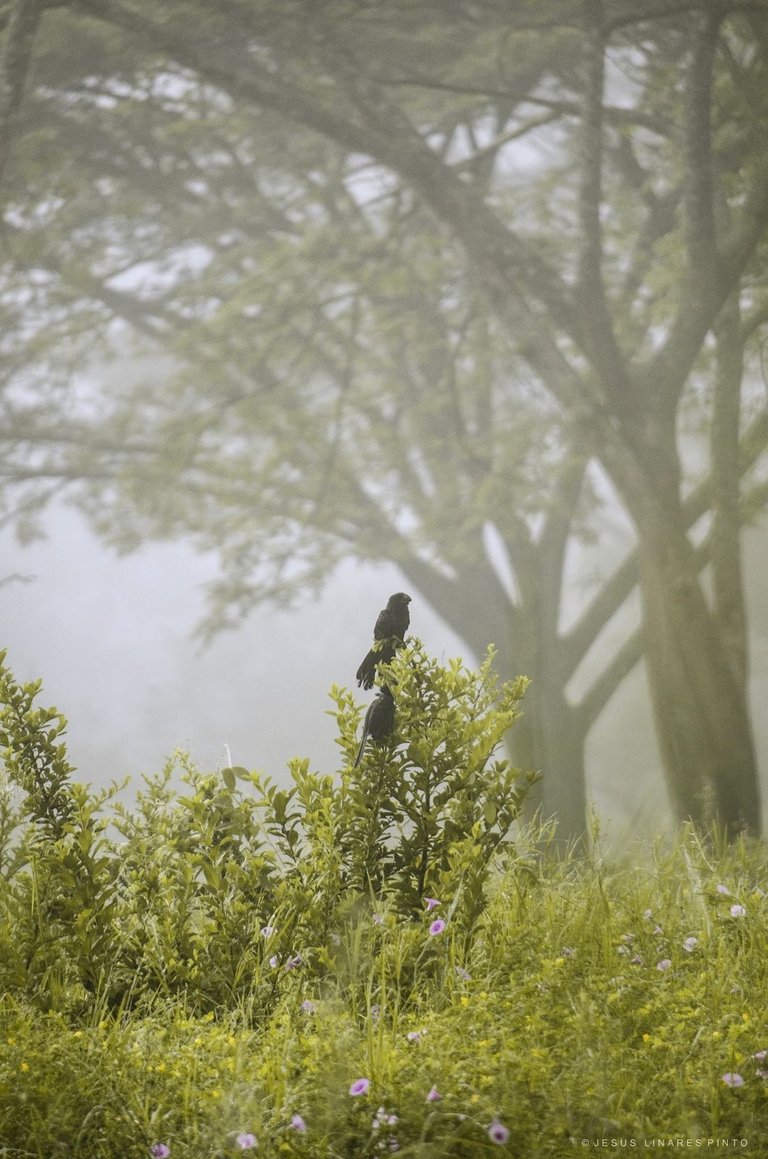 Hummm... Some birds don't seem to be very well endowed to withstand the usual night showers of this time of year, this one seems to be waiting for the fog to go away, and the sun to warm up enough to dry its feathers... In the meantime, it makes for a nice photo!...
Hummm... Algunas aves no parecen estar muy bien dotadas para soportar los usuales aguaceros nocturnos de esta época del año, esta parece estar esperando a que la niebla se marche, y el sol caliente lo suficiente para secar sus plumas... Mientras tanto ¡Sirve para una linda foto!...
---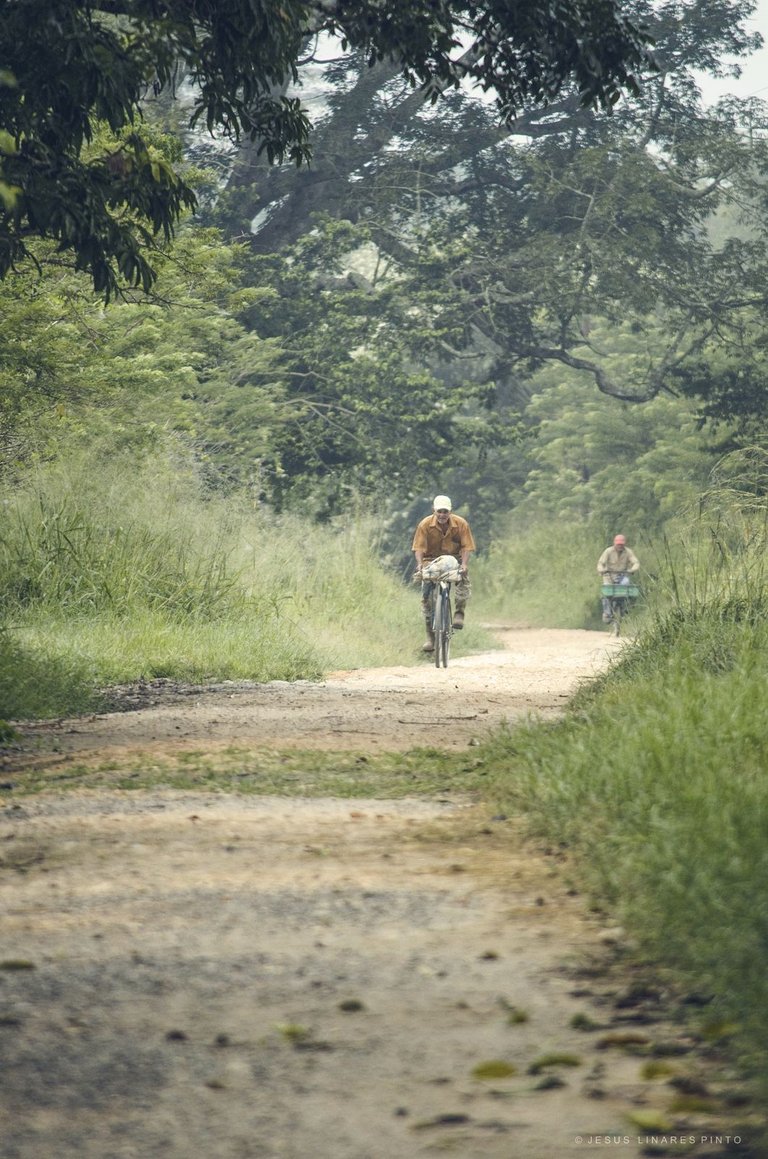 This photo has a name, it's called "Like two children".... The old man in the foreground has rushed past his friend and has been laughed out loud for his slowness... The one behind shouts swear words alluding to the deceased mother of the first one... ha ha ha ha ha... My maternal grandmother (the first avowed feminist I can remember meeting) was right when she said: "damned men are like children all their lives, without us they would have become extinct"... ha ha ha ha :))
Esta foto tiene un nombre, se llama "Como dos niños"... El anciano que aparece en primer plano ha pasado raudo al lado de su amigo y se ha burlado a carcajadas por su lentitud... El que viene detrás grita palabrotas alusivas a la difunta madre del primero... ha ha ha... Mi abuela materna (la primera feminista declarada que recuero haber conocido) tenía razón al decir: "Los condenados hombres son como niños durante toda su vida, sin nosotras se hubieran extinto"... ha ha ha :))
---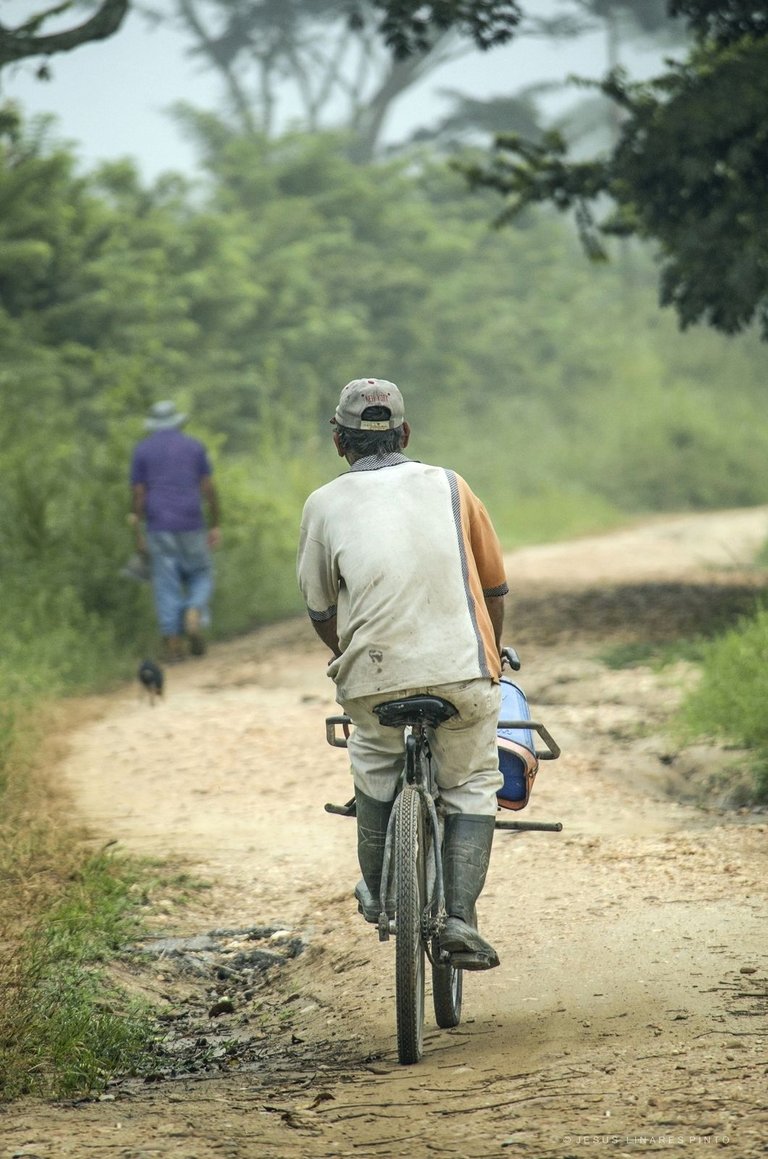 The roads are an inexhaustible source of things... Images, thoughts, joys and sorrows... But one thing is for sure "you can never leave a road with nothing"...
Los caminos son una fuente inagotable de cosas... Imágenes, pensamientos, alegrías y tristezas... Pero algo es seguro "nunca se puede salir de un camino sin nada"...
---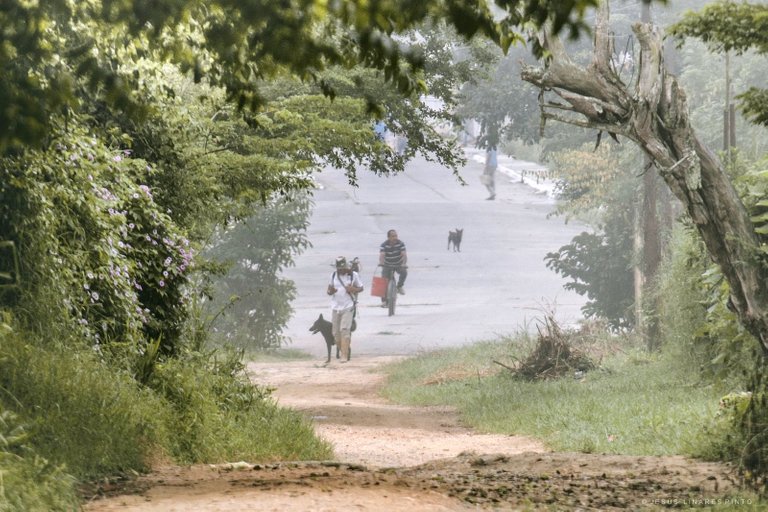 On the threshold where the asphalt ceases and the yellow dirt road begins... On that threshold the village and the countryside meet face to face... Everything there is also an effervescent source of stories that slowly appear...
En el umbral donde el asfalto cesa y comienza el camino de tierra amarilla... En ese umbral se encuentran cara a cara el pueblo y el campo... También todo allí es una efervescente fuente de historias que van apareciendo lentamente...
---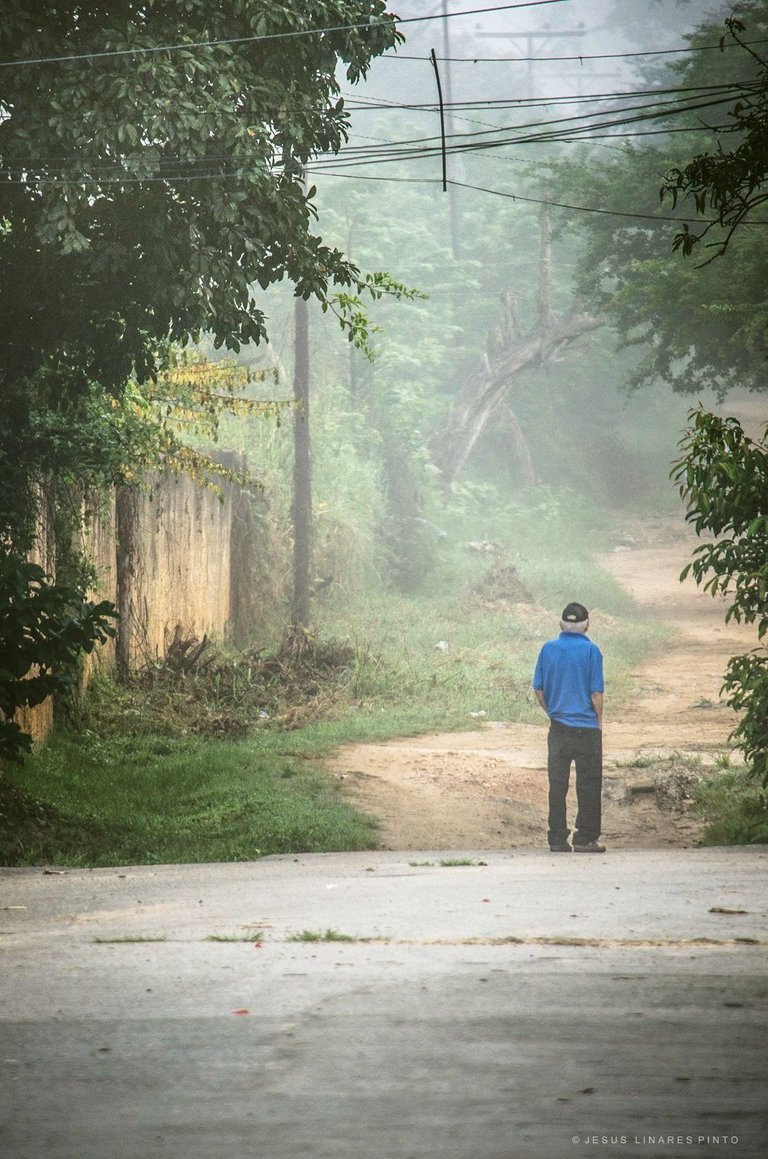 And being already in the village, I turn to take a last look at the road I left behind... Then, a man look silently towards the road... I'm sure he's asking himself: What the hell will the crazy guy with the camera photograph on his way there?... ha ha ha :))
Y ya estando en el pueblo, me giro para dar un último vistazo al camino que dejé atrás... Entonces, un hombre mira en silencio hacia el camino... Estoy seguro que se está preguntando a si mismo: ¿Que demonios fotografiará el loco de la cámara cuando va hacia allá?... ha ha ha :))
---
Thank you all so much for stopping by and appreciating.... See you soon again... Always with more pictures, always with more thoughts and stories... Always on these roads... Greetings to all!...
Muchas gracias todos por pasar por aquí y apreciar... Nos veremos pronto nuevamente... Siempre con más fotografías, siempre con más pensamientos e historias... Siempre por estos caminos... ¡Saludos a todos!...
---
END / FIN
---
"We make photographs to understand what our lives mean to ourselves." - Ralph Hattersley.
"Hacemos fotografías para comprender lo que nuestras vidas significan para nosotros mismos." - Ralph Hattersley.

Camera: Nikon D7000 | Lens: AF-S DX NIKKOR 55-300mm f/4.5-5.6G ED VR
Cámara: Nikon D7000 | Objetivo: AF-S DX NIKKOR 55-300mm f/4.5-5.6G ED VR
Montalbán, Carabobo, Venezuela.
---
---