Vital indicators suggest further bitcoin crashes.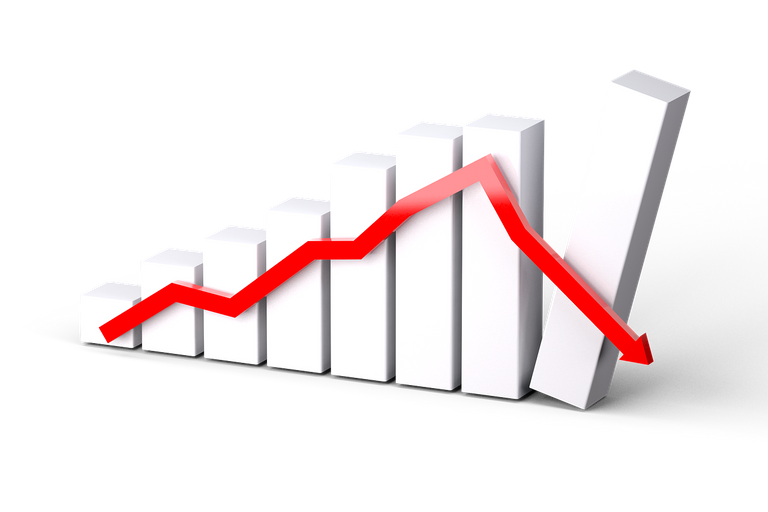 That quick spike from $17,600 to $22,000 must have been a huge relief to you. Most altcoins were still left in a pool of blood, so I guess not. You'd have made some quick gains if YOLOed into Celsius after that big crash; but never mind, that was a big risk to take anyways. Sam might have bailed out a few drowning projects, but he might have to do that over and over again if he wishes to regain his $30 billion net worth. I'm not sure how much he cares about that but being on the Forbes list is huge flex.
Cryptocurrency billionaires are fast dropping down the list while Micheal Saylor continues to tweet "1 Bitcoin = 1 Bitcoin". Well, that's mathematically accurate. Not sure if that level of brilliance will stand a proper logical test anyways. Since cryptocurrency projects are enjoying bailouts now, Luna should be considered for the (federal) bailout too. It appears we are no different from the big techs at Silicon Valley posting billion-dollar valuations and feeding on the federal reserves through constant bailouts. Cryptocurrency teams should learn from the Terra community; once a project fails, mint new tokens…easy.
You might think the bears are fucked, but nope, even your friends think otherwise…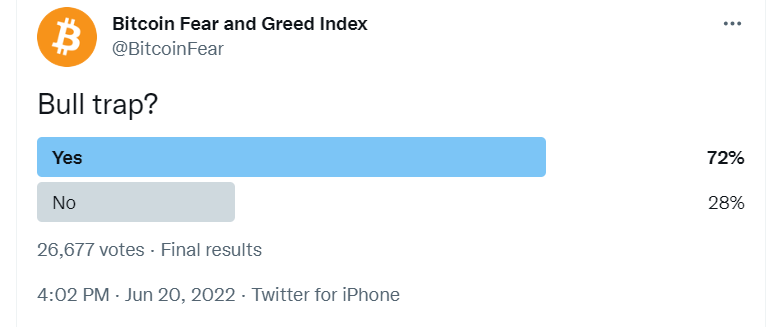 But never mind, a dummy Twitter poll is hardly an efficient decision-making tool. The bottom is near if the people think otherwise. Not financial advice, at all. Human greed – the most important catalyst of cryptocurrencies' price growth is at an all-time low.
Negative numbers should be added to that scale; we might need it sometimes in the (near) future.
Since breaching $65,000; bitcoin has been only but a shadow of itself. As usual, the rest of the space has reacted to its constant drop with even more brutal falls. The falling streak dating back to when bitcoin broke the $30K resistance ended with an audacious jerk from $17,000 to $21,000; it has been dangling between $19,800 and $21,500 since then. Frequent pushbacks and jerks are keeping the bears and bulls in limbo. That impressive green candle might send survival signs, but it is not over…at least, according to relevant indicators.
Apart from the charts looking eager to move energetically in both directions; psychological and economic indicators suggest impending red candles. Albeit a convincing bounce from the point below $18, 000; it appears bitcoin is just continuing in the same pattern it has maintained since breaching the $40,000 resistance. Charging upwards for a short while and crashing even more. This move might unfortunately continue until it bottoms completely around $16,000.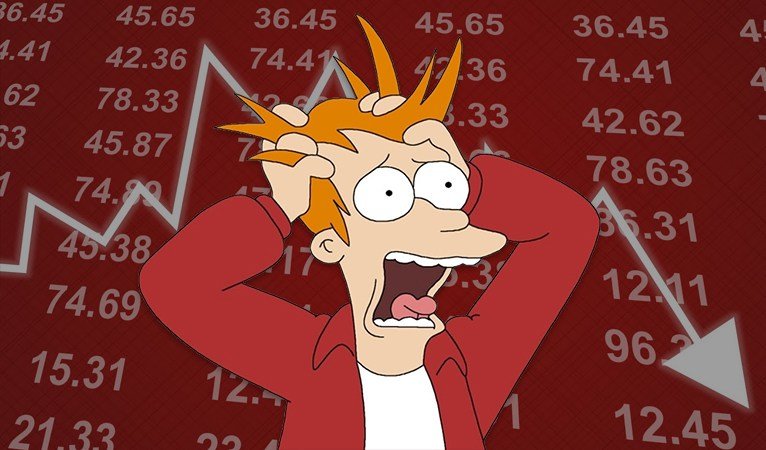 The current volatility is a pure indicator of poor liquidity. Following economic crashes worldwide and a series of mishaps in the crypto space; investors are scared to place more bets on bitcoin and any other cryptocurrency. Not just cryptocurrencies, mainstream institutions are recording drops in revenue amidst a wider economic meltdown. Bitcoin and other cryptocurrencies appear to be getting a share of the dip. The more brutal effect on cryptocurrencies is a result of the volatility which is custom to the crypto space and a widespread scare due to the failure of some 'reputable' projects. A few of them we discussed here
The bear market is an important event, whether this one is healthy is a more tricky question. Anyways, bitcoin has a record of coming alive when you pronounce it 'dead'. This will certainly be another instance. However, the bear market could burn even the strongest hands at some point. The $16k level could just be it. The bears are having a good time, no doubt; they might reign for even longer. A move to $25,000 is also feasible, but even if that happens, it is far from over.
Follow up with CRYPTOCURRENCY SCRIPTS to stay refreshed in crypto space with comprehensive articles and important tips.
Hire a freelance writer
Posted Using LeoFinance Beta
---
---