A computer, the Internet and a brain...
Without going too far back, a look back at a decade is enough to tell the rate of household computers have seen a steady increase, smartphones inclusive one can look at next door neighbor to ascertain this. A screenshot of the graph below also helps in detailing the growth rate of household computers between 2005 and 2019. Basically over the years owning a computer has been on the increase.

Source
As of January 2021 there were 4.66 billion active internet users worldwide - 59.5 percent of the global population. Of this total, 92.6 percent (4.32 billion) accessed the internet via mobile devices.
Source
The number on global internet users isn't that impressive but promising, a lot still needs to be done in the rural areas in proving cellphone towers to access the internet.
with these data and common observations it will be safe to say the use of computer, smartphone and the internet is bound to keep increasing.
I had my fist laptop back in 2012, it was for the purpose of online studies back then and that was basically its use to me, subsequently I used it for the normal day to day use of a computer with or without internet.
The same can't be said these days, computers and smartphones now serve purposes other than office related work, it is no longer only used by specific class of people.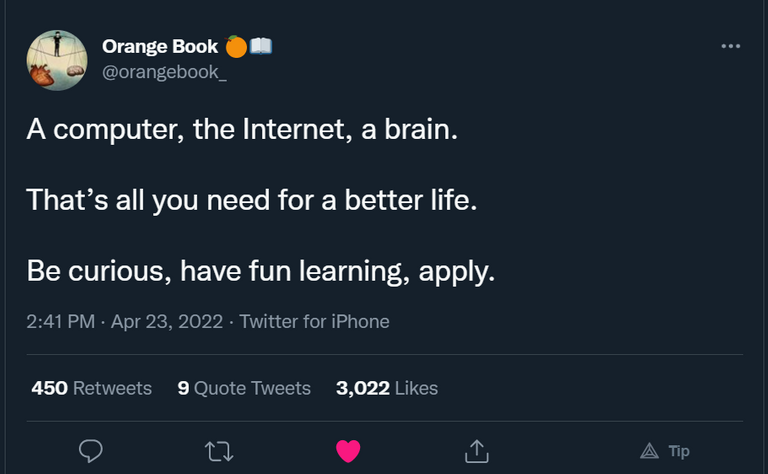 Orange Book is a Twitter user I follow for the inspirational tweets, the above tweet resonates with me especially in relation to Hive. Haven look at the accessibility of the internet and computers/smartphones, one certainly has to put the brain to work in seeking opportunities online and get involved. This is where Hive's Proof of Brain mechanism in place distributes rewards to consumers and content creators from the reward pool.
Interesting how the first line of the tweet described Hive.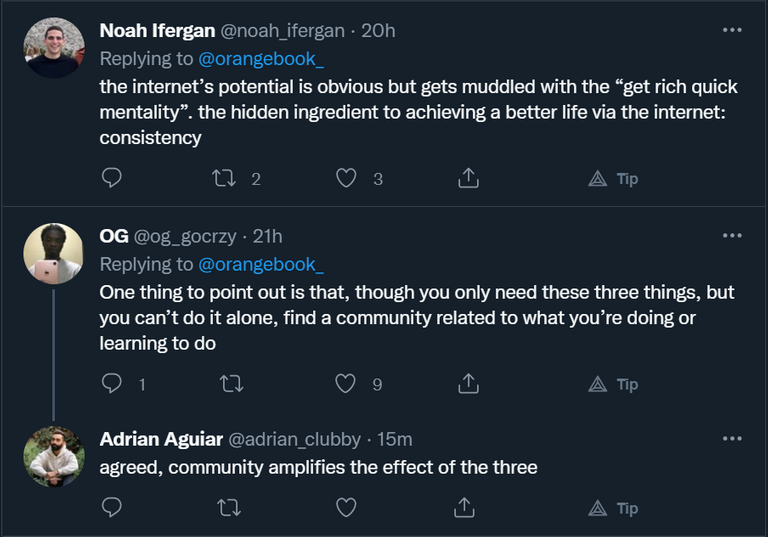 Noah's response is another fit for Hive, disappointment is what you will get if you come here looking to get rich in a quick, we get rich slowly and progressively on here with one being consistent to get results.
OG and Adrian's response on community, Hive is nothing without myself and you, we form the community, we are a bunch of like-minded folks converged here for common goal.
This was a tweet the moment I saw it, I liked it and told myself I will be coming back to it since I was busy. The world have come a long way, in terms of development. While the state of happenings around the world like war, pandemic, inflation aren't encouraging, developments in technological side of things exhibits opportunities that are capable of being beneficial to those who take advantage of it.
Tweet source


Gif by @mariosfame
We owe it to ourselves to make Hive great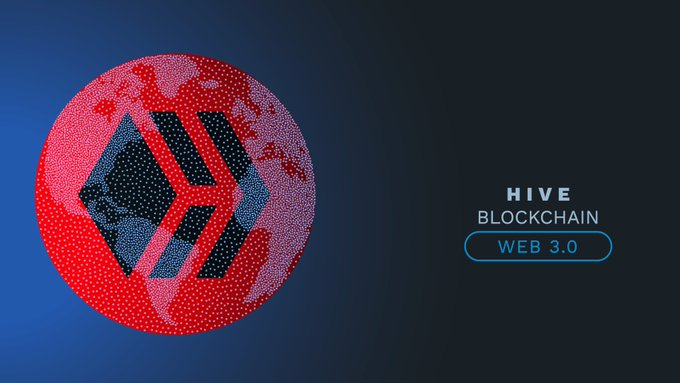 Image by @doze
Posted Using LeoFinance Beta
---
---