Nigerians Decide - 25th February, 2023. Go and Vote!
Tomorrow, Nigeria is about to make history that can never be easily forgotten. The nation, Nigeria will choose a leader who would preside over her for four (4) years.
---
---
As a Nigerian, it is a moment I have been waiting for; I've hidden my choice for long, today, I feel I need to tell it out. Hoping that once I tell the world, my fellow Nigerians who seemed indecisive can join my path.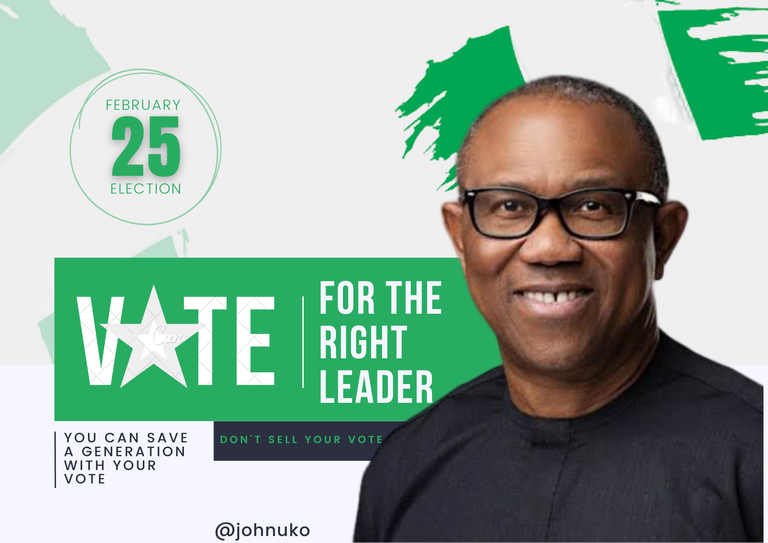 PETER OBI is my choice - I owe nobody an explanation of my choice.
All I can say is, vote your conscience. Don't be afraid to go out there and vote, four years reign is a long one. I don't wish affliction to reoccur. I've been apathetic for so long, now I'm concerned about our government. A lot has happened these few years, but we survived. Every Nigerian is a hero! We have fought so hard to survive.
Please with our last energy, let's save our next generation by voting. This is our only offer to them; the blood of our innocent brothers and sisters during the #EndSARS is enough to push us to vote tomorrow.
I love Nigeria! I believe in my country!
There's hope in this land.
As for me and my household, we vote for Peter Obi. You have your own choice to make.
May God protect all Nigerians during tomorrow's election.
Peace ✌️
I am Edet, John Uko. A patriotic citizen of Nigeria who's currently a student in the University of Uyo. This happens to be my first official post in this community. I can't wait to make more friends in this community, especially with #Hive Nigerians.
THANK YOU FOR READING
NOTE: The above picture was designed with canva.
---
---