FAMILY WEEKEND [ENG-ESP]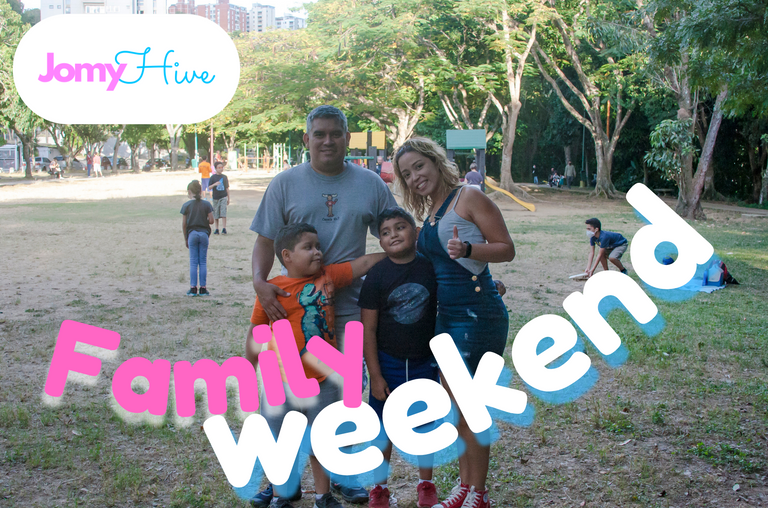 How nice it is to get out of the house and get out of the routine during the weekend!
And even more so when you have a family because it is essential to change the environment and routine. It is during these weekend outings that we recharge energies to face another new week full of vigor and good vibes.
Last weekend I went with my husband and my two children to their favorite park, Vizcaya. Although it is not really close to where we live, we prefer it also because it is quite safe and has different play structures for the kids to have fun while also exercising and interacting with other little ones.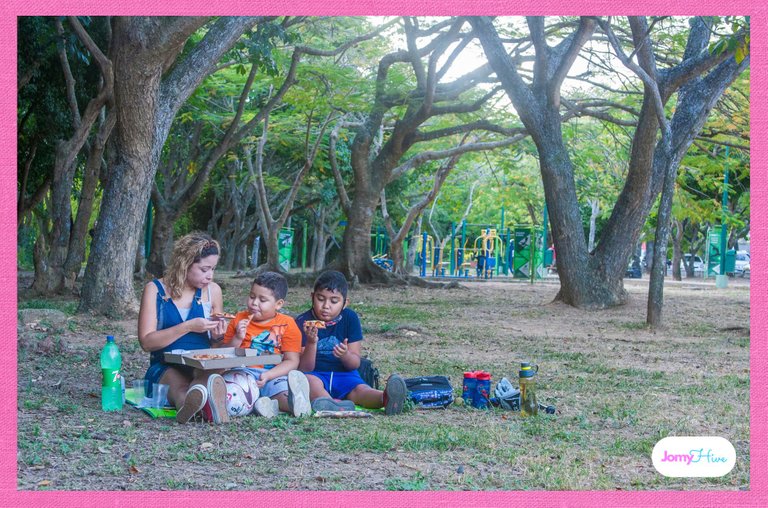 My kids and I enjoying a delicious pizza in the park. In the background, you can see an outdoor gym.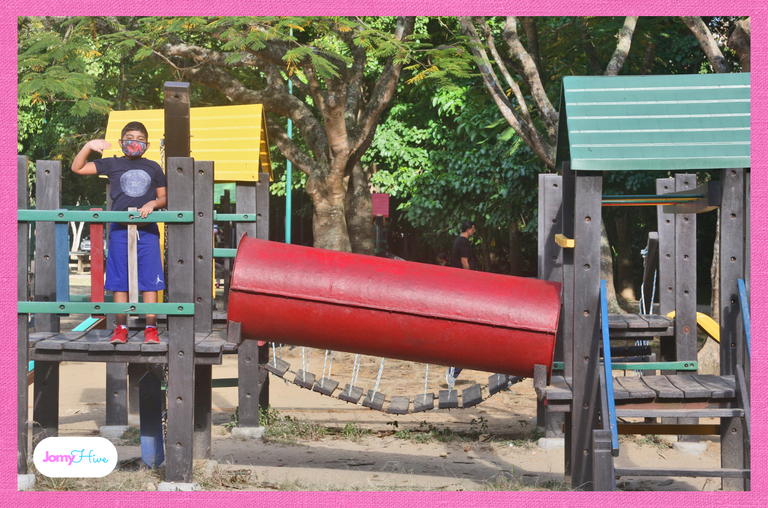 My oldest son using part of the park facilities.






It is quite a busy place, not only for the locals and not only to take the kids because it also has a variety of outdoor exercise machines, walking paths for biking, jogging or just for yoga and meditation.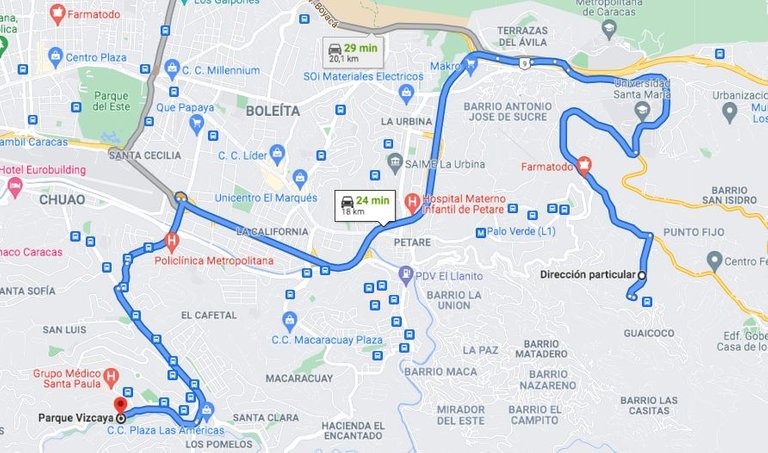 Screenshot of the map in GoogleMaps.




Usually, a lot of people go there on a different Sunday, some decide to exercise, others just walk, sit and chat, sunbathe or look at nature. I have sometimes practiced there my exercise routines or yoga, but this time we went there to share with the family and for the children's recreation.
For the kids, there are slides, swings, tubular slides, hanging bridges, stairs, and plenty of free space to play any sport or just to run around and have fun. Some people bring chairs or yoga mats to sit on the grass and rest while the kids play. You can also bring snacks, some fast food or bring prepared food and have a picnic outdoors. It is one of those few free admission places that you can still visit and have a good time.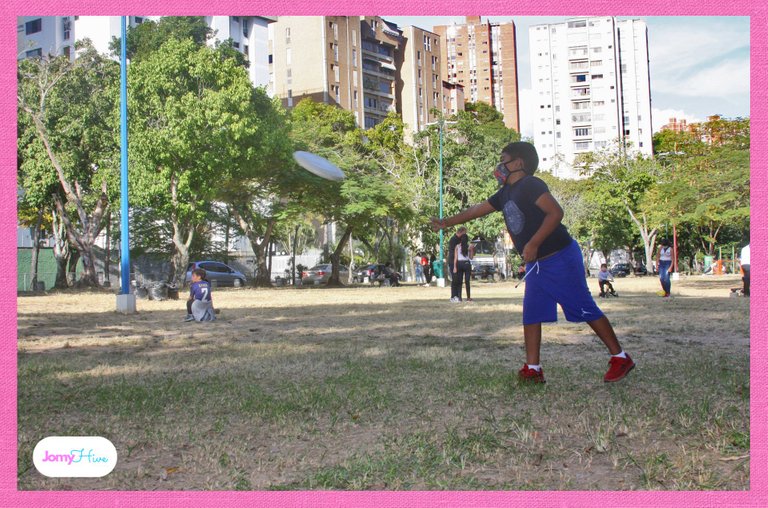 Enjoying a sunny day.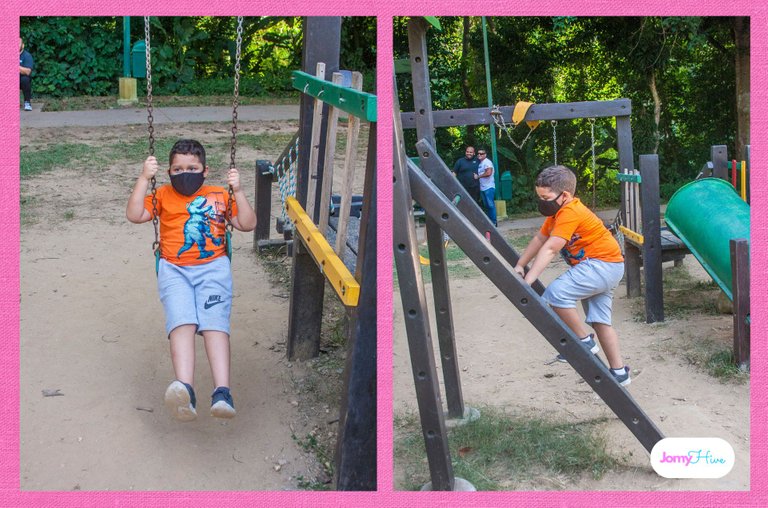 My youngest son enjoying himself on the swing.







That day we didn't want to cook, enough that we do it during the week and I wanted to rest, so while my husband went for a pizza I stayed with the kids. As soon as we arrived and settled in, other little ones arrived to invite them to play. Obviously, they happily decided to make their own environment. I left them while I sat on the mat breathing fresh air and supervising what they were doing.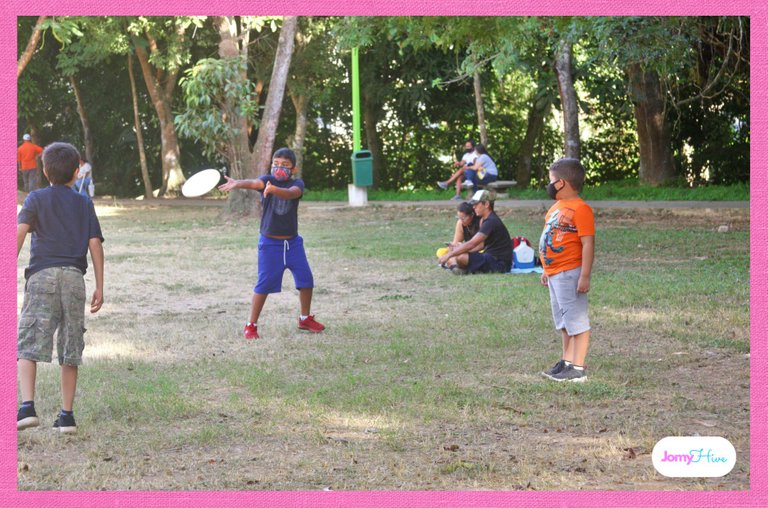 They started playing with a frisbee. They were having a great time.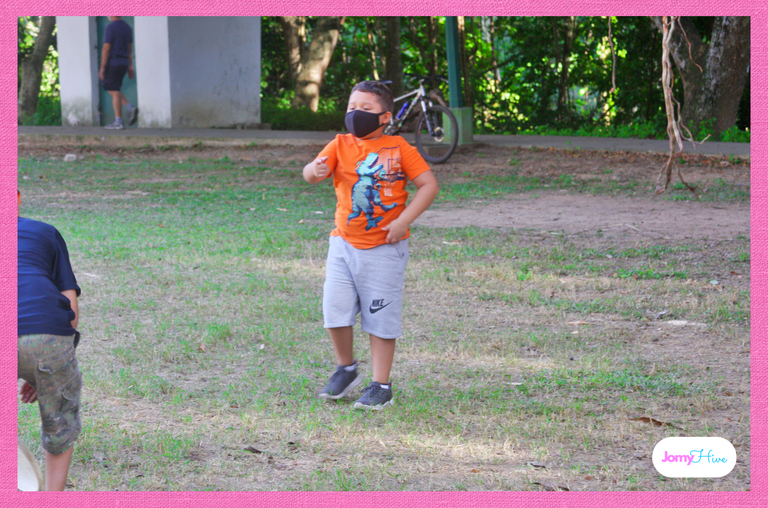 My youngest son playing frisbee.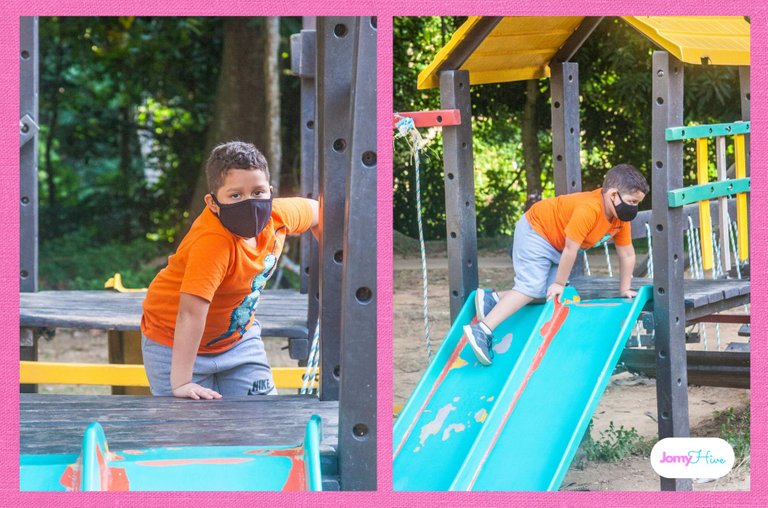 My youngest son enjoying the slides.




Then my youngest son, who was a bit tired, wanted to rest with me, so we took advantage of the moment to take some selfies. Then, my older son joined the party and participated in the photoshoot 🤣. They decided to eat some cookies and drink some water, that is, they recharged their energy to continue playing 🤣.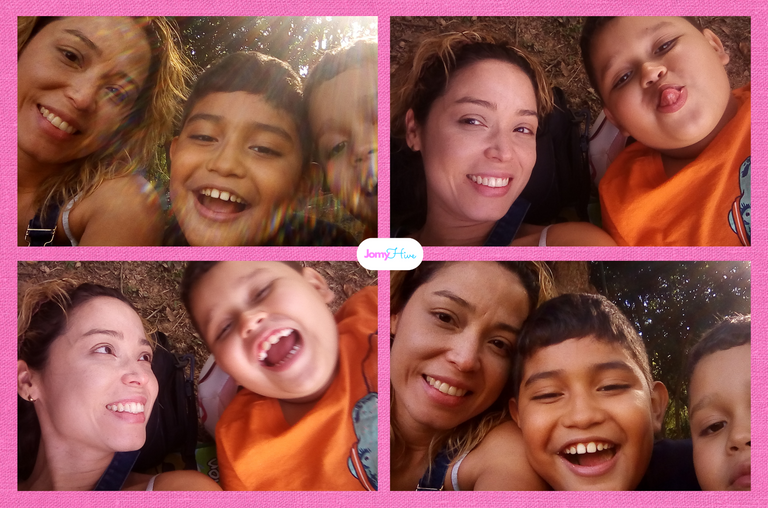 Taking fun selfies while we were resting 😍.







After a while, my husband arrived with the pizza. We were already hungry 😂 and the kids didn't eat, they devoured the slides in no time.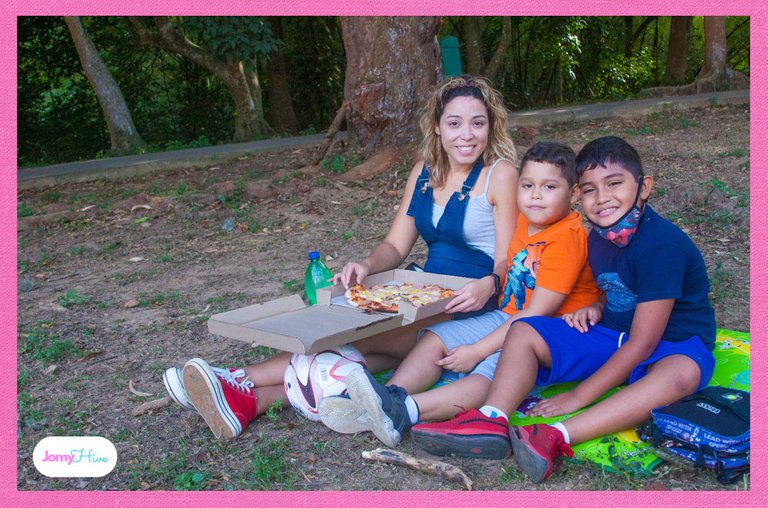 Enjoying a nice pizza.






My husband and I take the opportunity to talk, see and comment on how big our children are and how fast time goes by. These moments are important because they help strengthen family ties. It was a moment of relaxation, we recharged our energies to face the daily routine of the week again.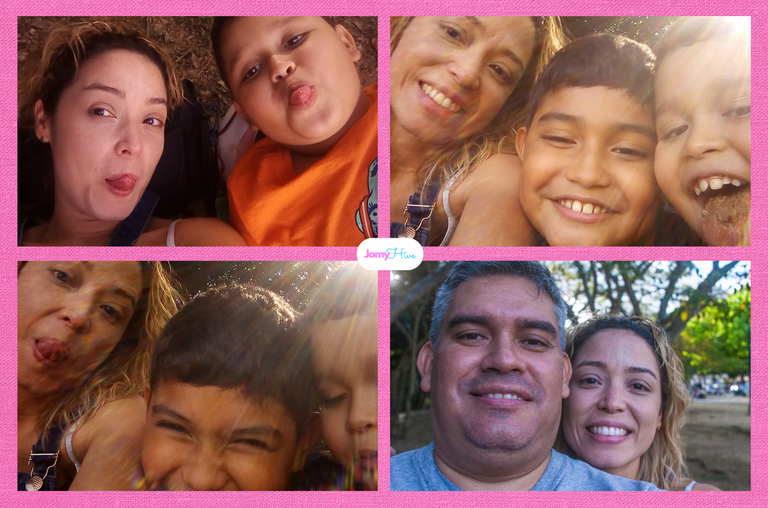 Enjoying a family day ❤️.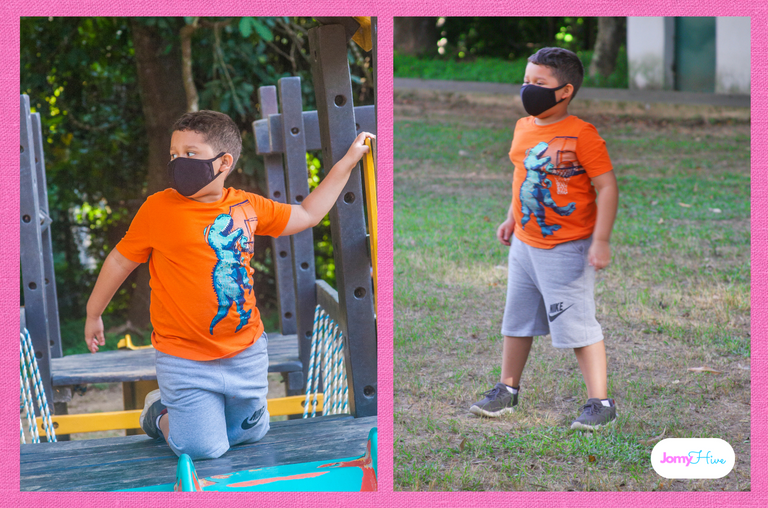 Pictures to remember.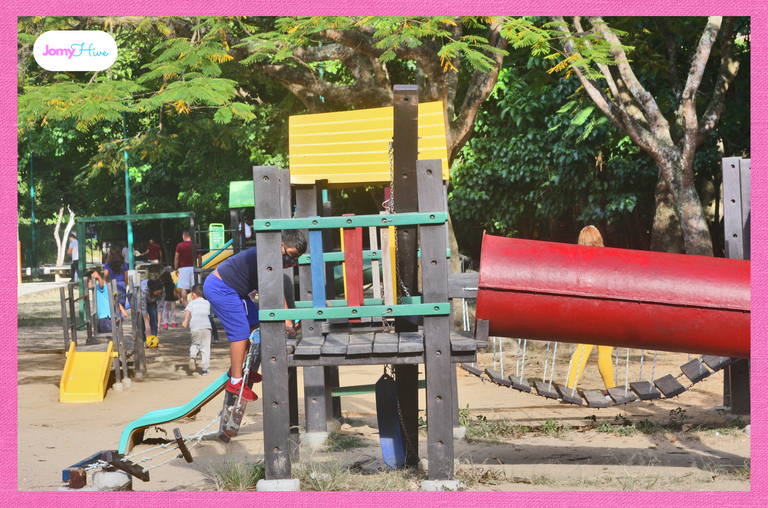 My oldest son climbing the stairs.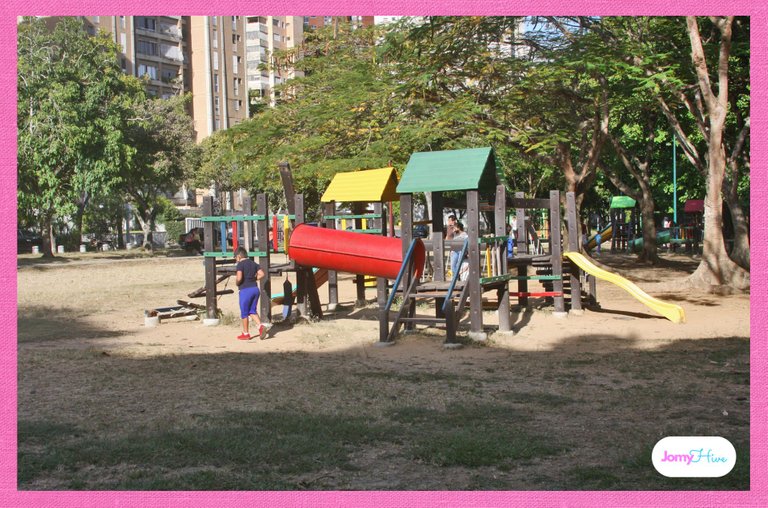 In the background you can see the park and its facilities.


So my dear Hivers make the most of your weekends with your loved ones.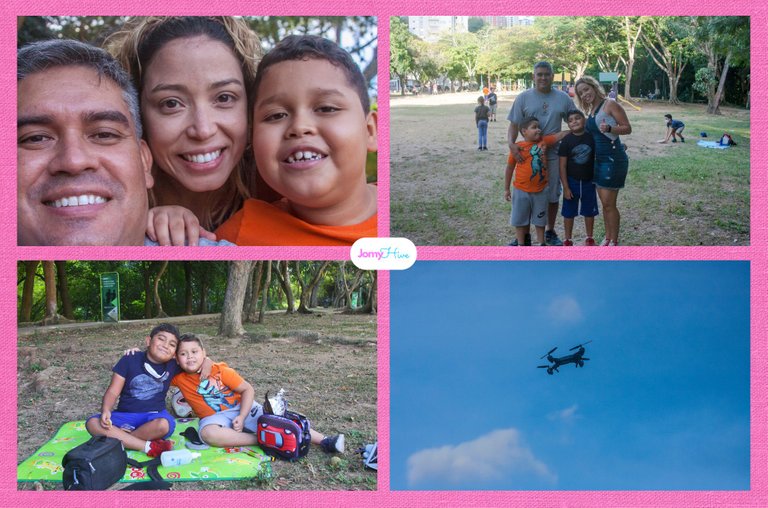 I hope you liked my content and see you in the next post.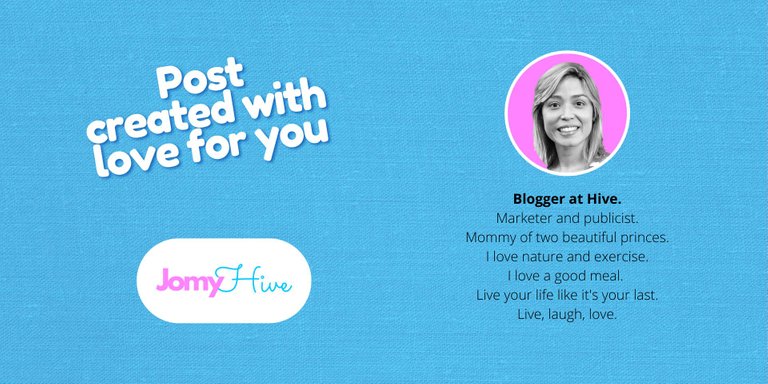 All photos are my own.
Photographer: @charsdesign and @jomarbym
Camera: Canon EOS 40D and Cellular Blue Studio 8H
Photo editing: Adobe Photoshop
Banner creation: Canva
Jomy Hive logo design and dividers: @charsdesign with Adobe Illustrator
Translator free version: DeepL
Location: Vizcaya Park, Caracas, Venezuela
AHORA EN ESPAÑOL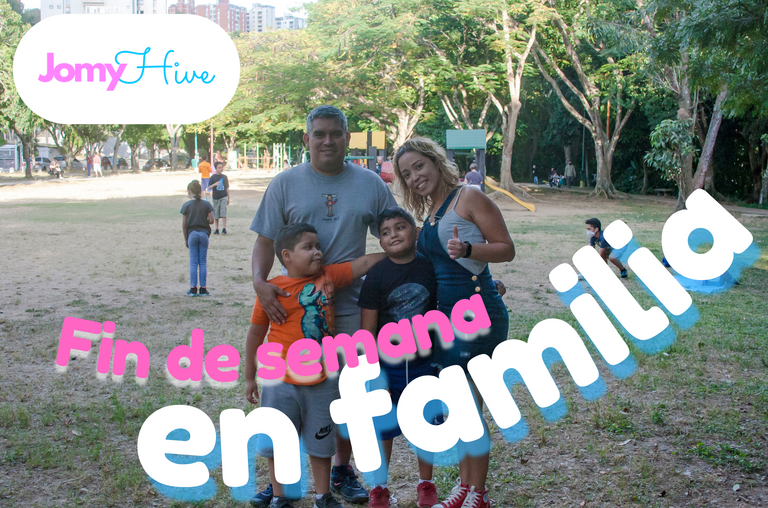 ¡Qué rico es salir de casa y salir de la rutina durante el fin de semana! Y más cuando se tiene familia porque es primordial cambiar de ambiente y de rutina. Es durante estas salidas de fin de semana que recargamos energías para enfrentar otra nueva semana llena de vigor y buena vibra.
El pasado fin de semana fui junto con mi esposo y mis dos hijos a su parque preferido, Vizcaya. Aunque no nos queda realmente cerca de donde vivimos, lo preferimos también porque es bastante seguro y tiene diferentes estructuras de juegos para que los niños se diviertan mientras además se ejercitan e interactúan con otros pequeños.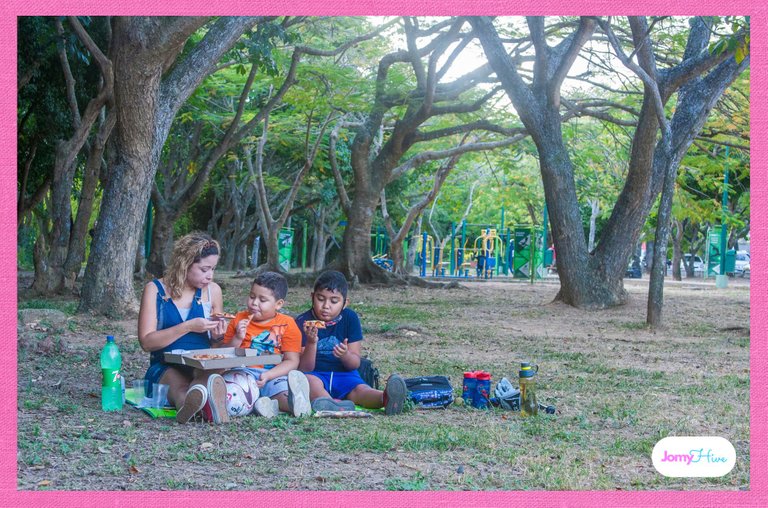 Mis hijos y yo degustando una rica pizza en el parque. Al fondo se puede apreciar un gimnasio al aire libre.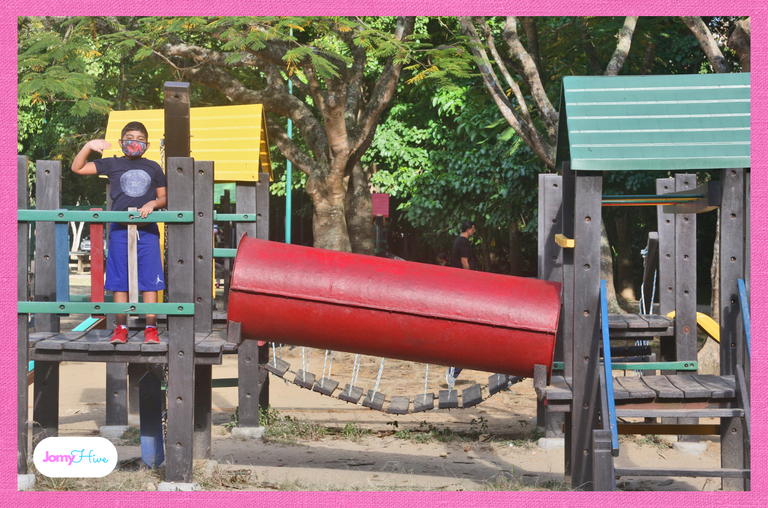 Mi hijo mayor usando parte de las instalaciones del parque.






Es un lugar bastante concurrido, no sólo por los vecinos del lugar y no sólo para llevar a los niños porque además también cuenta con variadas máquinas de ejercicios al aire libre, caminerías para andar en bicicleta, para trotar o simplemente para hacer yoga y meditar.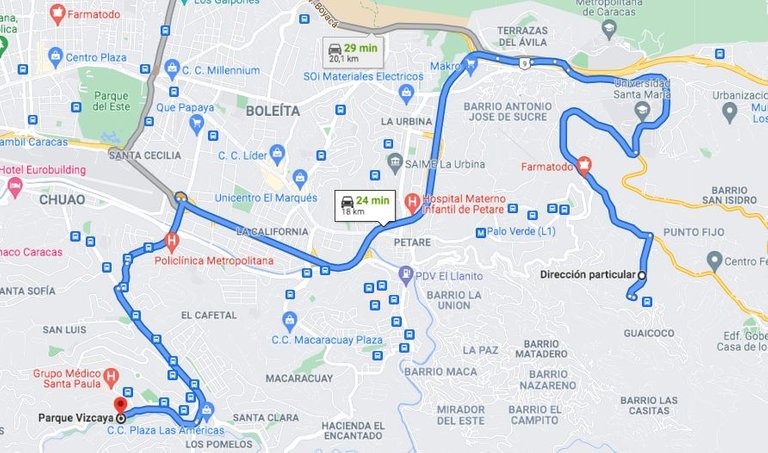 Captura de pantalla del mapa en GoogleMaps.




Por lo general van muchas personas al lugar para pasar un domingo distinto, algunos deciden hacer ejercicios, otros simplemente caminar, sentarse a charlar, tomar sol o ver la naturaleza. Yo algunas veces he practicado allí mis rutinas de ejercicios o yoga, pero esta vez fuimos en plan de compartir en familia y por esparcimiento de los niños.
Para los niños hay resbaladillas, columpios, toboganes, puentes colgantes, escaleras y mucho espacio libre para jugar cualquier deporte o simplemente para correr y divertirse. Algunas personas llevan sillas o alfombras para yoga (mat) para sentarse en la grama y descansar mientras los niños juegan. También puedes llevar snacks, alguna comida rápida o llevar comida preparada y hacer un picnic al aire libre. Es uno de esos pocos lugares de entrada libre que aún se puede visitar y pasarla bien.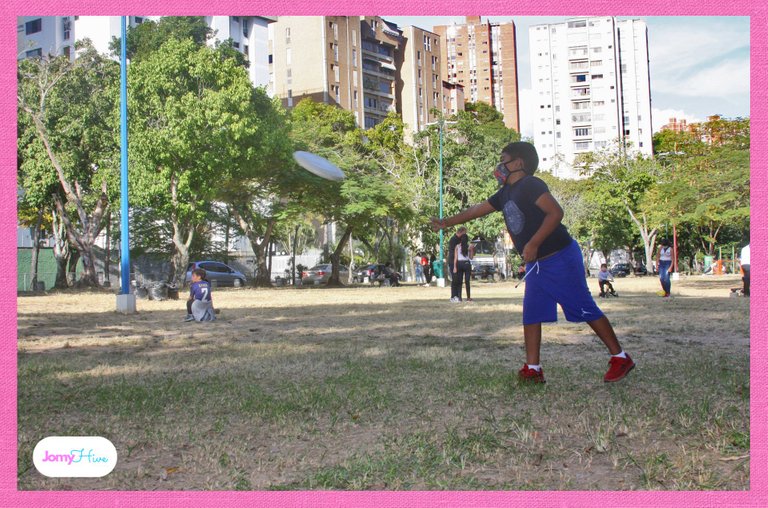 Disfrutando de un día soleado.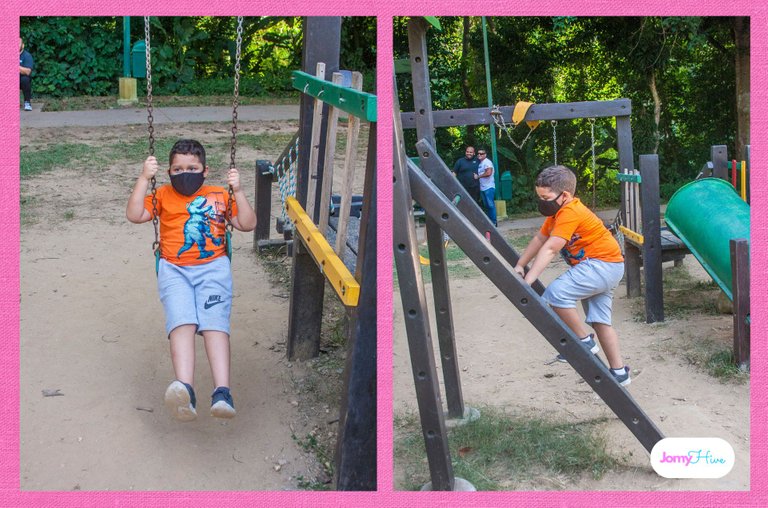 Mi hijo menor disfrutando en el columpio.







Ese día no quisimos cocinar, bastante que lo hacemos entre semana y quería descansar, así que mientras que mi esposo iba por una pizza yo me quedé con los niños. Apenas llegamos y nos instalamos, llegaron otros pequeños a invitarlos a jugar. Obviamente ellos felices decidieron hacer su ambiente. Yo los dejé mientras estaba sentada en el mat respirando aire puro y supervisando lo que estaban haciendo.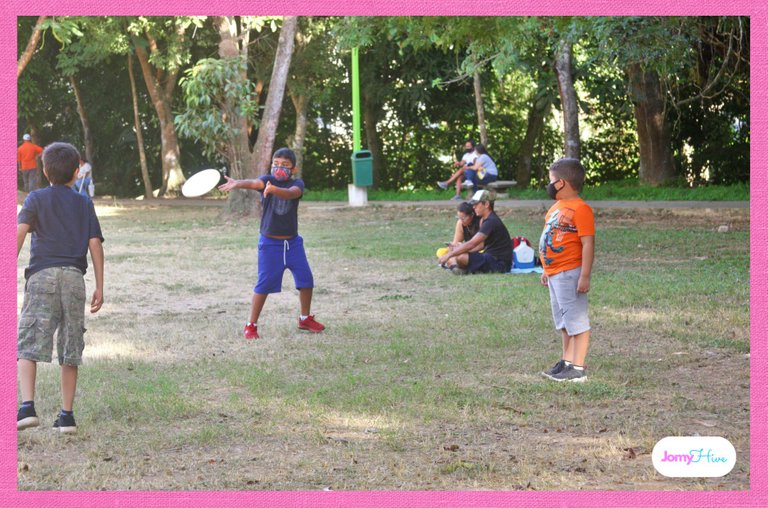 Comenzaron a jugar con un frisbee. La estaban pasando muy bien.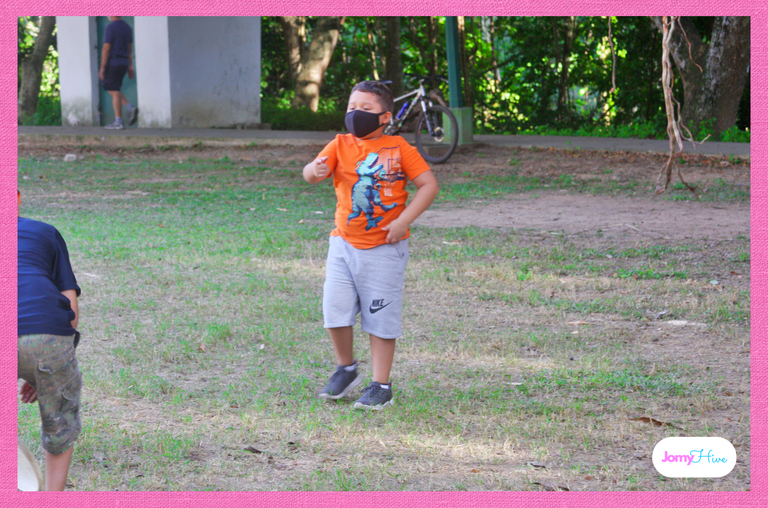 Mi hijo menor jugando frisbee.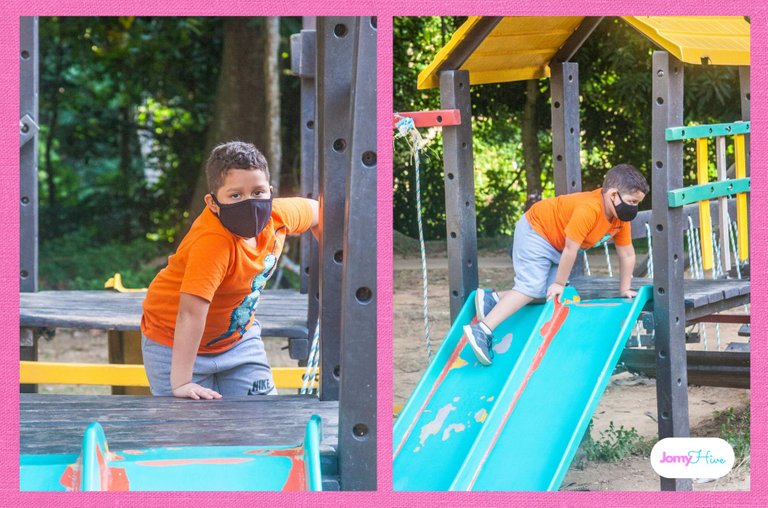 Mi hijo menor disfrutando de los toboganes.




Luego mi hijo menor que estaba un poquito cansado, quiso descansar conmigo, así que aprovechamos el momento para tomarnos varias selfies. Luego, mi hijo mayor se unió al bochinche y participó en la sesión fotográfica 🤣. Decidieron comerse unas galletas y tomar agua, o sea, recargaron energías para seguir jugando 🤣.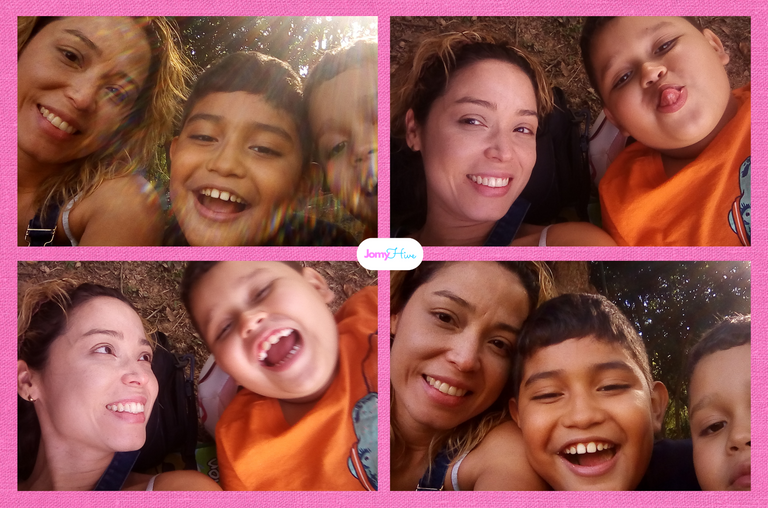 Haciendo selfies divertidas mientras descansabamos 😍.







Al rato llegó mi esposo con la pizza. Ya estábamos hambrientos 😂 y los niños no comieron, se devoraron los slides en un dos por tres.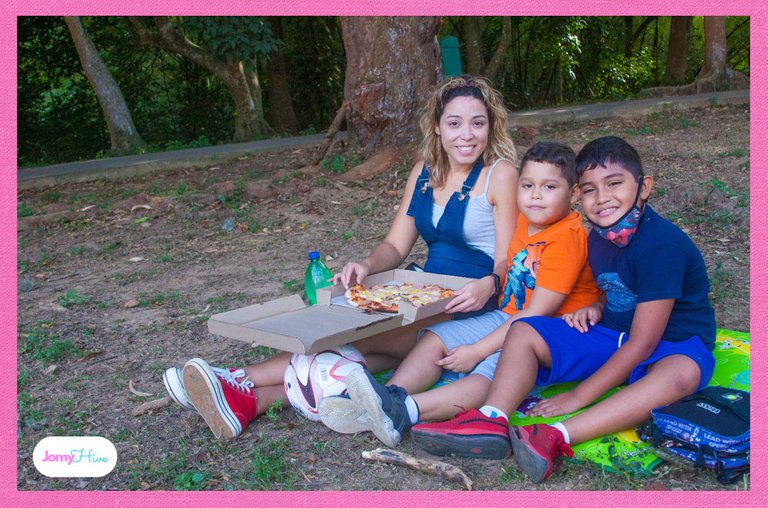 Disfrutando de una rica pizza.






Mi esposo y yo aprovechamos para platicar, ver y comentar lo grandes que están nuestros hijos y cómo pasa el tiempo de rápido. Estos momentos son importantes porque ayudan a fortalecer los lazos familiares. Fue un momento de relax, volvimos a recargar las energías para enfrentar nuevamente la cotidianidad de la semana.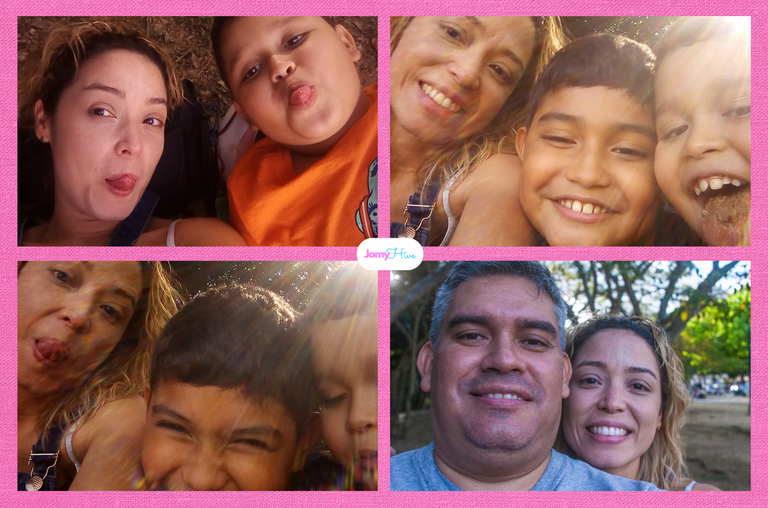 Disfrutando un día en familia ❤️.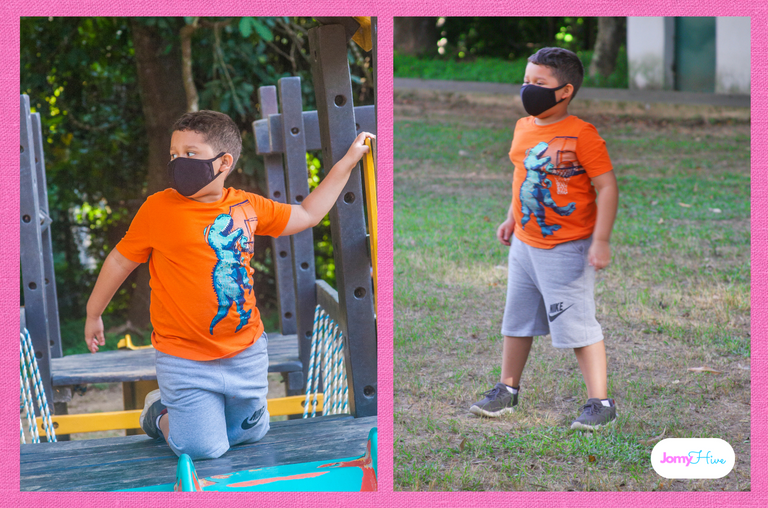 Fotos que quedan para el recuerdo.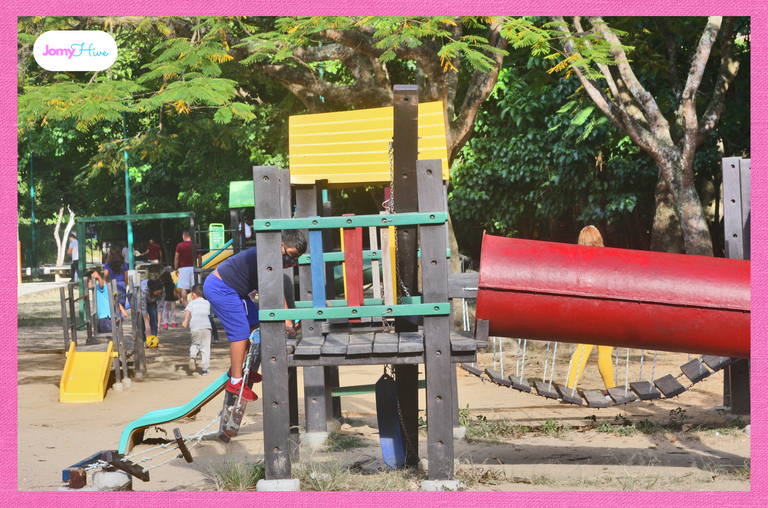 Mi hijo mayor subiendo por las escaleras.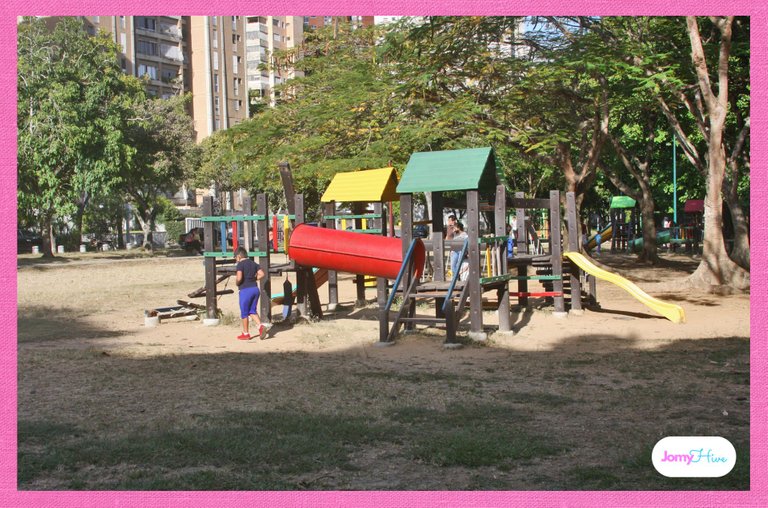 Al fondo se puede apreciar el parque y sus instalaciones.


Así que mis queridos Hivers aproveche al máximo los fines de semanas con sus seres queridos.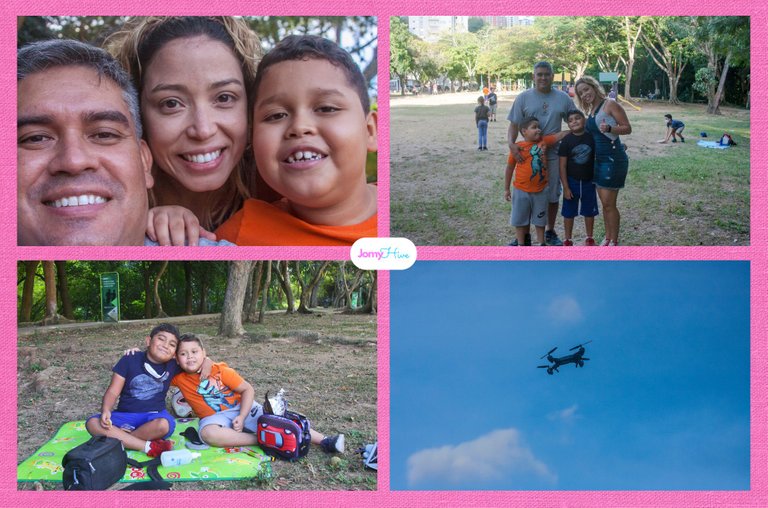 Espero que les haya gustado mi contenido y nos vemos en el próximo post.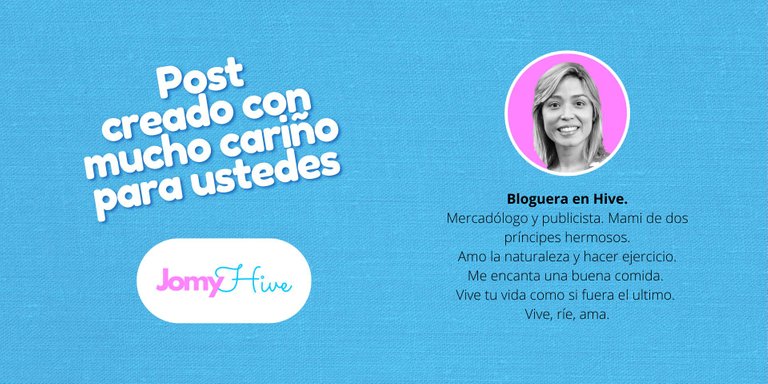 Todas las fotos son propias.
Fotógrafo: @charsdesign y @jomarbym
Cámara fotográfica: Canon EOS 40D y Celular Blue Studio 8HD
Edición fotográfica: Adobe Photoshop
Creación de banners: Canva
Diseño de logo Jomy Hive y separadores: @charsdesign con Adobe Illustrator
Traductor versión gratuita: DeepL
Locación: Parque Vizcaya, Caracas, Venezuela
---
---