PROJECT MONSTER: 101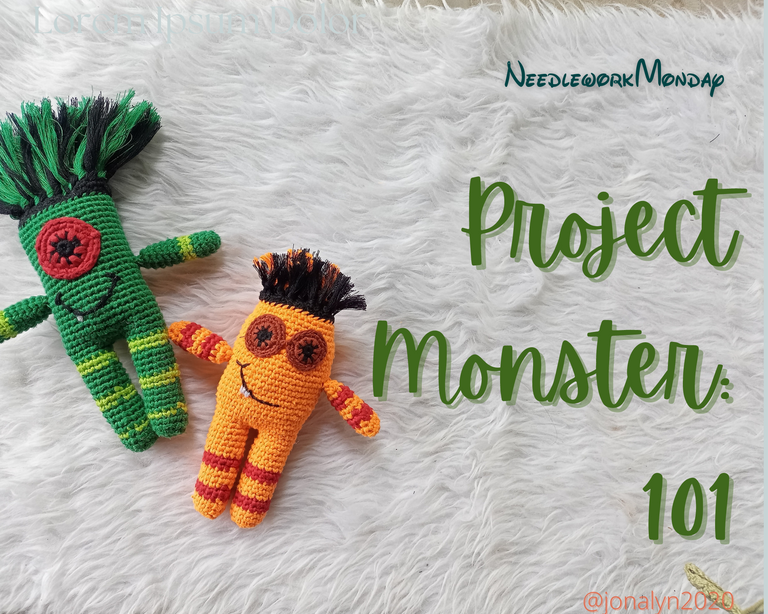 Last Saturday morning, I was excited because finally after a long time, I will be able to crochet something on my list! It's because I'm done already with all the orders and waiting for my customers to pay the remaining balance so I could send their orders.
Wanna know what projects are on my to-do list?
Here are they:
Human size of my doll's jumpsuit that I was able to share here.

Crocheted flower bouquet

Crochet-covered headband with beads

Crocheted top with fabric short - set

Small coin purses like souvenirs

Dreamcatchers

Continue any of my old wips

Trying an amigurumi doll

Crocheted long skirt for myself

Granny squares for dress and bags
These are only the major projects, and there are still more things I wanted to try.
So while I cooked that morning, I checked my phone, open peakd.com, and start scrolling and reading and scrolling again when I saw @crosheille's post on her monster's progress as to what his son had requested from her.
I remember my youngest son who loves to draw monsters and sometimes a robot monster with teeth like venom and having one or many eyes with so many hands. So I was thinking if what will be his reactions when he sees it. But I'm having doubts because I have this feeling that he will surely like it and will keep on nagging me to make one. By the way, I haven't tried any amigurumi yet, so this will be my first time, if ever. And it will be more difficult if he will ask for a robot monster amigurumi. Will it be possible? I doubt it.
My eldest son saw it and told me that I should tell his brother. Then, at that moment, I decided to instead make that day my day of choosing a project on my to-do lists, I preferred doing what will be my youngest son wish me to do. After all, this will be my first time making him a toy made in crochet and I feel guilty.
So, when he was awake, I showed him the pictures that @crosheille had shared (though the wig wasn't sewed on its head yet), and he quickly told me to make exactly the same as what had been shown on the pictures. I asked him if we can make two eyes instead of one, but he choose one eye 'coz it's cute and he preferred 1 tooth also. But good thing he chose the green color as the primary color of his monster.
So after doing some house chores that morning, he then reminded of doing his monster. I got all the necessary materials to begin our monster project. I decided to use my 2.5mm crochet hook so I could finish sooner and double pull my 8ply spun polyester since that's the only type of yarn I had.
It will be challenging on my part since it will be my 1st time. But I have that small idea on how to make those legs and arms so I started with the legs.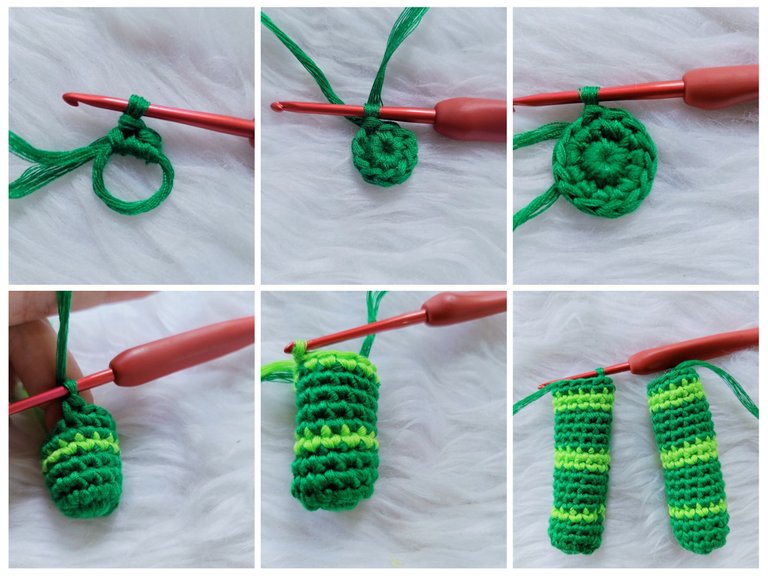 He was so excited that he won't leave on my side and asked me if he could help something. So I let him put some fiber fill on both legs. He used the other end of the crochet hook to push the stuffing inside.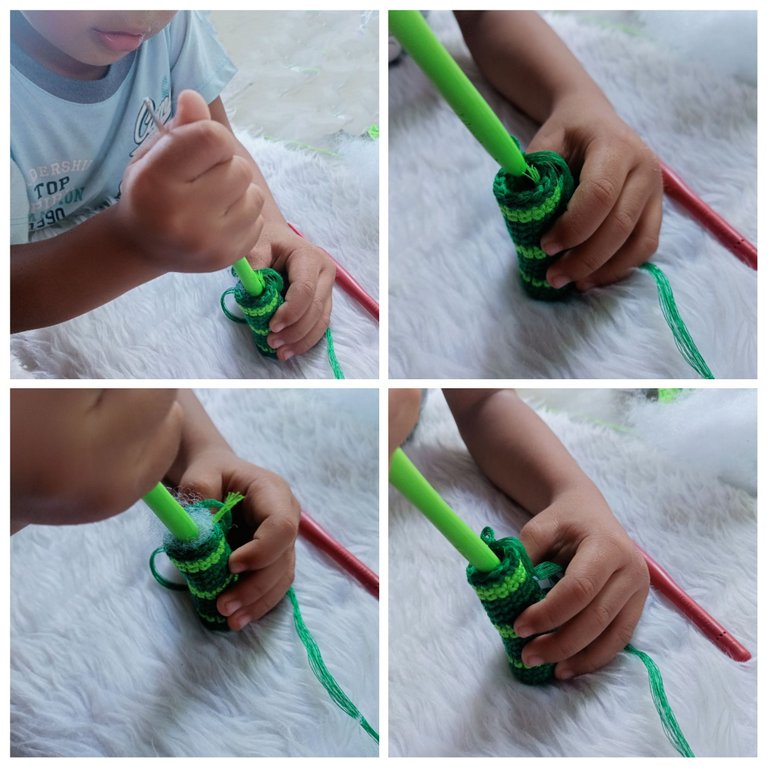 After that, I paused for a while, and stare at only the 2 legs. I wonder how I should connect the two that will go through the body. I checked crosheille's post again and look for the pictures.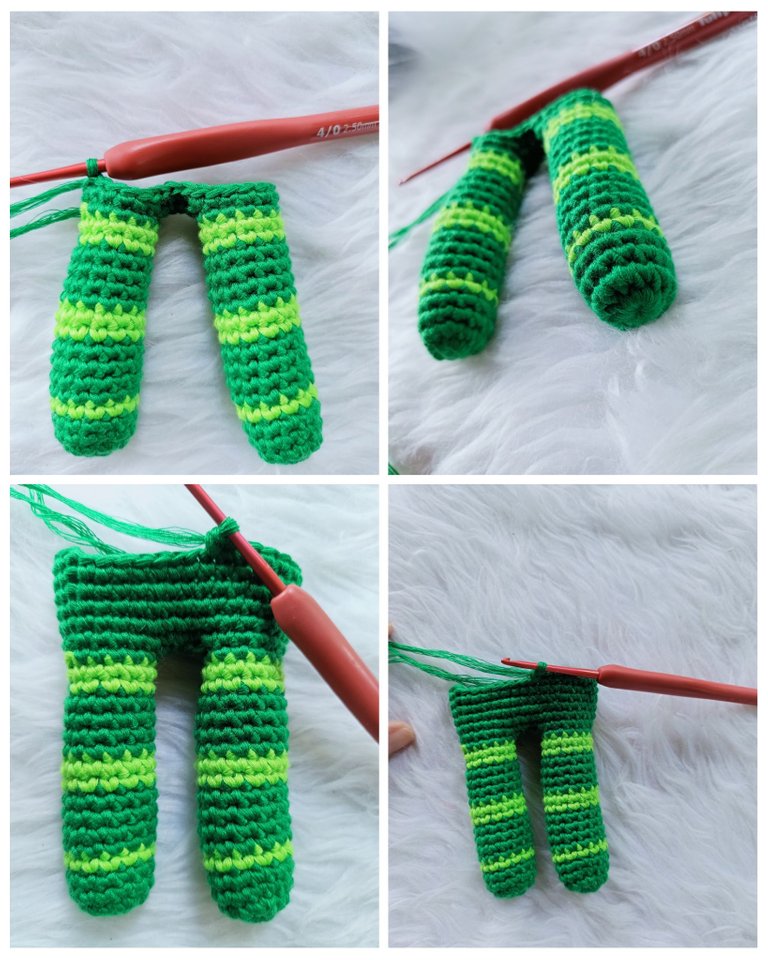 Then started making 4 chains to connect both legs, and start working around. But after working on several rounds, I noticed that the distance between the legs was too far. So I decided to make 2 chains instead of 4. And noticed that it was good enough so I continued.
I also noticed that, as I was making its body, my hand grips tighter while working this thing, unlike the usual crochet wearables I usually make. I paused from time to time to relax my hand because it started to feel numb and painful.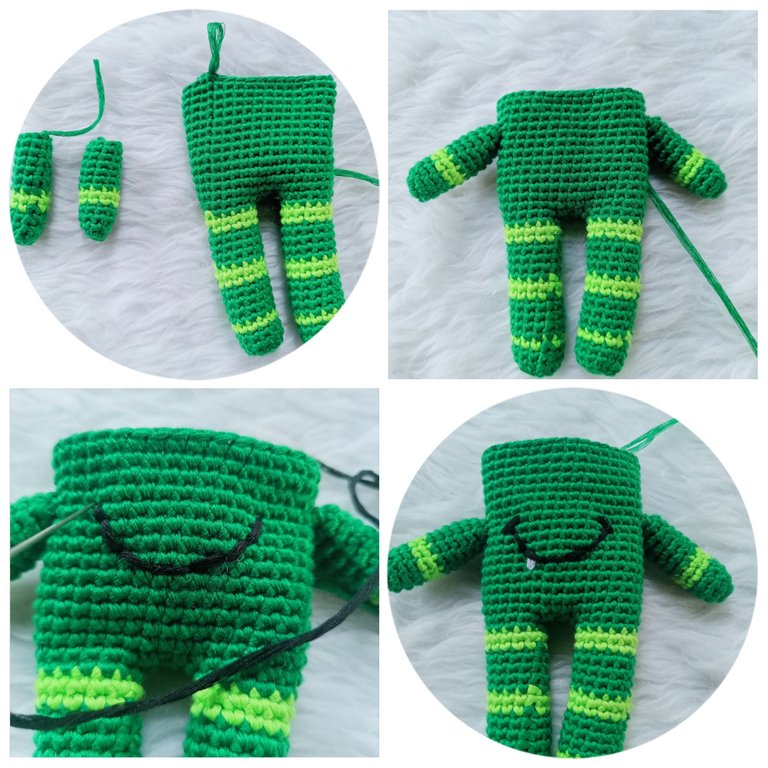 I made two arms and sewed them on both sides then sewed its mouth using black thread with a white tooth on one side.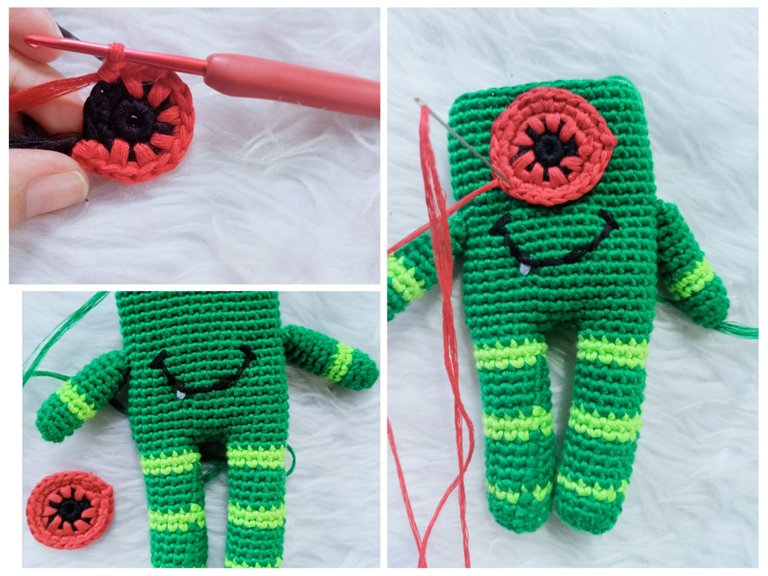 Then I looked again at crosheille's pictures to get an idea of how she made the eye.
Unknowingly, my eldest son (9 years old) was making a detailed drawing with measurements. He just surprised me when he showed me his drawing. I thought that I would be working with 1 monster but it seems that I would be working on 2 monsters! Lol.😅
Anyway, back to this green monster, I also made a wig, a combination of green and black yarn attached to the black base-like head.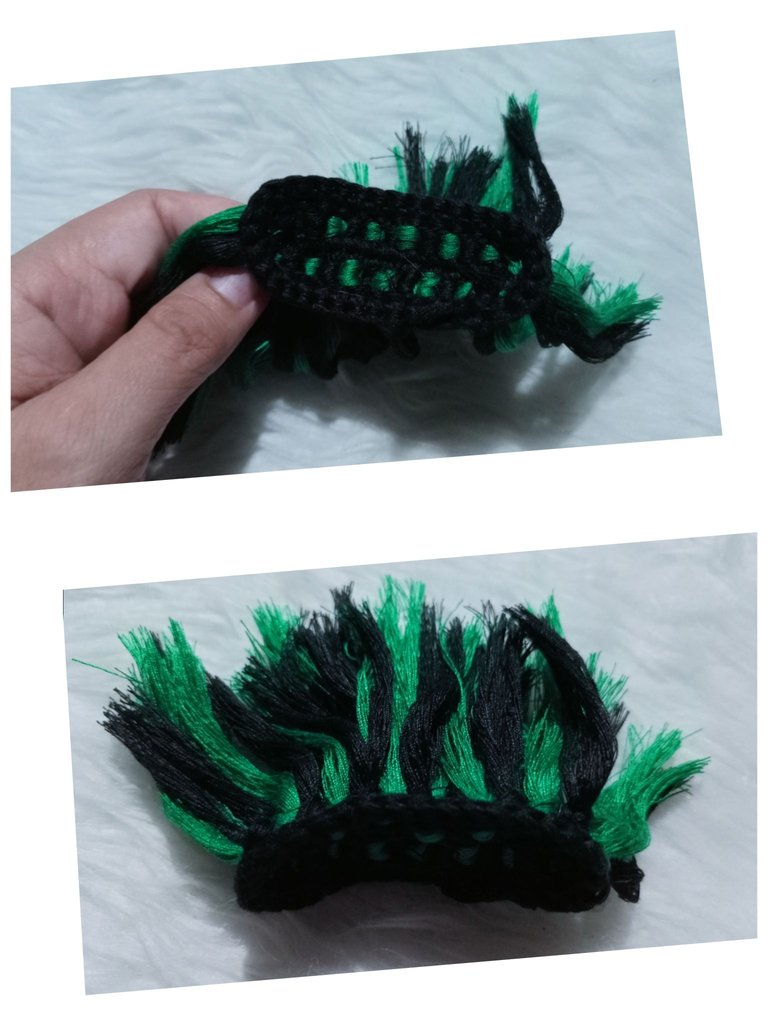 Finally, I sewed the wig on the top opening of our monster.
And yes! I made it! Lol, I was soo happy that finally, I was able to make it. My youngest was grinning also as he received his toy monster. 🥰 I didn't know I was capable of doing it but I think everyone can do it also.
By the way, I asked @crosheille's approval on making a monster inspired by her. Though it was a bit late to ask her permission because I already made the green one, but I think it's better to be late than never. But she told me that it was okay to make one and it wasn't her pattern after all, and that she was able to give the link of the pattern so I could begin my own monster. After she gave the link pattern, I told her that I'm done doing my 1st monster. And I was so thankful for her kind words and action. She was one of my inspirations also in making this monster project, aside from my kids.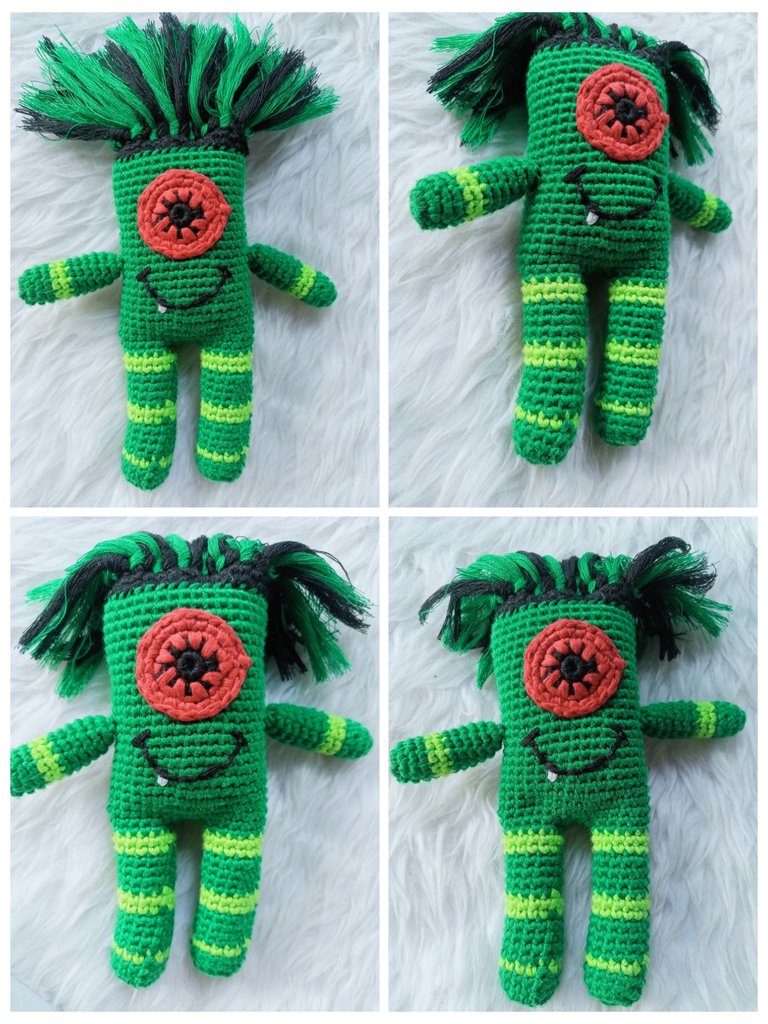 So next in line is the orange monster, as requested by my eldest son presented with this drawing. 😅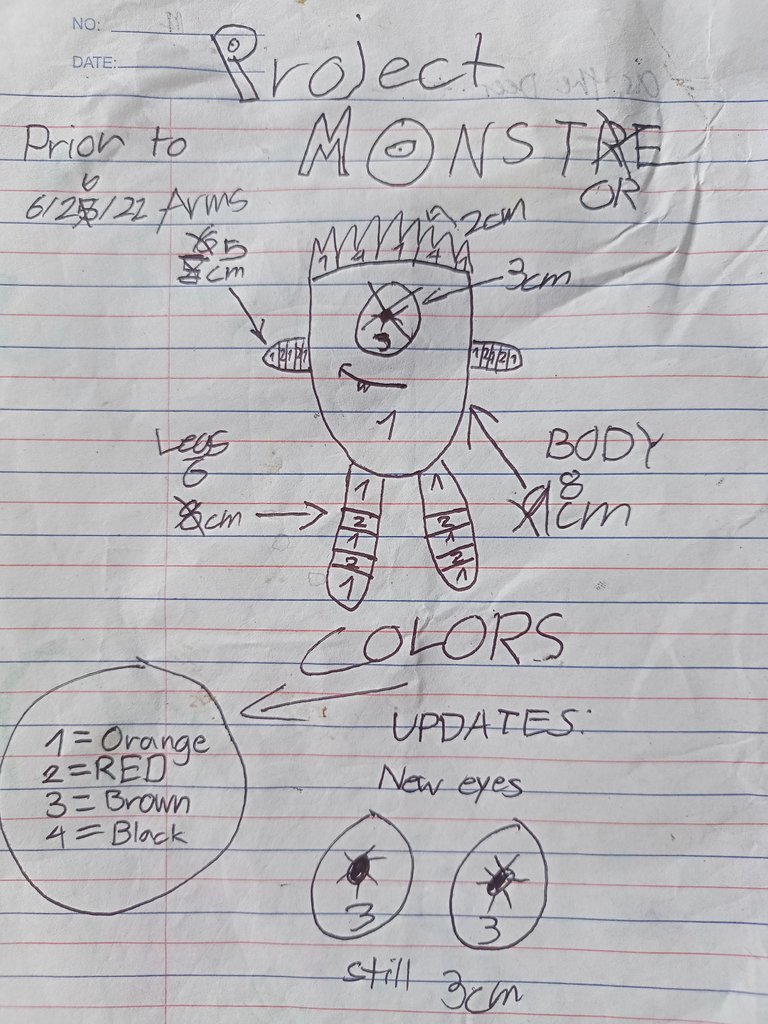 (He even misspelled the word monster, because he said he was too excited to hand me his drawing, lol.)
He made some corrections like having two eyes instead of one eye, and the measurements. He also wanted his hair shorted and his color preference was based on harry potter's scarf (or the color of Gryffindor's house). He loves watching Harry Potter movies all over again and even finished reading all its books. He even named his monster "Harry James Monster".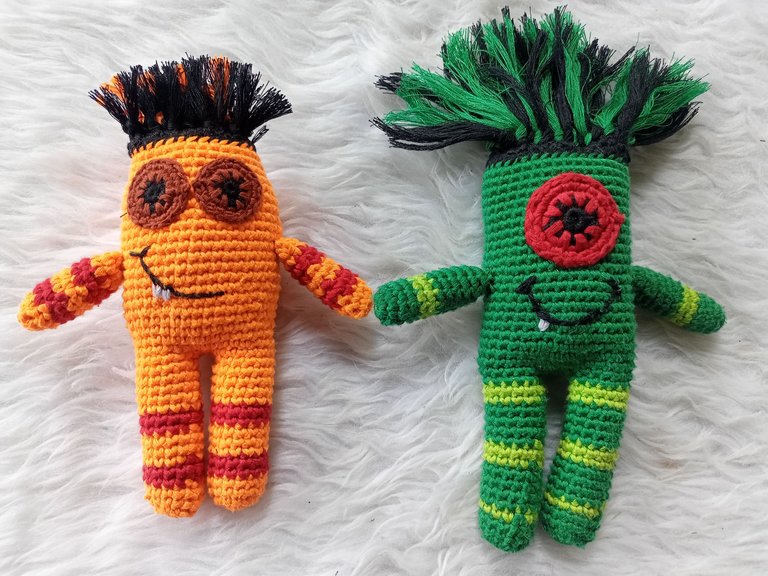 The three of us were having a good time and I feel glad that I was finally making a toy monster for them. After handing the orange monster to my eldest son, the youngest started to ask me again for another monster in a different color!😱 Good luck on me.
If you reached this far, thank you for reading my post and hope to inspire other crafter out there to try making this monsterific project that you will surely enjoy doing with your kids. 🥰
You may check out @crosheille's latest post about the finished amigurumi monsters. She's my inspiration for this post.🥰
Love lots,
@jonalyn2020
*All pictures were taken by me.

Shopee
To God Be The Glory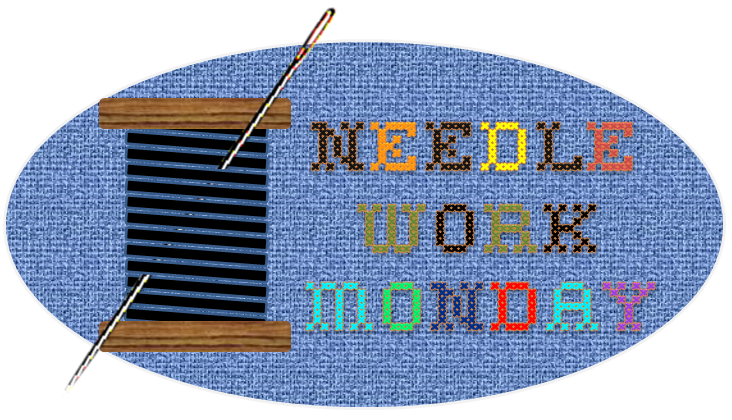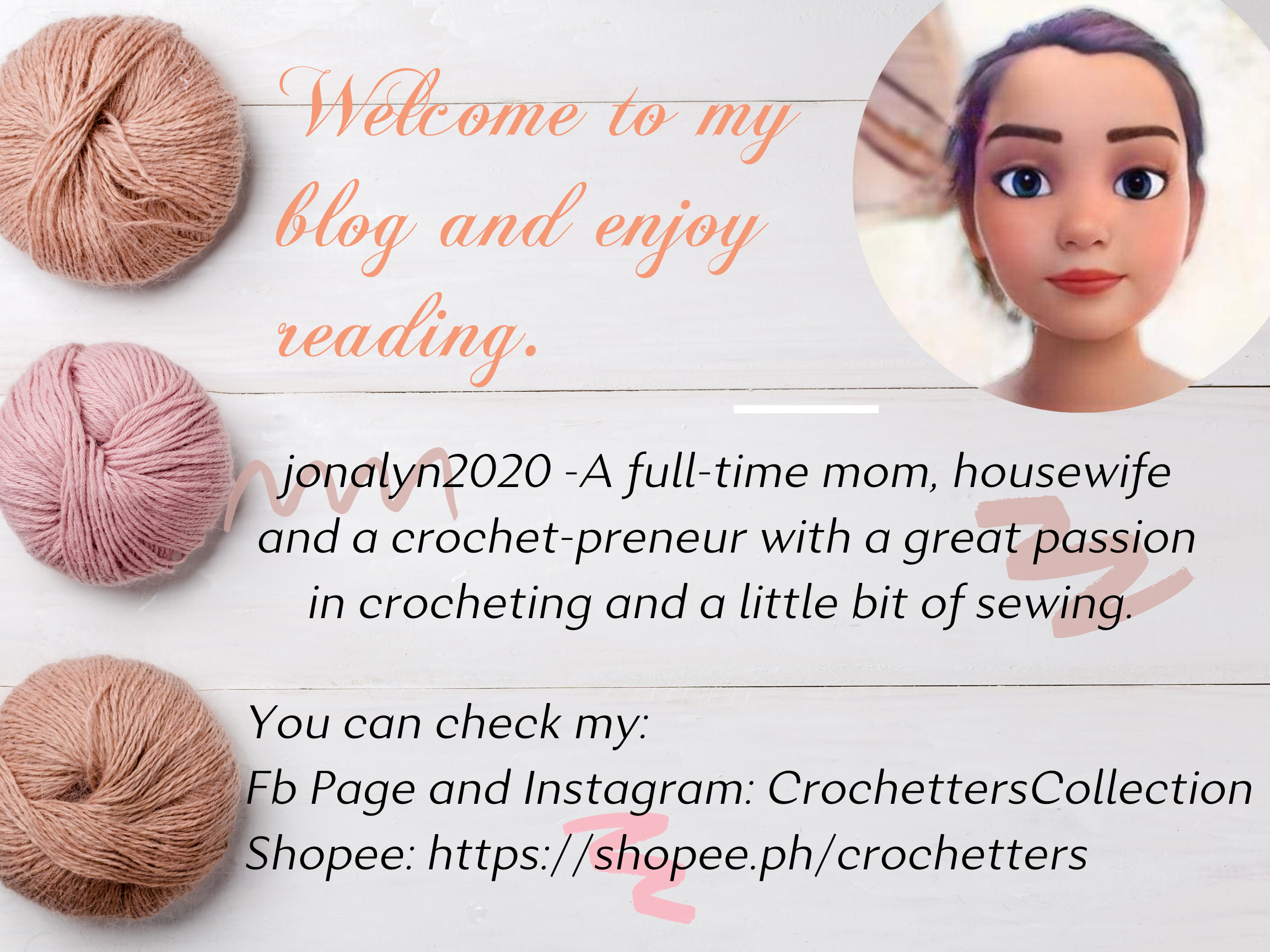 ---
---