December Diaries 01: Christmas Village and Sulbing Dessert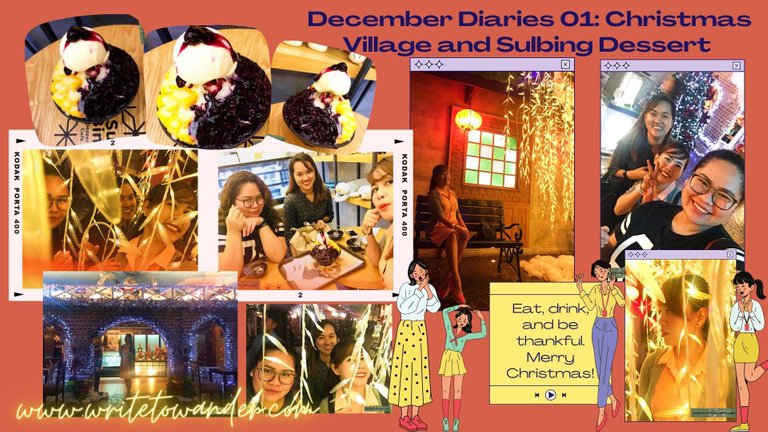 ---
ONCE UPON A CHRISTMAS VILLAGE
Quick Photoshoot with Girlfriends
---
In a few days' time, it is already December! Do you also think that when it's December and as the year is closing, you get transported to the events of the year down memory lane and it hits you as you say, "Wow, where did all that time go? It's like a blink of an eye. Right? Well, you and me both, I can tell you that.
Since it is December already, expect that over the next few blog posts, I will take you down memory lane of my December diaries over the years. 🎄
Here's a not-so-secret secret: I LOVE DECEMBER AND CHRISTMAS!
I do not know if it's the decoration or the songs or the warm air, but as soon as it is December, I find myself feeling all sorts of fuzzy blissful feelings, and I am in love with life as it is. That may sound "cheesy" or an exaggeration but what can I say, I'm a drama queen lol. But seriously, dearest reader on the other side of the screen, I cannot properly explain how or why I love Christmas. I just do. 🥰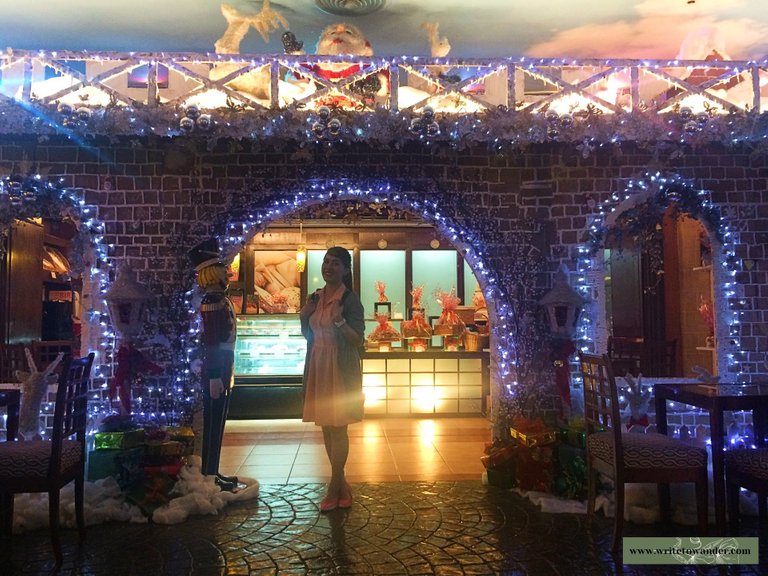 Welcome to the Christmas Village!! This was circa December 2017 in Waterfront Hotel. There was a portion in the hotel that was smothered with lots and lots of Yuletide decorations. That year's theme was White (snowy) Christmas. It's such a shame that I only have this one photo of the look of the village, as my friends and I were in a hurry to have our dinner lol.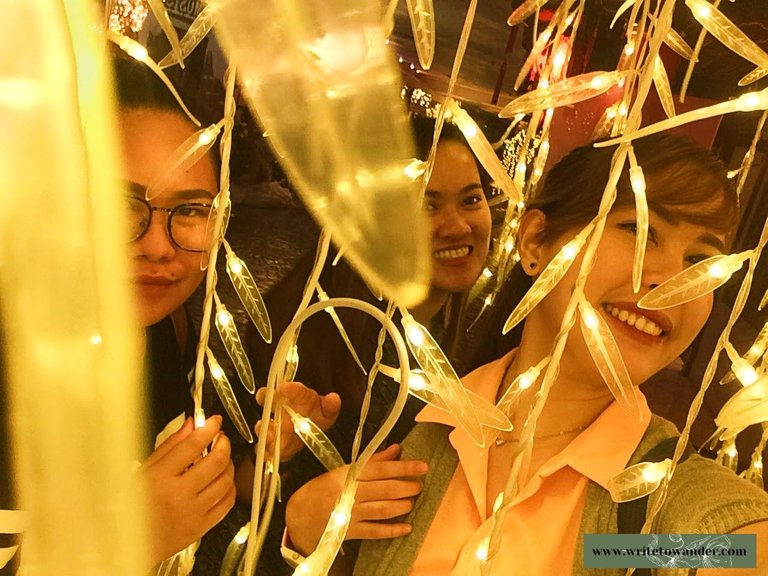 What's Christmas without its lights, right? Here's a quick snap of a groupie with Charlyn and Mizzy Jasmin. ✨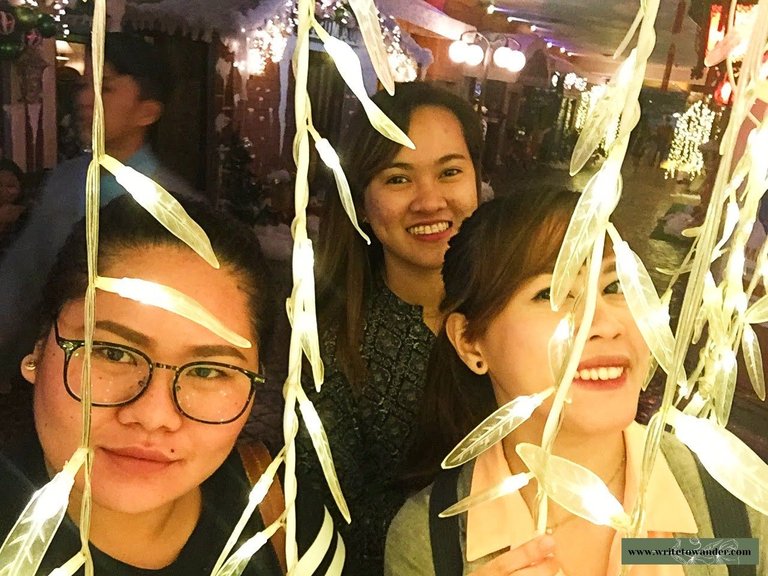 Another group photo, same angle, different light colour😅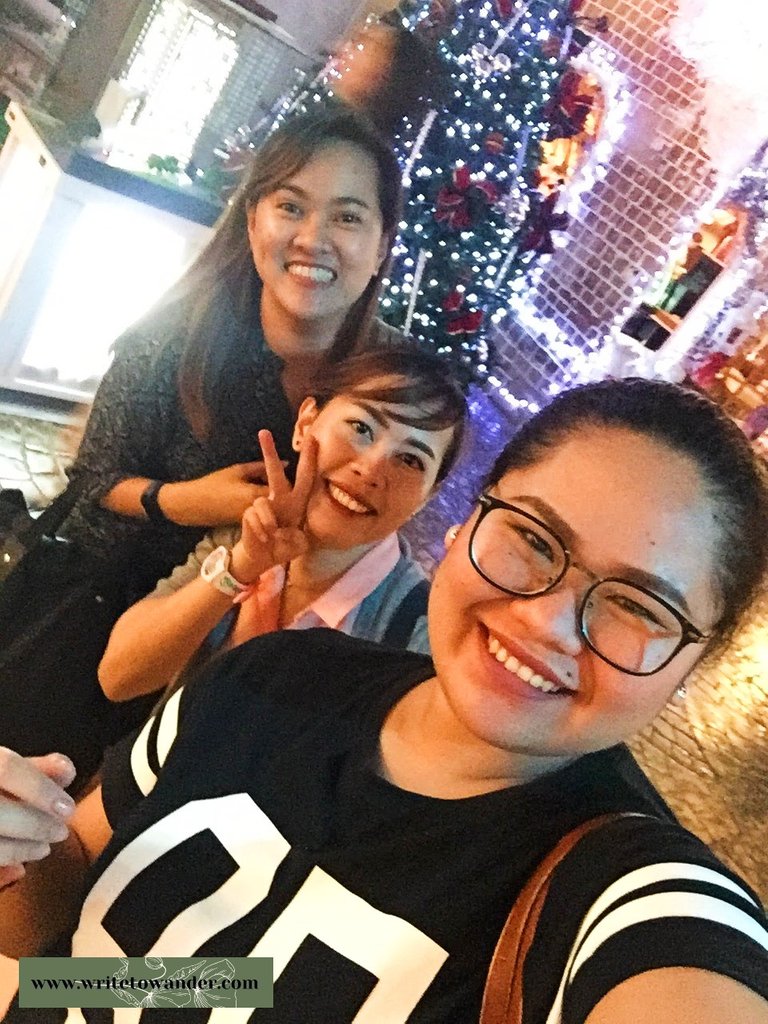 Happy kiddos feelin' all Christmas-sy and happy🤗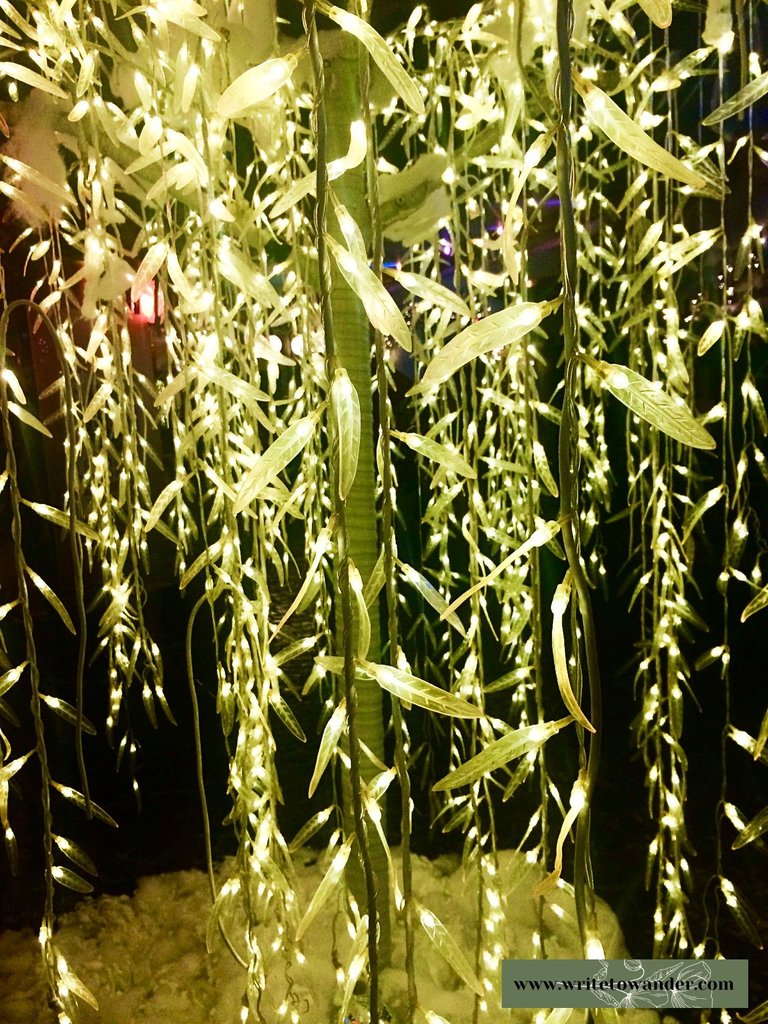 This photo captures a lot of the magic of this season. ✨ I love the design of the lights, they look feathery soft and hopeful. Don't you agree? 💛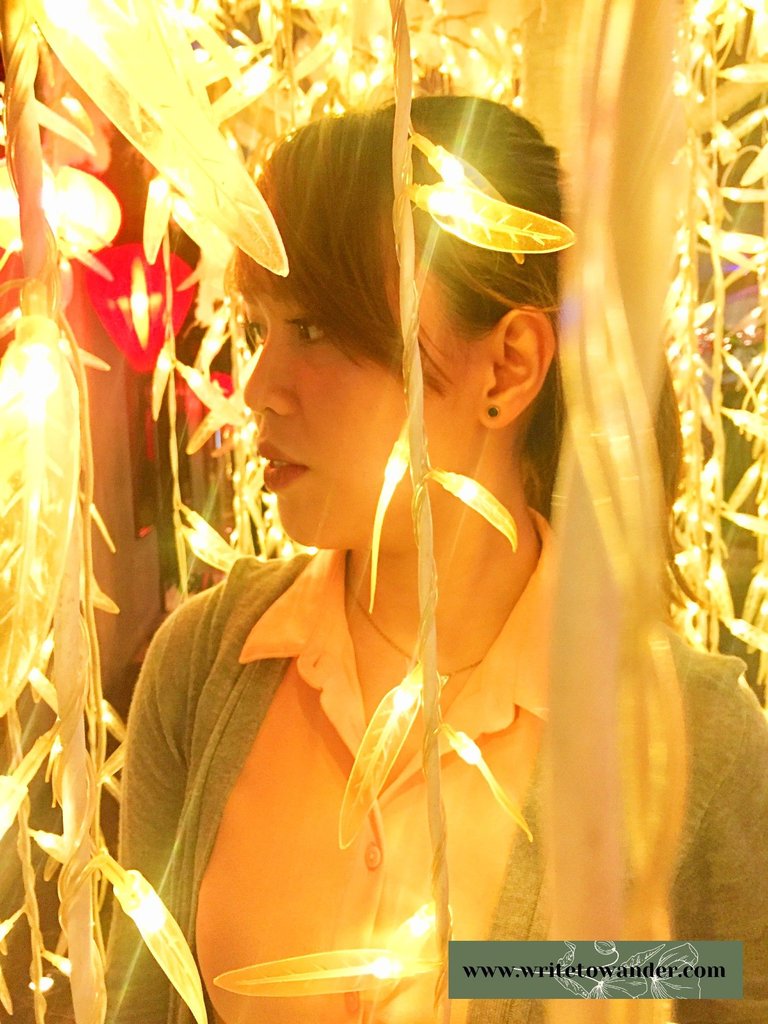 To looking forward with much hope and love, the new year to come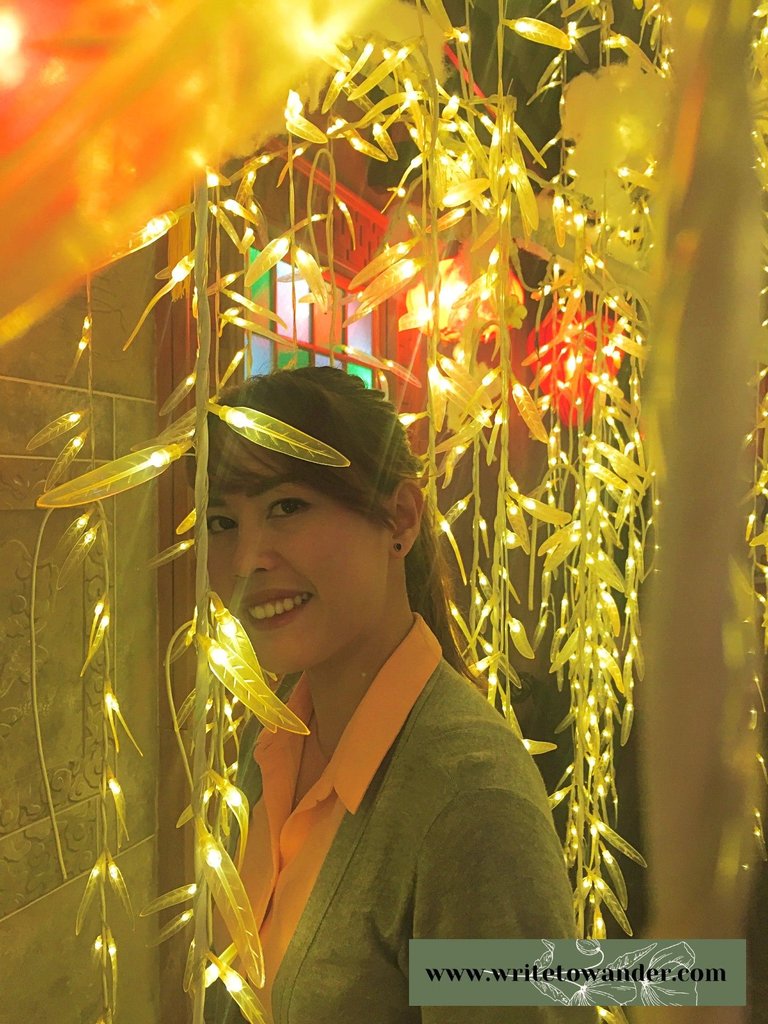 Oh, hey. Hi. It's a happy Christmas to you. Lovelots 💓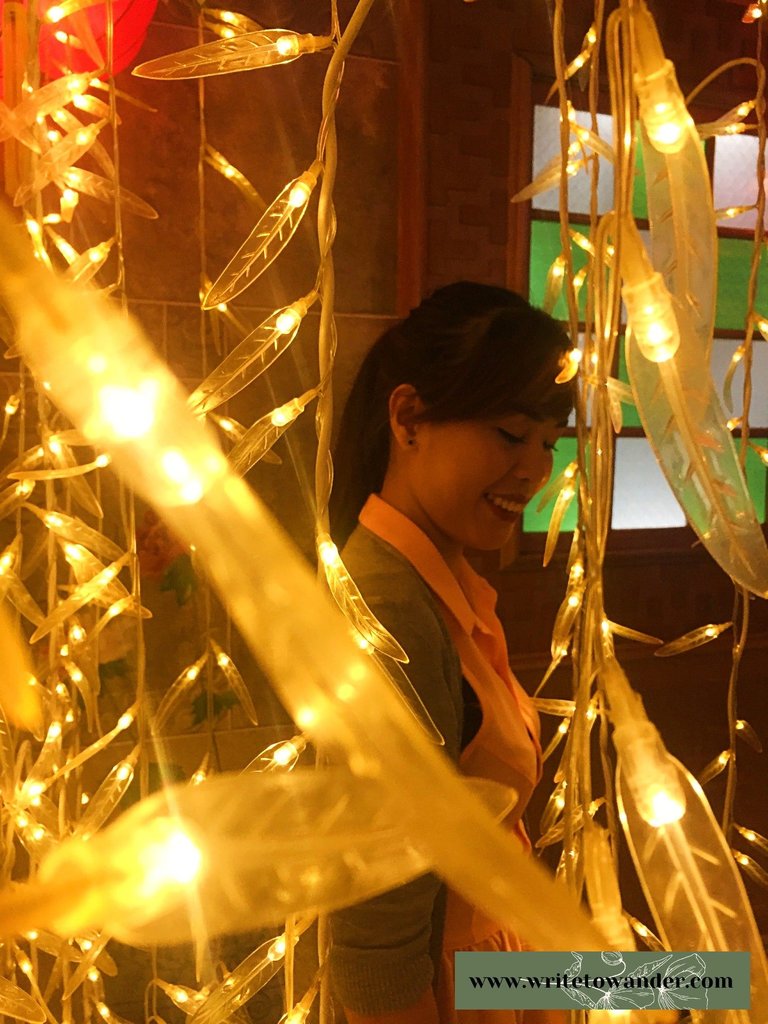 Thinking about this jolly season full of laughter, food, love, presents, smiles, more food and definitely a whole lot of LOVE

How I feel about this season--cheerful grin, a smile from ear to ear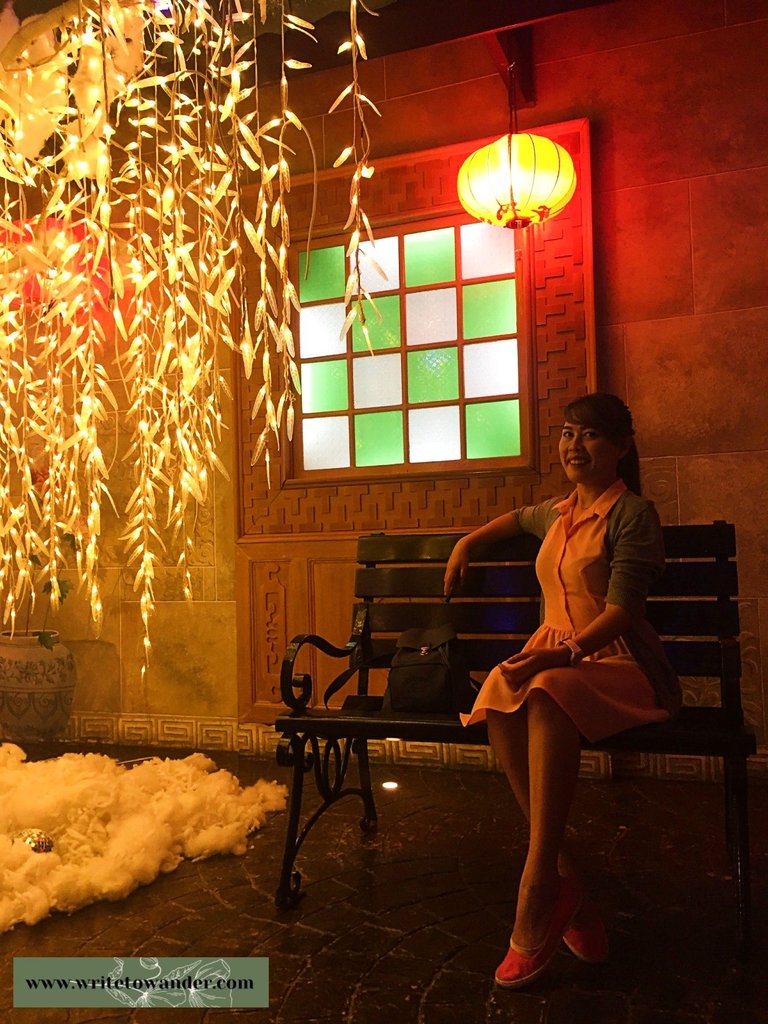 So they sing, "It's beginning to look a lot like..." 🎄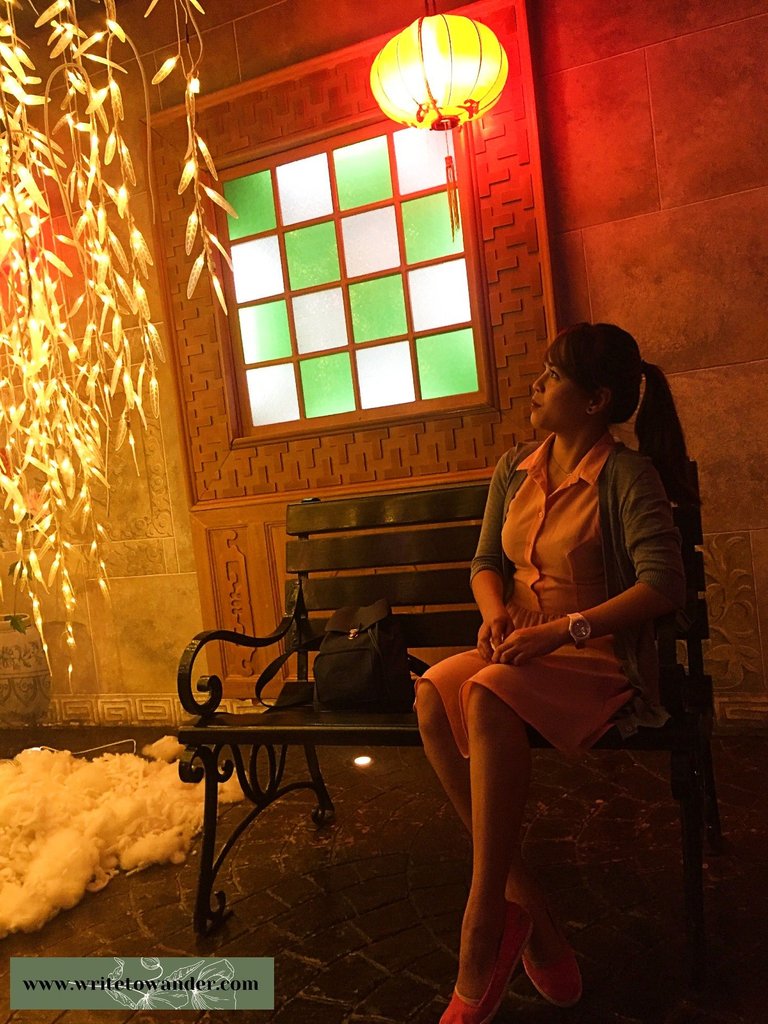 Wondering what presents to buy for my family and friends..hmmmn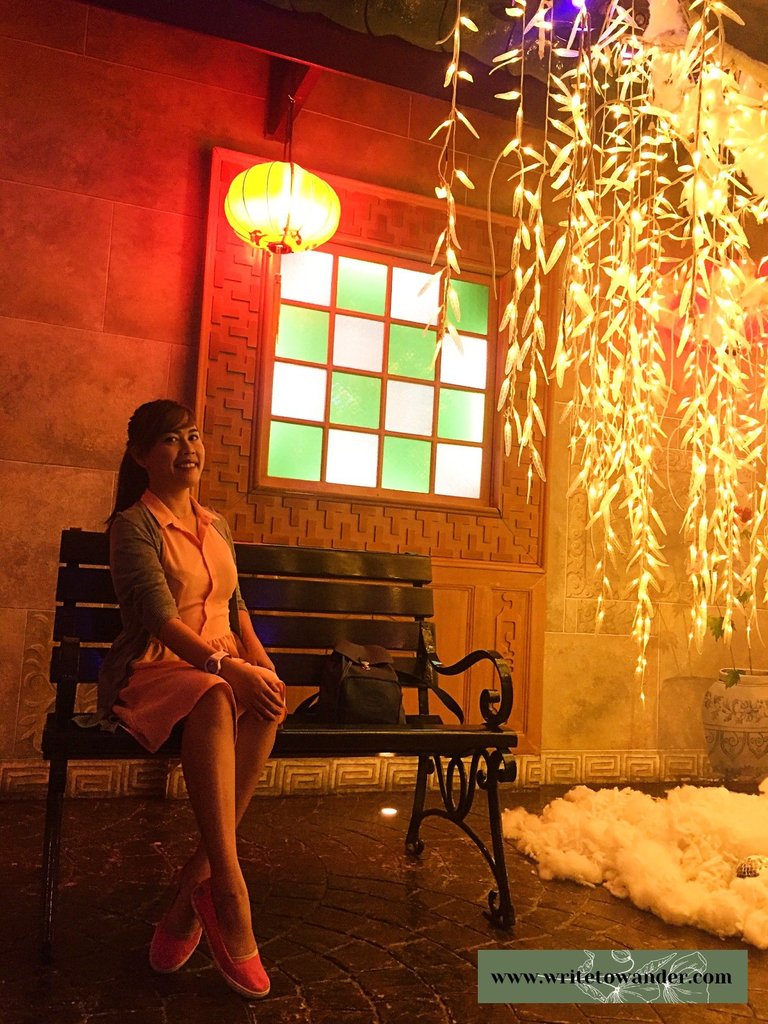 Those are a few photos of the Christmas village. This was a weekend and my girlfriends and I decided to go out for a much-needed girls' date, where we can talk about anything but work. See, we are actually workmates and whenever we hang out on weekdays, we usually talk about, yes you guessed that right, work. So we have decided that we'll date on a weekend and just talk about random life stuff about #adulting and career plans. We had a blast during this day because little did we know we'll see a Christmas village lol. We got to take pictures and try out our "photography skills", or the lack thereof.
---
Up and About at I.T. Park
Featuring Sulbing Dessert!
---
It was dinnertime, yay! 🥳 Since I.T. Park was across Waterfront Hotel, we decided to go to Sugbu Mercado for our dinner.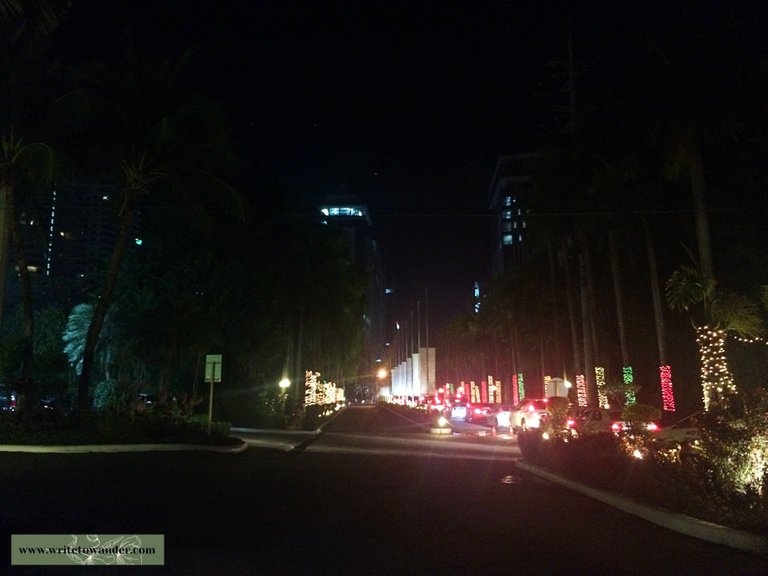 This is how Cebu I.T. Park looks like at night.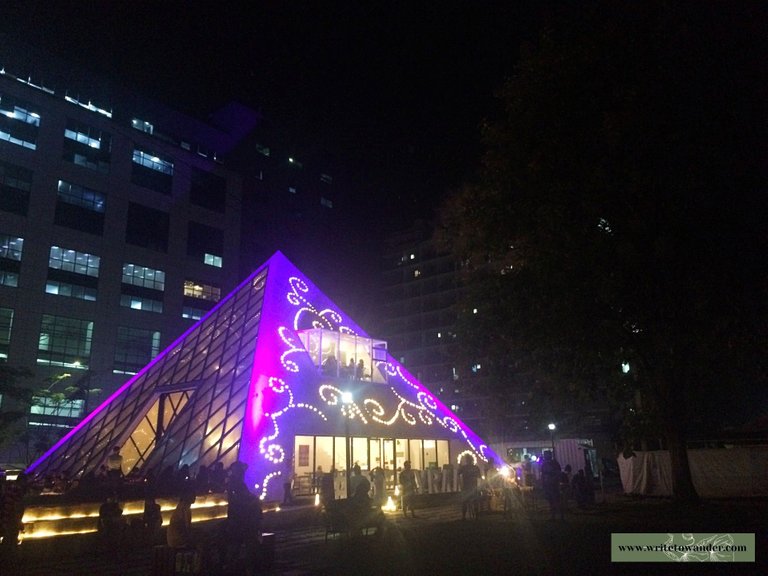 As we were walking, we passed by The Pyramid which was glowing bright so it's hard not to notice.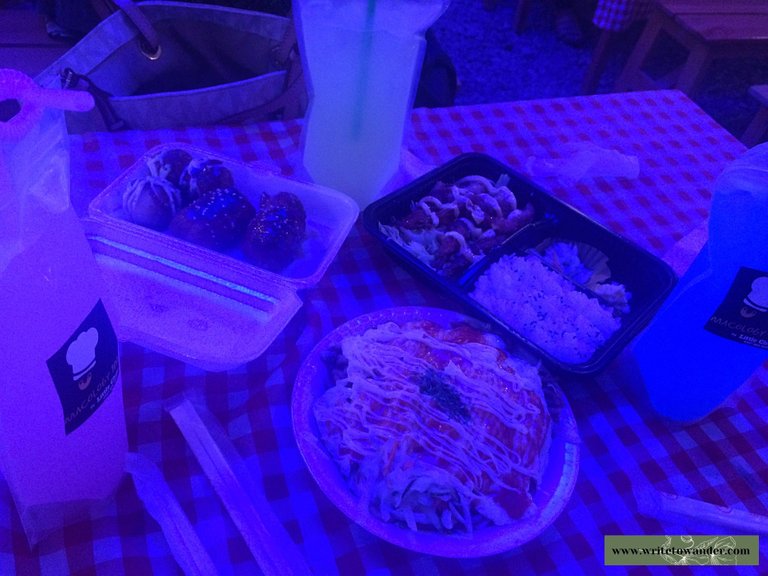 Here's a photo of our dinner. It's all blue because of the lights 😅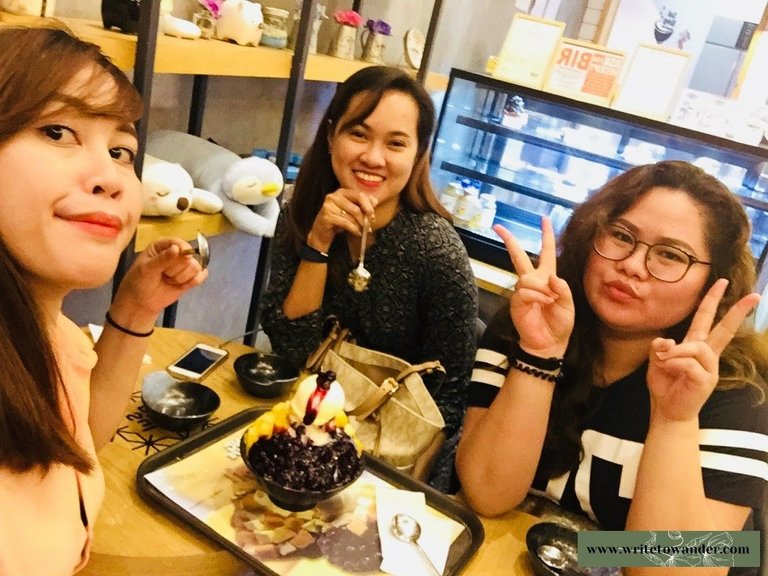 After dinner, we wanted to have some desserts. Cha suggested that we try sulbing, and so we did. 😁 (Sulbing is a Korean dessert. 😘)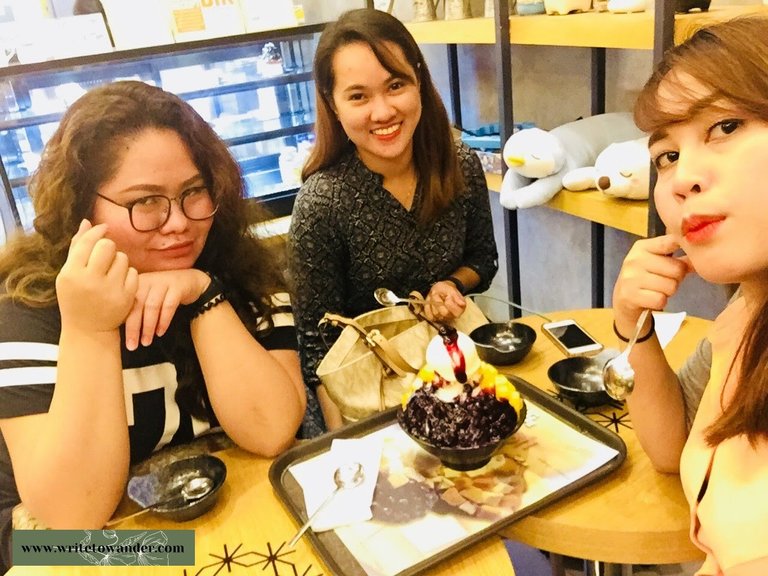 Us trying to be cheeky & cute lol🤣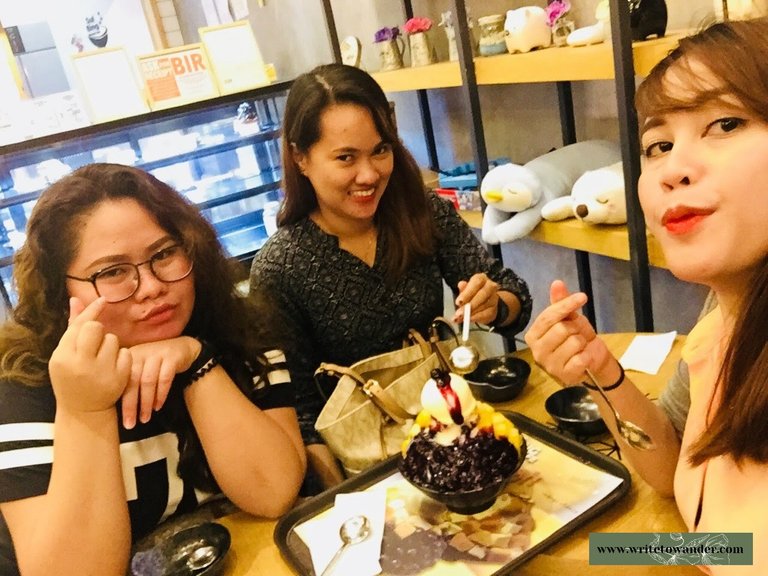 Yas to finger-heart signs for a Korean vibe as we are about to have some Korean dessert 💗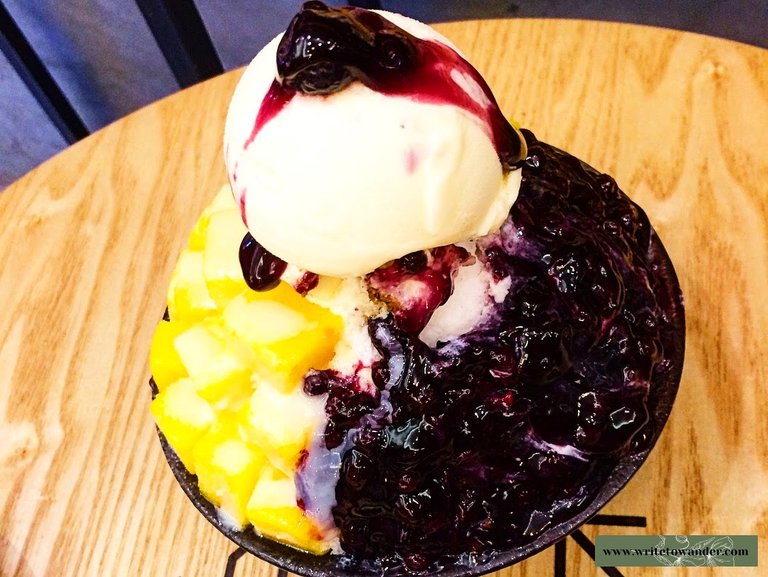 SULBING 💜 When I researched, I found out that "sulbing" actually means "snow ice" in the Korean language. This means that this dessert consists of shaved ice, frozen milk and one's choice of fresh fruits as toppings, along with a scoop of ice cream.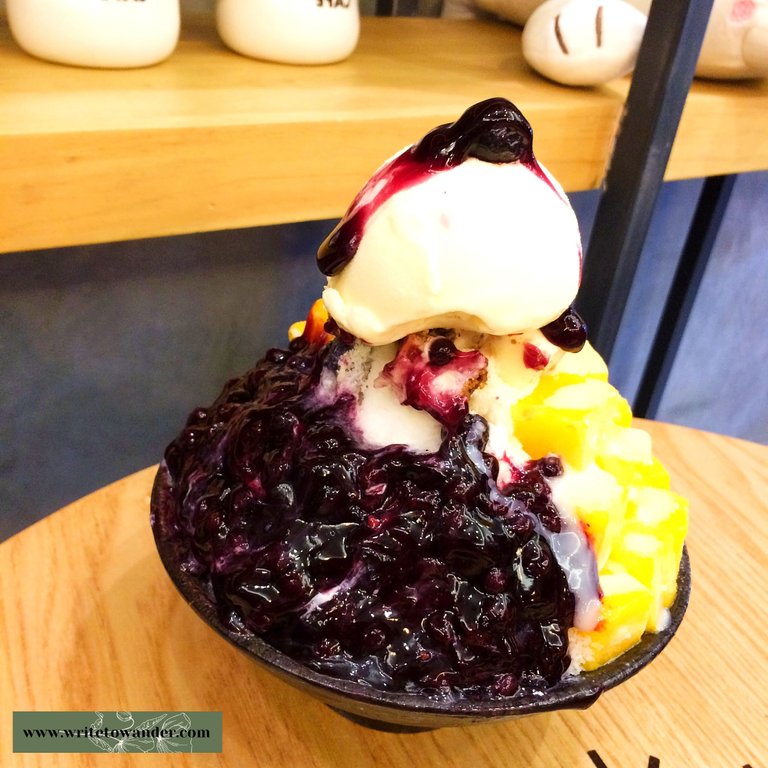 For our sulbing, we had ripe mangoes and blueberries as toppings, as this is one of their best sellers. 💛💜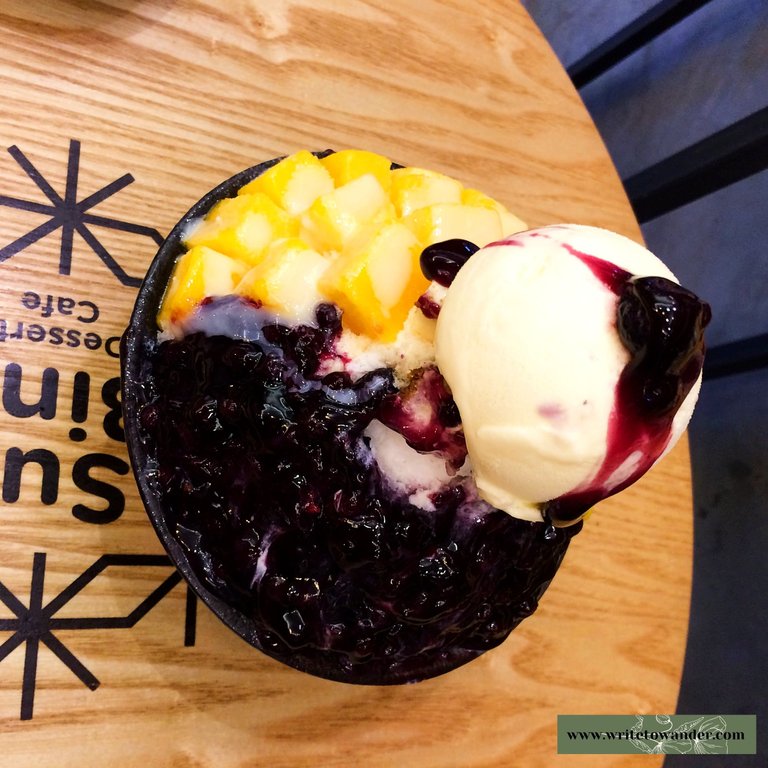 THE TASTE - If you are familiar with the Filipino halo-halo, the sulbing tastes similar. It's creamy because of the milk, and sweet with a little sour because of the mangoes and the blueberries. Personally, I loved this since it's a "healthier" dessert because of the fresh fruits on top. 😅 Just make sure not to eat it in a rush to avoid the dreaded brain freeze. 😲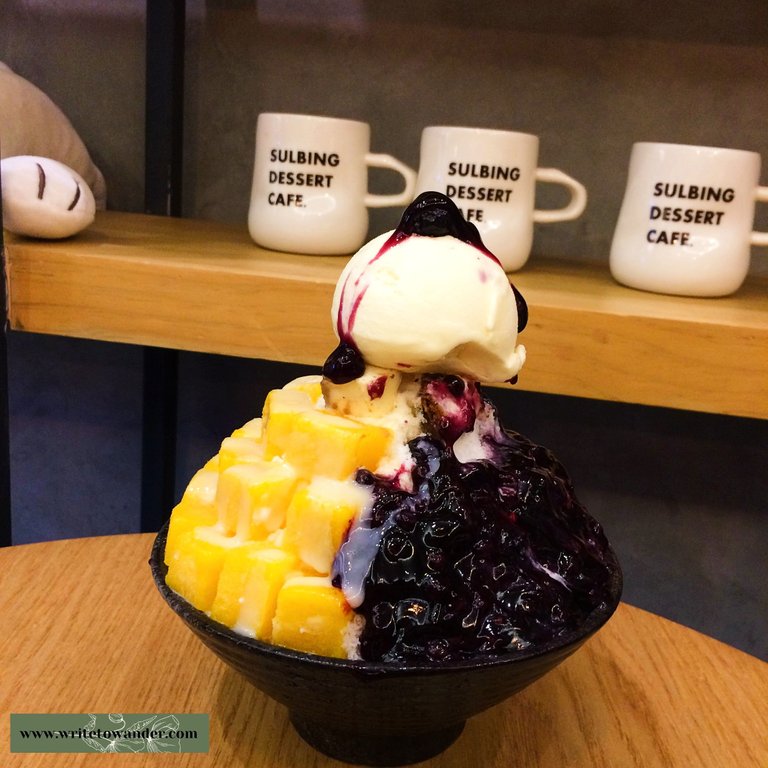 By the way, this place is called Sulbing Dessert Cafe and they are located at eBloc 2, I.T. Park, Lahug, Cebu City.
Cha, Mizz Jaz and I shared about our career plans and our #adulting struggles. Since Ms Jasmin was seven years older than us, she gave us pieces of advice about how to go through specific "rough patches" as a grown-up, especially on matters of the heart, career perspectives and some financial aspects as well. We got to talk about the realities of how it actually sucks to be an adult lol😅 Sometimes I miss being a college student wherein I was more carefree and I worked on my senior year only for my tuition and not for the bills in the house haha. Anyway, we had a great time on that first weekend of December.🥰
That ends the first blog of my December Diaries. I am much excited to share more of my love for this season, yay! How about you, dearest reader, how do you feel about the Yuletide season? What excites you most about the Christmas celebration? 🎄🤸‍♀💝
'Til the next post, hivers! Remember that you are loved beyond borders and beyond time & space. Okay? Okay. 💛❤️
Ciao for now! 🤗🥰
This original article is written by Jong, the blogger behind writetowander.com. All photos are hers, too.
---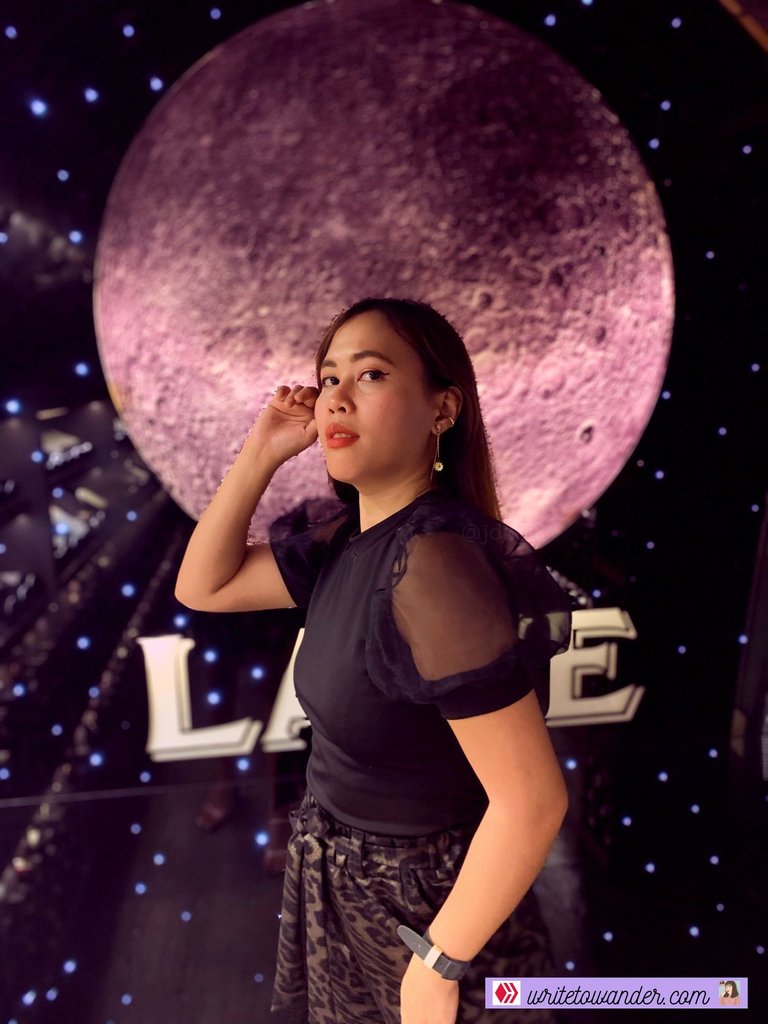 Jong CL
Hive-llo, everyone! Welcome to Jong's little buzz-y corner in Hive. Jong believes that every person she meets can teach her a thing or two (or three, or more) about life. She shares her love for life here-- the captivating beauty of life! To be more specific, but not necessarily in this order, she's interested in: wisdom, love, poetry, single life, books, travel, health&fitness, fashion, gratitude, unspoken hurts, heartbreaks and healing. Lastly, she loves Jesus.
Do you like her content? Make sure to upvote, then! Drop some love by leaving a comment-- she really appreciates listening to your thoughts! 💛 Feel free to reblog if her post resonated with you. Kindly follow her to not miss a post! Happy hiving, loves! 💛

---
---