December Diaries 02: How an Ordinary Day Became "Extraordinary" in the Lipa Christmas House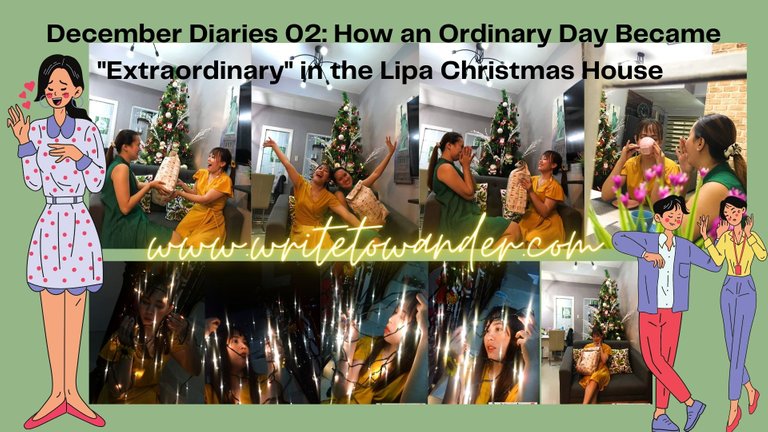 Can you already feel the cold Christmas air, dear Hiver on the other side of the screen? ✨ I know I have. So I'd like to welcome you to this second blog post of my trip to December memory lane a.k.a. my "Diaries" and today I'll feature some never-before-seen photos of this particular special day I had. I've never posted most of these photos on any of my social media accounts because I felt like they were (let me use air quotes here) "extraordinary" to me and it would lessen its extraordinariness if I post them. I know it's just me being "non- millennial" about socmed lol. You may ask me, "But why post this now?" I'd say that is a pretty good question you got there. To be direct: I finally have a safe and non-judgemental-ish personal space to "immortalize" these fun photos and showcase the great photography skills of my close friend's husband and to show to the rest of the world their adorable house. Let's jump right in.
C I R C A 2018 Why was this an extraordinary-ordinary day for me? When I was invited to come over to their NEW house, I did not expect that they'd not just show me around their gorgeous house, but they encouraged me to have photos taken, as sort of a memorabilia, considering that it may be a "once in a blue moon" kind of event. (I was never invited to a grown-up thing like this and now I am here, drinking Barako coffee in Lipa, Batangas and learning some culture and laughing at silly jokes. It was kind of an achievement unlocked moment to be part of something "grown-up-ish".) It was unexpectedly cool and sweet and thoughtful at the same time. As the lovely couple Jasmin and Junel showed me around their place, I was definitely more than happy because I felt their love and care for me, and it was magical seeing them in love, too. I am a part of a universal and collective love experience in that I felt and I was grateful.
It was when I realized that I was so blessed to be able to take part in the grander things in life no matter how ordinary it may seem to others. It occurred to me that indeed perspective is definitely key to a more content life, along with huge doses of gratitude. I am thankful I was in Luzon at that time, and I flew there for free because of my work back then. Then I was able to do a side trip after the business meeting. Jasmin and Junel were so sweet as they invited me over so that I can finally visit the new house. This certain moment does not happen every day, I thought. Sure, it may look like "ordinary" but I now realized that the sparkly shiny moments are clothed in the ordinary mundane bits of our lives and we just do not know it yet, until it sinks in, give or take a few minutes, or days, or even years. Huh. Pretty deep realization I guess.
Fast-forward: When I came in, I was ecstatic to finally see the house! Months before, Miss Jaz would send me photos of the updates on the construction of the house. And now I get to see the real house in person. Yay! WHAT WAS MORE EXCITING THAN THIS? They waited for me so that I can help them put up their Christmas tree! (crying emoji for a drama queen like me) It was their very first Christmas as a married couple and they waited for me to help them with the Christmas tree decoration. Uwu. I didn't know that this is one of the perks of being a Maid of Honor lol.
Without further ado, ladies and gentlemen, all Hivers, allow me to welcome you all to Casa Mendoza, or what we'll refer to here on out as the Lipa Christmas House! 🎄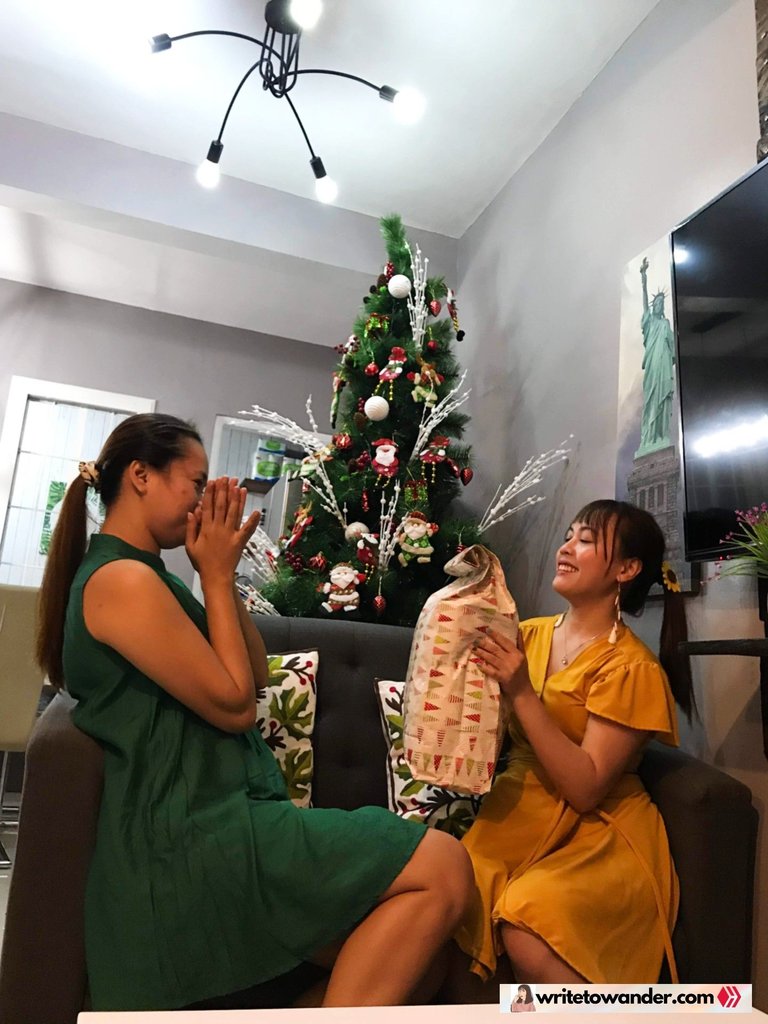 The lady in green is my close friend-who's-like-my-big-sister Jasmin and I call her Miss Jaz/ Jazzy because I used to call her that as we became friends in the workplace. The one who took this photo is her husband Junel whose hobby is taking photos (cue in: "Instagram Boyfriend of the Year award).
And see that Christmas tree over there? Yeah, I helped decorate it. *pinch Ouch, whaaat, I think it's worth the mention, okay. 🤣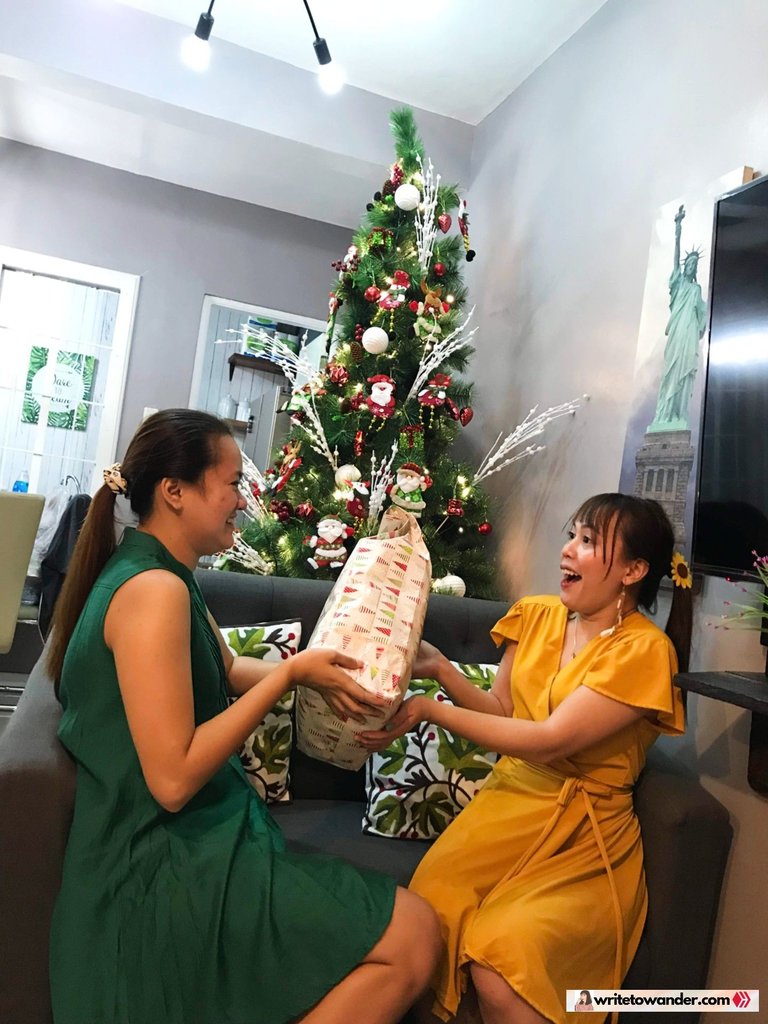 The photographer and director of this picture told me to "Act surprised as you receive your gift", and I did the best I could with my expression because it's tough if I disappoint the director.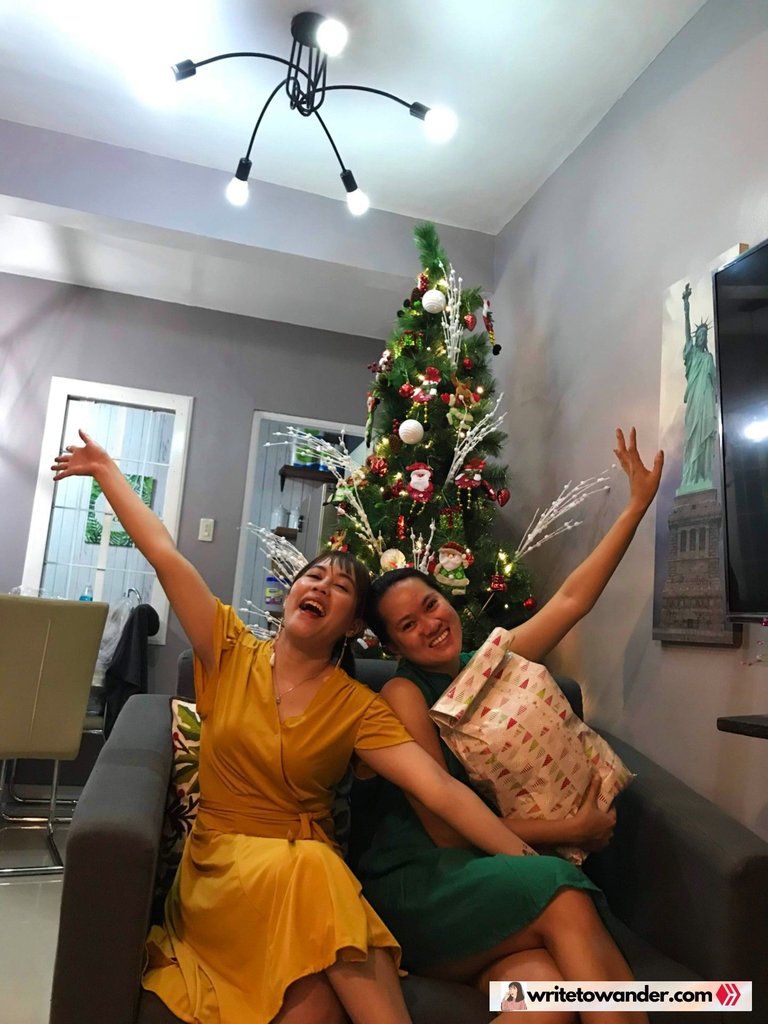 Here's a "Oh yay, merry Christmaaaas, everyone" and there's a need to prolong the last syllable because that's what we're going for in this shot.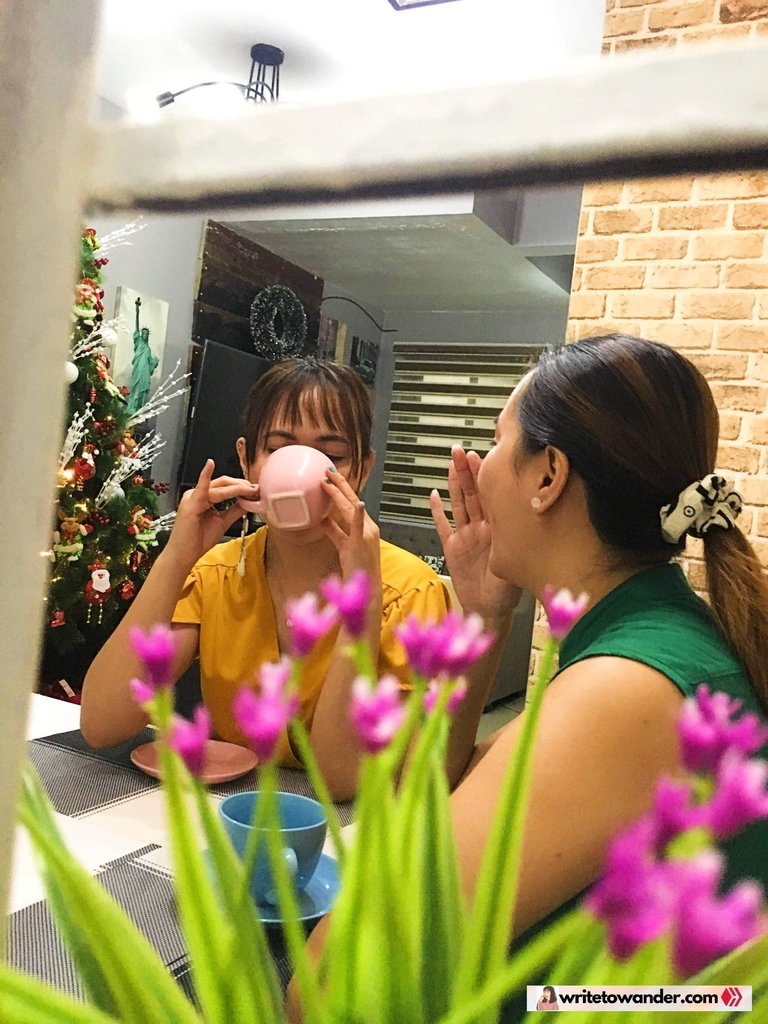 They only take out the best China for visitors and/or tourists.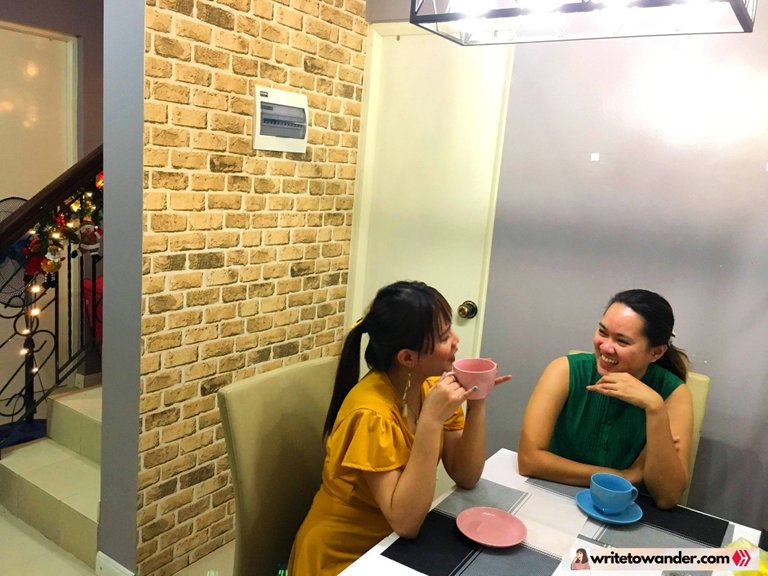 It was tea time and I'm so sorry about my pinky fingers, they overreacted.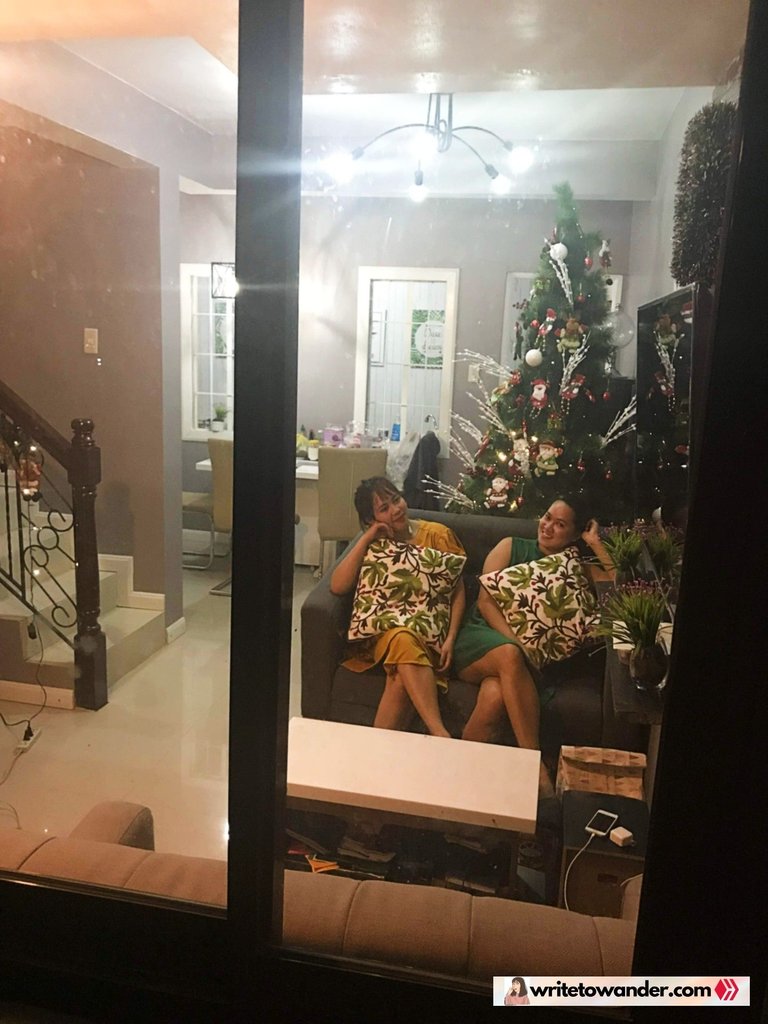 The view of the Lipa Christmas House from outside.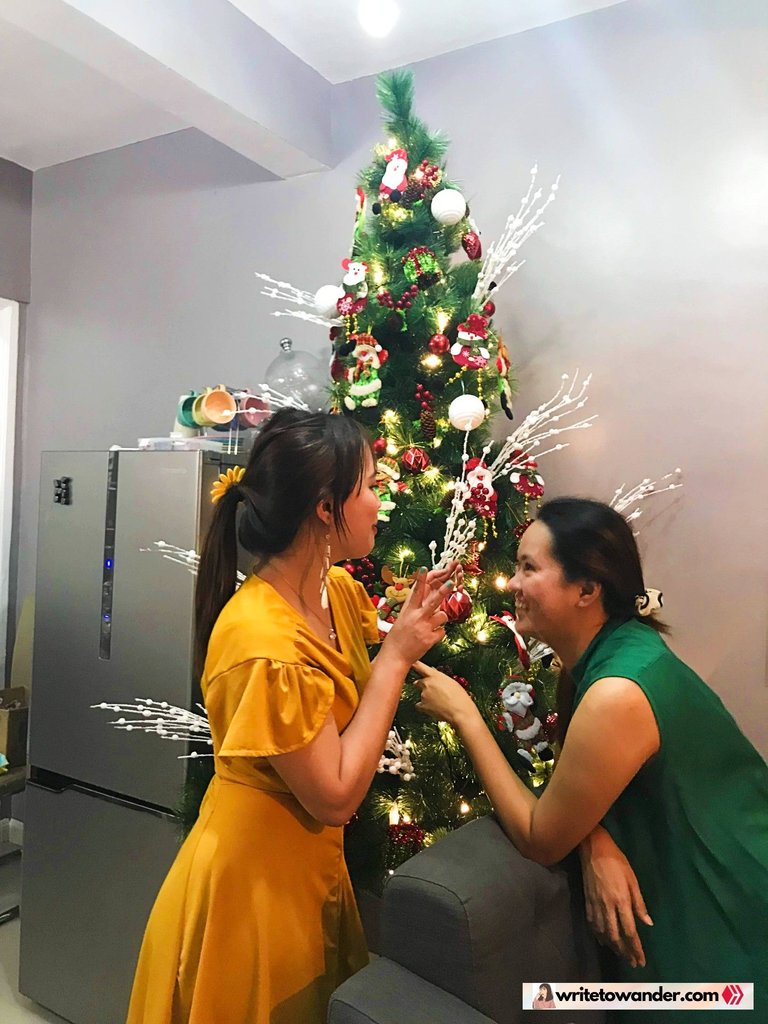 This was taken when we were almost finished decorating the tree.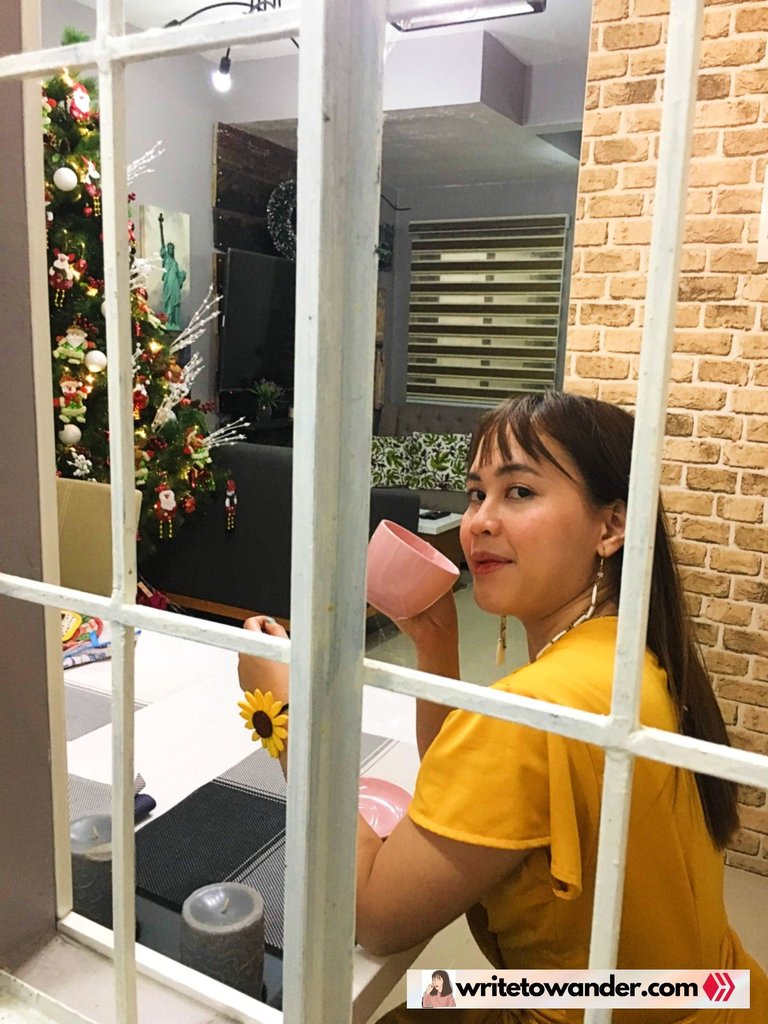 The couple said, "Jong, you have to have solo photos in our home." To that, I said, "It'd be my pleasure."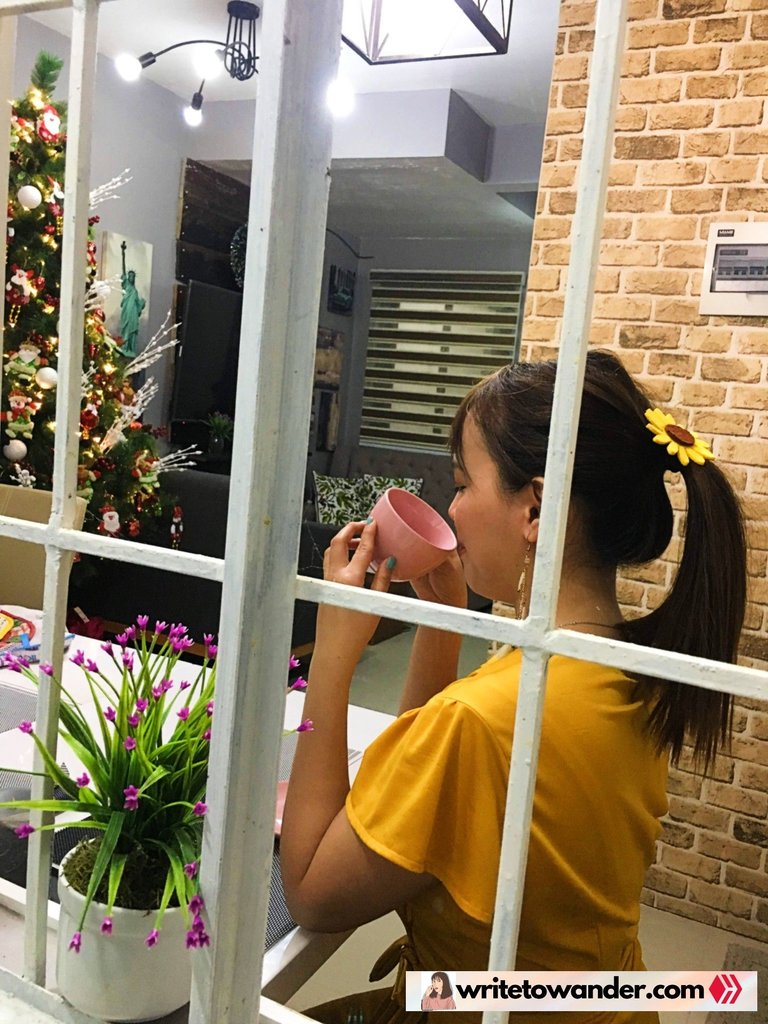 The cup is empty because, well, it actually was just a prop, sorry 'bout that mate.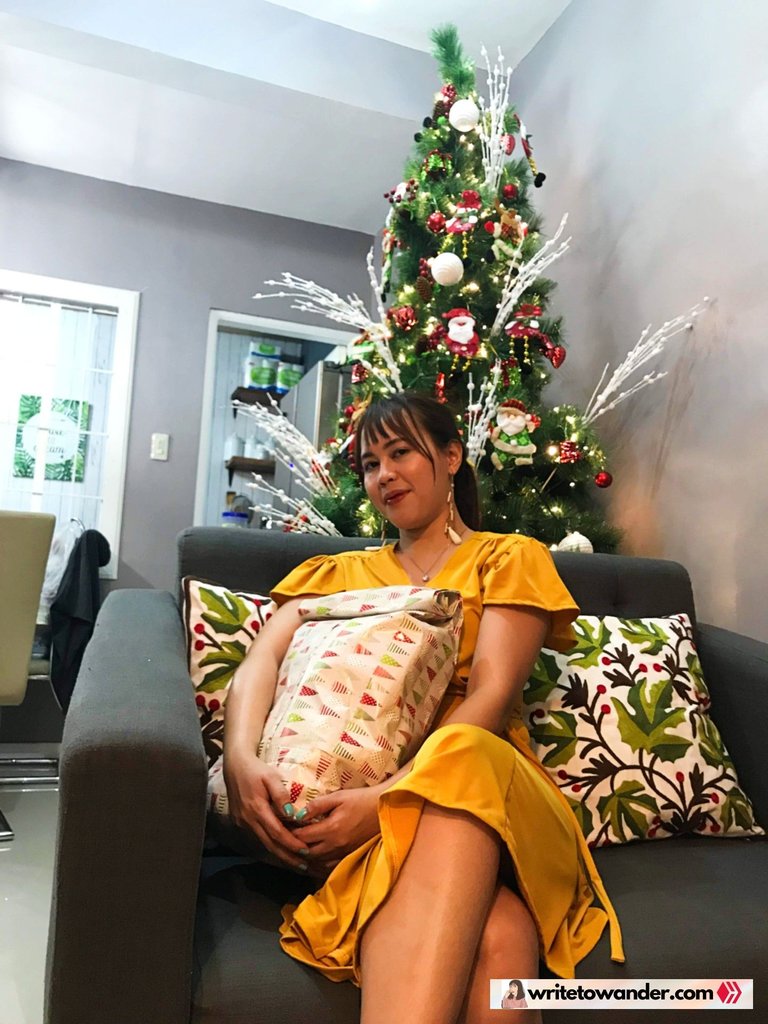 The photographer said: "Okay hold the gift and pose for the camera." I was going for that mysterious monalisa smile here.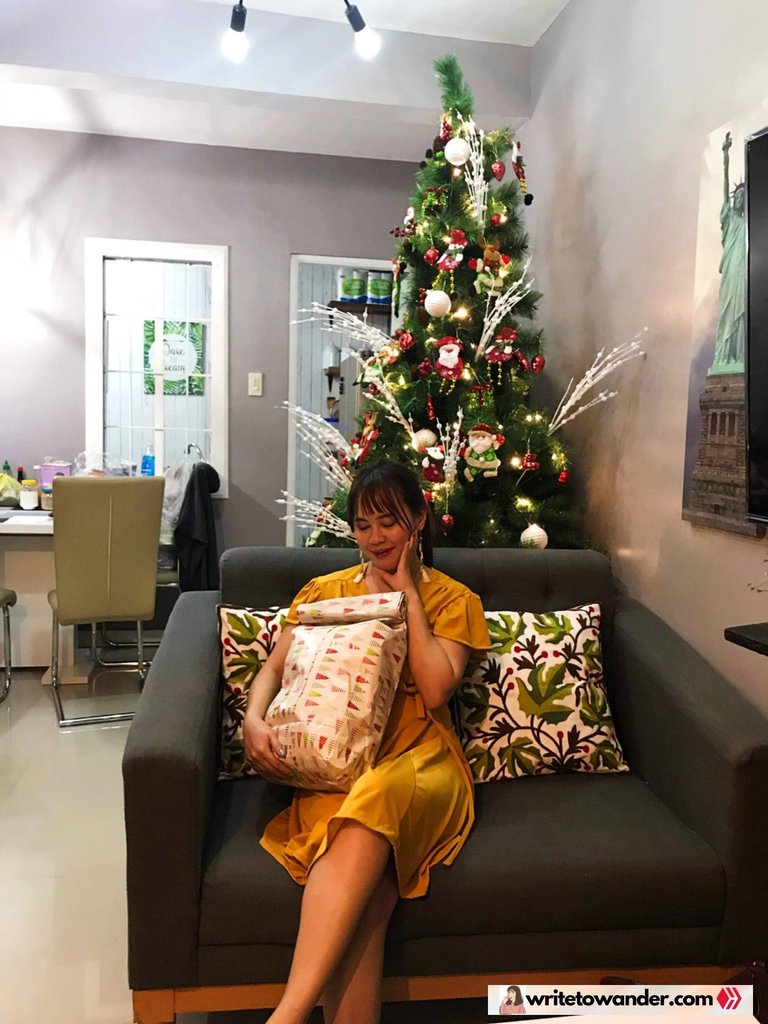 Thinking about what could be inside this gift wrapper...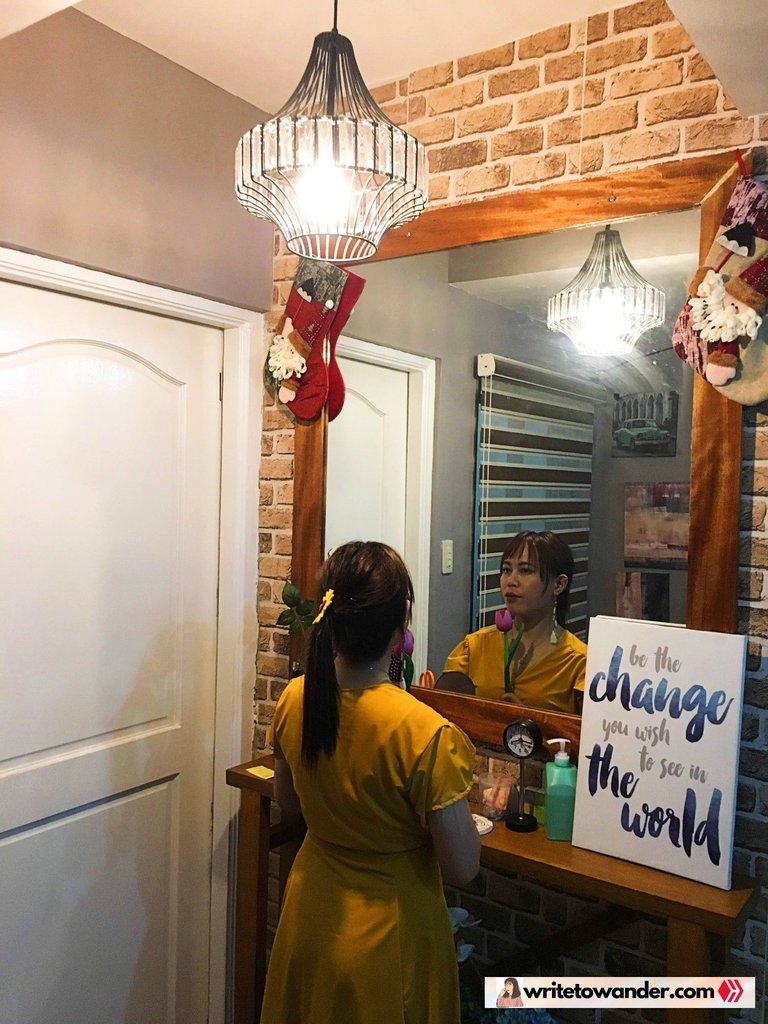 This part of the house looks like a cafe, so I asked Junel and Jaz if I could have photos here, and they agreed.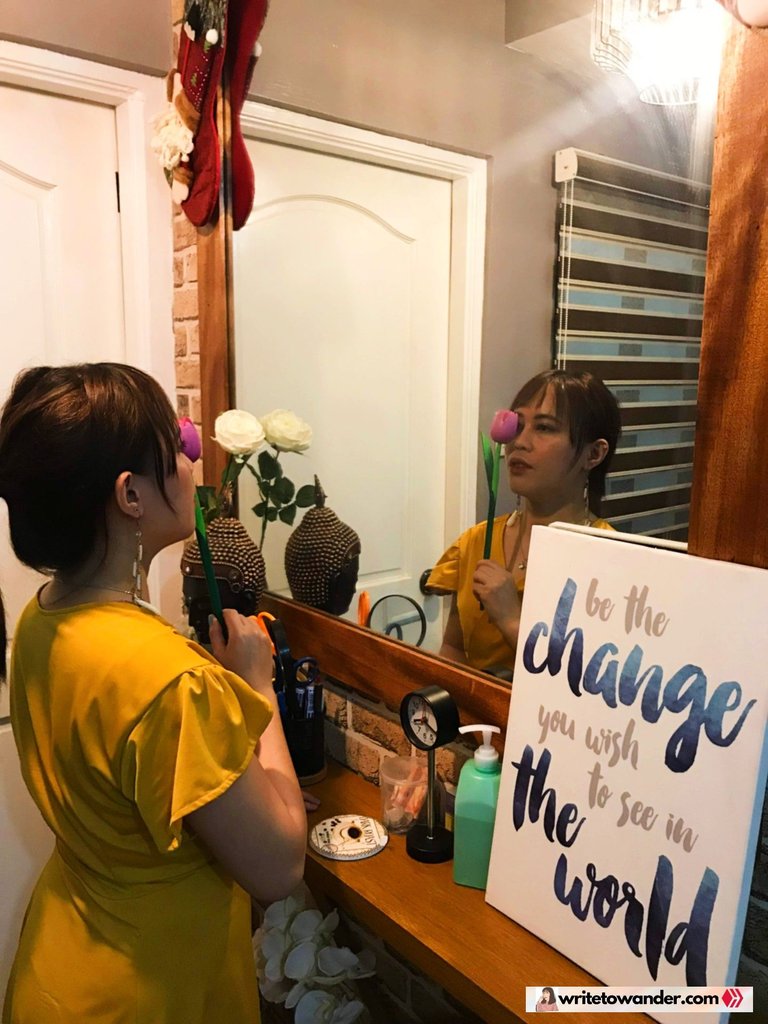 Be the change you wish to see in the world.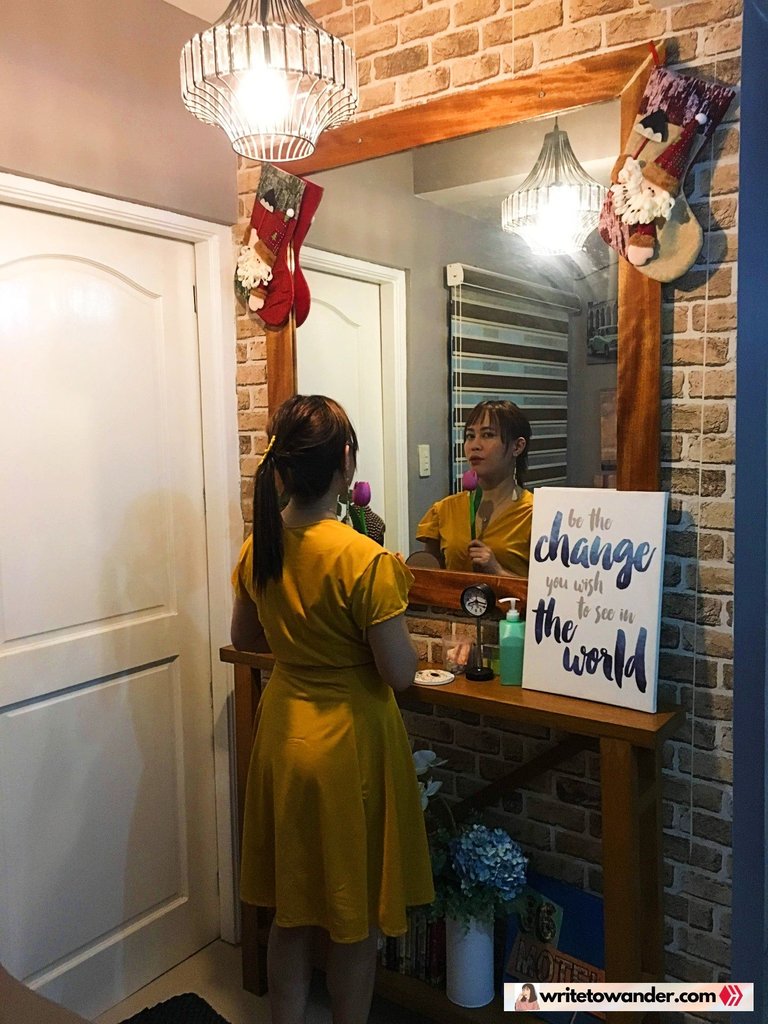 woman in the mirror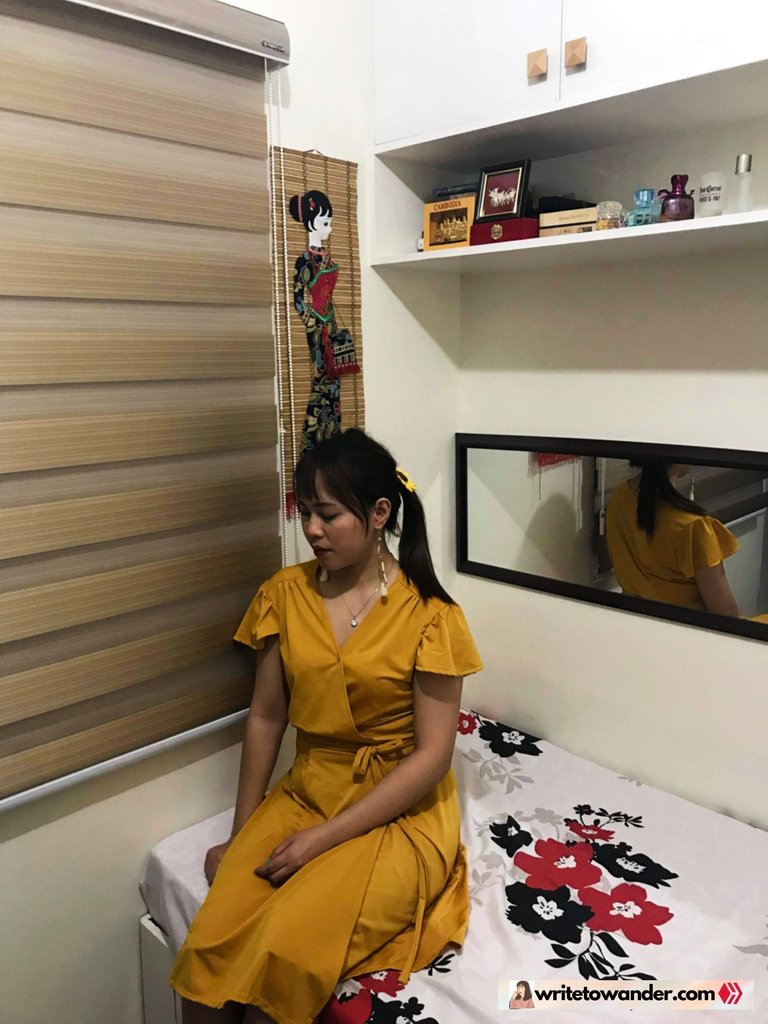 the room details are quite 'something'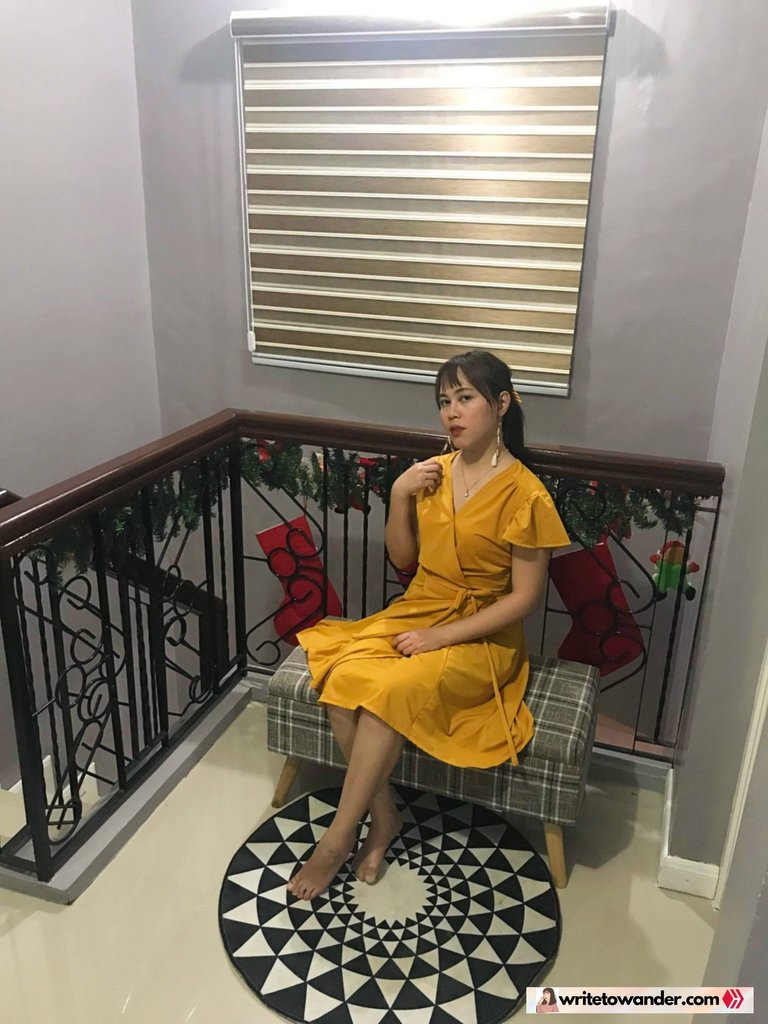 this was upstairs, a cute corner before the bedrooms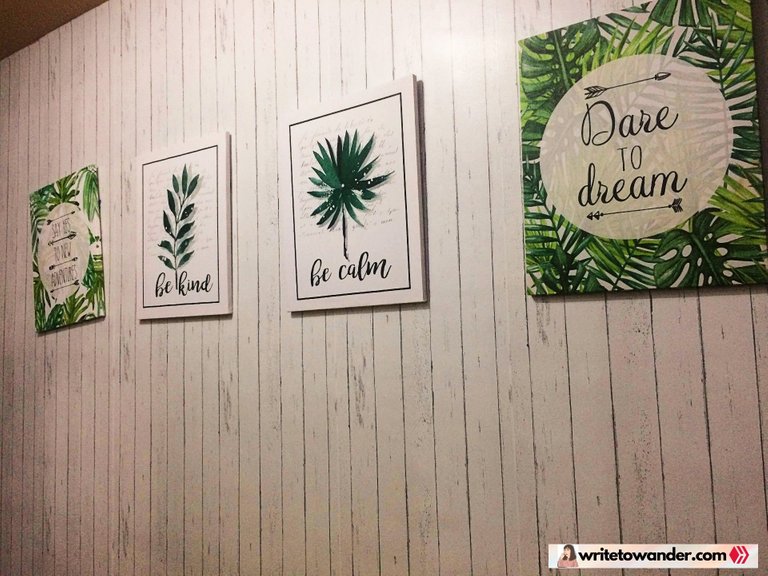 Their house was totally like a cafe. 😍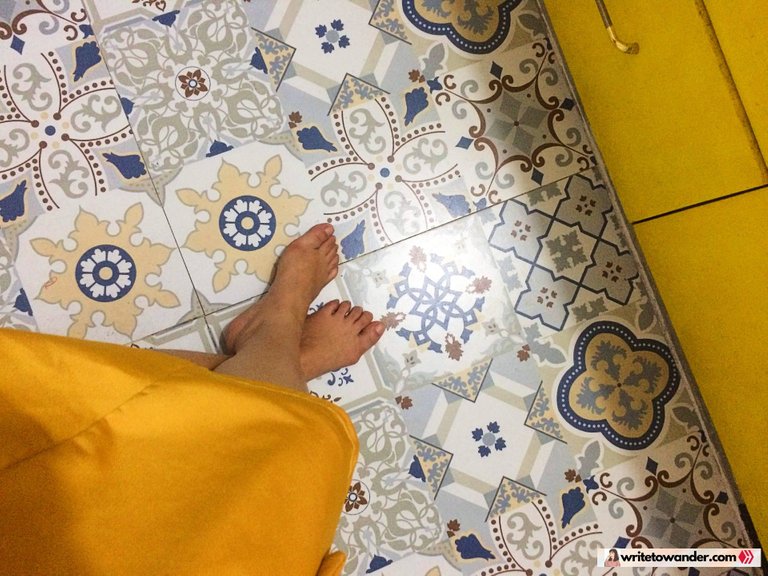 Even the tiles are Instagrammable!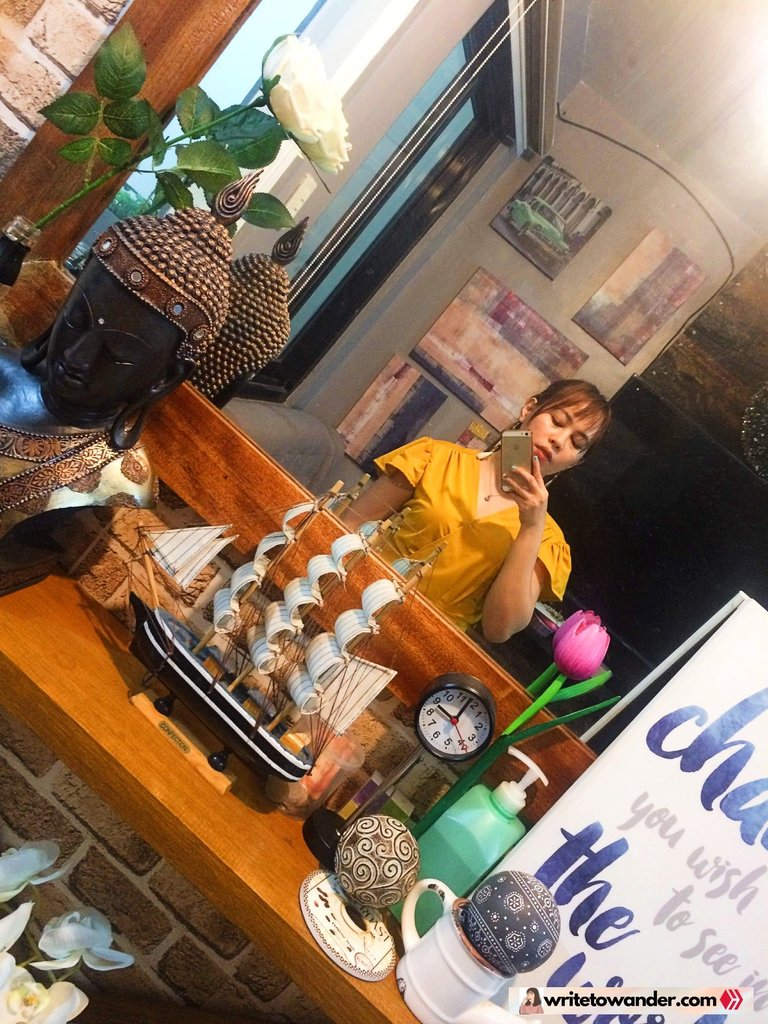 that little boat though...
Solo Shots of Me Trying To Look Cool and Christmas-sy
Disclaimer: I am not trying to become a Christmas lights model here. LOL.
The photos below came from my rather abrupt idea. While we were decorating the Christmas tree, as I held the lights, I just said what was on my mind, "I'd like to take photos with these lights, like the ones we see on Instagram these days." I did not fully realize that I said this too loudly, it was until the couple said, "Yeah that's a good idea, Jong." At first, I was hesitant because it was not well planned (somehow I like planning and being in control, but there are times that spontaneous is fun and exciting), but then, well, what's the harm, eh? And the rest is history, my friends.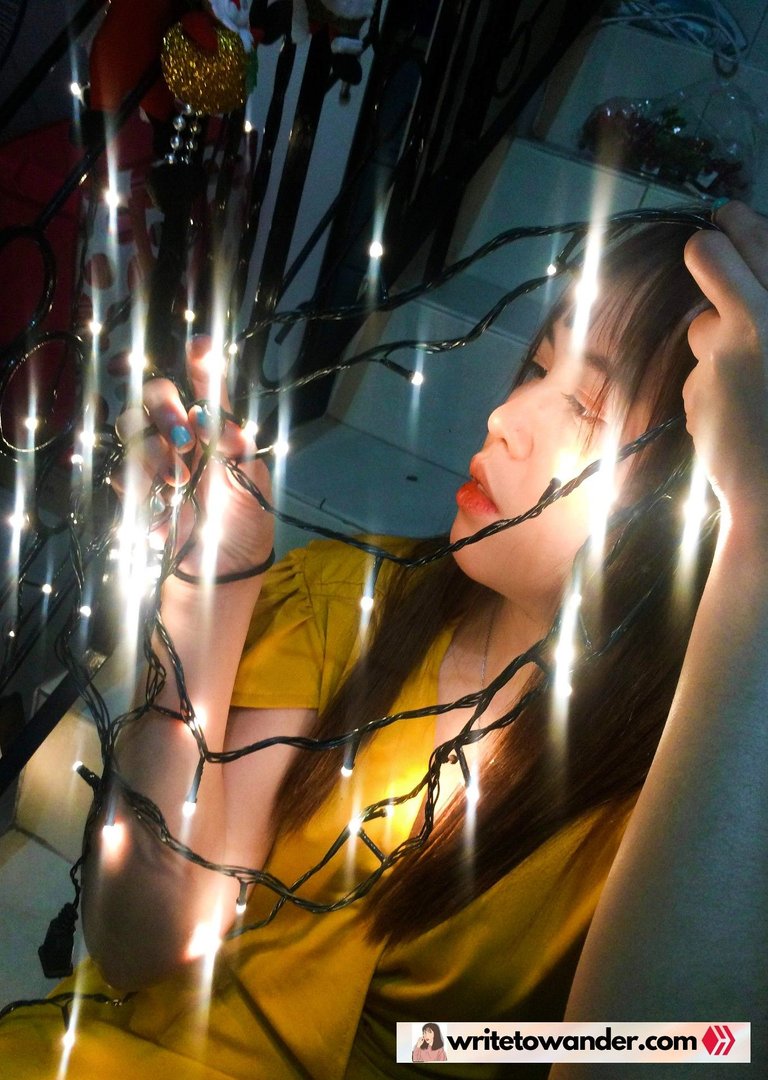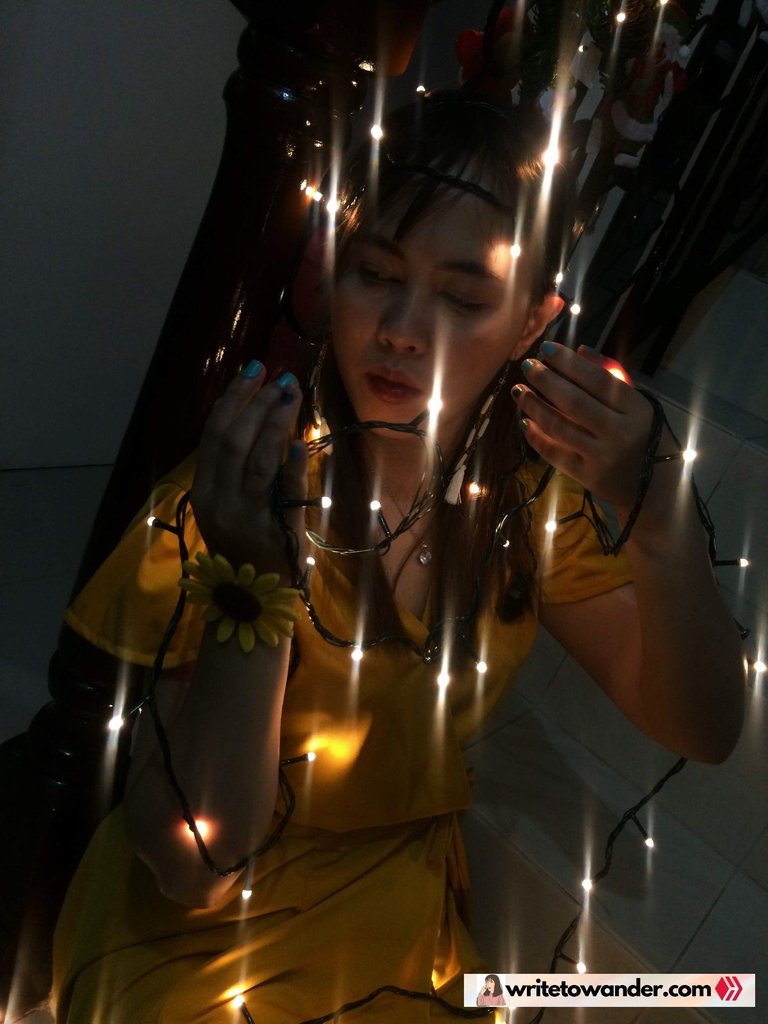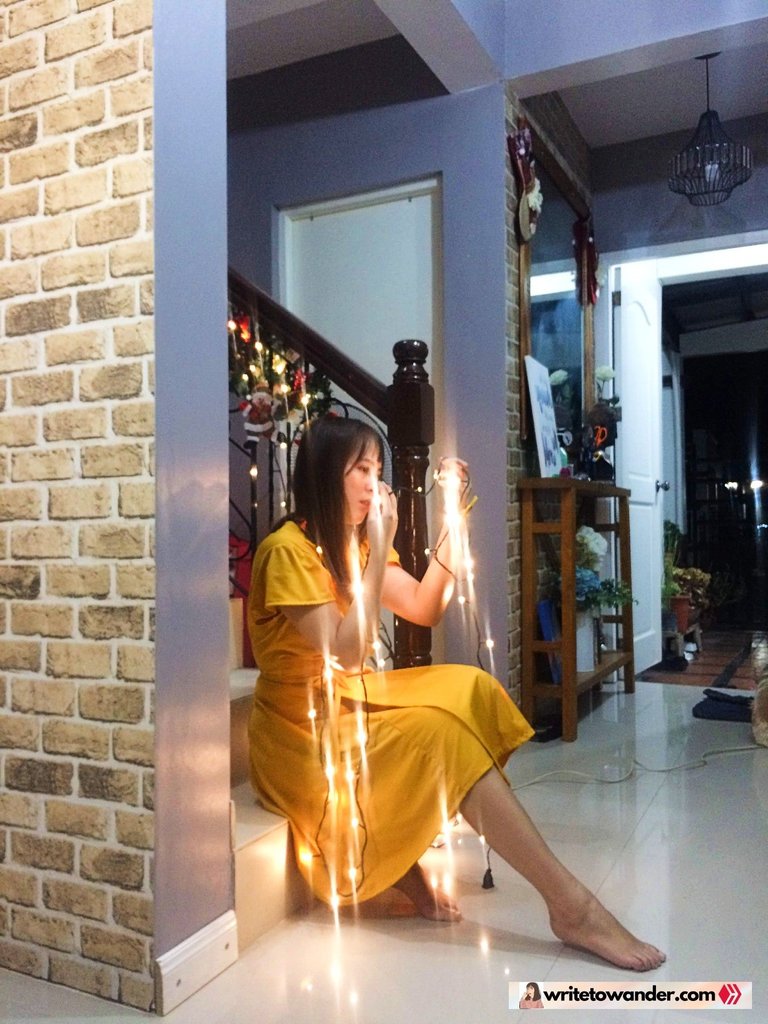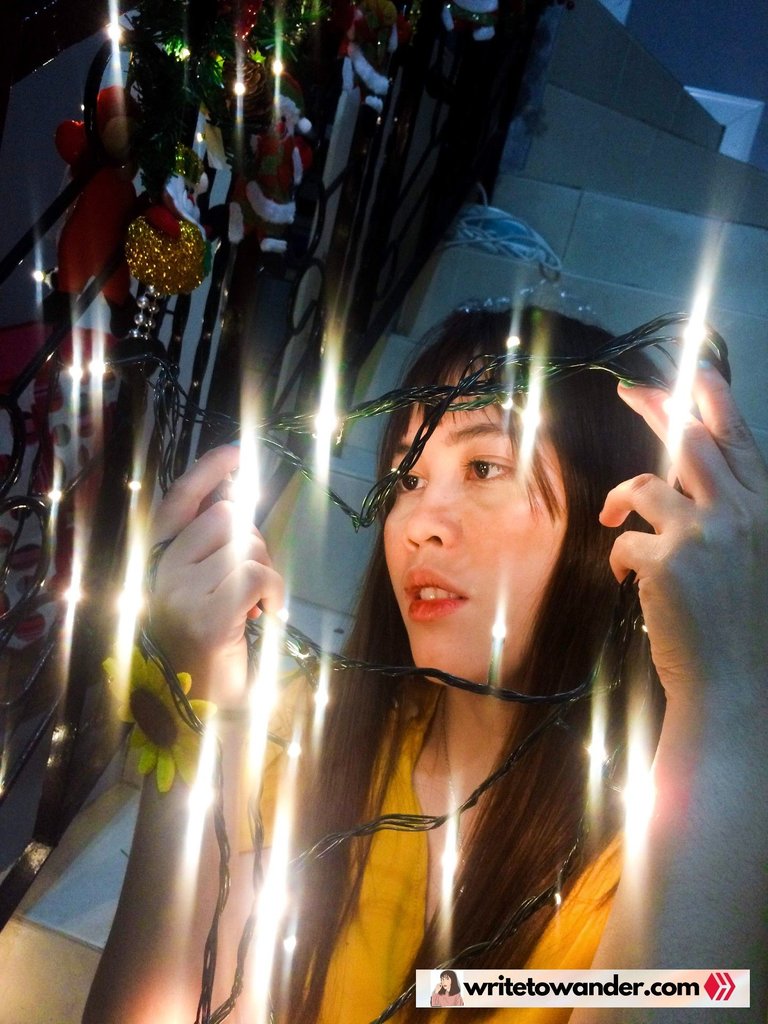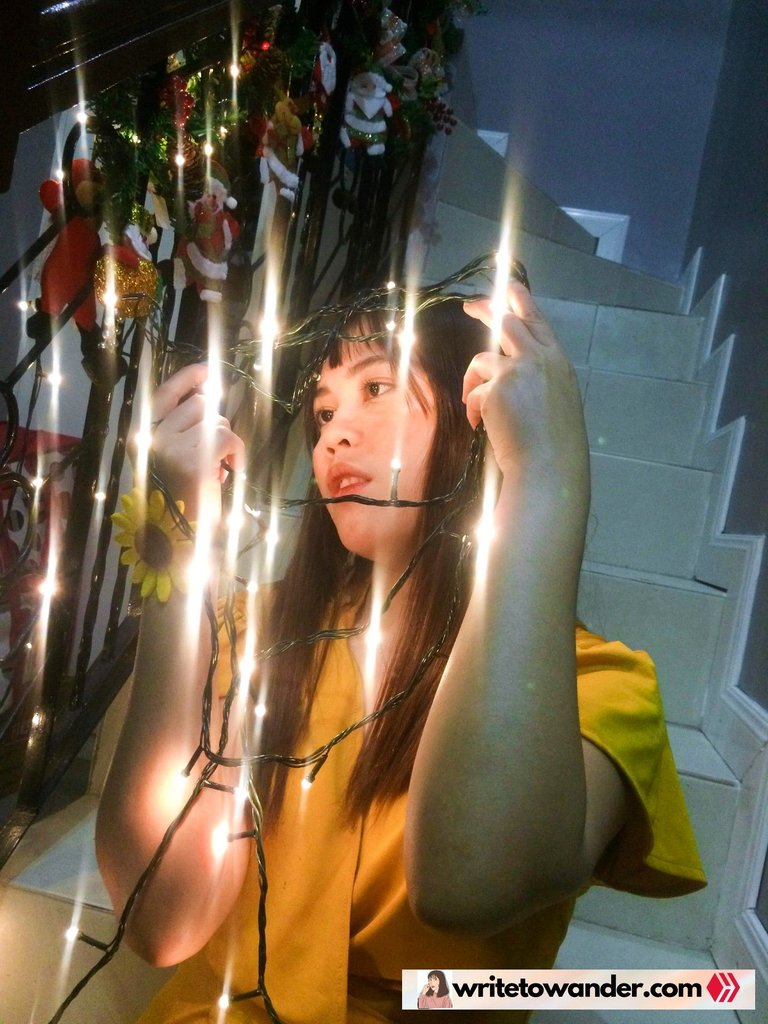 Thank you so much, Miss Jaz and Junel, for accommodating me into your lovely cafe-like dreamy Christmas House in Lipa! Special shoutout to the photographer behind all these photos who was extra patient and very creative, thank you Kuya Junel for being game in taking these pictures. Thank you again Ms Jazzy for welcoming me into your home. Thanks, you guys, it was a busy December but you made time for my visit. I love you both. You made my Christmas 2018 more memorable. ✨
The trying-hard hand model (lol) would like to wish you, dear Hivers, a fantastic weekend! The Christmas presents-hunting game will commence shortly after this post, as it's less than a month and it's Christmas. May the odds be in your favour as you look for the perfect gifts. 😘
'Til the next post, hivers! Remember that you are loved beyond borders and beyond time & space. Okay? Okay. 💛❤️
Ciao for now! 🤗🥰
---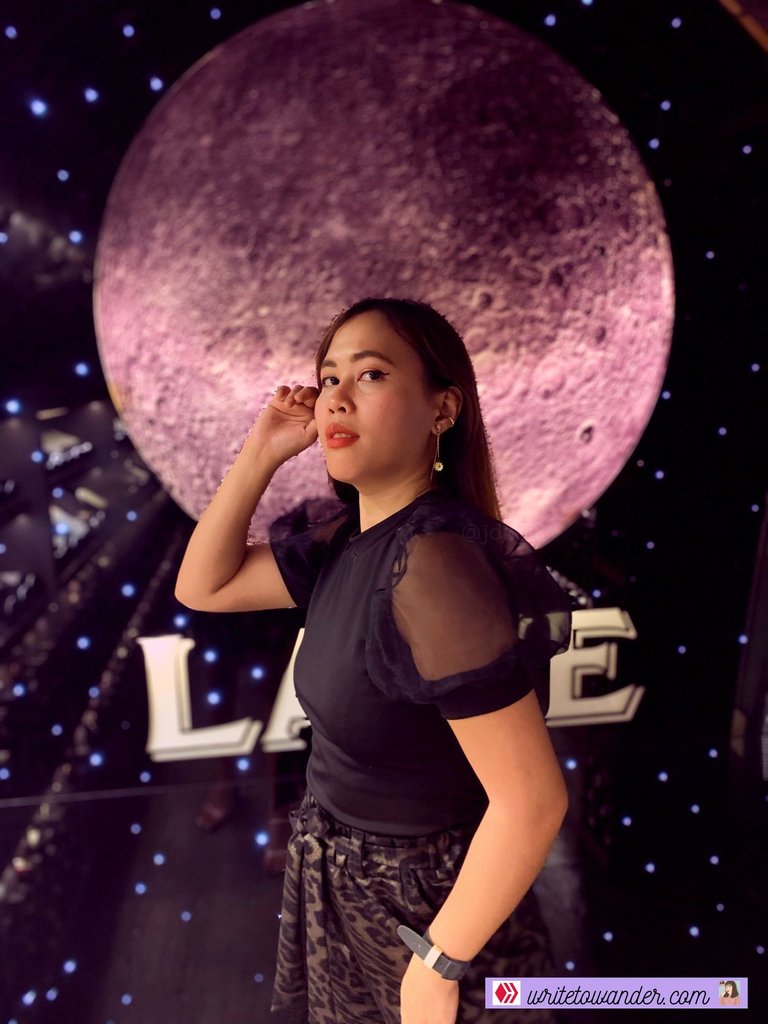 Jong CL
Hive-llo, everyone! Welcome to Jong's little buzz-y corner in Hive. Jong believes that every person she meets can teach her a thing or two (or three, or more) about life. She shares her love for life here-- the captivating beauty of life! To be more specific, but not necessarily in this order, she's interested in: wisdom, love, poetry, single life, books, travel, health&fitness, fashion, gratitude, unspoken hurts, heartbreaks and healing. Lastly, she loves Jesus.
Do you like her content? Make sure to upvote, then! Drop some love by leaving a comment-- she really appreciates listening to your thoughts! 💛 Feel free to reblog if her post resonated with you. Kindly follow her to not miss a post! Happy hiving, loves! 💛

---
---