Family Trip To The Monterey Bay Aquarium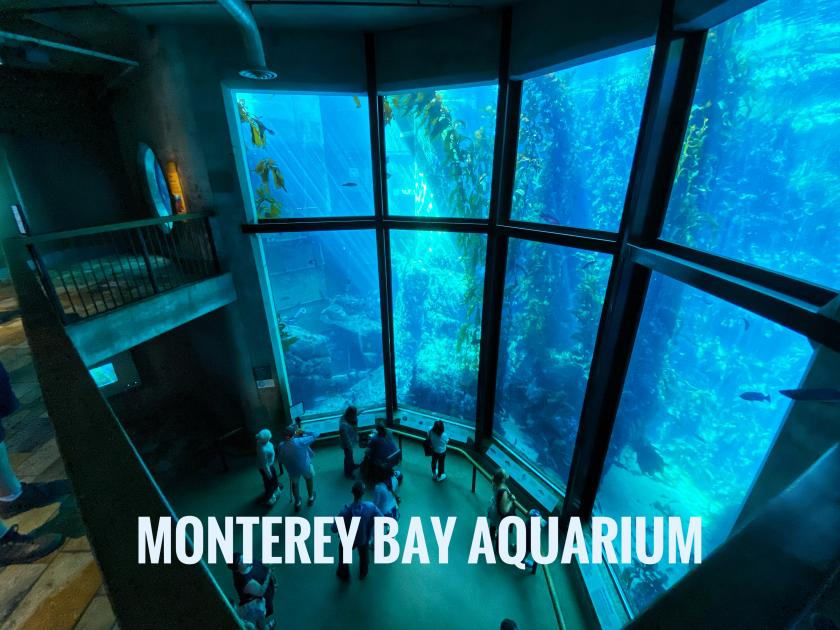 Hello fellow Hivers! Hope your week has been treating you all well. My family, and I are patiently waiting for the birth of my son, which is due any day now. @loryluvszombies due date is Oct 17th, but she is felling it is going to be sooner then that. Maybe even by this weekend! I said patiently, but in reality for her she wants this baby out by yesterday, lol. I am sure you ladies know exactly what she is felling. I can only imagine, but never even comprehend having a human being growing inside of me. It makes me love her even more for what she does for our family:)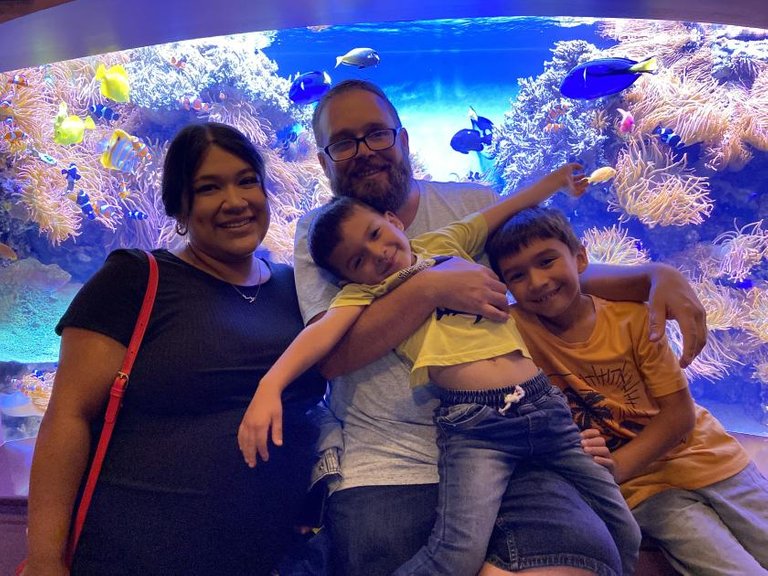 It was her birthday yesterday on the 28th, so we decided to take a day off, and head over to the Monterey Bay Aquarium. We are blessed to live in this area with so many cool attractions. Our local library gives out 6 free passes once a year. It could not of been a more perfect time to take advantage. But most of all was walking around to try to induce labor! You dads know this drill. Something that we must go along with, no matter if you still need to setup the crib, or take the car seat out of storage lol Of course I am kidding, I am so excited for the arrival of my 3rd son, Ezra Abraham Phillips. So come, and take a walk with us. Hopefully we get to see the whole Aquarium without being interrupted with a trip to the hospital;)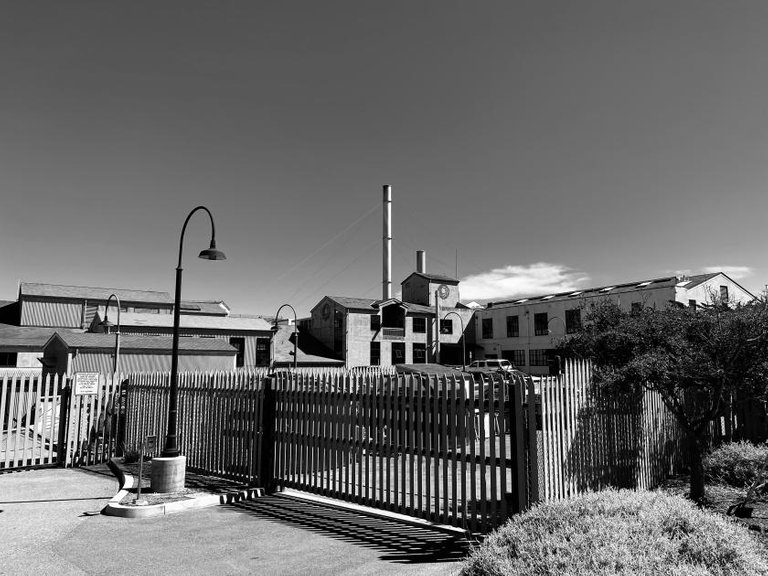 The Monterey Bay Aquarium opened in 1984. The building was originally a Sardine Cannery. Back in the day this area was not a tourist hot spot like it is today, and I imagine the smell was pretty knarly since there was Sardine Cannery's lined up, and down Cannery Row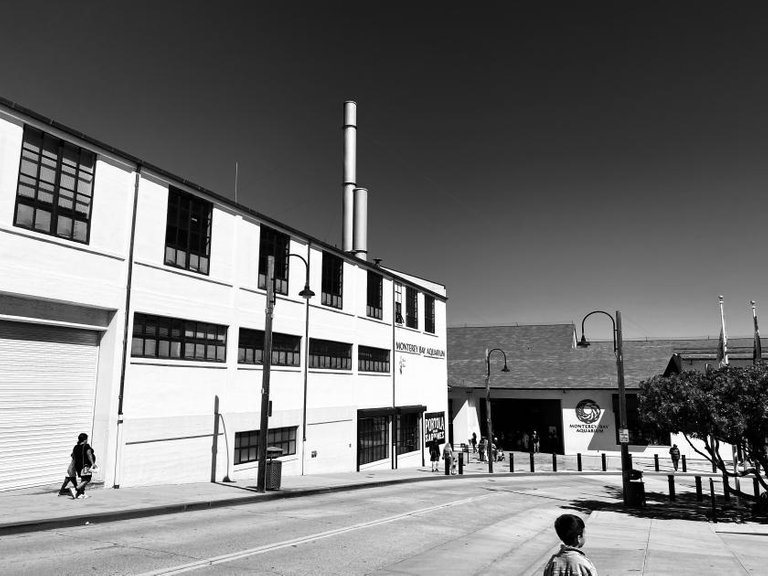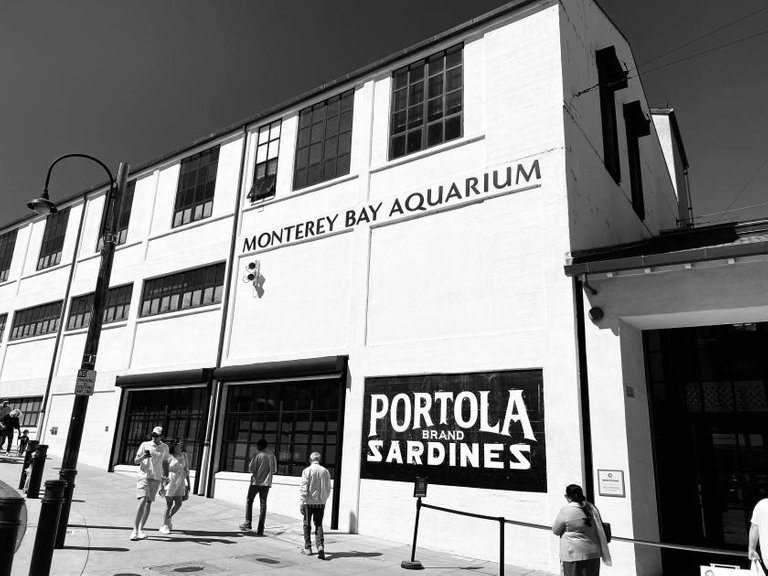 ---
Located at the end, or beginning of Cannery Row lies the MBA. You really wouldn't think that there was a world class Aquarium behind those walls if you where passing by the first time.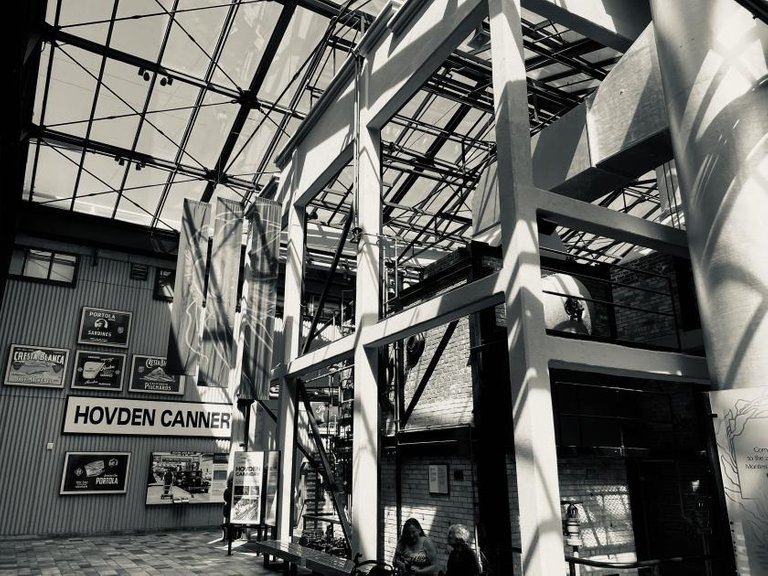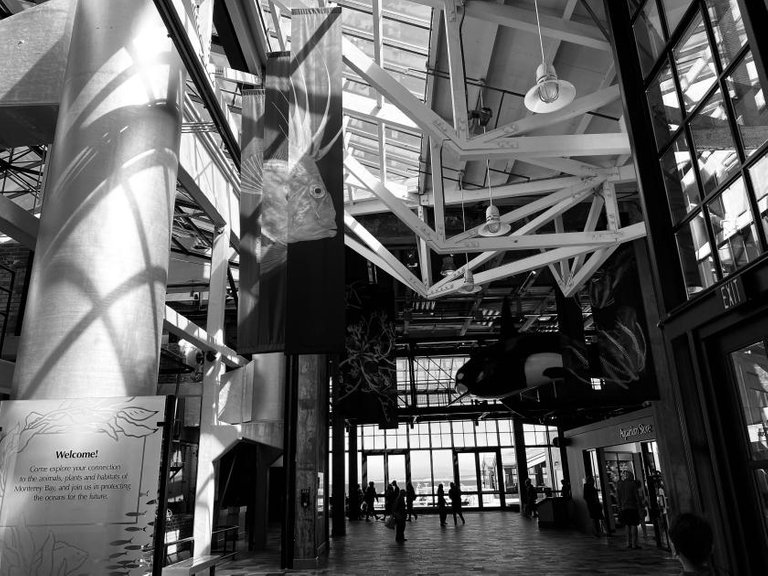 ---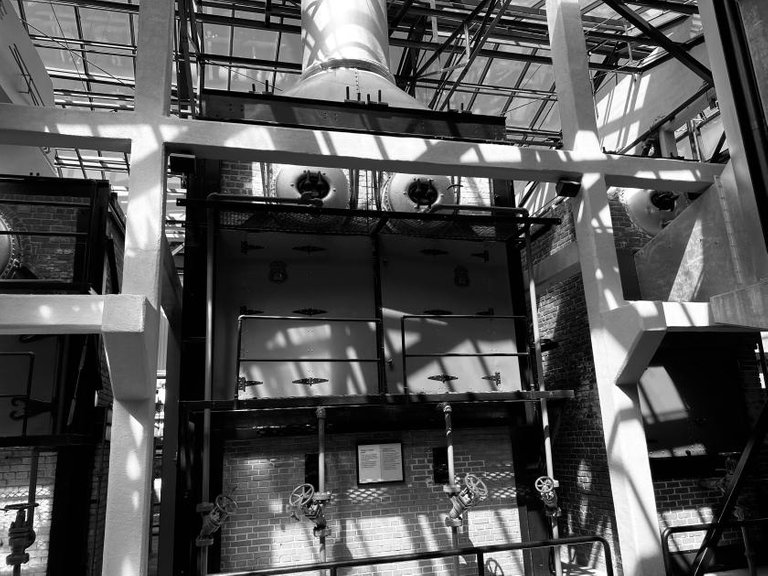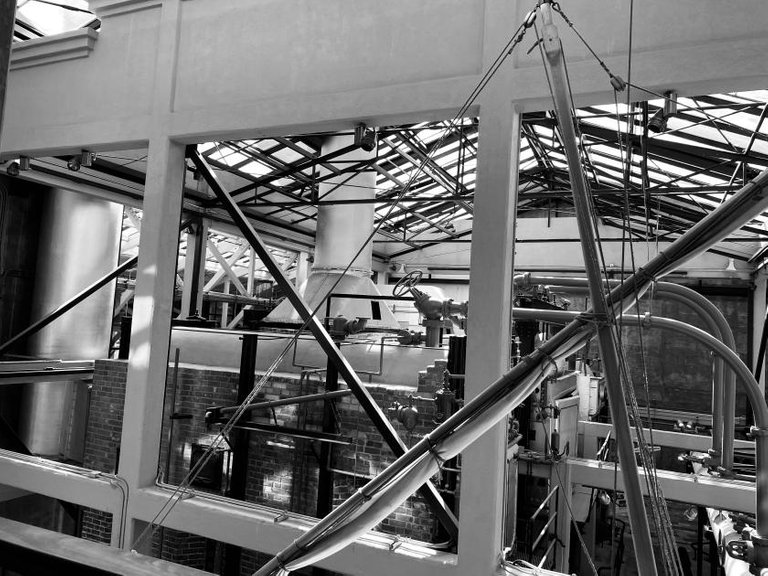 ---
At first when you walk in you see the buildings Cannery roots. Making you think of how loud it was when this place was packing Sardines. All of the workers waiting to punch out, and go drink at the local watering holes. Maybe even bumping into John Steinbeck, or Ed Ricketts. But now it is not only a Aquarium, but an organization that puts efforts into saving it's oceans, and species. A far cry from when this are overfished Sardines from the Monterey Bay so much, the industry here died out because of it!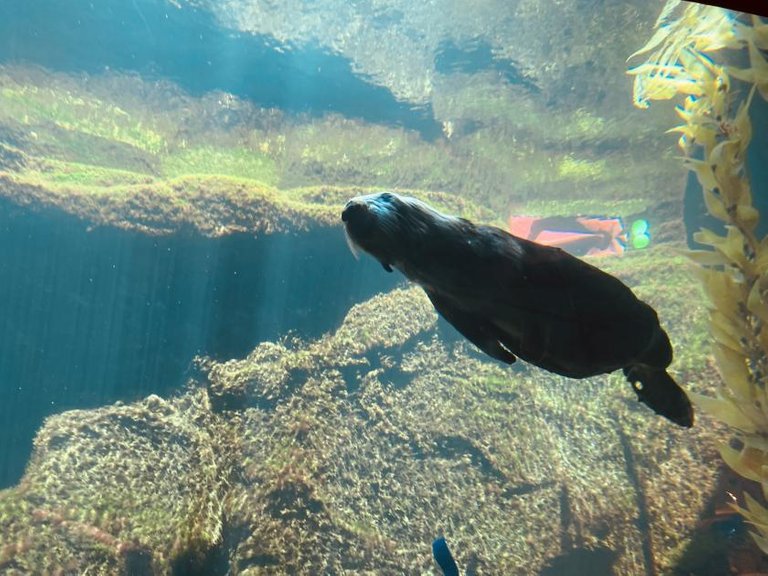 And here is it's Mascot. The Sea Otter. One of the very first sea life exhibits you see as you pass by the ghostly remains of its former occupants. If you stick around long enough, you can even get to see them get fed. These cute fur balls are a joy to watch, and you can tell they love the attention.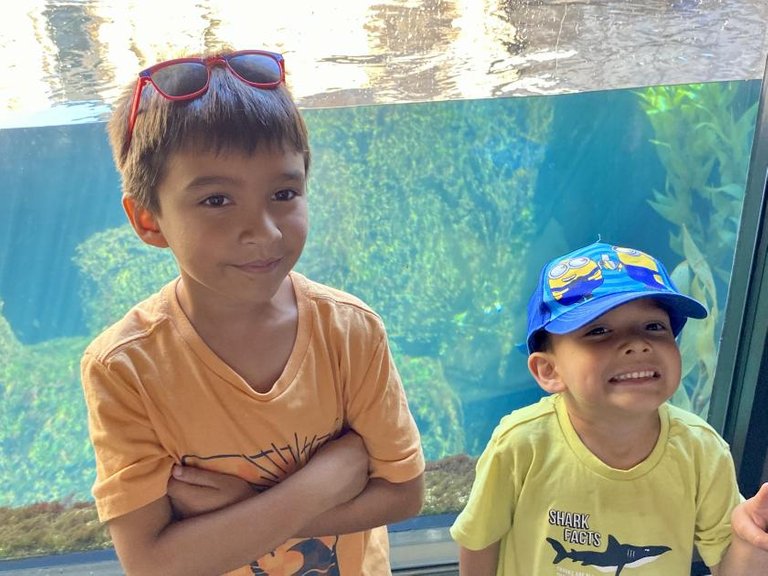 But when you got creatures like these to worry about waiting around is not an option. Lets start to see what else is in this building!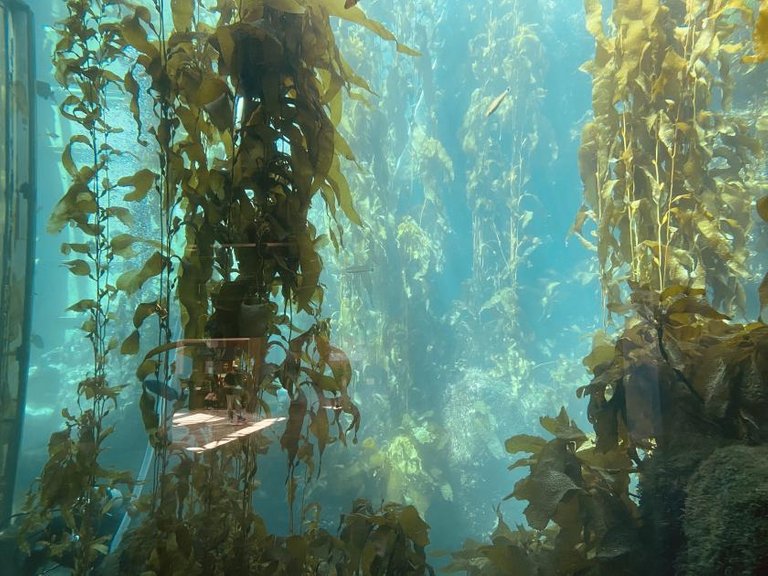 The MBA Kelp Forest exhibit is actually the first artificial Kelp Forest. Something that I found out from on of the employees that I thought was really cool. At night they turn off the filters, and let the water from the Monterey Bay circulate, keeping it fresh, and bringing in the required nutrients.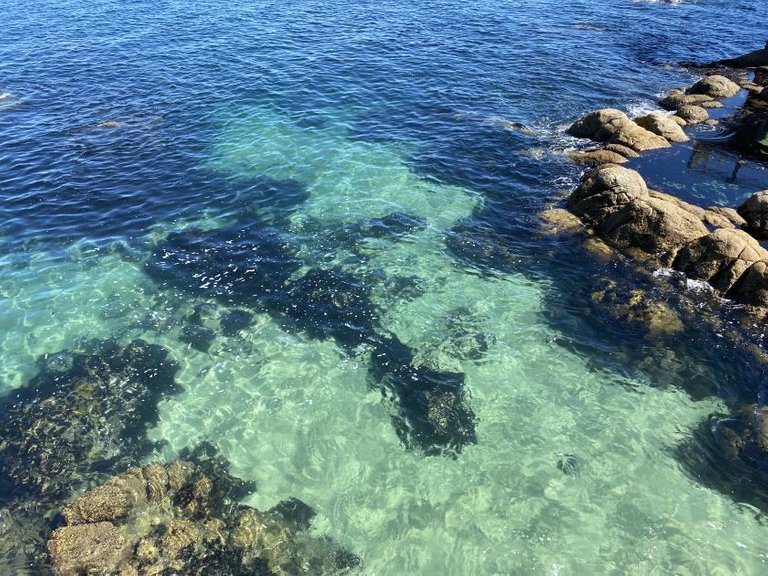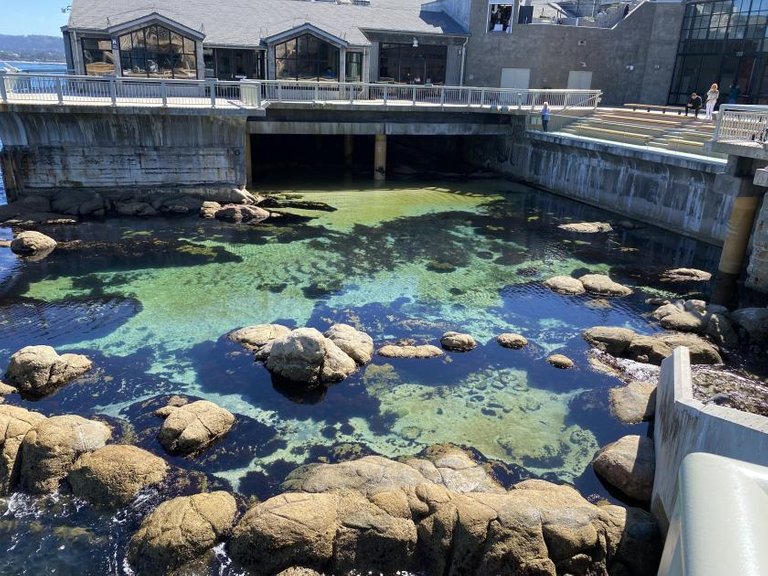 ---
I suppose being on the waters edge gives this Aquarium an advantage over others. Something that always crossed my mind, but never until yesterday did I know how much so.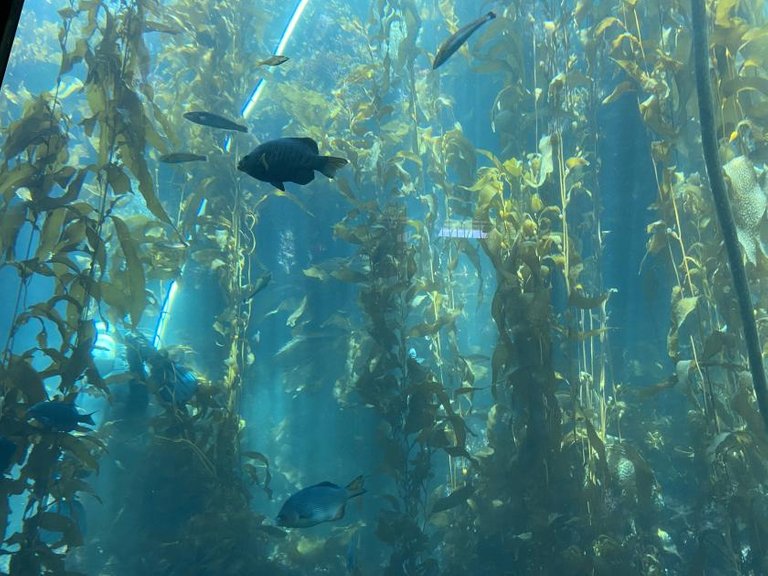 Pictures do not do this justice at all. I implore you to pop in, and visit this place if ever in town. Then again perhaps other Aquariums have learned, and able to do their own Kelp Forest. If so please let me know in the comments!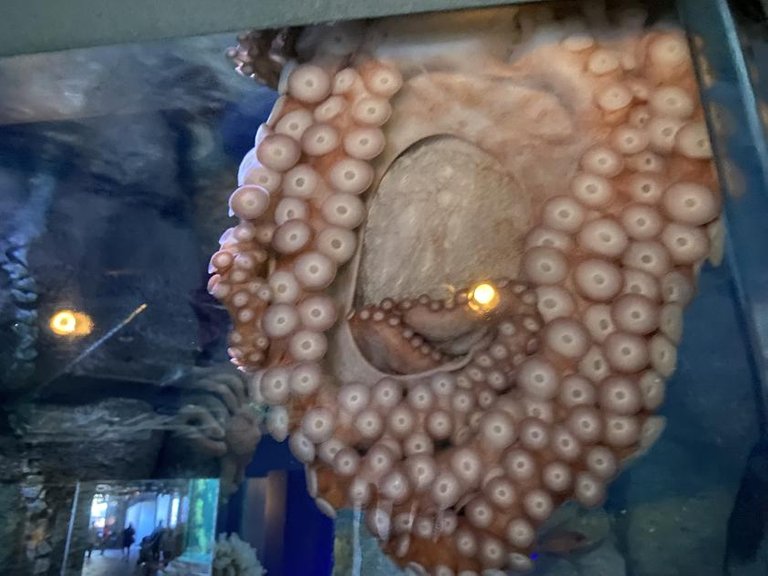 Sadly this is the only Octopus picture I got. Not exactly sure how many MBA has either. This reminds me of Hank from Finding Dory. Which FYI the Aquarium in that movie was inspired from the MBA!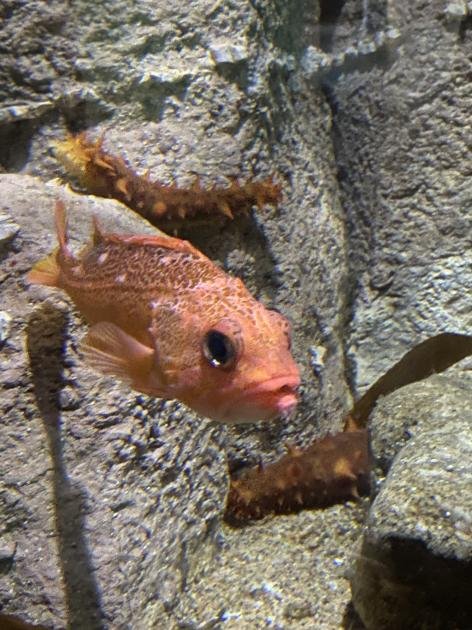 ---
No flash photography!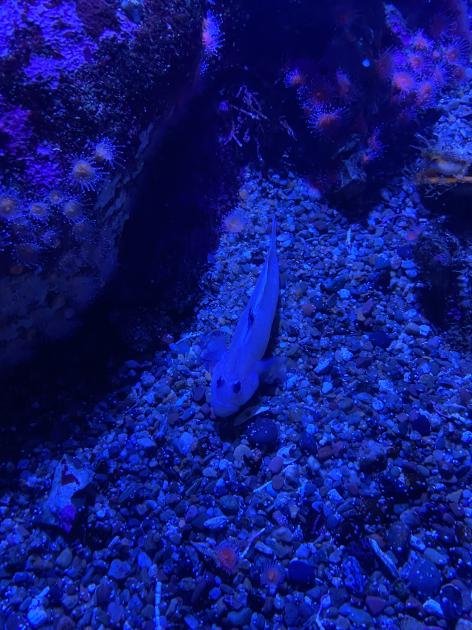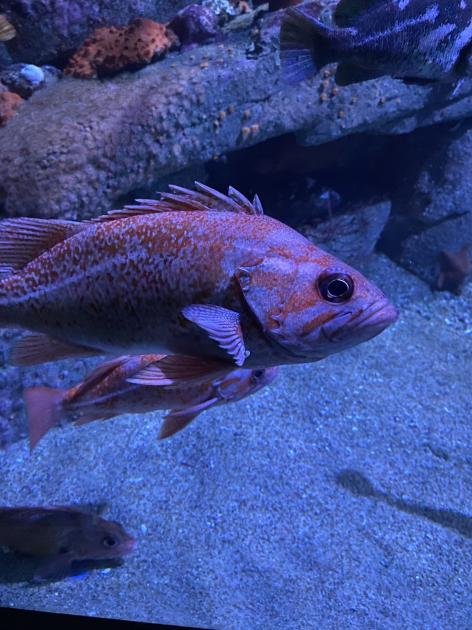 ---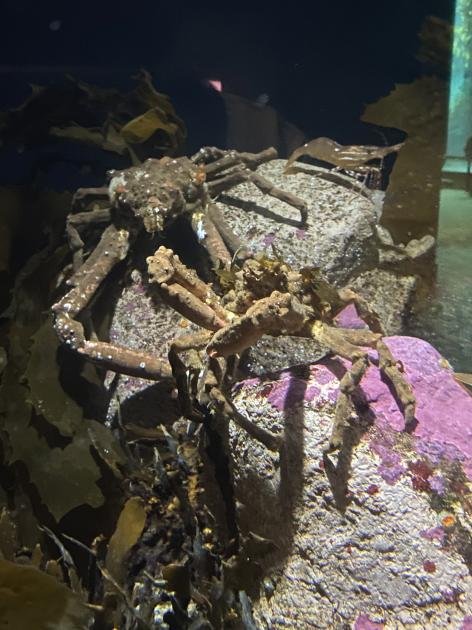 Life on Mars? No just something from the ocean! I would just freak out if I stumbled upon one of these things in the garden.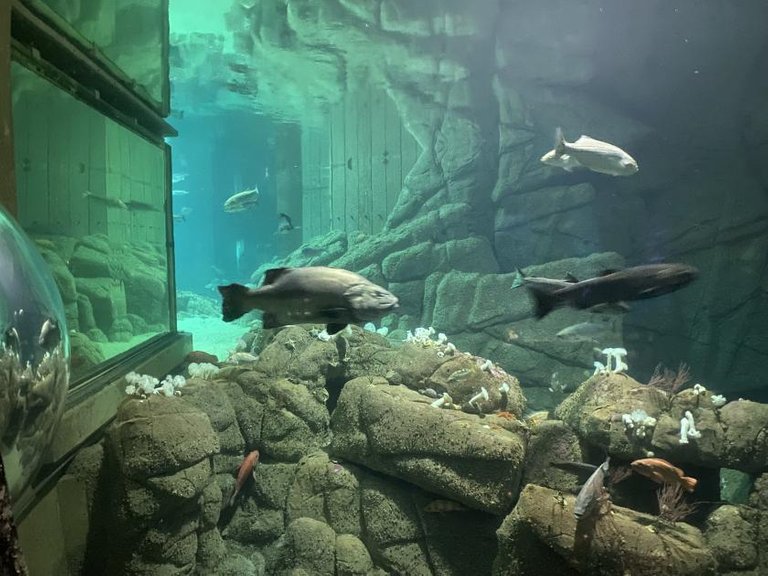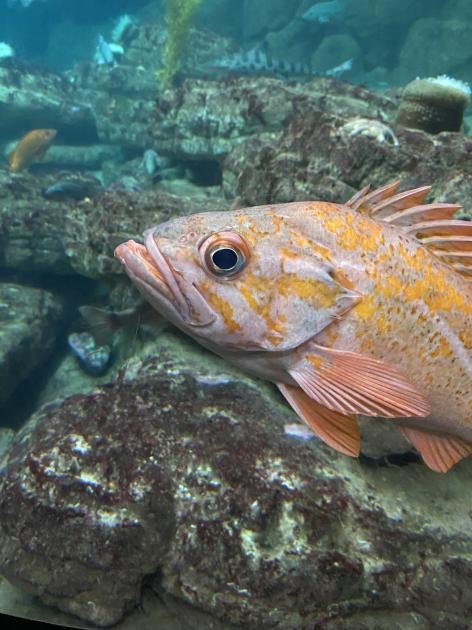 Going further into the building there are a lot of small tanks with various life. Then you come across another big tank, that mimics the real life ocean.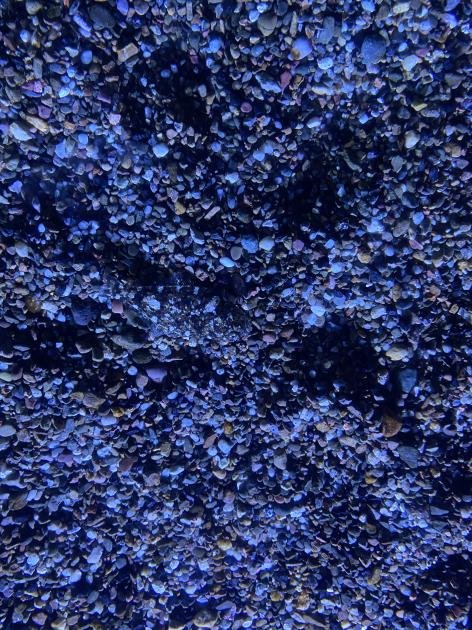 The above picture is from one of the smaller tanks. Can you spot the fish? And yes he is there!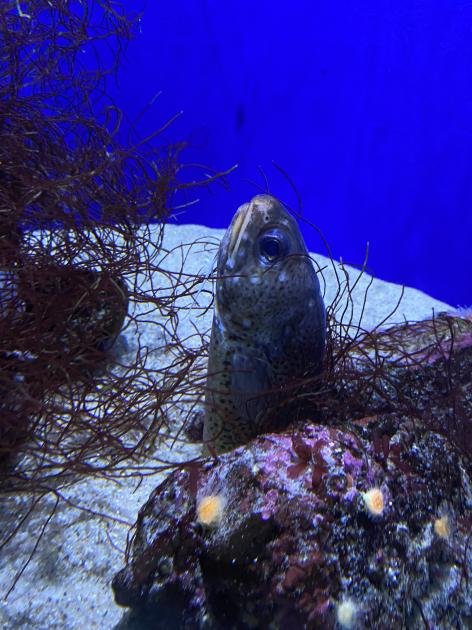 Peek a boo!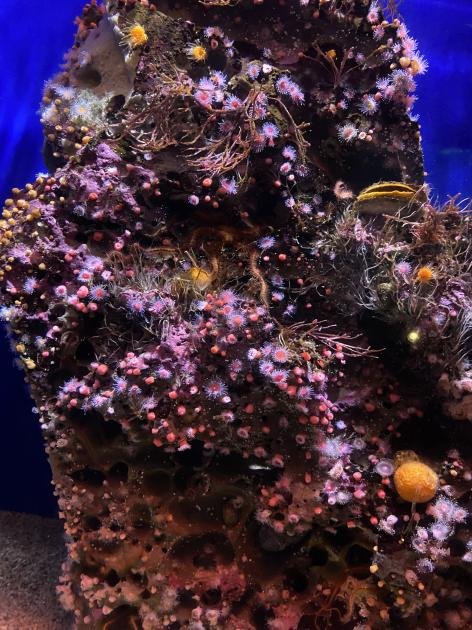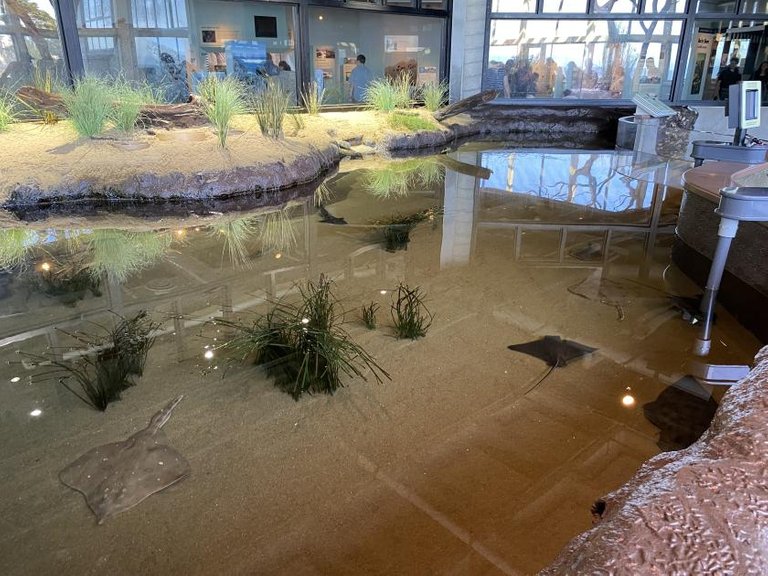 Walking through the first section is a dark room, with the tanks. Then you come upon across an exhibit that is of my boys, and my favorite parts. The Bat Ray petting pool!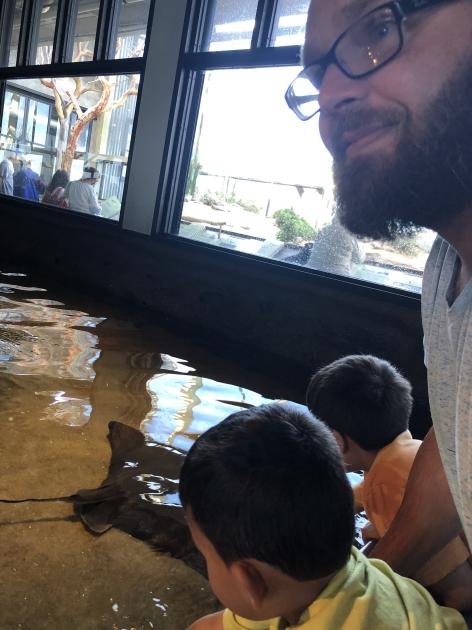 ---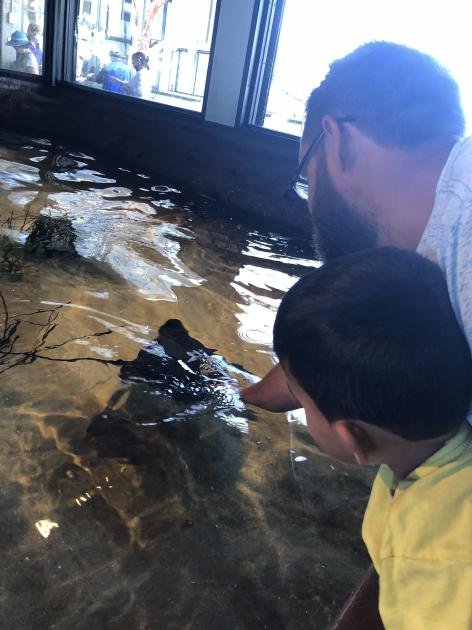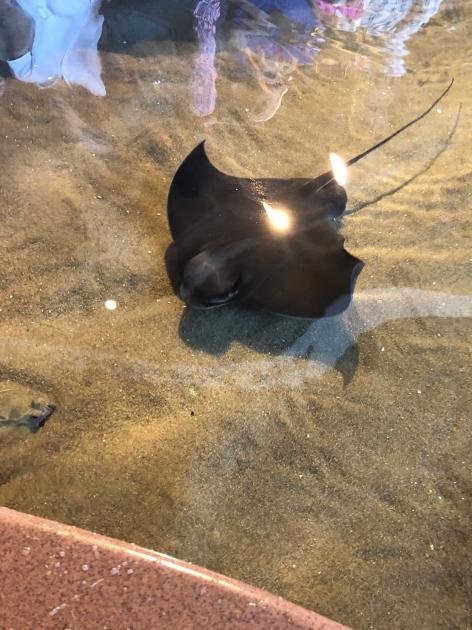 ---
It's so cool to be able to get so up close, and personal with these animals. Although it is probably annoying for them. Next time I am going to ask if they like being pet. TBH it kina seems they do. But you know some people really can be jerks. Perhaps they have good days, and bad days?
Right next to the Bat Ray pool, is little kiosks filled with random ocean life, and plants that you get to touch as well. The Sea Cucumber was my boys favorite.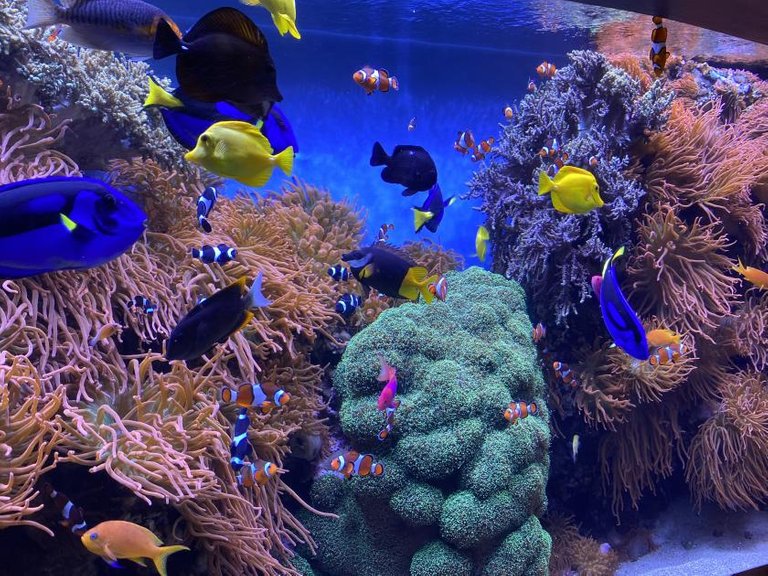 Call off the search crews, I found Nemo! This colorful section is the Coral Reef exhibit. It never seizes to amaze me on the colors Mother Nature produces.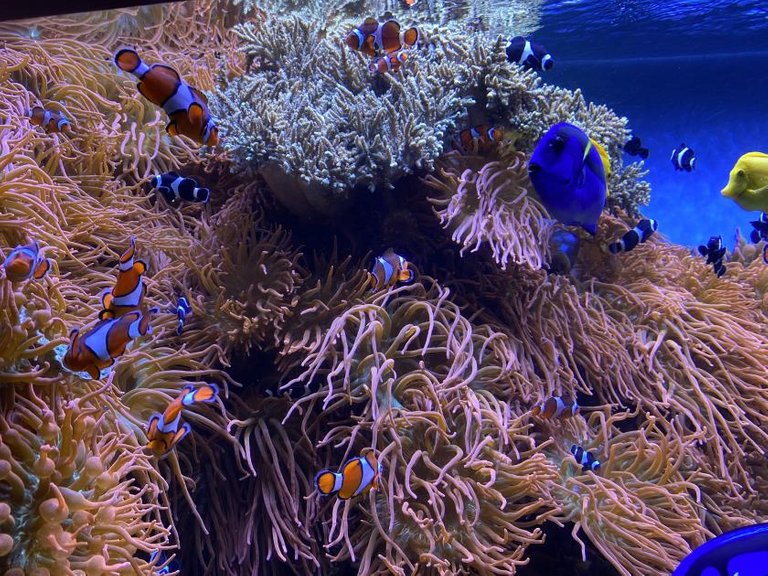 ---
How cool would it be to have a fish tank with some of these?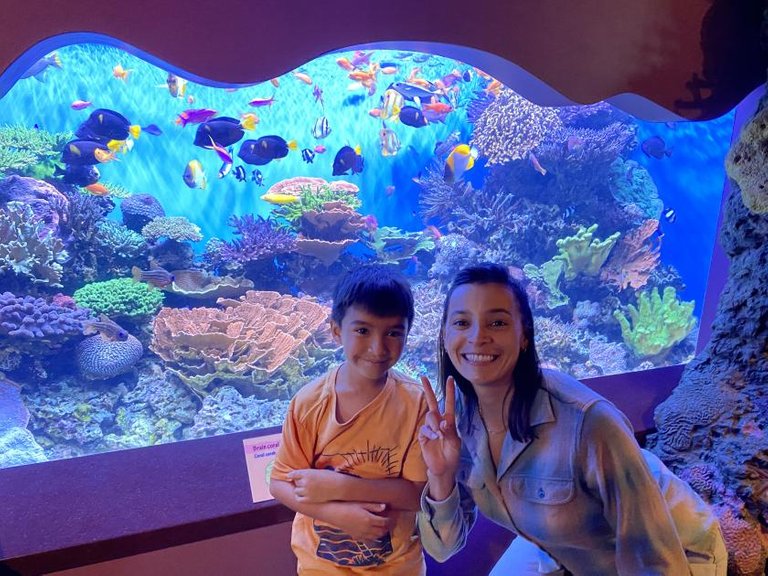 My sister got to tag along too. Always great to spend family time in a cool place like this:)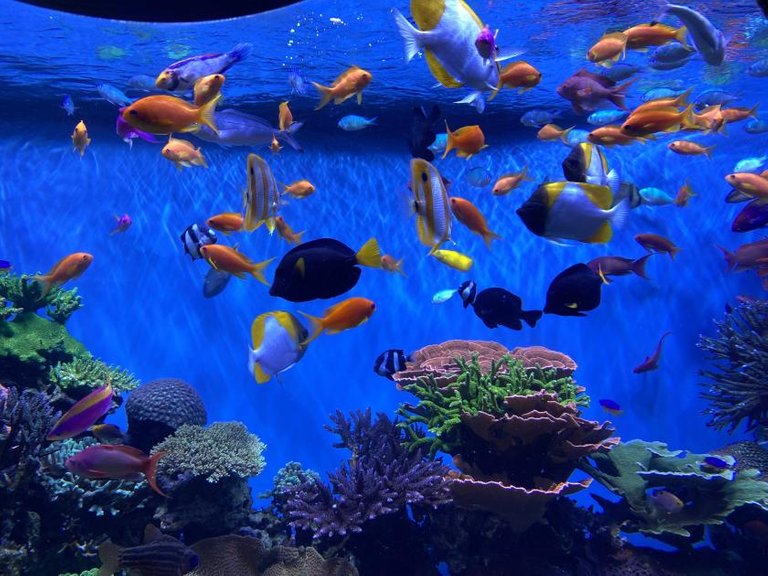 UNDER THE SEA, UNDER THE SEA....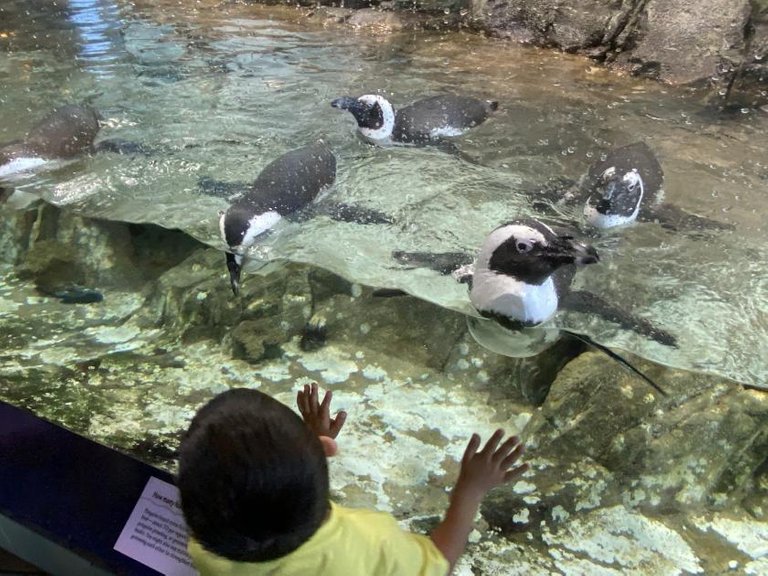 Leaving the Coral Reef, you come up on the Penguin exhibit.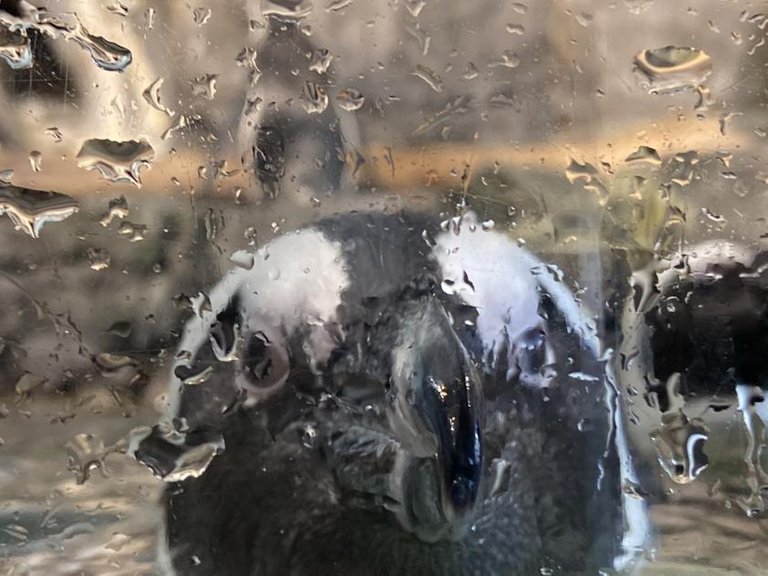 HELLO!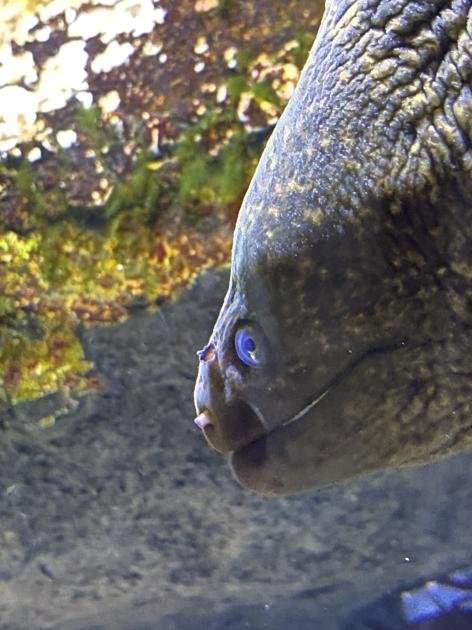 You talking to me?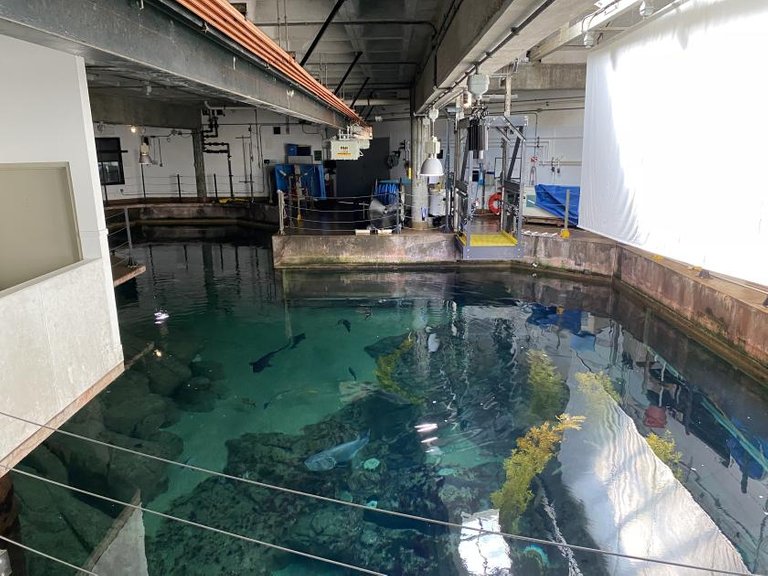 Walking down to get to the other side, you get to see the top to one of the large tanks. It just makes me think on how amazing they built this!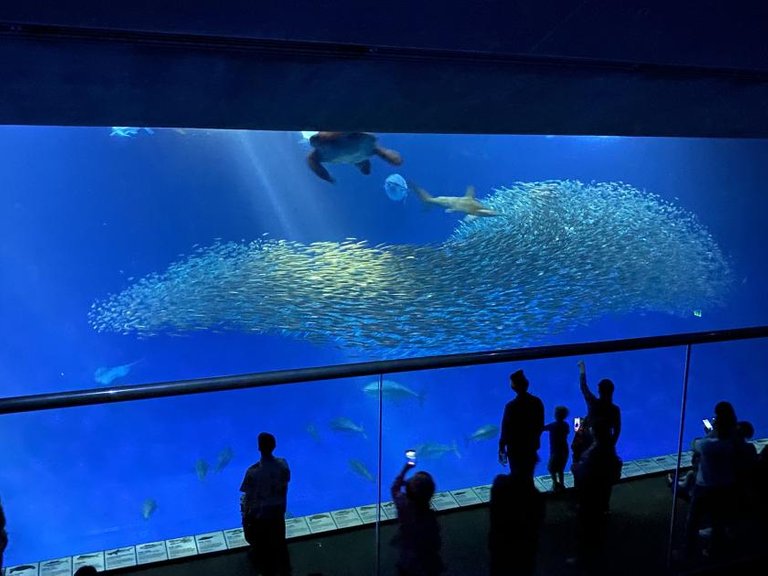 The other side is the Deep Sea section. Maybe a crowd favorite, because there is a Hammer Head in here!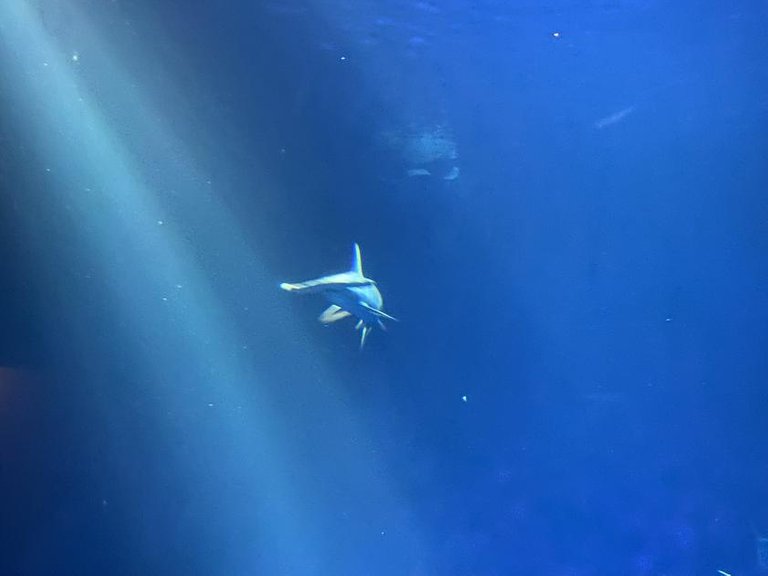 Sorry for the crappy picture, but I was getting a little lazy by the time we got here. Next time we are going to begin the day in this section. Believe me there is a lot to take in.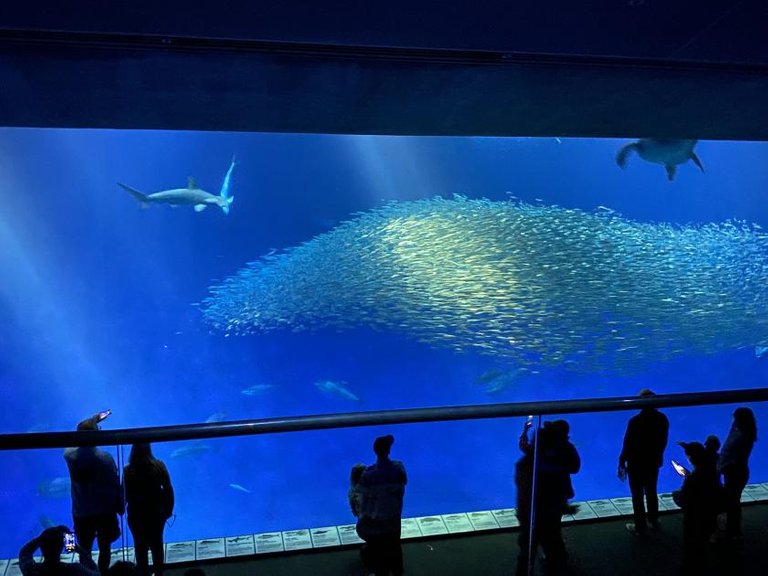 ---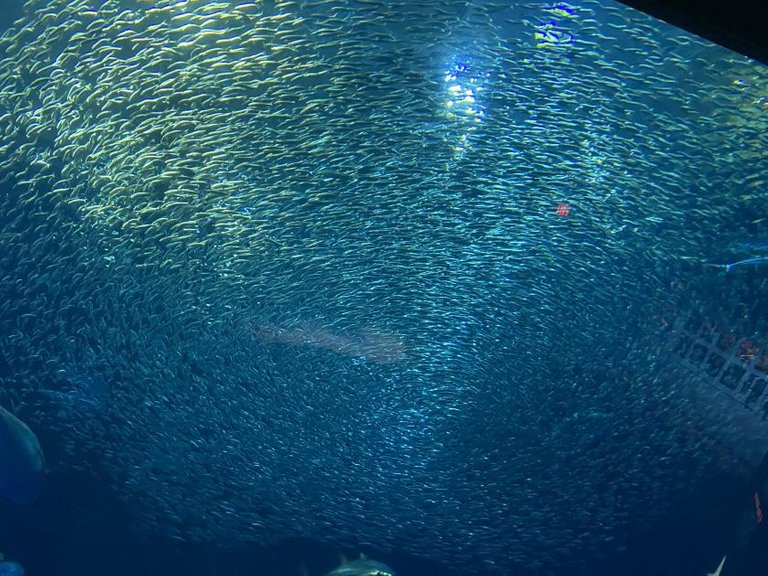 This is a school of Sardines! Watching these things swim is like watching a motion picture. When one fish moves, the other follow suite!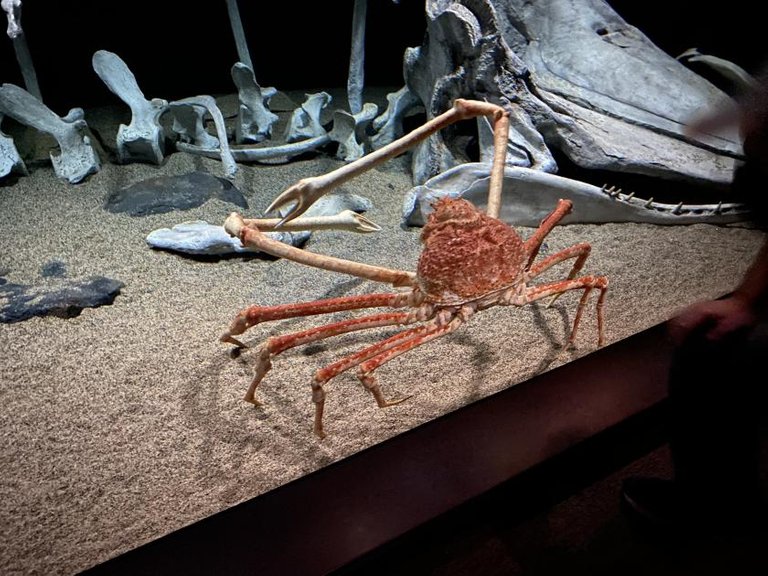 That is not an alien. But might as well be! This is a bottom of the ocean dweller, a Japanese Spider Crap, and yes they are eatable! Just make sure to order extra butter;)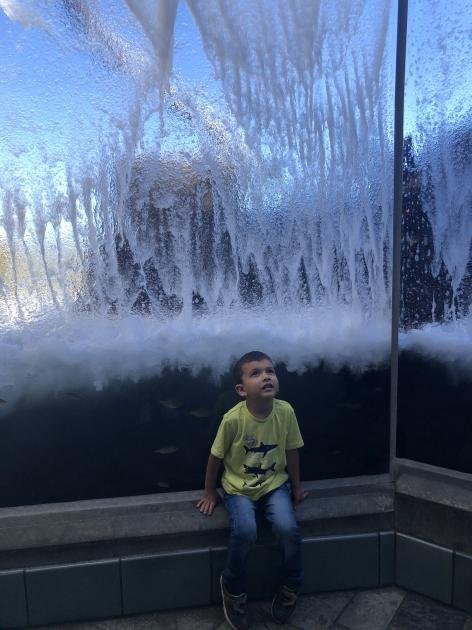 My son Jonah under the wave simulator
Well that is all for this post. There is more, but I fell the rest of it is deserving of it's own post. No labor yet. But soon, very soon. We had a fun day, and it was nice going in the middle of the week with less people. Afterwards we where very hungry, and got Chinese. Next time I want to go a little earlier, and after the Coral Reef section, or after the Deep Sea(depending on where we start) I want to do lunch, and go back. To explore the MBA fully, it requires at least 4-5 hours of your time . Doing it all in 3 hours which we did is exhausting, and like I said you start to get a little lazy taking pictures. Stay tuned for the 2nd part of our visit to MBA, hope you enjoyed it. Do you have a favorite ocean animal? Let me know in the comments. OR have you ever been to the MBA, I would love to know what you thought.

---
---