The beauty of my town [Eng/Esp]
There are places that we pass through daily that are part of our daily lives, and for this reason we often do not consider them significant, we overlook them and we do not stop to admire the beauty found in simple things.
So in this publication I want to highlight one of those places in the town where I live.
It is a park located in the middle of Avenue 51 in the municipality of La Lisa, a very busy street, and where I have walked countless times. ⛲️🌳
Hay lugares por los que transitamos diariamente que forman parte de nuestra cotidianidad, y por esta razón muchas veces no los consideramos significativos, los pasamos por alto y no nos detenemos a admirar la belleza que se encuentra en las cosas simples.
Por lo que en esta publicación quiero resaltar uno de esos sitios de la localidad donde vivo.
Es un parque que se encuentra en medio de la avenida 51 en el Municipio La Lisa, una calle bastante concurrida, y por el cual he caminado infinidad de veces. ⛲️🌳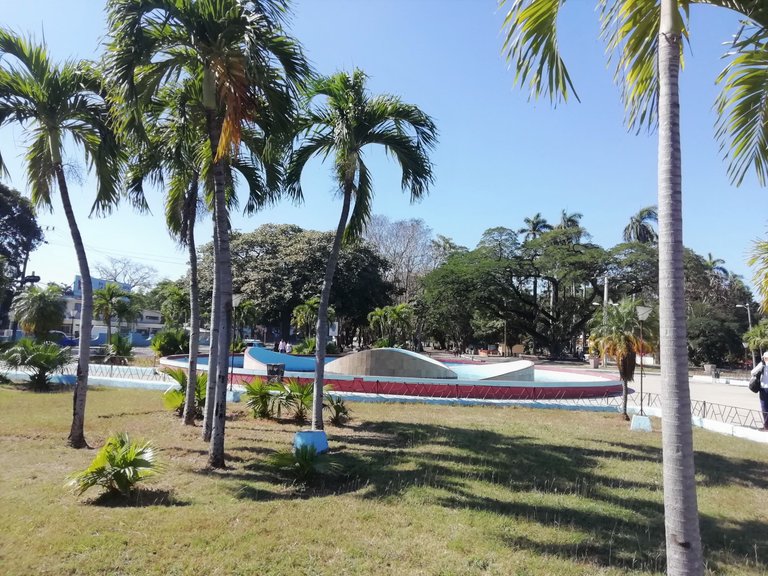 ---
I had to make a management around the area and I took the opportunity to take some pictures, and at that moment I realized that I had never really stopped to observe it in detail.
Some years ago in commemoration of the 500th anniversary of the founding of Havana, it was restored because it was a little deteriorated.
The main attraction is a fountain located in the center of the intersection of two avenues (ave.51 and ave.198) and where a considerable number of people and vehicles pass daily.
This place has always been a park dedicated to culture and recreation, which awakens beautiful memories in me since in my adolescence it was a meeting place to listen to music, dance, laugh and share with friends. Many times a local band would play 🎼. It was always a very happy place. Here we sat down to talk and enjoy those moments when you are young and live life without big pressures or worries, so I felt a little nostalgic for those times.
Tuve que hacer una gestión por sus alrededores y aproveché para tomar algunas fotos, y en ese momento me percaté que realmente nunca me había detenido a observarlo en detalle.
Hace algunos años atrás en conmemoración del Aniversario 500 de la fundación de La Habana, fue restaurado ya que se encontraba un poco deteriorado.
La atracción principal es una fuente que se encuentra en el centro de la intersección de dos avenidas (ave.51 y ave.198) y por donde transitan diariamente un número considerable de personas y vehículos.
Este sitio siempre fue un parque dedicado a la cultura y la recreación, el cual me despierta lindos recuerdos ya que en mi adolescencia era un sitio de reunión y encuentro para escuchar música, bailar, reír y compartir con los amigos. Muchas veces tocaba alguna banda local 🎼. Siempre fue un sitio muy alegre. Aquí nos sentábamos a conversar y disfrutar de esos momentos cuando se es joven y se vive la vida sin grandes presiones ni preocupaciones, por lo que sentí un poco de nostalgia por esos tiempos.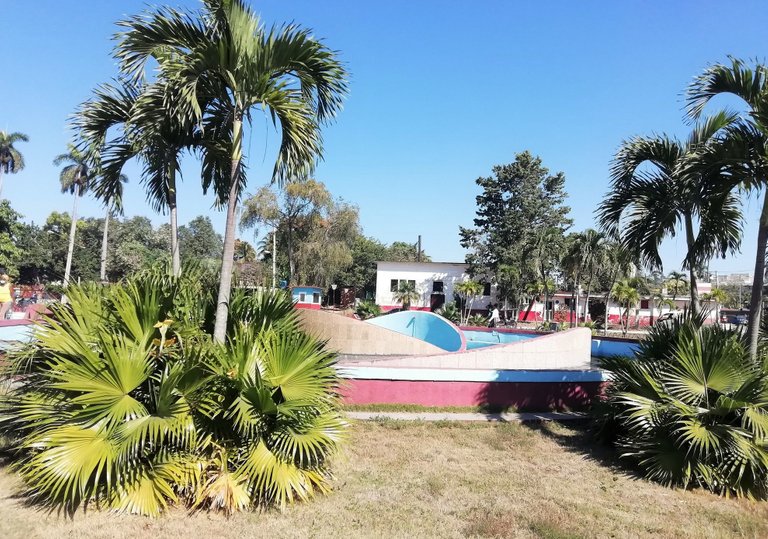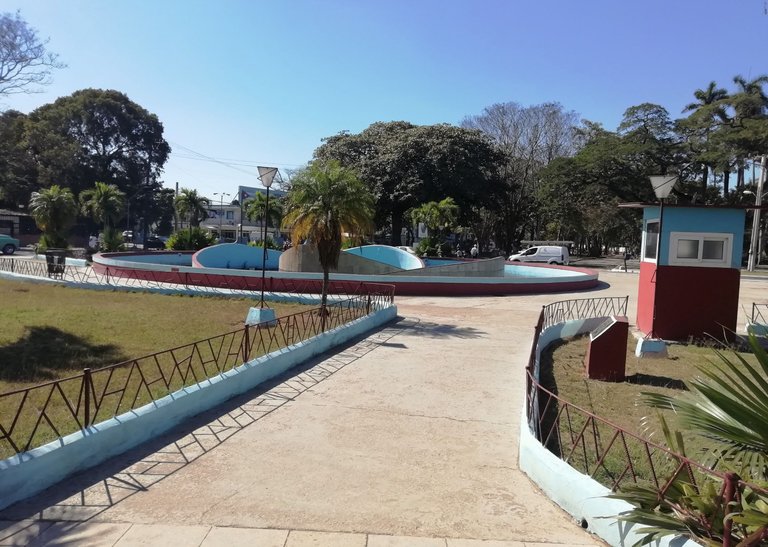 ---
I really liked what was done in the space where the fountain is located, which was inactive for a long time, but after being restored, it came back to work to recreate us with its beautiful view, since it beautifies the environment.
On the day of the photos it was not working, but at other times of the day I have seen it supplying water, it seems that it is not active at all times.
The place is currently very nice, with new brown benches very striking and simple but very well maintained gardens.
Its fountain has three circular pools, a smaller one in the center where the water supplier is, and two others that increase in diameter as they move away from its center, with a different design from those I have seen.
Me gustó mucho lo que hicieron en el espacio donde está su fuente, la cual estuvo mucho tiempo inactiva, pero después de restaurada volvió a funcionar para recrearnos con su hermosa vista, ya que embellece mucho el entorno.
El día de las fotos no estaba funcionando, pero en otros momentos del día si la he visto surtiendo agua, parece que no está activa en todo momento.
El lugar actualmente está muy bonito, con nuevos bancos de color marrón muy llamativos y unos jardines sencillos pero muy bien cuidados.
Su fuente tiene tres estanques circulares, uno más pequeño en el centro donde está el surtidor de agua, y otros dos que van aumentando en diámetro a medida que se alejan de su centro, con un diseño diferente a los que he visto.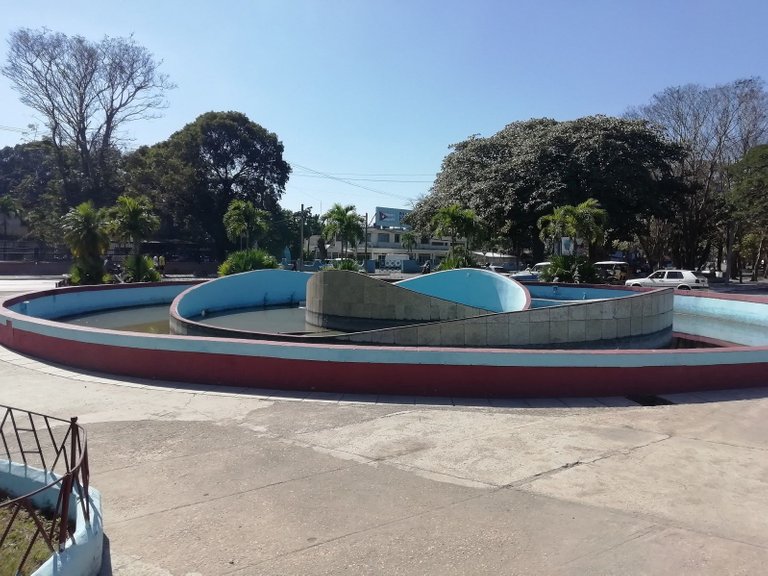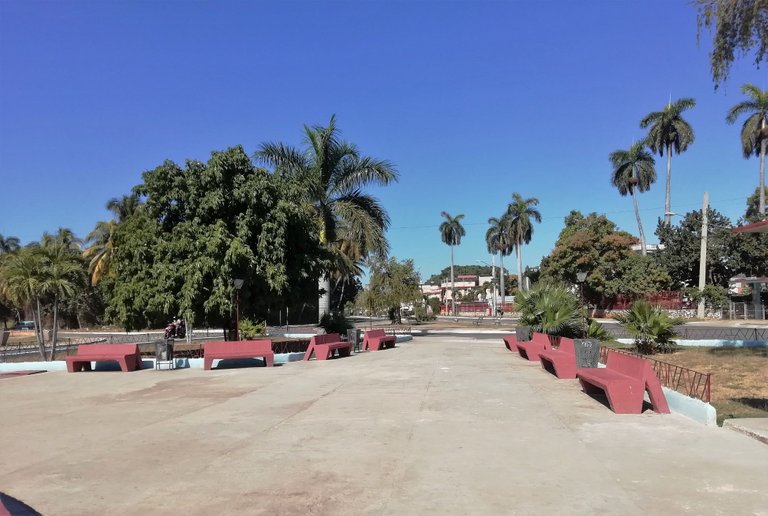 ---
The only I did not like is that the vegetation is not very lush and does not cast much shade, so you could feel the sun that was very strong at that time.☀️
However, we walked (me and my little girl) all over the place, my little girl wanted to sit on the benches, and on the edge of the fountain because she was attracted by the water inside.
The park is surrounded by a small fence, with several access points and at each entrance there are planted several palm trees and other ornamental plants.
Lo único que no me gustó es que la vegetación es poco frondosa y no proyecta mucha sombra, por lo que se sentía bastante el sol que estaba muy fuerte a esa hora.☀️
Así y todo, caminamos (yo y mi pequeña) por todo el sitio, mi niña quiso sentarse en los bancos, y en el borde de la fuente porque le llamó la atención el agua en su interior.
El parque está rodeado por una pequeña cerca, con varios puntos de acceso y en cada entrada hay sembradas varias palmeras y otras plantas ornamentales.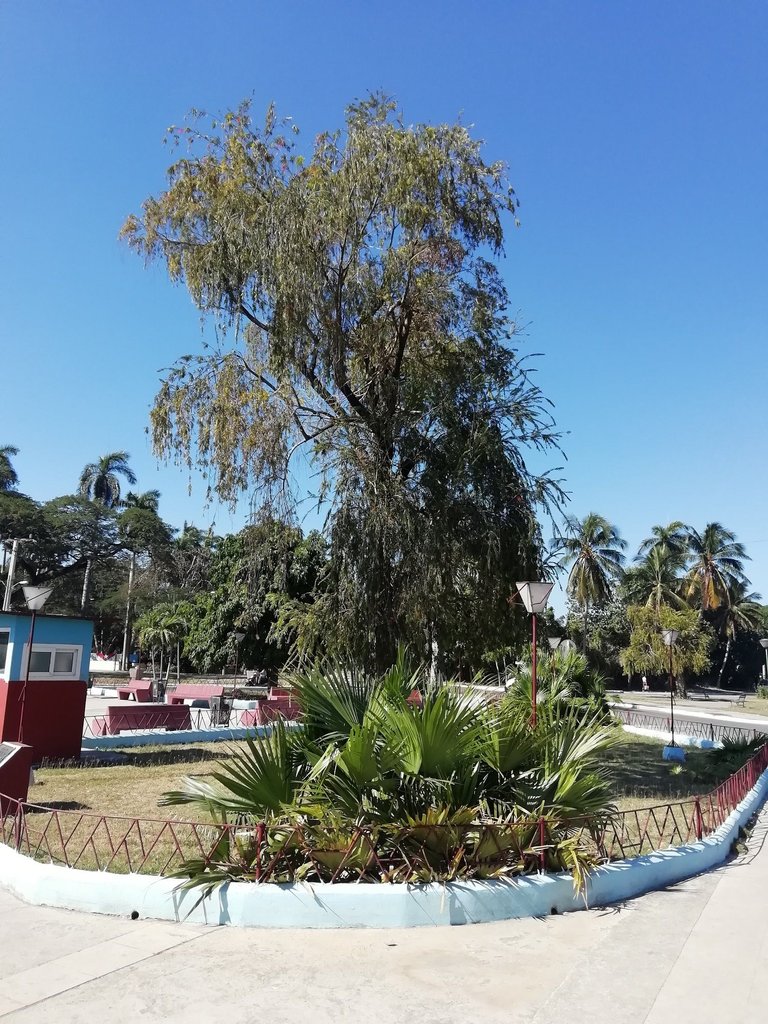 ---
On the front sidewalk is a larger park with a wide avenue of trees. In this winter season some of them have lost part of their foliage, although our winter is not so cold and the trees keep their color.
This place is very visited because in its surroundings there is a hospital and a polyclinic and people sit on the benches at the exit of these places. There are almost always children who go to play accompanied by their parents, lovers who meet to enjoy each other's company, and many passers-by who take some time to rest before going on their way. 🏃🚶‍♀
I really enjoyed being there just taking pictures and hanging out, without the rush of other times.
It had been a while since I had sat on one of its benches to enjoy the tranquility of being surrounded by nature.
En la acera del frente se encuentra un parque de mayor extensión con una amplia alameda de árboles. En esta época invernal algunos han perdido parte de su follaje, aunque nuestro invierno no es tan frío y los árboles conservan su color.
Este lugar es muy visitado ya que en sus alrededores se encuentra un hospital y un policlínico y las persona se sientan en sus bancos a la salida de estos sitios. Casi siempre hay niños que van a jugar acompañados por sus padres, enamorados que se citan para disfrutar de la mutua compañía, y muchos transeúntes que se toman un tiempo de descanso antes de seguir su camino. 🏃🚶‍♀
Disfruté mucho el estar ahí solo tirando fotos y pasando el rato, sin la prisa de otros momentos.
Llevaba tiempo sin sentarme en uno de sus bancos a disfrutar de la tranquilidad que se siente al estar rodeada de la naturaleza.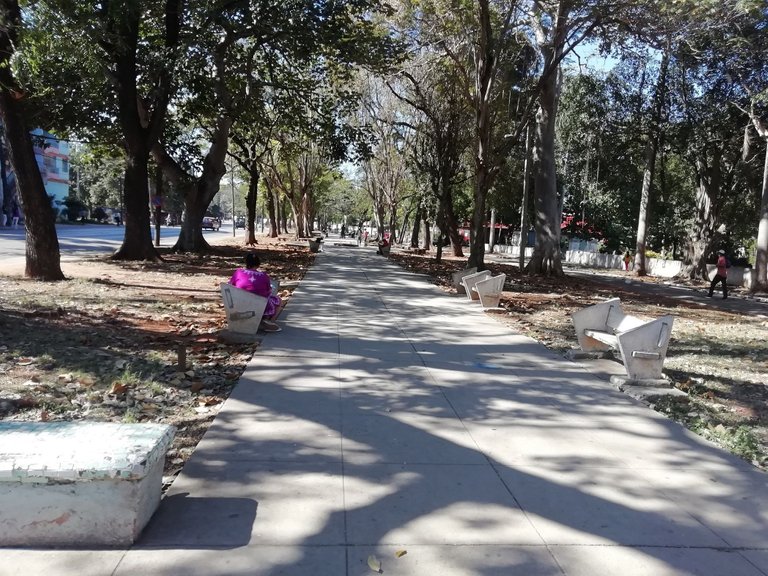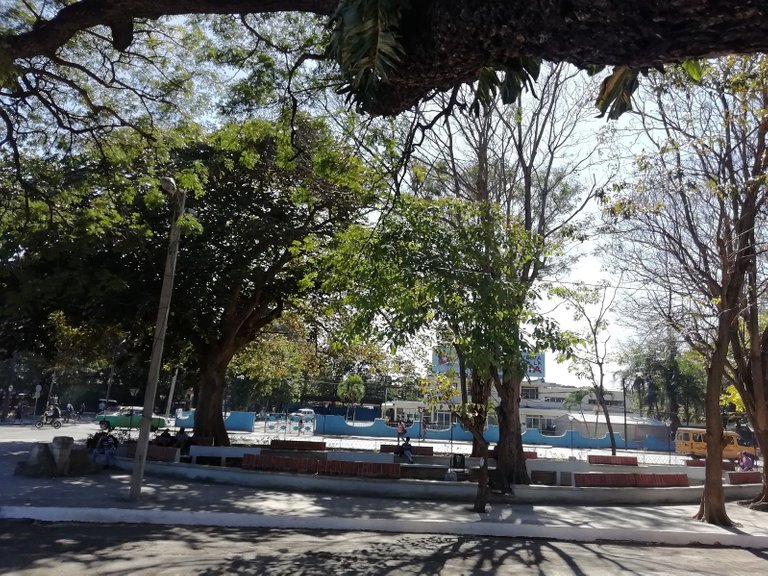 ---
Although it is located on a large avenue, there is little noise from the street, it is as if there were an invisible barrier between the park and the bustle of the surrounding streets.
At the beginning of the park there is a sculpture with the coat of arms of the Municipality "La Lisa", in its interior is represented the bridge that limits the beginning of the Municipality next to allegorical symbols to the culture and the industrial development of our city. All this, framed in a pottery vase since this is a craft that is part of the traditions of the Municipality.
There is also a plaque that recalls the Pan American torch route in 1991, which had its headquarters in Cuba, something I was unaware of, so I am proud that this place has contributed to leave its mark on the country's sports.
A pesar de que está ubicado en una gran avenida se escucha poco el ruido de la calle, es como si hubiera una barrera invisible entre el parque y el bullicio de las calles que lo rodean.
En el inicio del parque hay una escultura con el escudo del Municipio "La Lisa", en su interior está representado el puente que limita el inicio del Municipio junto a símbolos alegórico a la cultura y al desarrollo industrial de nuestra ciudad. Todo esto, enmarcado en un jarrón de alfarería ya que este es un oficio que forma parte de las tradiciones del Municipio.
Hay también una placa que recuerda el recorrido de la antorcha Panamericana, en el año 1991, y que tuvo su cede en Cuba, lo cual era algo que desconocía, por lo que me siento orgullosa de que este lugar haya contribuido a dejar su huella en el deporte del país.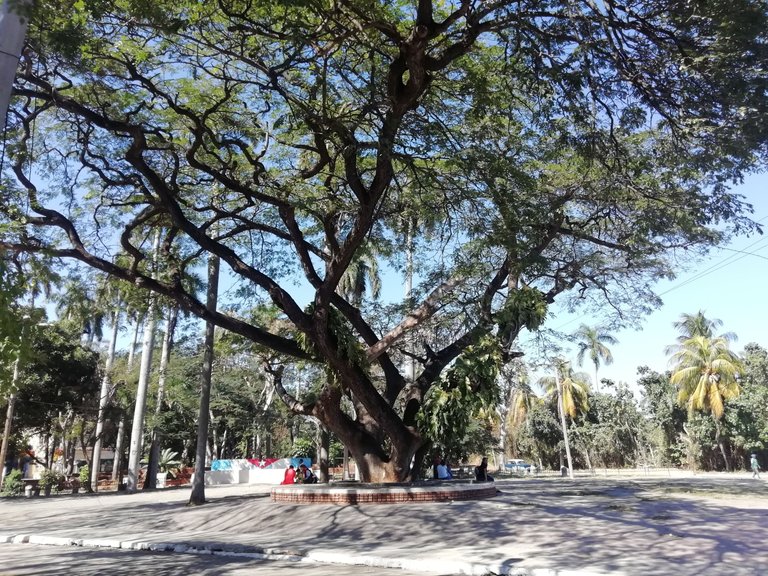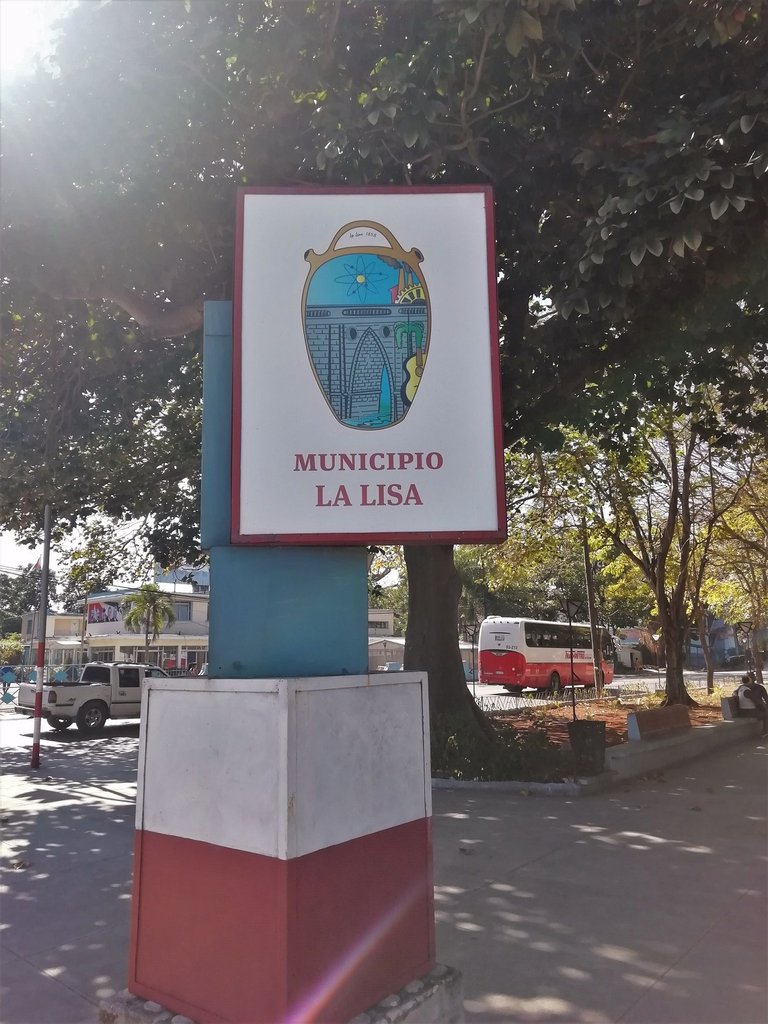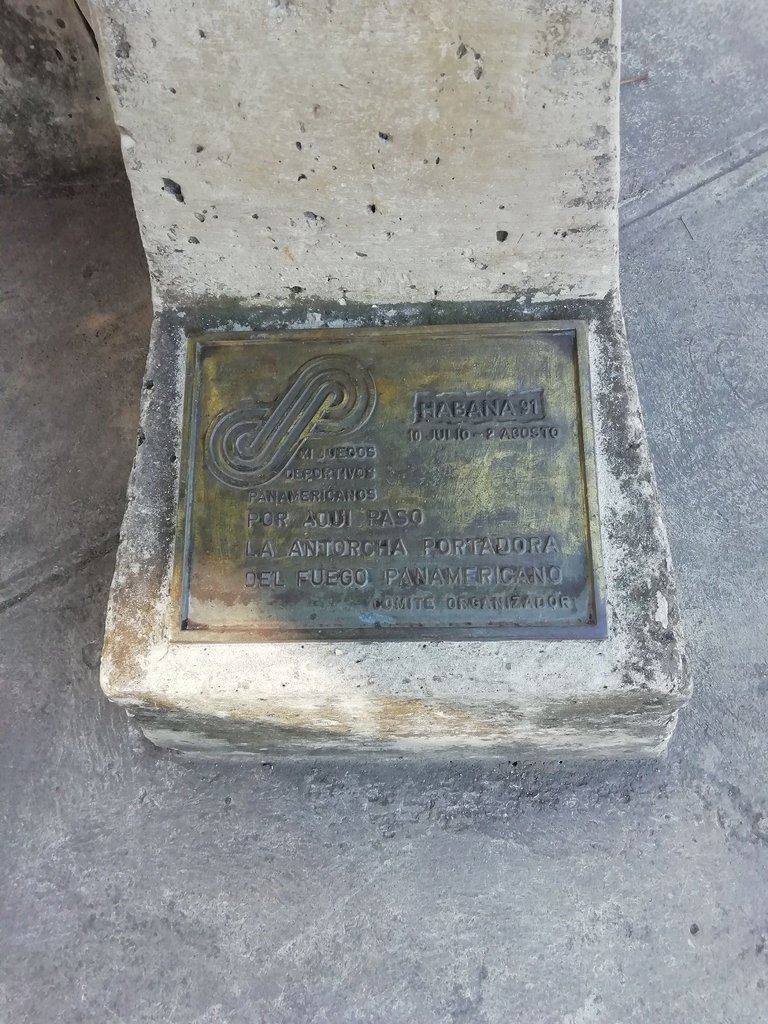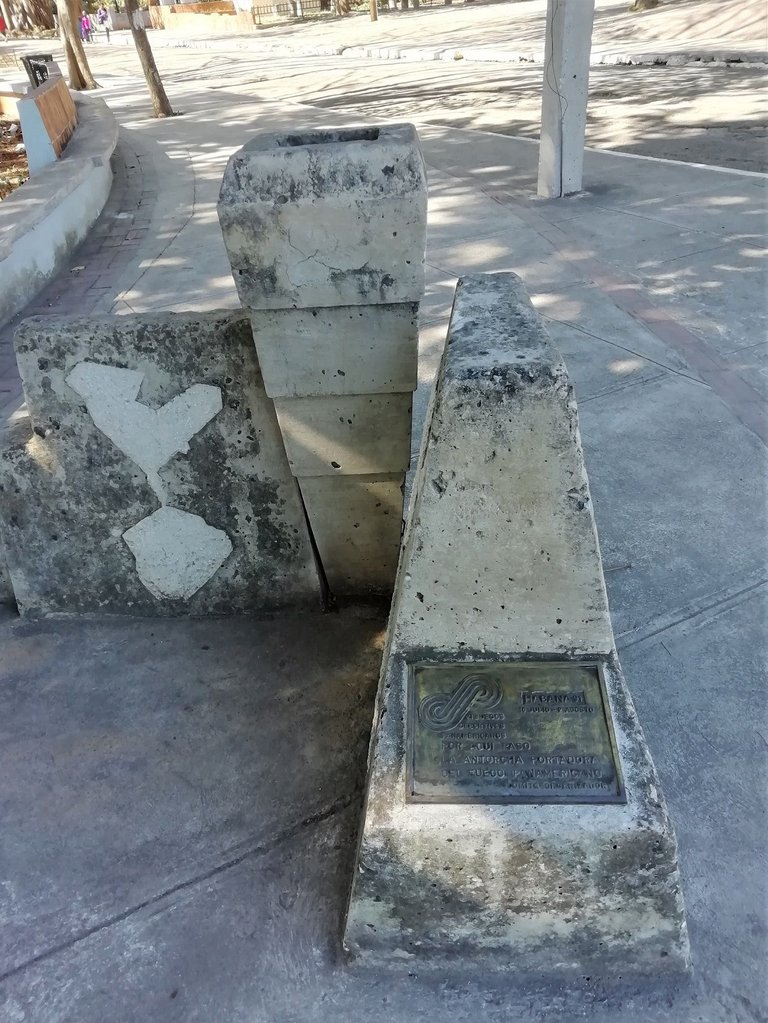 ---
Something I really like about this park is the large number of royal palms it has. The palm is a majestic and elegant tree, a national symbol, which is scattered all over the country. 🌴
We always have to look up to the sky to see it in its entirety, so the contrast of its green plumes with the blue of the sky is always a very pleasant vision.
In the site there is a small square enabled for the presentation of musical shows, which is guarded by two royal palms and at the bottom of its wall a drawing of the Cuban flag, always present in everything related to our culture.
Algo que me gusta mucho de este parque es la gran cantidad de palmas reales que tiene. La palma es un árbol majestuoso y elegante, símbolo nacional, que se encuentra esparcido por todo el país. 🌴
Siempre hay que levantar la mirada al cielo para poder verla en su totalidad, por lo que el contraste de sus verdes penachos con el azul del cielo es siempre una visión muy agradable.
En el sitio hay una plazoleta habilitada para la presentación de espectáculos musicales, la cual está custodiada por dos palmas reales y en el fondo de su pared un dibujo de la bandera cubana, siempre presente en todo lo referente a nuestra cultura.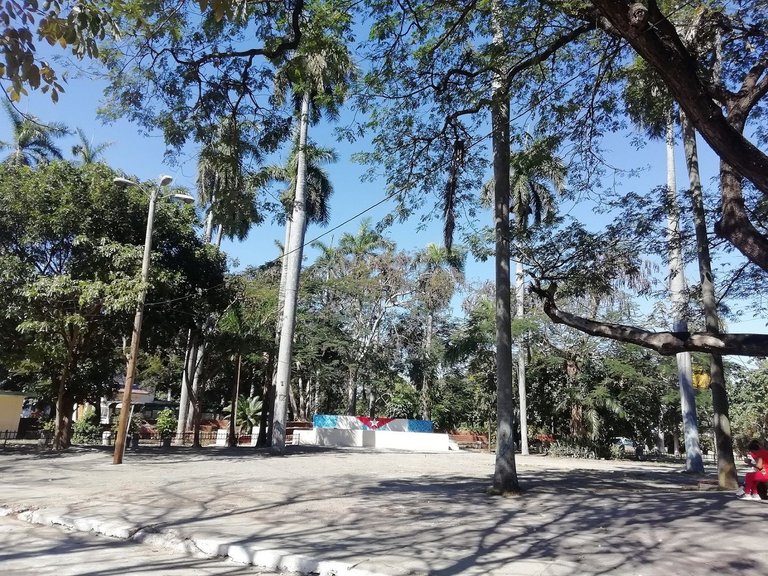 ---
I felt very comfortable in this park, and my little girl had a lot of fun running and playing among the benches.
I really enjoyed the calm and peaceful feeling that this place transmits. Where the environment is part of the whole design of the site. So I will make a firm resolution to visit it more often.
Me sentí muy a gusto en este parque, y mi niña se divirtió mucho corriendo y jugando entre sus bancos.
Disfruté mucho de la calma y la sensación de paz que transmite este sitio. Donde el entorno forma parte de todo el diseño del lugar. Por lo que voy a hacerme el firme propósito de visitarlo más a menudo.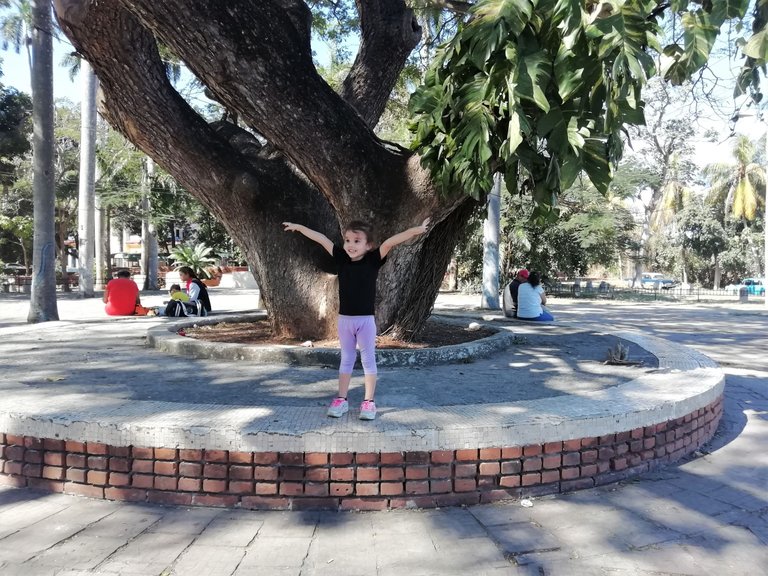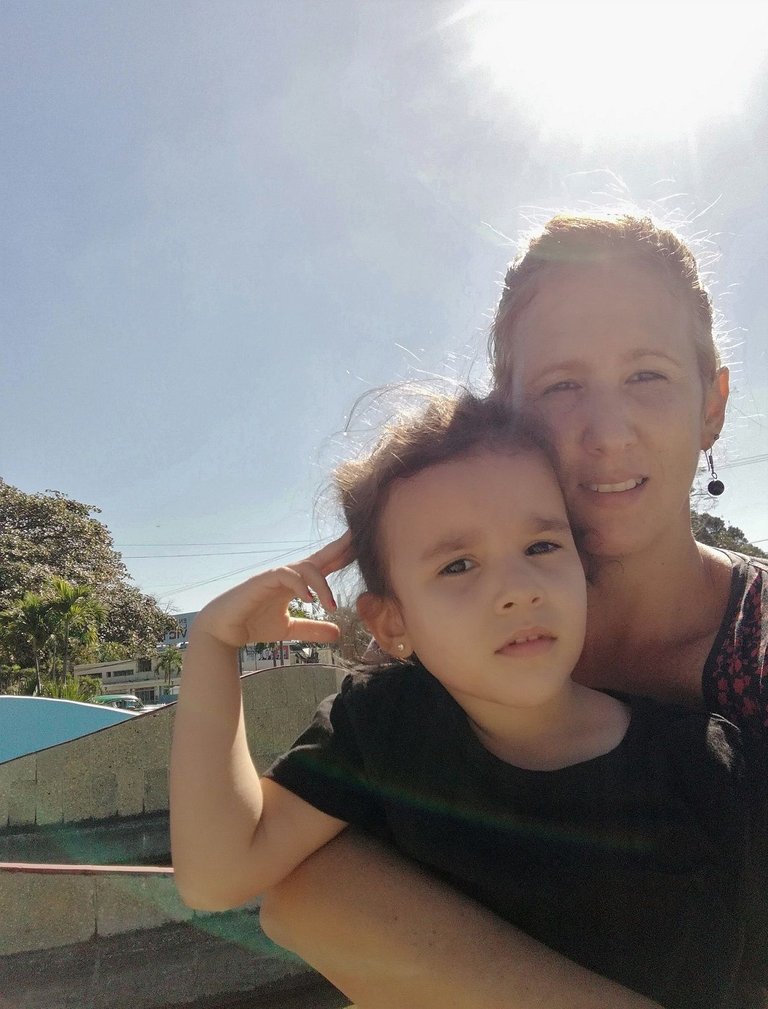 ---
I hope you have enjoyed this reading,
Best regards to all of you and... See you next time! 😃
Espero que hayan disfrutado de esta lectura.
Un gran Saludo a todos y… ¡Hasta un próximo encuentro! 😃
---

Source
---
-All images are my property, taken from my Huawei P Smart cell phone.
-Todas las imágenes son de mi propiedad, tomadas desde mi móvil Huawei P Smart.
---
You can follow me on my social networks/ Pueden segurme en mis redes sociales:

Discord: jordy0827#8374
---
---