(Esp/Eng) Tutorial: Hermosa pulsera elaborada en macramé con nudo serpiente para hombres y mujeres // Tutorial: Beautiful macramé bracelet with snake knot for men and women
¡Bienvenidos a mi blog!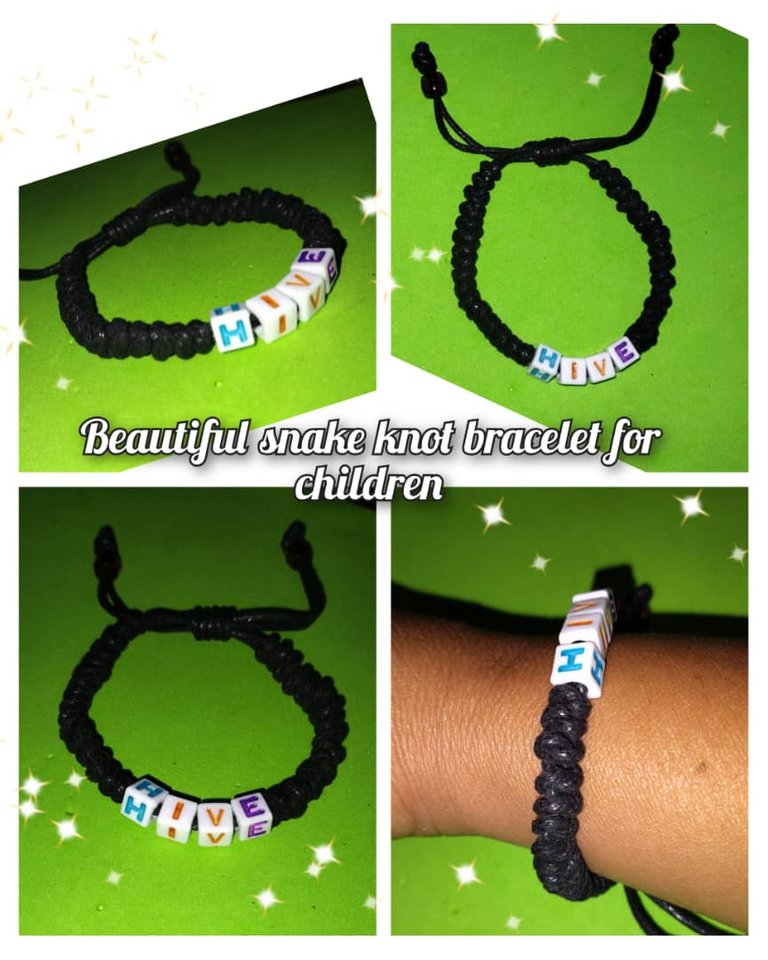 Buenos días amigos de esta linda comunidad #jewelry , deseo que estén bien, junto a toda su familia. Que el Espíritu
Santo reine en cada uno de los corazones y nunca se aparte de nuestro lado.
Hoy quiero mostrarle por medio de un tutorial, como realizar una hermosa pulsera , elaborada con hilo encerado, en macramé con nudo llamado serpiente.
Esta pulsera es llamada nudo serpiente ya que su forma es como de una serpiente, pero lo bueno es que la puedes tocar , ya que no pica jajajaja.
He realizados muchas pulseras para mujeres y niñas, pero hoy quise realizar para hombres, aunque la pueden utilizar mujeres, la hice para regalarsela a mi esposo, quedó encantado, ya que no tienen muchos colores y sobretodo el color negro es su preferido.
Quise colocar la palabra HIVE en honor a la gran plataforma que está revolucionando el mundo, todos quieren formar parte de ella y el que no la conoce se está perdiendo
los beneficios de interactuar, conocer y aprender de los trabajos y consejos de las distintas comunidades.
Cuando estás en Hive tienes la oportunidad de conocer personas de diferentes países y con el tiempo llegan a hacer como familia , me pasa que cuando algún amigo deja días sin publicar lo extraño y me pregunto, qué le pasará que está ausente. ¿Aquien le pasa lo mismo?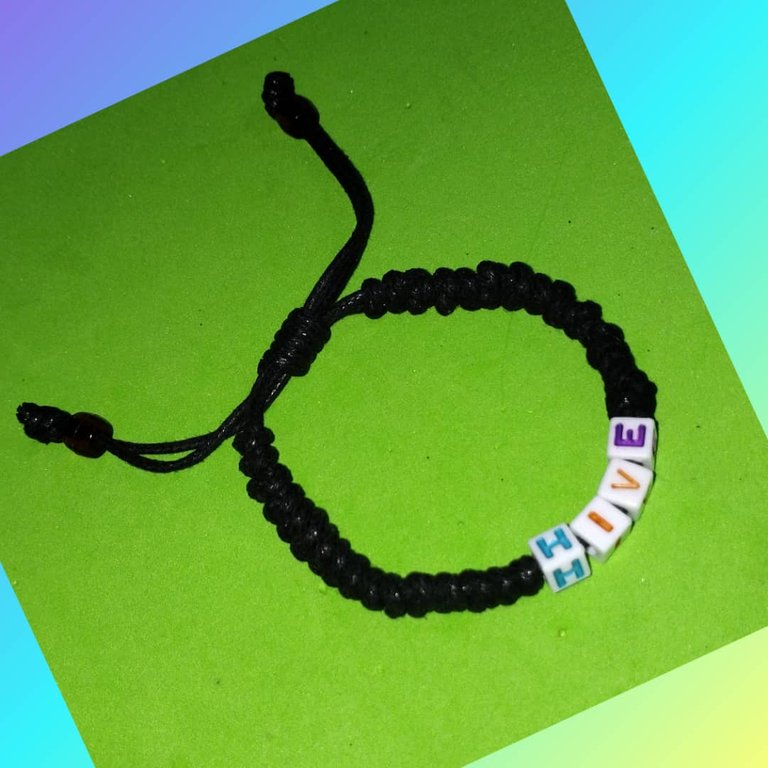 Materiales para la realización de la hermosa pulsera con nudo macramé en forma de serpiente:
2 metros de hilo encerado , color negro.
1 yesquero.
Regla.
2 mostacillas grandes de color marrón.
4 cuentas de plásticos en forma cuadrada, cada una con una letra, en total las cuatros hacen la palabra : hive.
Tijera.
Un pedazo de pitillo o popote.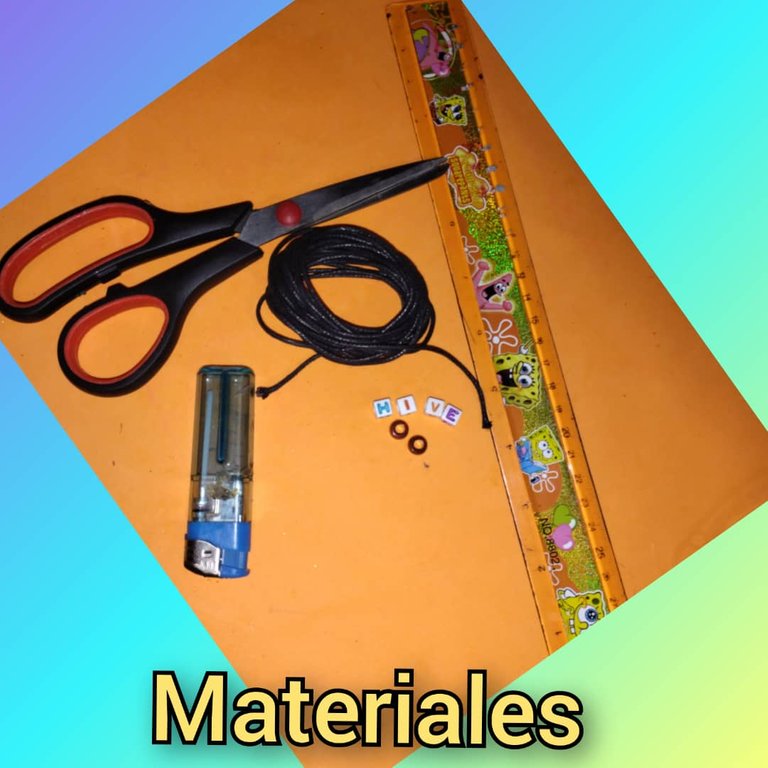 Paso a paso para la realización de la hermosa pulsera en nudo de serpiente:
Para la realización , comenzaremos midiendo con la regla el hilo acerado de color negro, 1.20 centímetros de hilo, cortaremos 2 pedazos con esta misma medida y otro pedazo de hilo de 25 centímetros .
Ahora quemamos con un yesquero las puntas para que no se deshagan y sea más fácil para trabajar al introducir las piedras.
Luego metemos dentro del hilo las cuentas , comenzamos por la letra H, seguido la I, la V y la E, después que hayamos metido cada una de las cuentas, buscamos la mitad del hilo y desde ahí comenzaremos a hacer el nudo macramé de cada lado.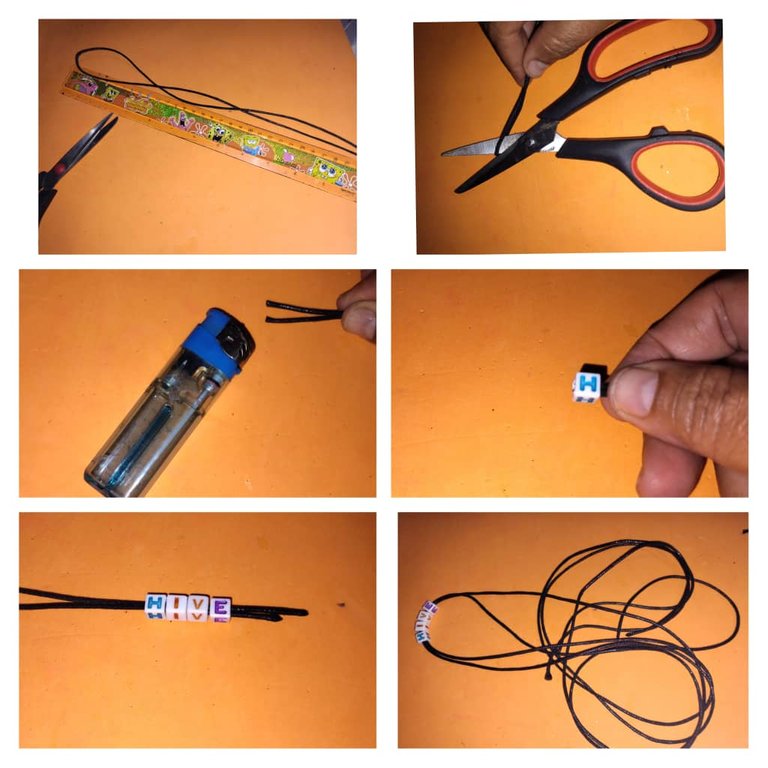 Colocamos el hilo en una carpeta de plástico aguantada con con gancho, dejando la mitad aguantada y comenzamos, tenemos dos hilos, derecha e izquierda, tomamos el hilo de la derecha ,lo colocamos por debajo del hilo de izquierdo ahora lo colocamos por encima del izquierdo. Luego tomamos el hilo izquierdo lo pasamos por debajo, luego sacamos la punta por arriba del círculo , pueden guiarse por la imagen..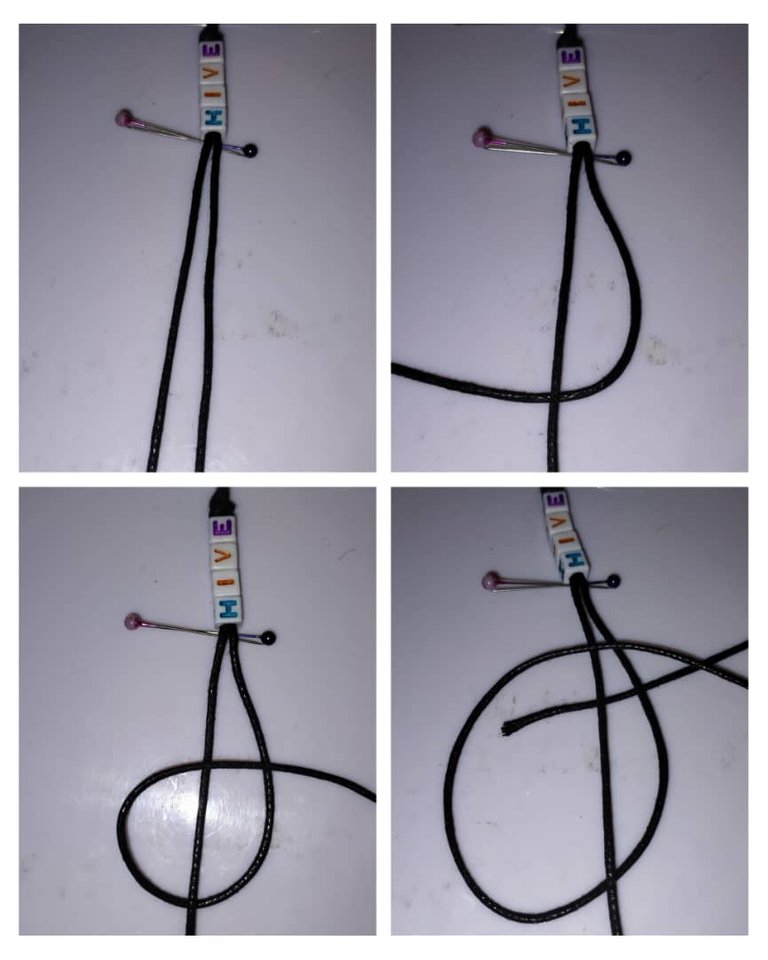 Hacemos el mismo procedimiento para ambos lados , aqui podemos ver la pulsera realizada de un lado .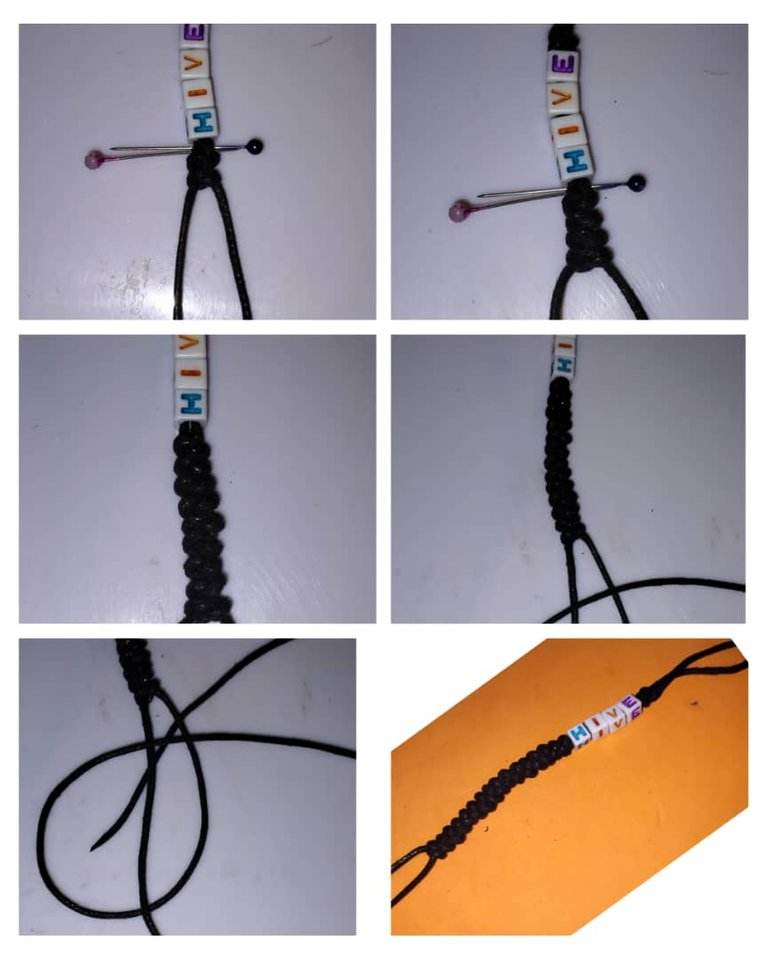 Ya los nudos hecho por ambos lados.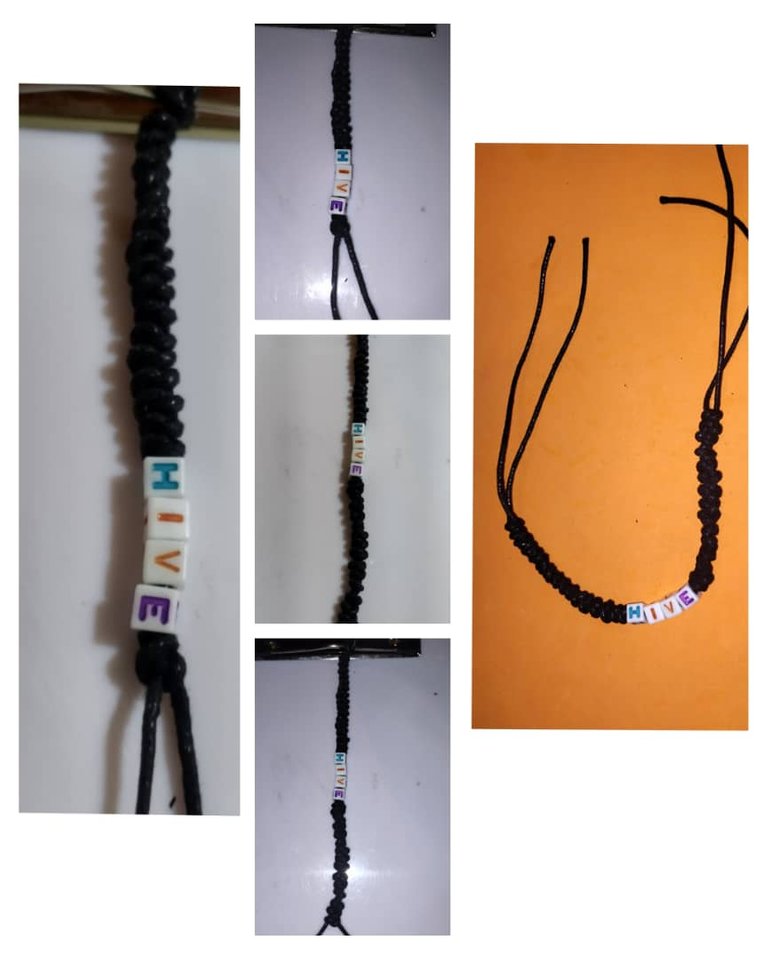 Ahora metemos la mostacilla de color marrón en cada punta , haremos un nudo sencillo para que no se salga y quemamos las punta con el yesquero.
Para hacer la parte de abajo de la pulsera o el nudo colocamos un pedazo de pitillo sobre los dos hilos de cada extremo , damos cuatro vueltas de derecha a izquierda , luego introducimos el hilo desde la izquierda y lo sacamos
por la derecha , ahora apretamos , recortamos el excedente
y quemamos las puntas.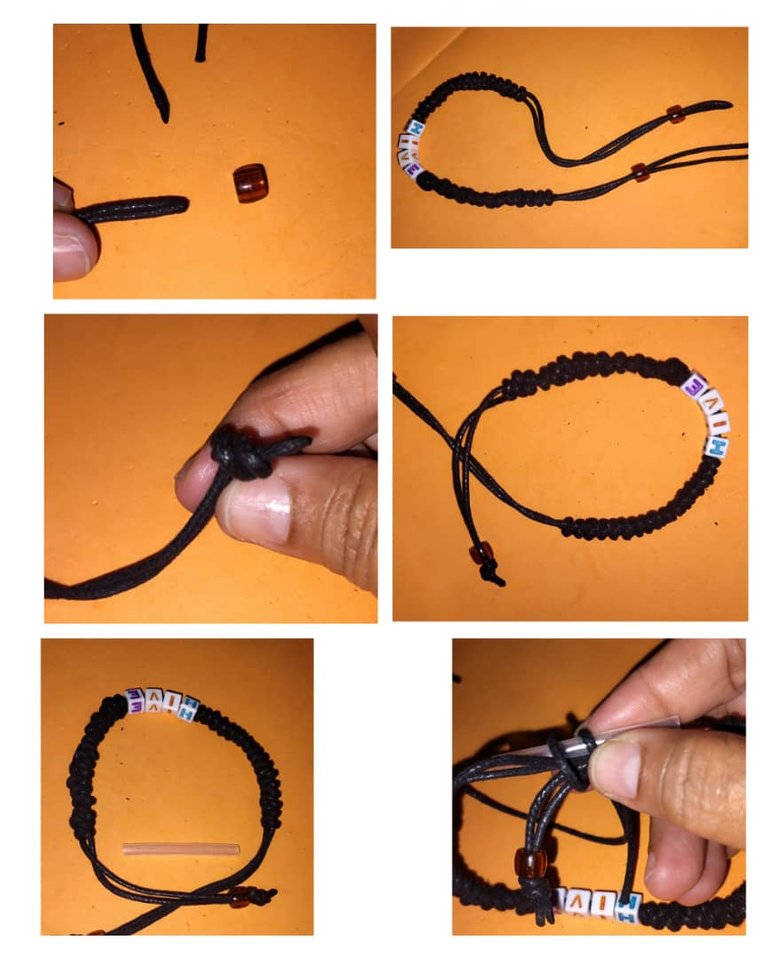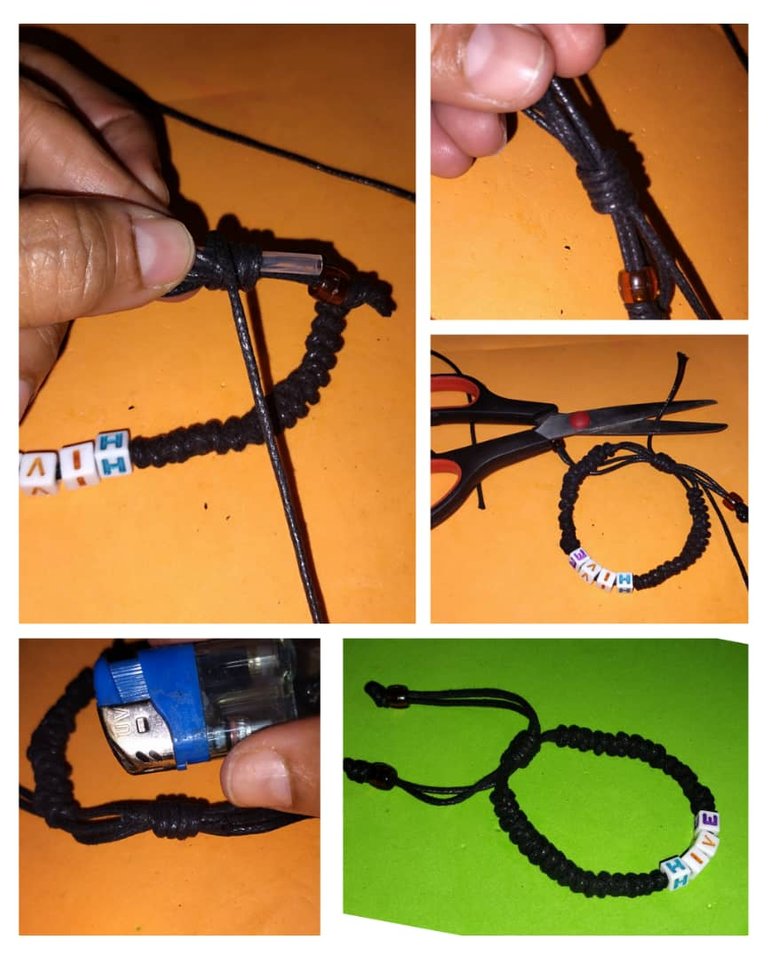 Aquí el resultado final de la pulsera en macramé con nudos serpiente.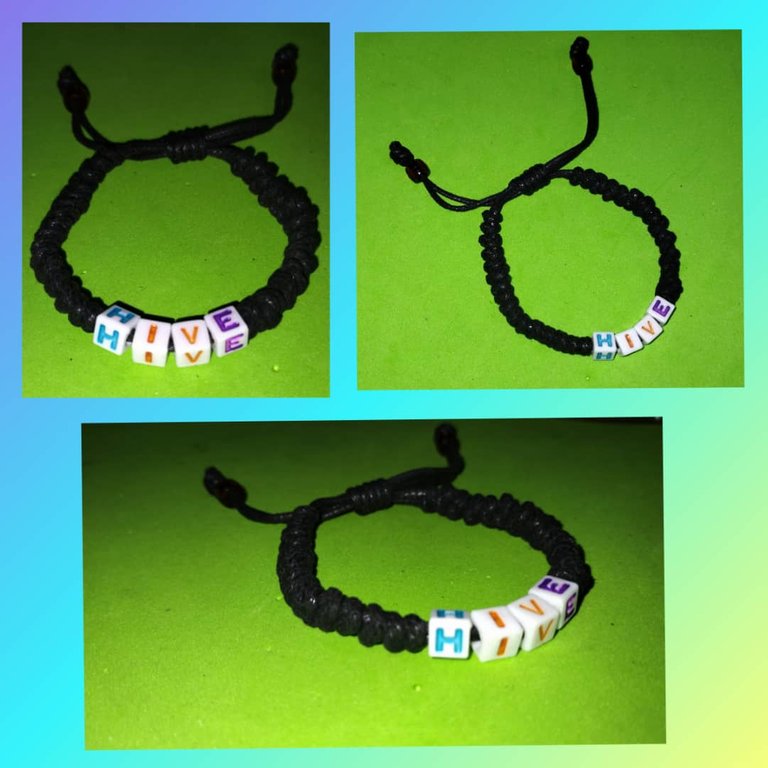 Espero que haya sido de su agrado, hasta la próxima, muchas bendiciones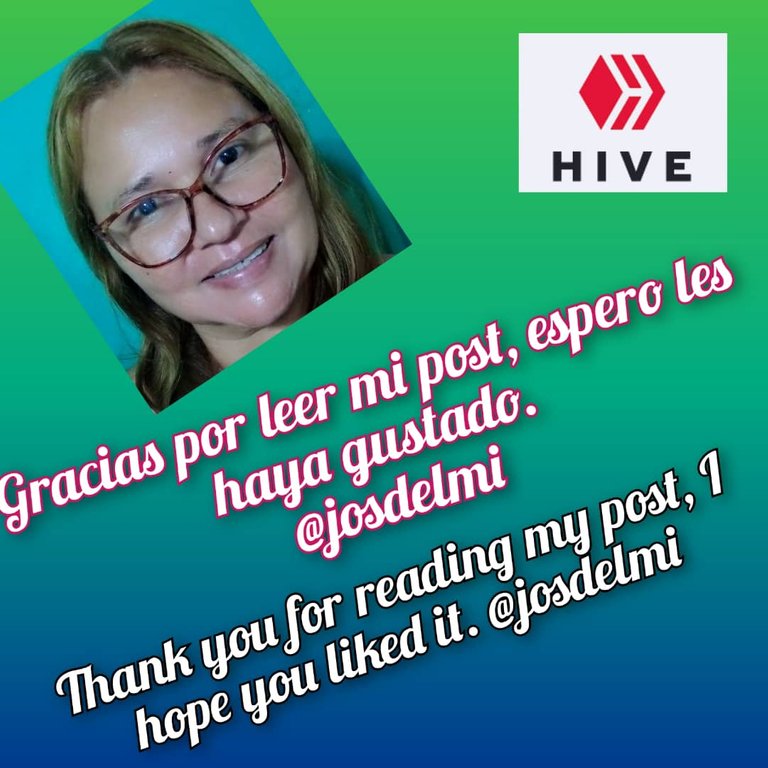 Las fotos son mías tomadas con telefono Infinix, editada con incollage y traducida con DEEPL.
ESPAÑOL
Welcome to my blog!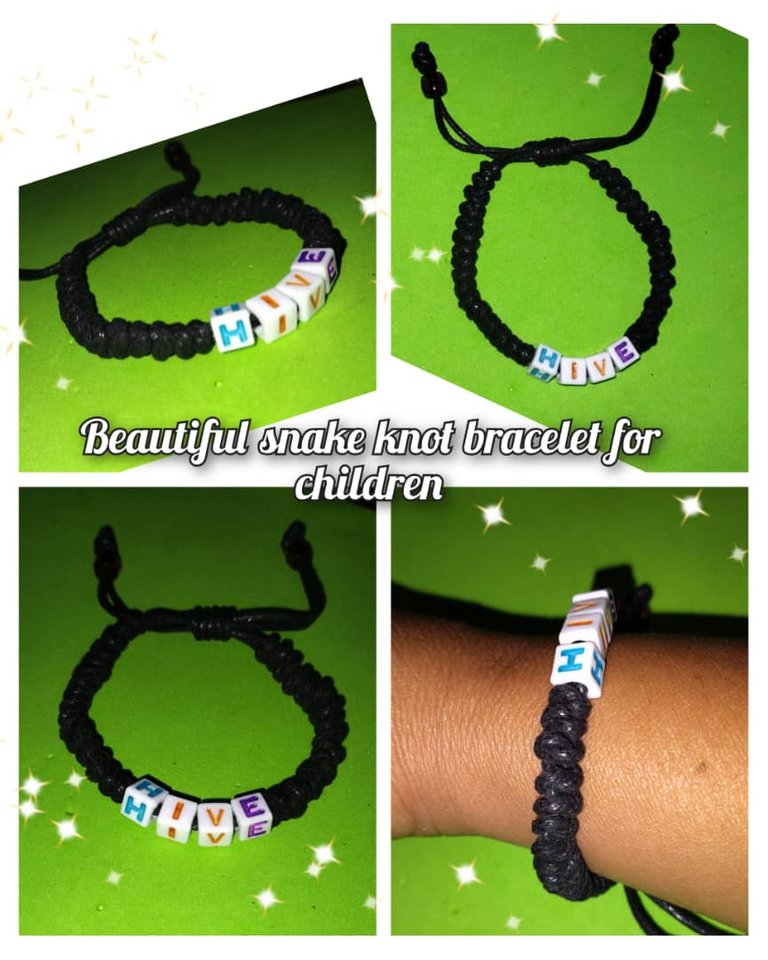 Good morning friends of this nice community #jewelry , I wish you well, together with all your family. May the Holy
Holy Spirit reign in each of our hearts and never leave our side.
Today I want to show you through a tutorial, how to make a beautiful bracelet, made with waxed thread, in macramé with a knot called snake.
This bracelet is called snake knot because its shape is like a snake, but the good thing is that you can touch it, because it does not itch hahahaha.
I have made many bracelets for women and girls, but today I wanted to make it for men, although women can use it, I made it to give it to my husband, he was delighted, because they do not have many colors and especially the black color is his favorite.
I wanted to put the word HIVE in honor of the great platform that is revolutionizing the world, everyone wants to be part of it and those who don't know it are missing out on the benefits of interacting, meeting and getting to know each other.
the benefits of interacting, knowing and learning from the work and advice of the different communities.
When you are on Hive you have the opportunity to meet people from different countries and over time they become like family, it happens to me that when a friend leaves days without posting I miss him and I wonder, what happens to him that he is absent. Who does the same thing happen to you?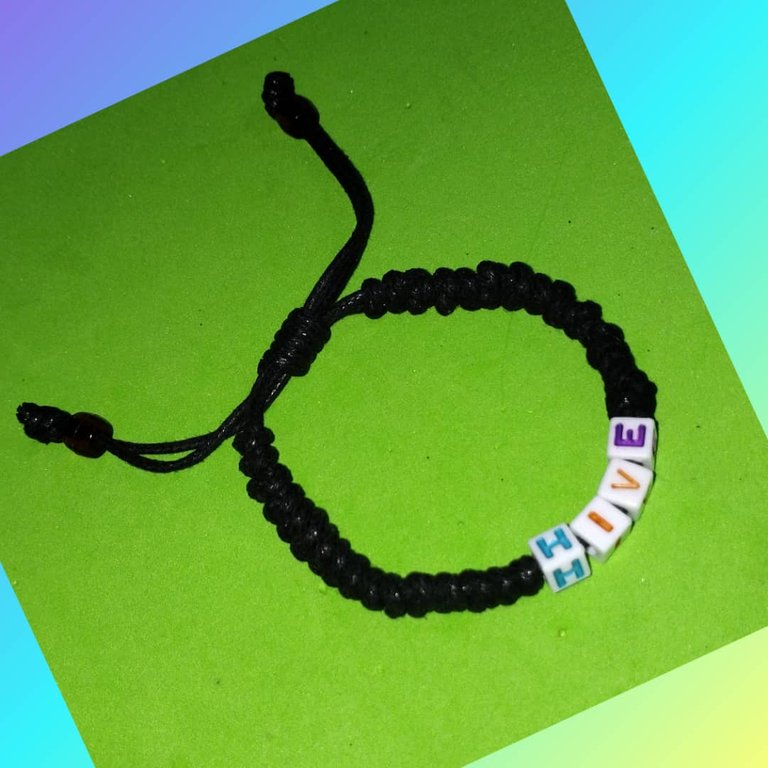 Materials for the realization of the beautiful bracelet with macrame knot in the form of snake:
2 meters of waxed thread , black color.
1 tinder.
Ruler.
2 large brown beads.
4 plastic beads in square shape, each one with a letter, in total the four make the word: hive.
Scissors.
A piece of straw.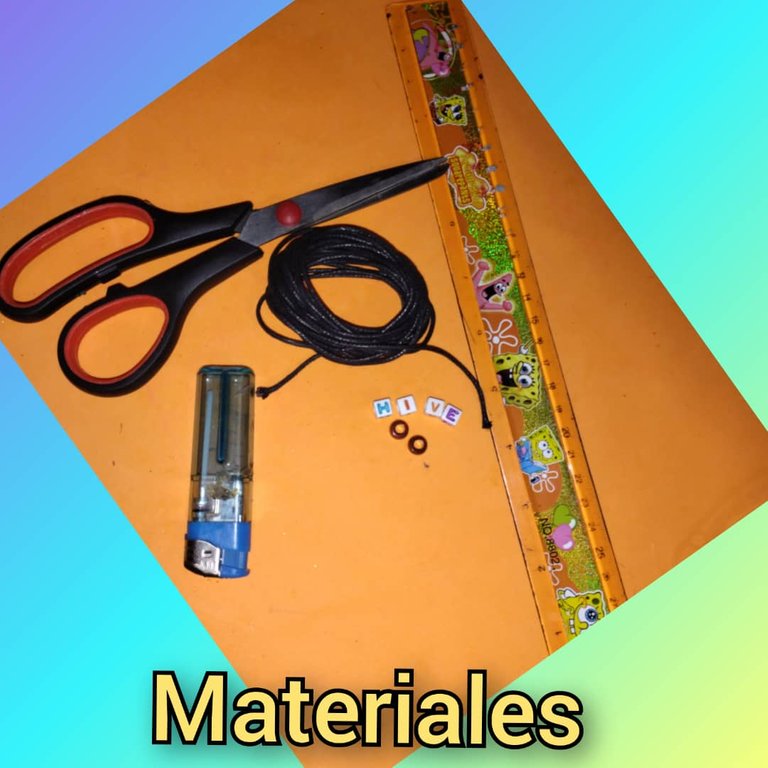 Step by step for the realization of the beautiful bracelet in snake knot:
For the realization , we will begin by measuring with the ruler the steel thread of black color, 1.20 centimeters of thread, we will cut 2 pieces with this same measure and another piece of thread of 25 centimeters .
Now we burn the ends with a tinder so that they do not fall apart and it will be easier to work with when introducing the stones.
Then we put inside the thread the beads, starting with the letter H, followed by the letter I, V and E, after we have put each of the beads, we look for the middle of the thread and from there we will begin to make the macrame knot on each side.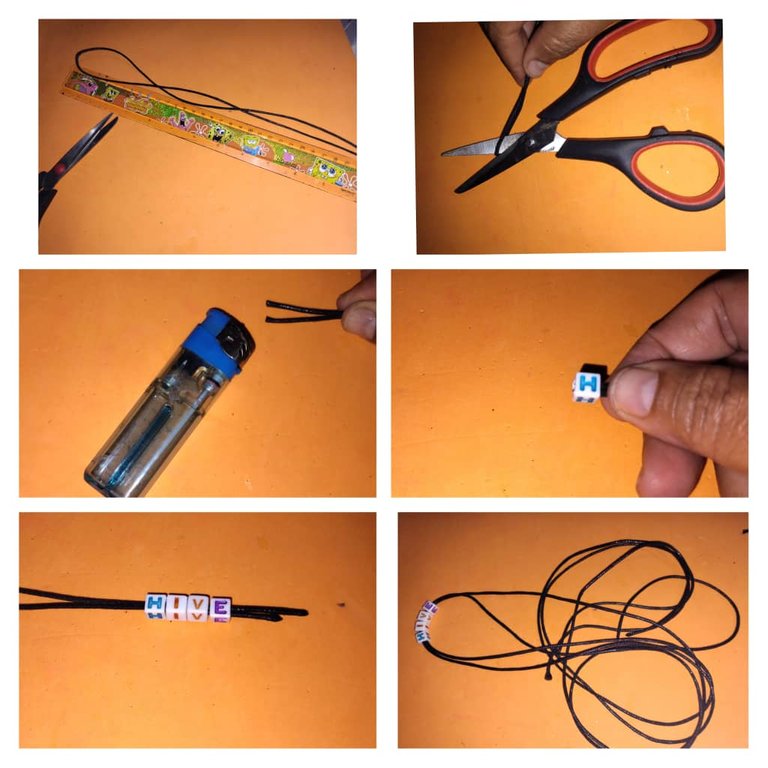 We place the thread in a plastic folder held with a hook, leaving half of it held and we start, we have two threads, right and left, we take the right thread, we place it under the left thread, now we place it over the left one. Then we take the left thread we pass it underneath, then we pull out the tip above the circle , you can be guided by the picture....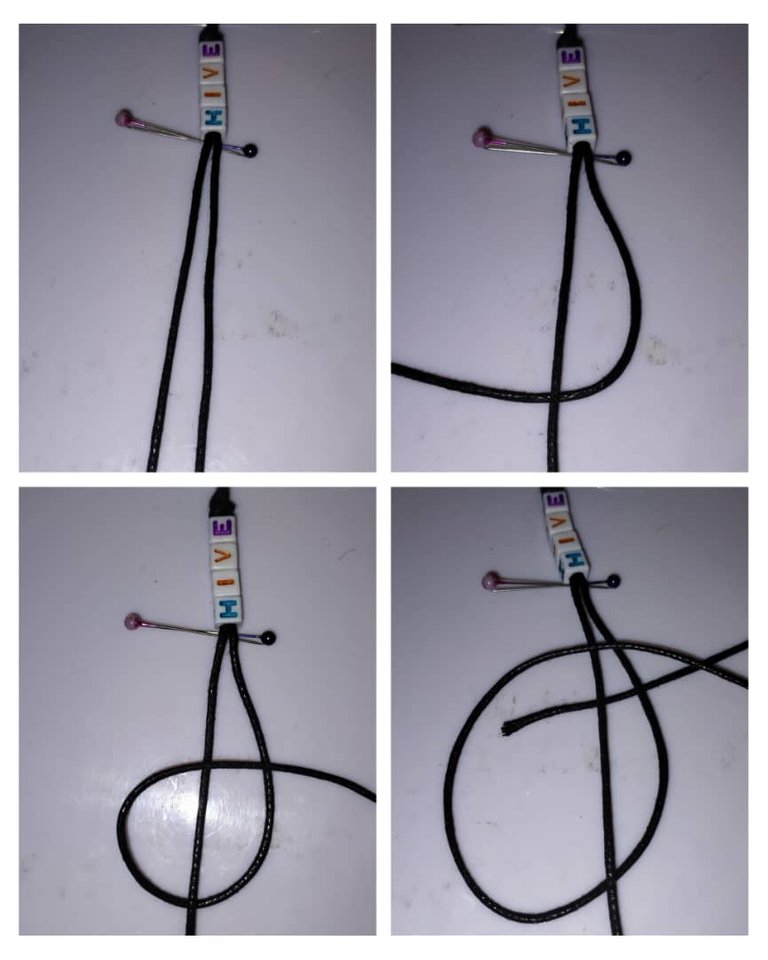 We do the same procedure for both sides , here we can see the bracelet made from one side .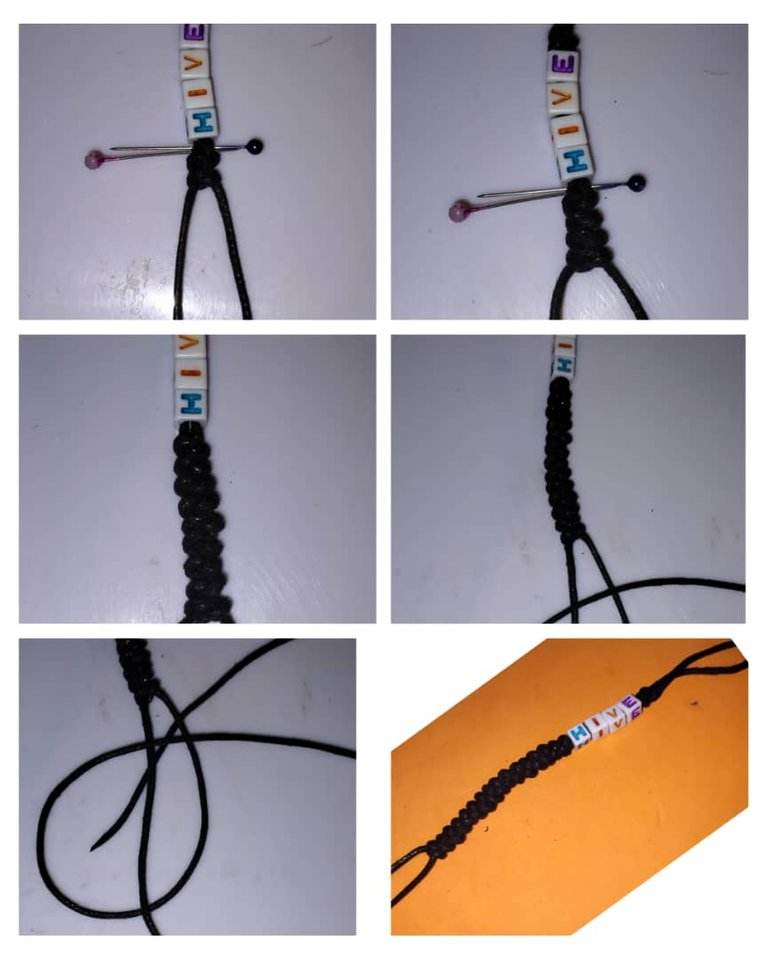 Already the knots done on both sides.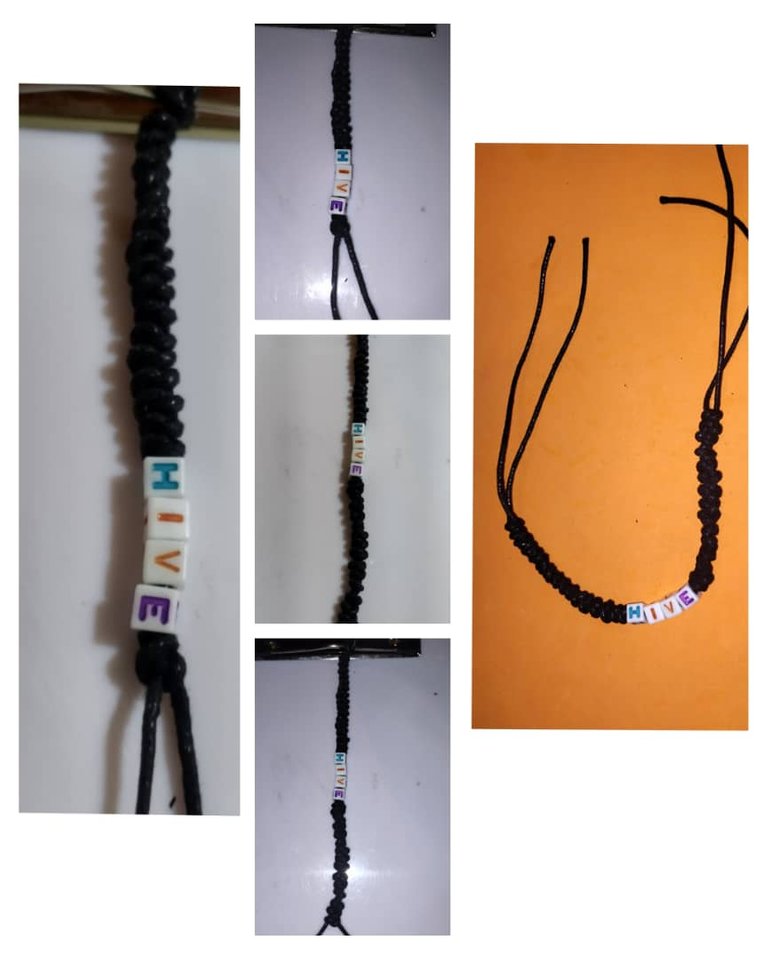 Now we put the brown beads in each end, we will make a simple knot so that it does not come out and we burn the ends with the tinder.
To make the bottom part of the bracelet or the knot we place a piece of straw on the two threads at each end, we make four turns from right to left, then we introduce the thread from the left and we take it out from the right, now we tighten it, we tighten it, then we put the thread from the left and we take it out from the right.
right, now we tighten, trim the excess and burn the ends.
and burn the ends.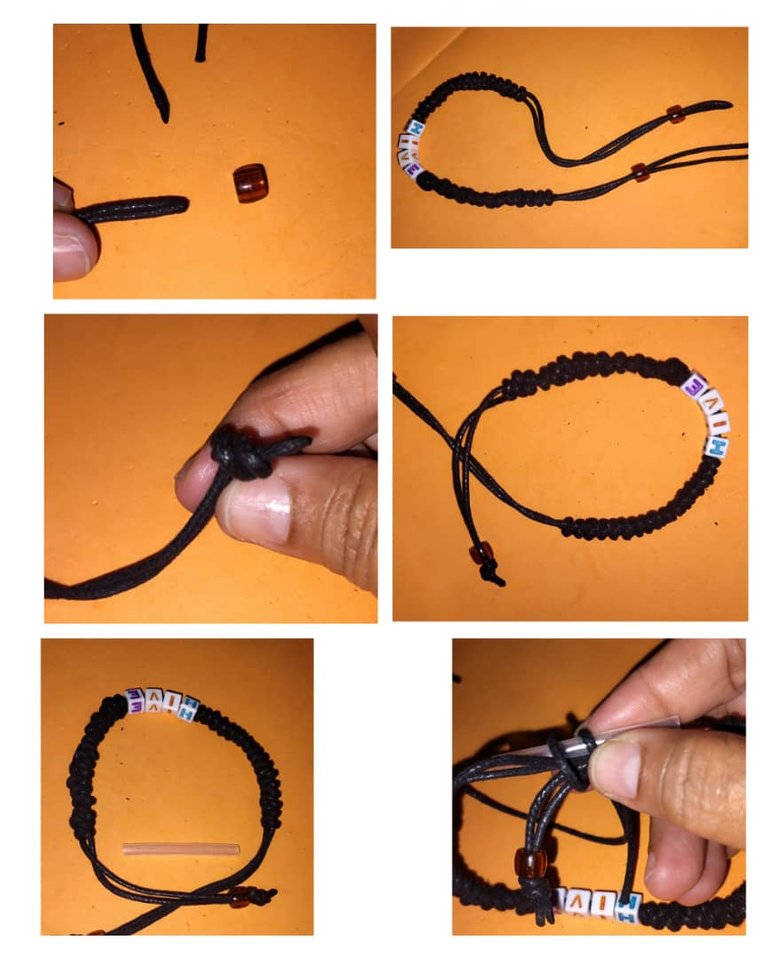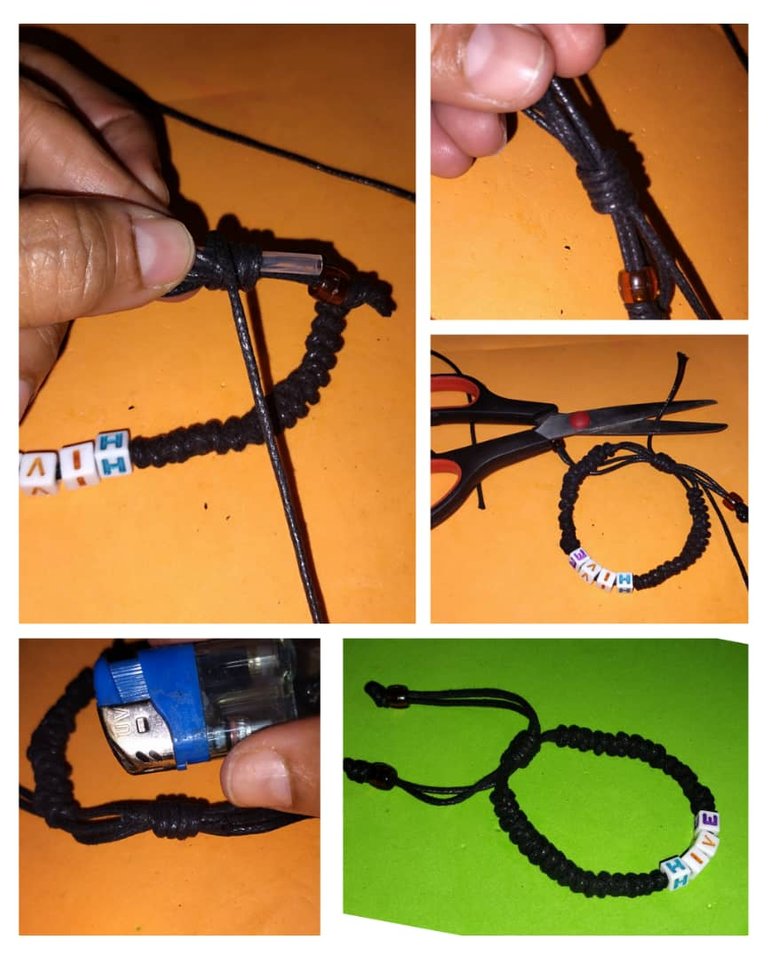 Here the final result of the macramé bracelet with snake knots.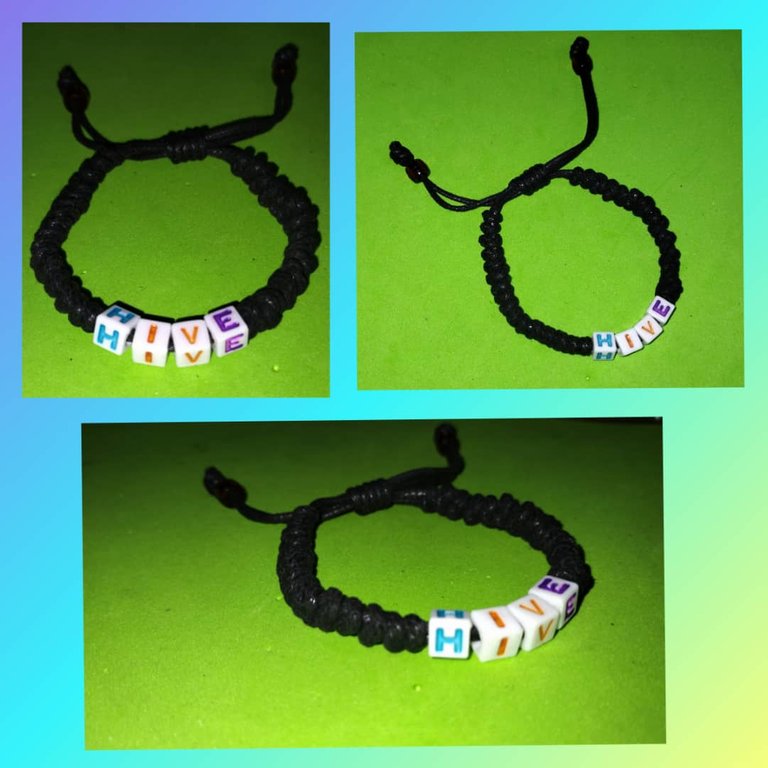 I hope you liked it, until next time, many blessings.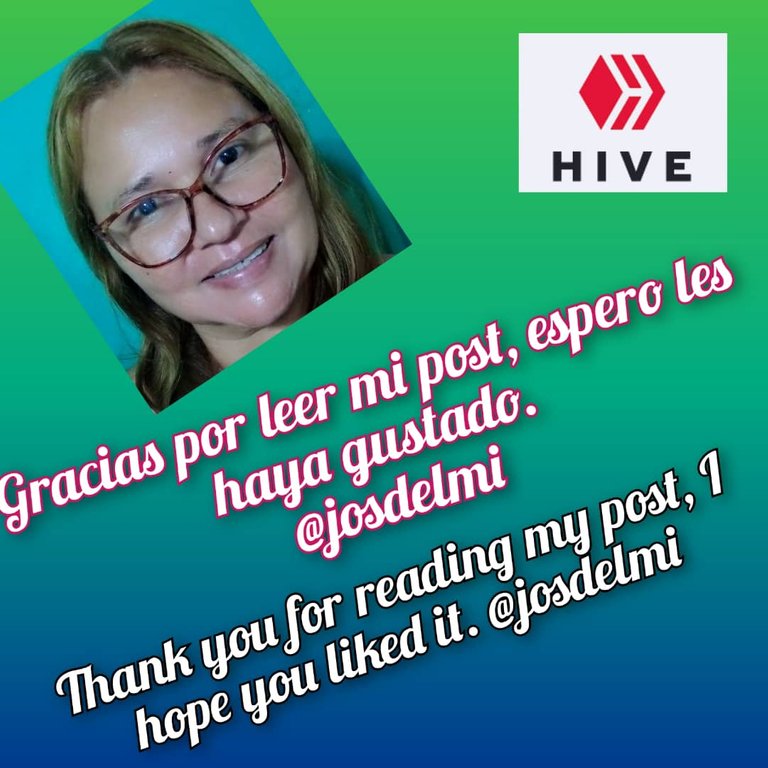 The photos are mine taken with Infinix phone, edited with incollage and translated with DEEPL.
---
---