[ESP-ENG] Llano. (Poema Original)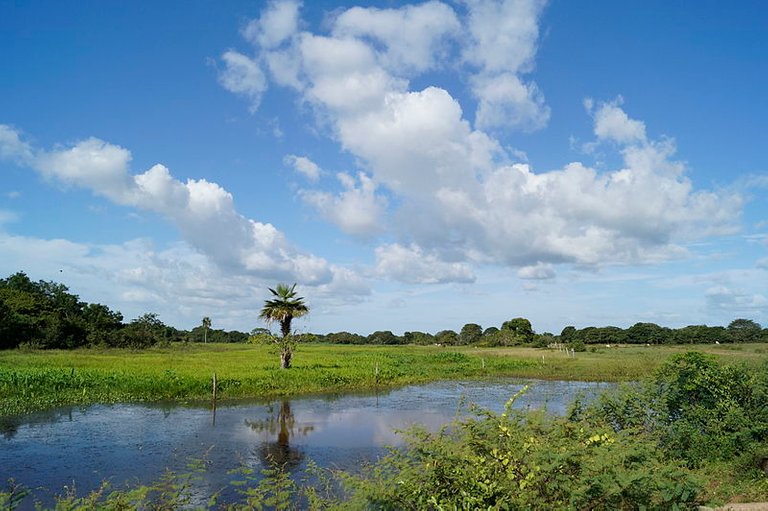 Fuente | Source
¡Hola! Muy buenos días, tardes y noches para toda la comunidad de Hive, espero que tengan una gran semana. A continuación, les presento otro poema en esta genial plataforma como lo es Hive Blog titulado Llano, este poema lo escribí hace dos días para una chica que me dio esa palabra, una pequeña dinámica que hice para poner a prueba mi creatividad y bueno de allí salió este genial escrito, espero que les guste.
Hello! Very good morning, afternoon and evening to all the Hive community, I hope you have a great week. Next, I present another poem in this great platform as it is Hive Blog titled Llano, this poem I wrote two days ago for a girl who gave me that word, a small dynamic that I did to test my creativity and well from there came out this great writing, I hope you like it.


Español



El tiempo ralentiza su curso habitual,
El fuego sagrado es silencioso en la distancia,
En este lugar se extiende el año,
El sol se apaga en esta tierra de gracia.
Un sonido estridente rasgó en el aire,
Rompió por un instante el vacío,
Apenas sintiendo un golpe en el corazón,
Sintonizando la vida con otra frecuencia.
Hay un anhelo cuando estoy en el llano,
El clima es muy diferente allí,
No como en la ciudad con sus ruidos fuertes,
Una mirada libre, que atraviesa fácilmente la diadema.
Mirando las nubes son una alegría para la vista,
Con sus aguas frías transparentes,
El río de la llanura se mantiene en sí mismo,
Todo es diferente: se ve y se respira.

English



Time slows down its usual course,
The sacred fire is silent in the distance,
In this place the year stretches out,
The sun goes out in this land of grace.
A shrill sound tore through the air,
It broke for an instant the emptiness,
Barely feeling a pang in the heart,
Tuning life to another frequency.
There's a longing when I'm on the plain,
The weather is very different there,
Not like in the city with its loud noises,
A free gaze, that easily pierces the tiara.
Looking at the clouds are a joy to behold,
With their clear cold waters,
The river of the plain keeps to itself,
Everything is different: it is seen and breathed.


Atravesaron un desierto solitario y acamparon en llanuras sin caminos;
Sabiduría 11:2



They traversed a lonely wilderness and camped in roadless plains;

Wisdom 11:2



Muchas gracias por tomar parte de tu tiempo en leer esto en verdad que estoy muy contento, si te gusto déjame un comentario y ayúdame a compartirlo para que llegue a más personas que a ti no te cuesta nada y me ayudaría muchísimo.
Thank you very much for taking part of your time to read this, I am very happy, if you like it, leave me a comment and help me to share it so it can reach more people, it doesn't cost you anything and it would help me a lot.

Translated with www.DeepL.com/Translator (free version).
Dios los bendiga a todos. | God bless you all.

---
---