Going To Zero? You've Got To Be Fckn Kidding Me
I was struggling to think about what to rant about today, and then I stumbled upon this gem posted to Twitter: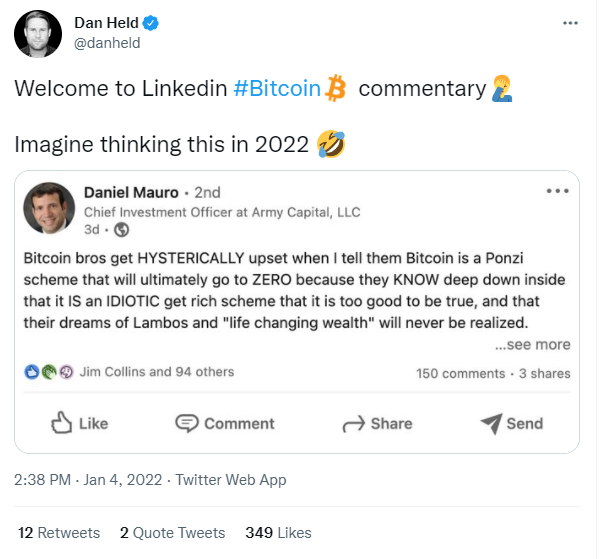 Let me just start by saying, this guy is not noteworthy. What I can't believe is that people are still attempting to chase clout in this way.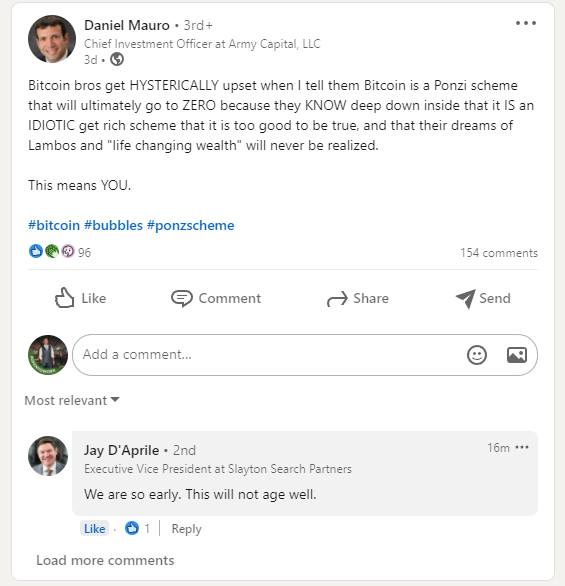 Of course, people aren't clamoring to take him up on his offer, since neither himself or his organization are of any repute. For example, he has 172 followers and his organization has 6. This is not to disparage someone based upon their social media profile, but to point out he seems to be trying to chase clout. The problem is, that is doing so based upon talking points from a half-decade ago. Trust me, if any Bitcoin podcaster of note thought this guy was worth having on their podcast, he would shrink like a violet.
But honestly, how myopic can one be to try and promulgate these views in 2022. Considering in the last 5 years we've had:
Bitcoin adopted as legal tender
Bitcoin ETFs and Trusts
Bitcoin on Corporate Balance Sheets
US Politicians Endorsing Bitcoin
More regulatory clarity.
I could go on and on.
Even Bitcoin perma-bears like Peter Schiff had adjusted their rhetoric to match reality. It's just shocking to still run into commentary like this in 2022, especially from someone who works in the financial markets. But like Peter Schiff who peddles precious metals and sees hard money as a zero-sum game, this guy has his own products to peddle.
His messaging will not age well. Anyhow, I'd like to thank this knucklehead for being my muse for today! How do I know it will not go to zero? Because once it goes down to 0.001 USD, I will buy it all myself. Go to zero indeed, we should be passed this sort of hyperbole in 2022. We are still early.
Posted Using LeoFinance Beta
---
---