How to find out which was my last opened pack of cards [ENG-ESP]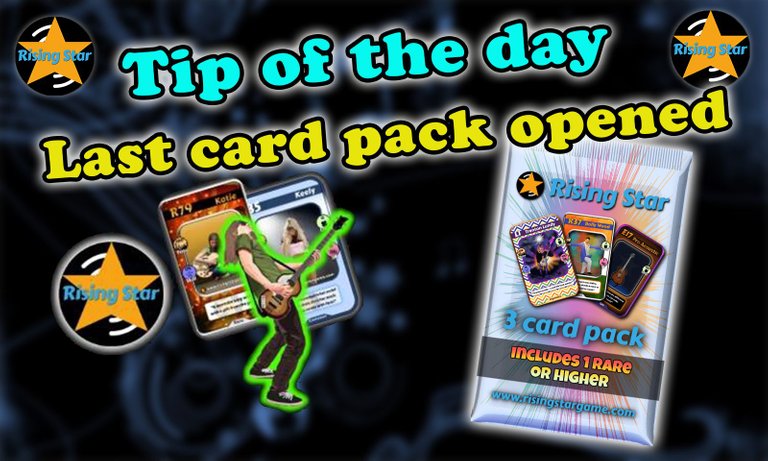 English
How to find out which was my last opened pack of cards
Hello Buskerians!
I hope you are well and enjoying your musical career at RisingStar.
Sometimes for some particular reason we want to know what was our last opened pack of cards (Applies also for the previous ones).
Today I am going to show you the different ways by which you can find out what was your last opened pack of cards.
The first way to find out is by going to the "Account" section of the game, once inside your account you will be able to see which were your last withdrawals and on the right side you can find which were your last opened packs.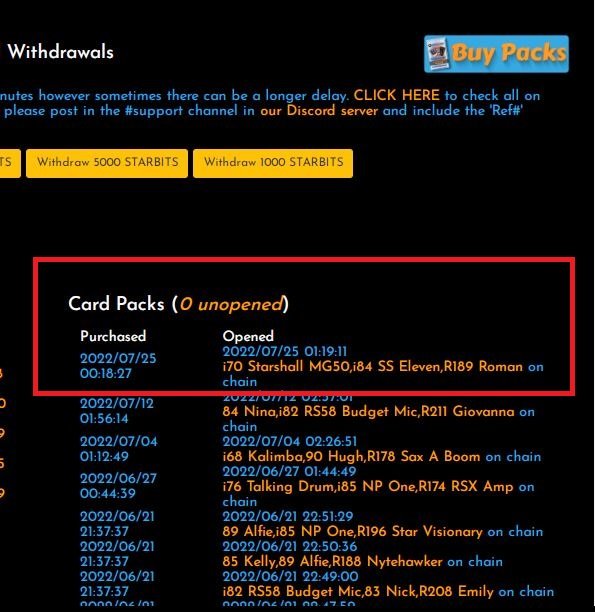 The second way to know which was your last open packs is in the Discord of the game, in the Channel "Card-pack-stream" once there you can use the Discord magnifying glass or in the browser search engine and with your Hive ID you can search for yourself.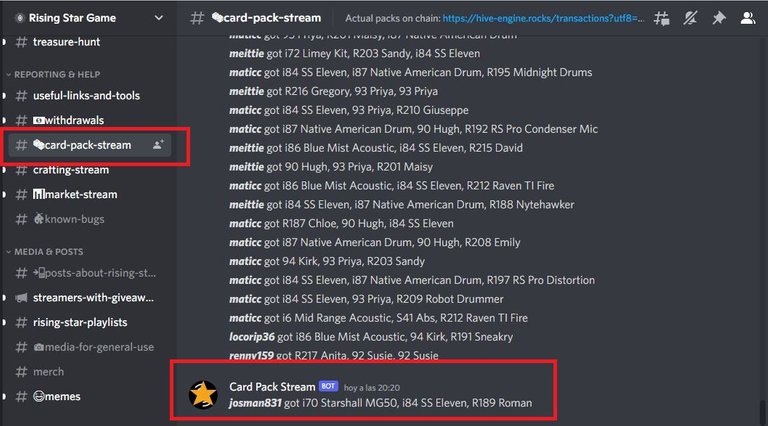 And the last way is through the page https://beta.rsgfam.com/, after logging in with your Hive ID enter your username then select "Issued" and in that section you can see which was your last packs opened,

I hope this information will be useful to you at some point.
See you next time!

Risingstar is a great game with a very stable economy and a great community; in the next posts I will tell you about the most relevant details it has, the most fun as well as some strategies to optimize and grow more.
I say goodbye for now, Greetings.
If you want to join the game you can do it with my referral link: Rising Star
All images are taken from My Rising Star account.
If you want you can vote for me and follow me! It would be very helpful and I would be very grateful! (although it is not mandatory)

Español
Cómo saber cuál fue mi último pack de carta abierto
Hola Buskerianos!
Espero que te encuentres bien y disfrutando de tu carrera musical en RisingStar.
Algunas veces por algún motivo en particular deseamos saber cuál fue nuestro último pack de cartas abierto (Aplica también para los anteriores).
Hoy te voy a mostrar las diferentes maneras mediante las cuales puedes saber cuál fue tu último pack de cartas abierto.
La primera manera de saberlo es entrando en la sección "Account" del juego, una vez adentro de tu cuenta podrás ver cuales fueron tu últimos retiros y en la parte derecha puedes encontrar cuales fueron tus últimos packs abiertos.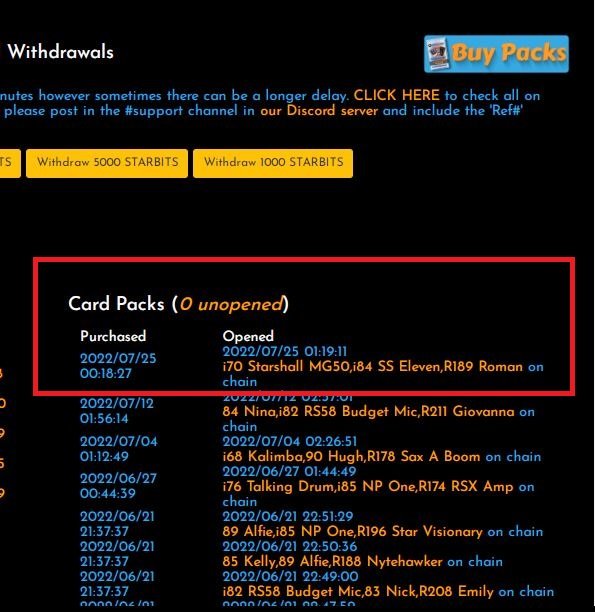 La segunda manera de saber cuál fue tu ultimo packs abierto es en el Discord del juego, en el Canal "Card-pack-stream" una vez allí puedes usar la lupa de Discord o en el buscador del navegador y con tu ID de Hive puedes buscarte.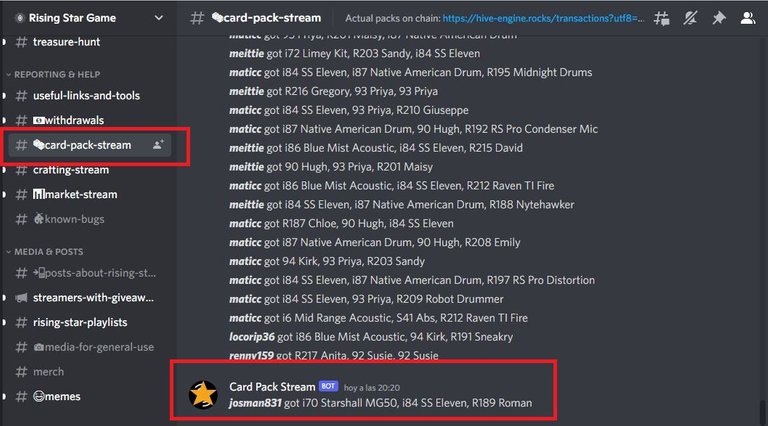 Y la última forma es mediante la página https://beta.rsgfam.com/, luego de iniciar sesión con tu ID de Hive entras nombre de usuario luego seleccionas "Issued" y en esa sección puedes ver cual fue tu ultimo packs abierto,

Espero que esta información te sea útil en algún momento.
Nos vemos en la próxima!

Risingstar es un grandioso juego con una economía muy estable y una gran comunidad; en los próximos post te hablare de los detalles más relevantes que tiene, lo más divertido así como también algunas estrategias para optimizar y crecer mas.
Me despido por ahora, Saludos
Si deseas ingresar al juego los puedes hacer con mi link de referido: Rising Star
Todas las imágenes son tomadas de Mi cuenta de Rising Star.
Si deseas puedes votarme y seguirme! Seria de mucha Ayuda y estaría muy agradecido! (aunque no es algo obligatorio)


---
---