5 minutes of free writing: Title: The circus performer who imagined as a child. [ENG/ESP]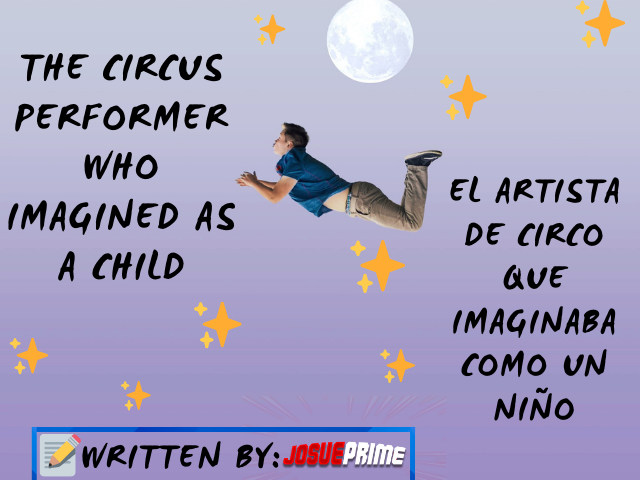 Image by Michael Bryant-Mode at Pixabay | Edited by @josueprime in Canva
---
English version
---
The circus performer who imagined as a child.
---


A young circus artist who specializes in acrobatics, arrived in a small town not far from the city; while he was there, he found children playing with wooden sticks, plastic and anything else that came to his imagination.


The young man could imagine what the children saw in their simple toys, instead of seeing the stick figure, he saw a doll with a shirt, pants, shoes and an incredible hairstyle; the same thing happened with all the other toys, since the boy still had that spark of imagining like a child.


At that moment he came up with the idea of doing acrobatics with the children's toys; no matter that he did not receive any payment, he just wanted to make the children's imagination come back to adults and young people like him.


He asked each child if he could bring him a table, to his surprise, everything happened as he wanted; on each table he put each child's doll, which were going to make the young acrobat fly and do incredible things.


The parents of the children and young people at the same time thought that this acrobat was crazy, but the boy did not care, he kept on talking, and started, the children were amazed and said: "He is flying, my doll makes him fly! All the amazed adults and young people could not believe it, because they could not see anything.


The young acrobat asked one of the dolls to put him down, and when he was standing on his feet he said to the adults and youngsters: Close your eyes and imagine yourself as a child. So they did and when they opened their eyes they were amazed to see the children's dolls next to the young acrobat.


And they all began to fly and play, the animals, men, young people and children imagined with creativity and felt that they were walking through the air. When the young man finished he had to leave, but he was very happy for his great achievement, for having made everyone in that town have the imagination of a child.

---
Versión en español
---
El artista de circo que imaginaba como un niño.
---


Un joven artista de circo que se especializa en las acrobacias, llegó a un pueblo pequeño que quedaba no muy lejos de la ciudad; Estando él ahí, se encontró con niños jugando con palitos de maderas, plástico y todo lo que a su imaginación se le viniera.


El joven se podía imaginar lo que los niños veían en sus simples juguetes, en vez de ver el muñeco de palitos, veía un muñeco con camisa, pantalón, zapatos y un peinado increíble; Así mismo paso con todos los demás juguetes, ya que el muchacho todavía tenía esa chispa de imaginar como un niño.


En ese momento se le ocurre la idea de hacer acrobacias con los juguetes de los niños; sin importar de que no recibiera pago alguno, solo quería hacer que la imaginación de los niños volviera a las personas adultas y jóvenes como él.


Pregunto a cada niño si le podía traer una mesa, para su sorpresa, todo pasó como él quería; En cada mesa puso el muñeco de cada niño, los cuales iban a hacer que el joven acróbata volara e hiciera cosas increíbles.


Los padres de los niños y jóvenes a la vez pensaron que este acróbata estaba loco, pero al muchacho no le importo siguió hablando, y empezó, los niños maravillados decían está volando, mi muñeco lo hace volar. Toso los adultos y jóvenes asombrados no podía creerlo, porque no veían nada.


El joven acróbata pide a uno de los muñecos que lo baje, y cuando está parado en pie le dice a los adultos y jóvenes: Cierren sus ojos e imaginen como un niño. Así mismo hicieron y cuando abrieron sus ojos quedaron maravillados al ver los muñecos de los niños al lado del joven acróbata.


Y todos empezaron a volar y a jugar, los animales, hombres, jóvenes y niños muy alegres imaginaban con creatividad y sentían que caminaban por el aire. El joven al terminar se tenía que ir, pero se fue muy alegre por el gran logro, de haber hecho que todos en ese pueblo tuvieran la imaginación de un niño.

---
Note:
Translated with www.DeepL.com/Translator (free version)
Everything that is written in this post, was made by the inspiration I had for 5 minutes while reading the text: circus performer, @josueprime original content.
---
---
Revisa algunas de mis otras publicaciones/Check some of my other publications:
⚫5 minutes of free writing: Title: A fatal virus without remedy. [ENG/ESP]
⚫Rising Star - Today's Winner + More New Mini Giveaway of 1000 STARBITS #4
⚫Spanish Freewrite 12 de octubre de 2021 - Título: La ardilla de tierra que salvó mi vida. [ENG/ESP]
⚫Rising Star - Today's Winner + More New Mini Giveaway of 1000 STARBITS #5
---


Sigueme / Follow Me

---

---
---