[ENG-ESP]REALATO: EL BÚMERANG DE LA VIDA/@jpulido0306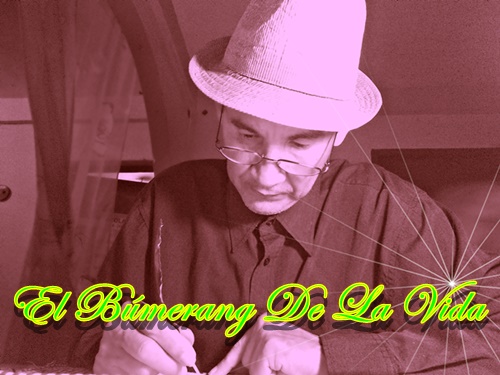 English

THE BOOMERANG OF LIFE

He was a young man who had lost his parents when he was barely ten years old. He was the only child and they lived in a very humble little house with the necessary household utensils. The rest of the relatives avoided taking care of the young teenager. With his sadness and pain, he was able to bear such a loss because his parents educated him to endure the worst moments of life, no matter how difficult it was. He voluntarily decided to go out into the street to seek his own livelihood. He went from house to house in those areas where people of great resource live. He only asked for work as a gardener or cleaning the spaces or patios. At times he was lucky enough to find several temporary job opportunities. This is how he was collecting to cover his studies since he was going to the school near his home where he was studying fifth grade. Since he studied in the morning shift, it was uncomfortable for him to work what he had been doing, so he talked to his teacher to change him to the afternoon shift. Days later he got his change. So he got up early every morning to go on his tour of cleaning the gardens. Over time it became very popular in those parts. One morning he visited a house where he was attended by a young woman of about twenty years of age. After his day, he was going to say goodbye to the young woman, to which she invited him to go to her house where she was with her grandmother. They offered him a well nourished meal accompanied by a glass of milk. The young man was amazed by such a kind attitude of that young woman and was marked in his heart by such a noble and humble reaction.
Over time the years passed and the young man was in his last semester to graduate as a doctor. Another three years were spent doing their practice in some hospitals in the state.
It happens that a patient arrived at the hospital where he worked as a surgeon who had to be treated in an emergency but it was a very complex and risky operation. It was an open heart operation. The young man had not realized who the patient was until he approached her and when he looked at her his eyes immediately reminded him of that young woman who offered him at that time that well-nourished meal that no one had ever offered him. The reaction was so quick that he took the young woman's case. There were quite significant costs for the case and the lady had nothing because she had lost her only family, her grandmother, whose heirs came after her death and kept her entire fortune and I was left absolutely alone.
The doctor paid all the expenses and in the end the lady obtained everything she needed from that doctor and everything turned out very well.
You have to do good regardless of age. Life is like a boomerang. We don't know how we have to repay those favors that once saved the moment.
Español

EL BÚMERANG DE LA VIDA

Era un joven que había perdido a sus padres cuando apenas tenía diez años. Era único hijo y vivían en una casita muy humilde con los utensilios necesarios del hogar. El resto de los familiares evitaron hacerse cargo del joven adolescente. Con su tristeza y dolor pudo soportar semejante pérdida porque sus padres le educaron para soportar los peores momento de la vida por más difícil que fuera. Decidió voluntariamente salir a la calle a buscar su propio sustento. Fue de casa en casa en aquellas zonas donde vive gente de mucho recurso. Solo pedía trabajo como jardinero o limpieza de los espacios o patios. En ocasiones tuvo bastante suerte de encontrar varias oportunidades de trabajos momentáneos. Así iba reuniendo para cubrir sus estudios ya que iba a la escuela cercana a su vivienda donde estudiaba quinto grado. Como estudiaba en el turno de la mañana se le hacía incómodo trabajar lo que ya venía haciendo por lo tanto habló con su maestra para que lo cambiara al turno de la tarde. Días después logró su cambio. Entonces se levantaba temprano todas las mañanas para ir a cumplir su recorrido de limpiar los jardines. Con el tiempo se hizo muy popular por esos lares.* Una mañana visitó una vivienda donde le atendió una joven de unos veinte años de edad. Luego de su jornada se iba a despedir de la joven a lo que ella le invitó a pasar a su casa donde se encontraba con su abuela. Le ofrecieron una comida bien nutrida acompañada de un vaso con leche. El joven se quedó asombrado por tan amable actitud de esa joven y quedó marcado en su corazón por tan noble y humilde reacción.
Con el tiempo pasaron los años y el joven estaba en su último semestre para graduarse de médico. Otros tres años pasaron haciendo su práctica en algunos hospitales del estado.
Sucede que al hospital donde trabajaba como médico cirujano llegó una paciente que debía ser atendida de emergencia pero era una operación bien compleja y arriesgada. Era una operación a corazón abierto. El joven no se había percatado de quién era la paciente hasta que se acercó hacia ella y al mirarla sus ojos inmediatamente le recordaron a aquella joven que le ofreció para aquél entonces aquella comida bien nutrida que jamás alguien le había ofrecido. Fue tan rápida la reacción que tomó el caso de la joven. Habían costos bastante notables para el caso y la señora no contaba con nada porque había perdido a su única familia que era su abuela a quien luego de fallecer vinieron sus herederos y se quedaron con toda su fortuna y quedé absolutamente sola.
El médico corrió con todos los gastos y al final la señora obtuvo de ese médico todo lo que necesitaba y todo al final salió muy bien.
Hay que hacer el bien no importando la edad. La vida es como un Bumerang. No Sabemos cómo tenemos que pagar aquellos favores que una vez nos salvó el momento.

---
---